Building a house is exciting, overwhelming, stressful and full of decision making but nothing is as satisfying as that move in day, when everything has finally come together and the keys are yours!
This is the second time we have built a home and I'm excited to share with you some of the things we have learned through the process.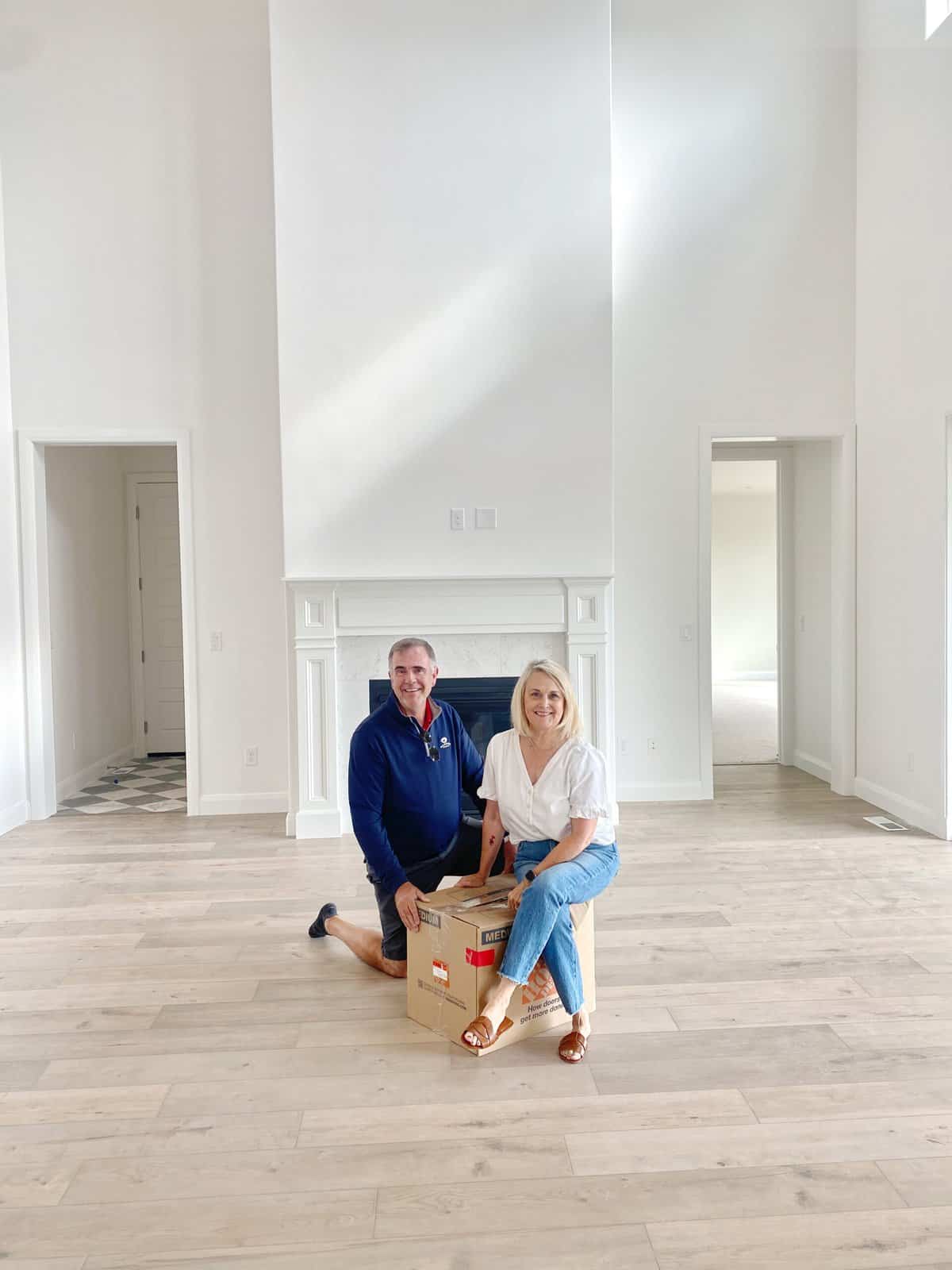 Choose a reputable builder In building our house, we chose to work with Ivory Homes, a well known and trusted builder in Utah. We went with one of their signature homes which meant we could customize a lot of things. Know how much customization your builder allows with the plan you choose before making a decision on the plan you will build. Ask lots of questions!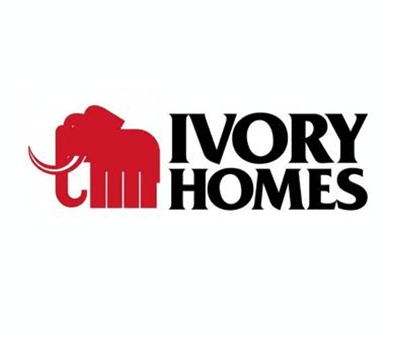 Discuss your non-negotiables with your spouse/partner before meeting with your builder. Be on the same page as to what your top priorities for your new home are.
Not many of us can afford to build our dream house but we can afford elements of our dream house. For me, some of those elements were, white brick on the exterior of the house and a big, beautiful kitchen (surprise!) My husband wanted a good shower and a soaking tub. That is where we spent extra money. We upgraded our kitchen cabinets, added some glass cabinets and then there was the showpiece of my kitchen, our one big splurge piece, my Ilve Italian range.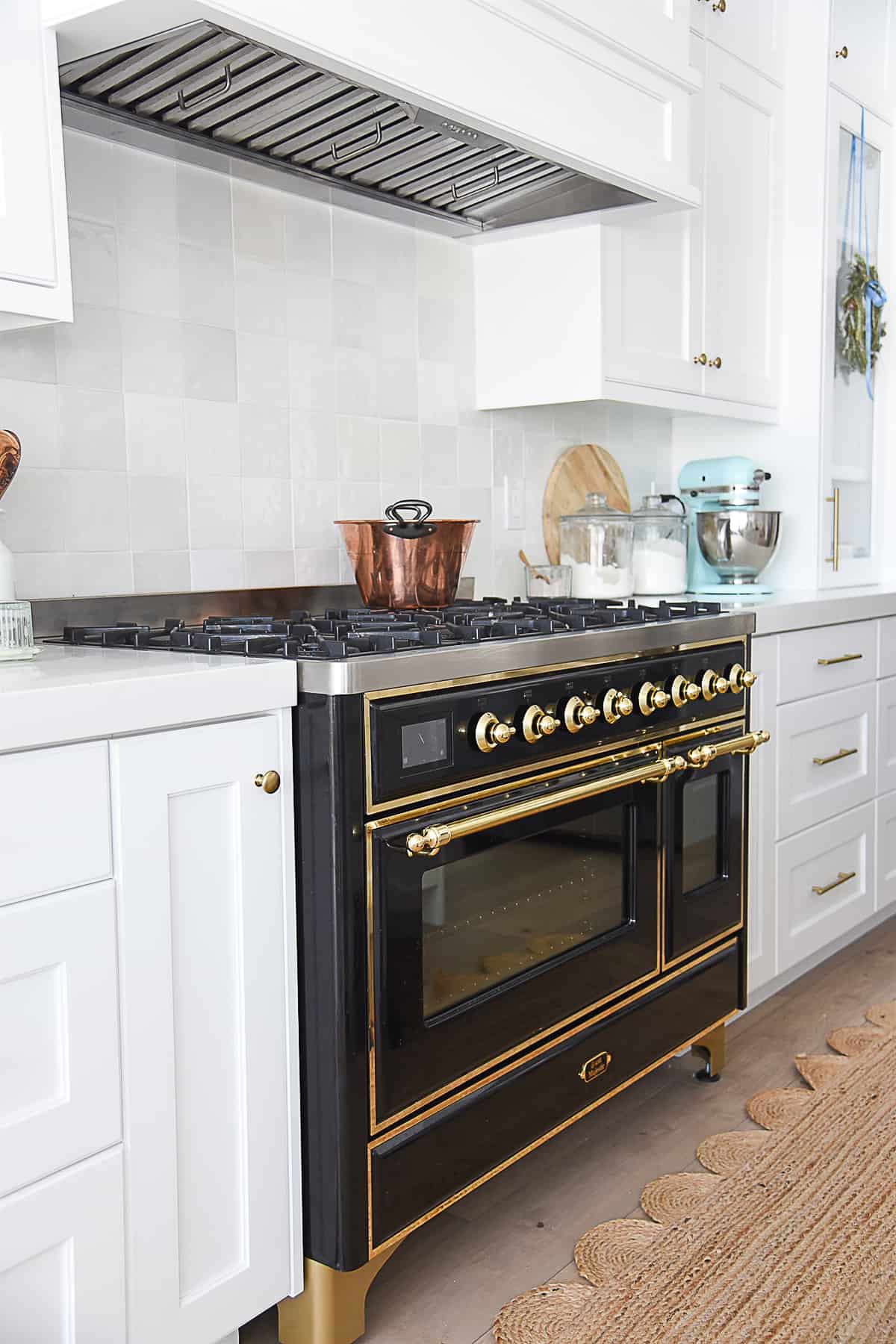 Be prepared and willing to compromise on other things. Everything can't be of equal importance, you're going to have to compromise alot unless you have an unlimited budget. Giving some serious thought to what's the most important to you ahead of time makes sure that your priorities and opinions get heard and incorporated, too.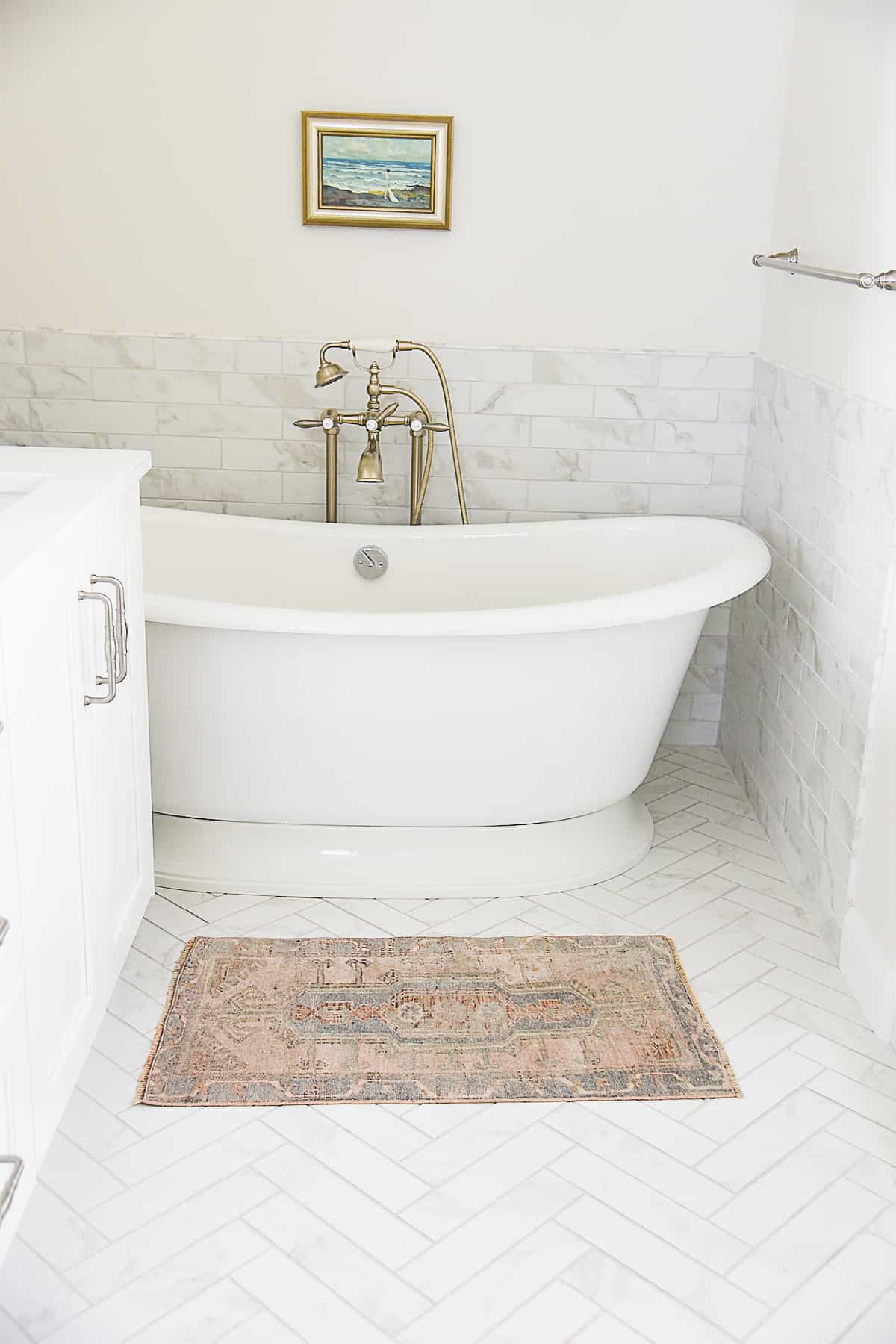 Walk through a home for the floorplan you choose. It is so helpful and gives you a real sense of the space and how you will use the home. We were able to walk through a model home that was the same plan as ours prior to signing and then also were able to walk through a few that were in the process of being built while ours was being built.
We also went through our new neighborhood and found other houses that were the same plan as ours and actually talked to a few of the owners and asked them what they would change.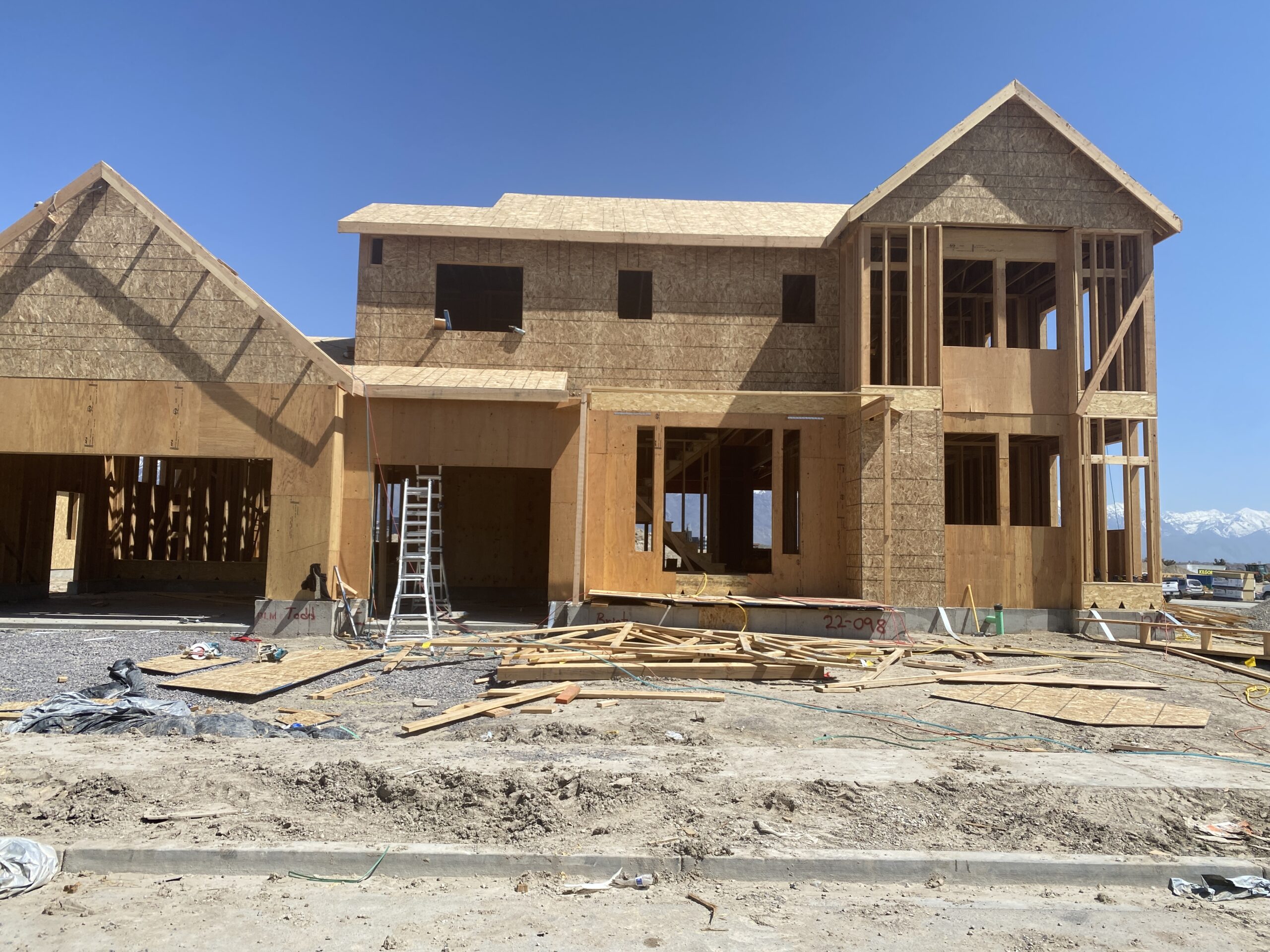 Talk to friends who have recently built. Ask them what things they wish they would have done differently. Our good friends told us they wished they had put a light switch in the bedroom when they walked out of the masterbath so they didn't have to walk all the way across the room to turn off the light – we added one!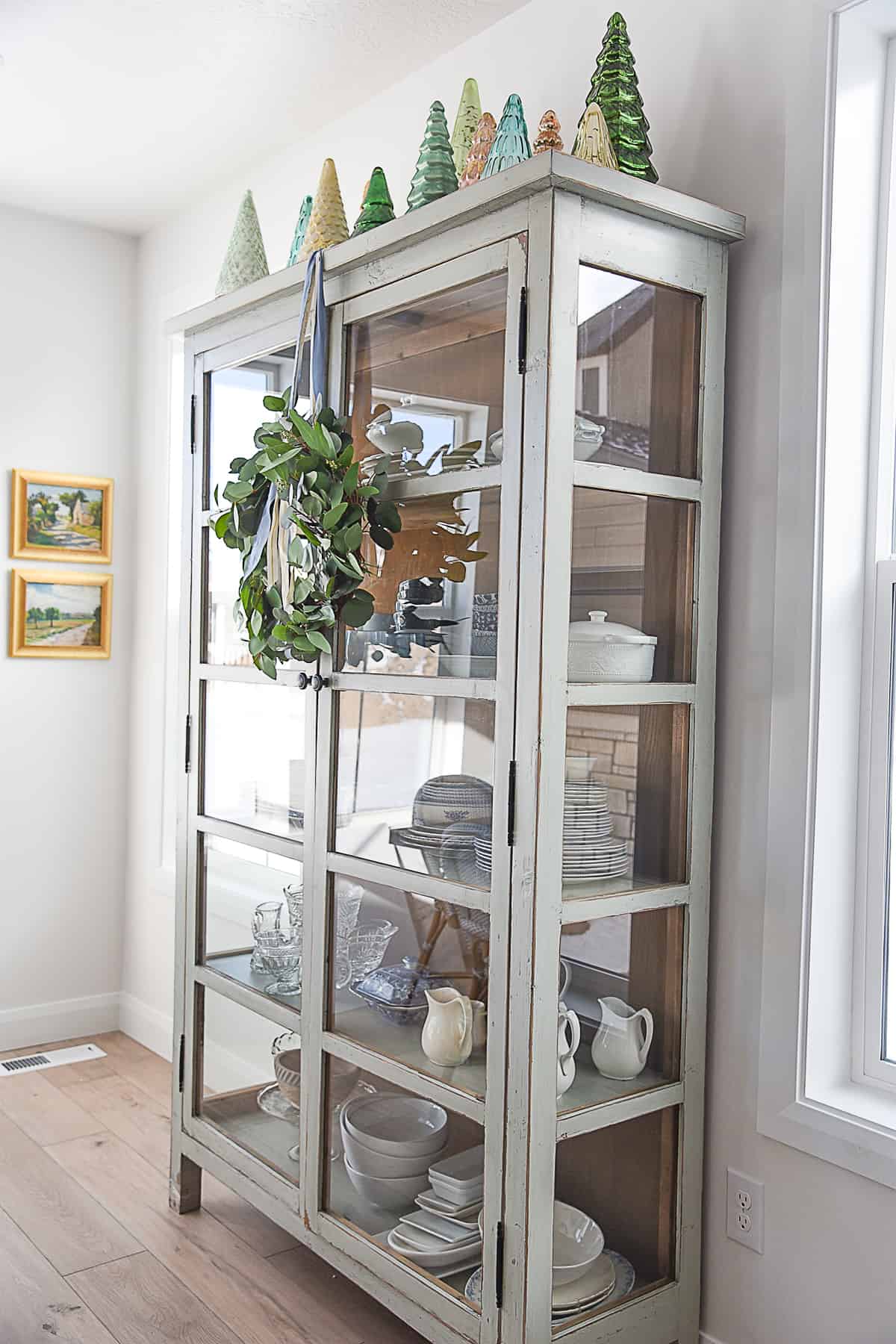 Plan for what you already own When building a home, think about the furniture you already own and will be using in the house. Where will it go? How big is your couch? Kitchen table? I had a large cabinet piece I wanted to use in the kitchen and realized the space between the two windows in the kitchen nook wasn't big enough for the piece so we were able to have the builder make that space bigger to accommodate the cabinet. Make these changes in the beginning as your builder may charge you a change fee if made later on.
Make frequent visits to the construction site. We were building a home remotely so frequent in person visits weren't possible for us. Fortunately, one of our sons lived blocks away and he or our daughter in law would make frequent visits and Facetime us. Our relator also would also stop by and check on things for us. You can always get to know a neighbor and ask for their help when needed.

Prepare for The Design Center. Be prepared to be overwhelmed and to experience design fatigue! We had an interior designer assigned to us that walked us through the process, room by room. Best advice: Have a good idea what you want before you go.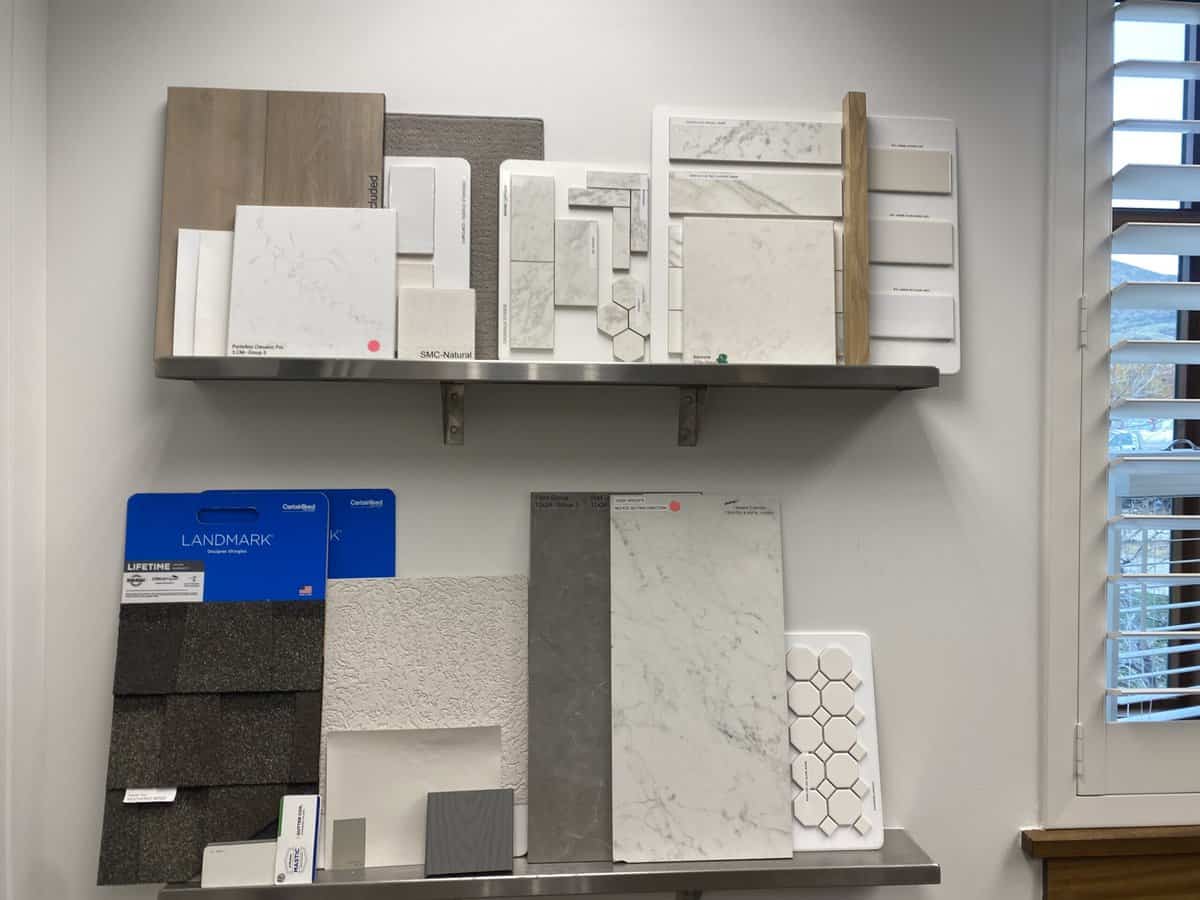 Spend time on Pinterest, following interior design accounts on IG, looking through magazines. Take pictures with you of what you like. It is also helpful if you and your partner are on the same page and have the same vision for your home. Hash out those differences before you get to the design center as your time there is limited. Ivory was great about letting us go back into the Design Center multiple times after our first visit to relook at things and even change our mind on a few things, not all builders are that flexible. We spent 4 hours our first time which is not really enough time!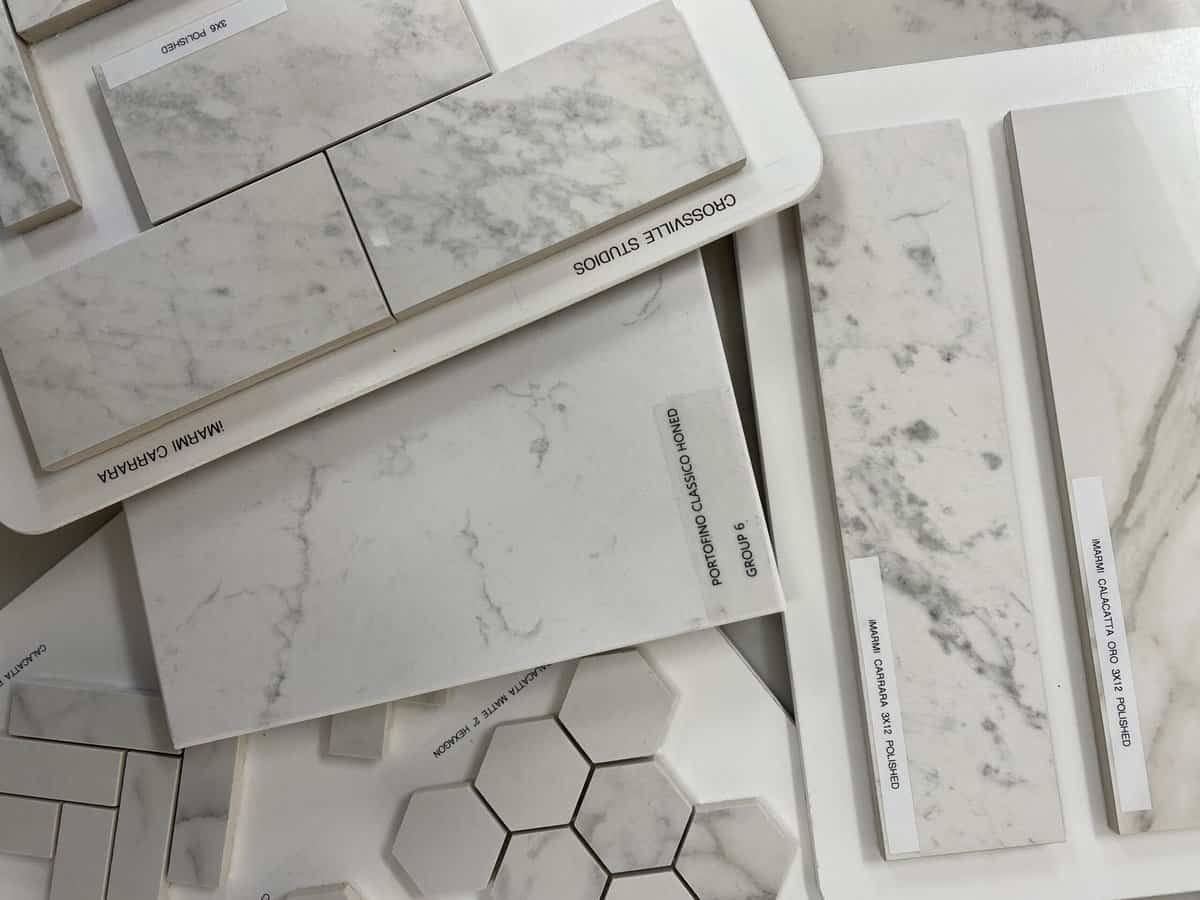 Take pictures of everything you pick out. You are going to look at a lot of things and it's hard to remember everything you chose and what it looked like after you leave. Be sure you know what the deadlines are for any changes you might want to make to avoid change fees.

When in doubt about a design element, keep it neutral. Don't do it just because it's a trend or popular, do it because you love it and it makes you happy. I kept all my bathroom tile white and added interest by changing up the pattern of the tile such as herringbone pattern in the masterbath floor.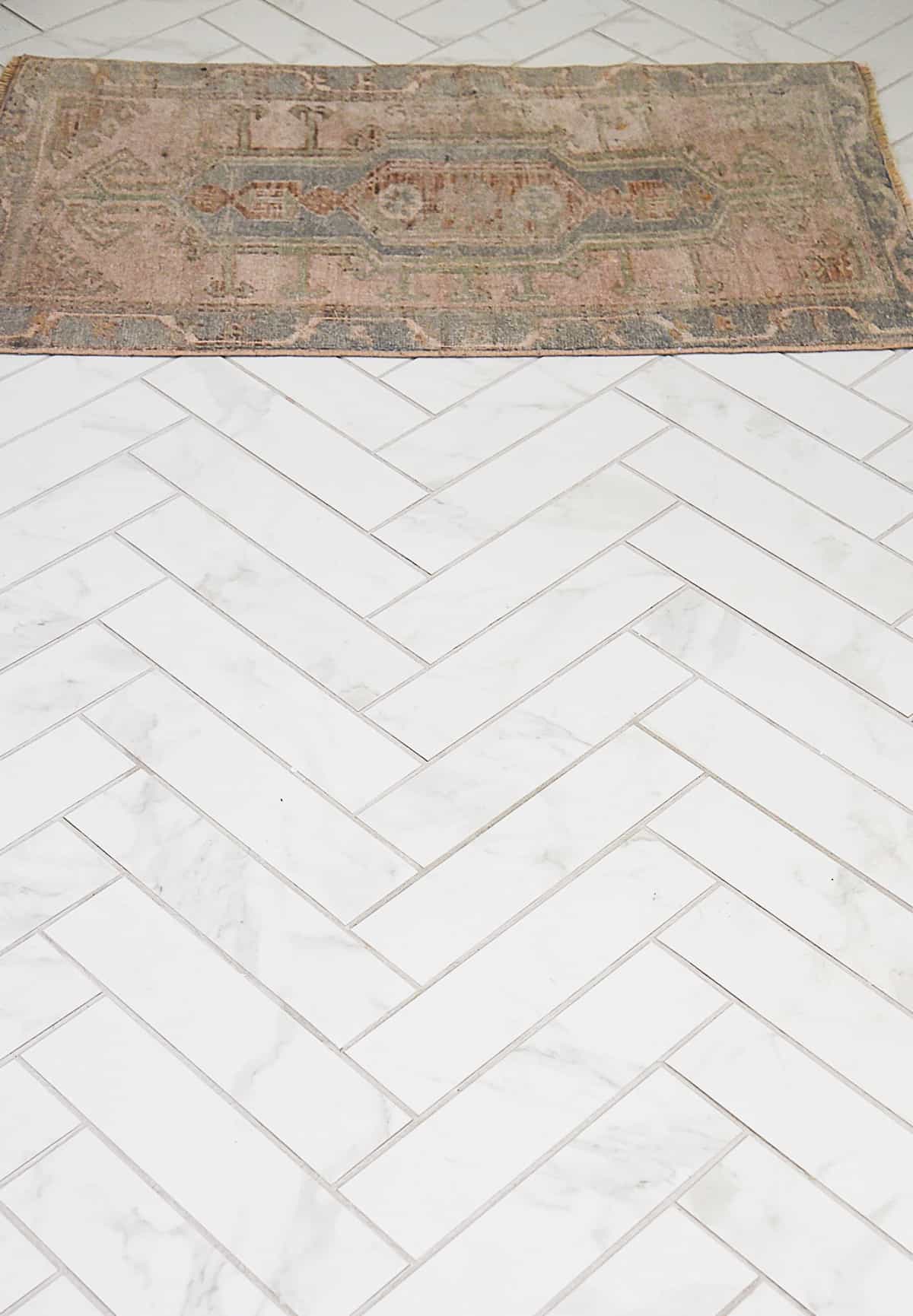 When we were building a home 28 years ago I made some design choices that I regretted down the road. If we had only stayed in that house 5-6 years they would have been fine but 20 years later the choices were outdated and we ended up redoing a lot of things.
So, if you plan on staying in a house for a while, my advice is to keep it neutral and add color and utilize trends in your accessory/furniture decorating and things that are easier to replace than tile!
Plan on Upgrades. My first piece of advice is have a budget going into the process for how much you will spend on upgrades. Be aware that on average you will spend 10 percent of the house base price in upgrades. We found this to be accurate for us.

What we chose to upgrade While Building a House:
Our cabinets. This was an important one for me, especially the cabinets in the kitchen since the kitchen is my office. We also chose to upgrade the countertops in the kitchen and put in 3″ thick counters.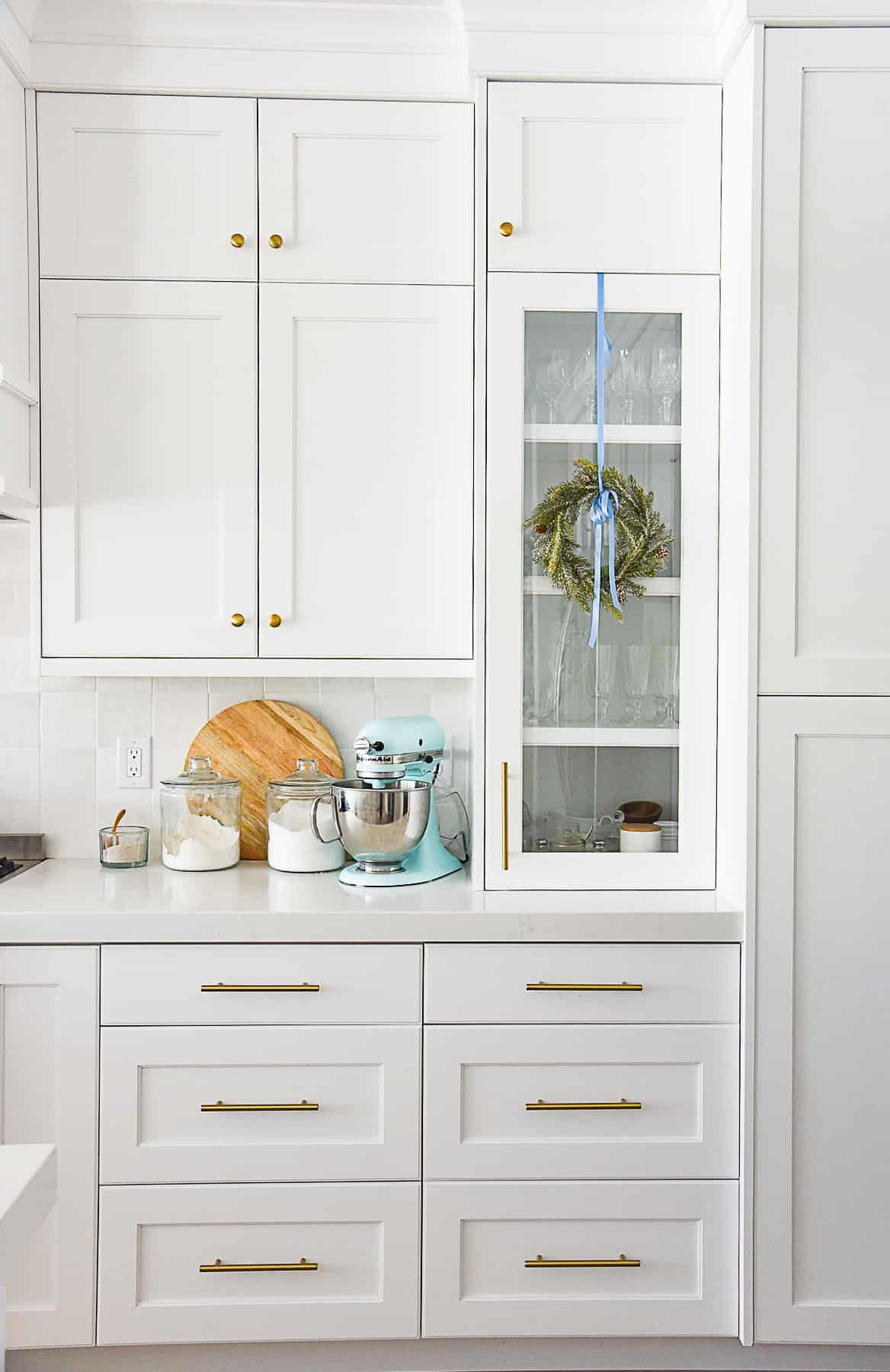 Sink: I wanted a farmhouse sink so this was also an upgrade and one that should be done before building as the cabinetry needs to be cut differently for a farm house sink and would not be easy to do later.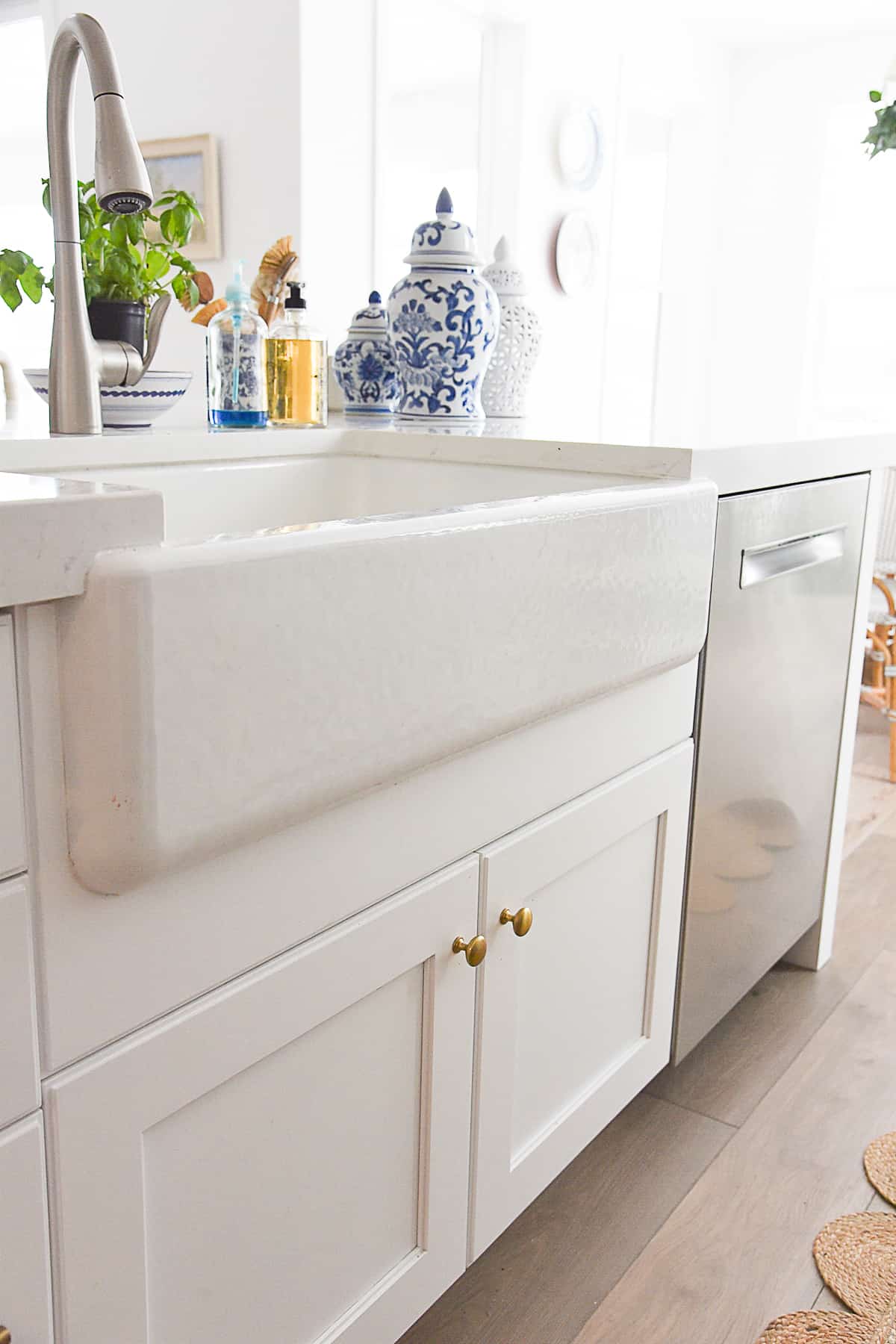 Floors: We upgraded our laminate floors too as that would be a huge job and expense later!
What we didn't upgrade
Lighting: I didn't care for a lot of the light fixture options my builder had so I used the basic options and planned to purchase my own light fixtures after we moved in. I also wanted pendant lighting over my island and it was less expensive to just have them wire the ceiling for the lights, cap it off and then we purchased and added them ourself after moving in.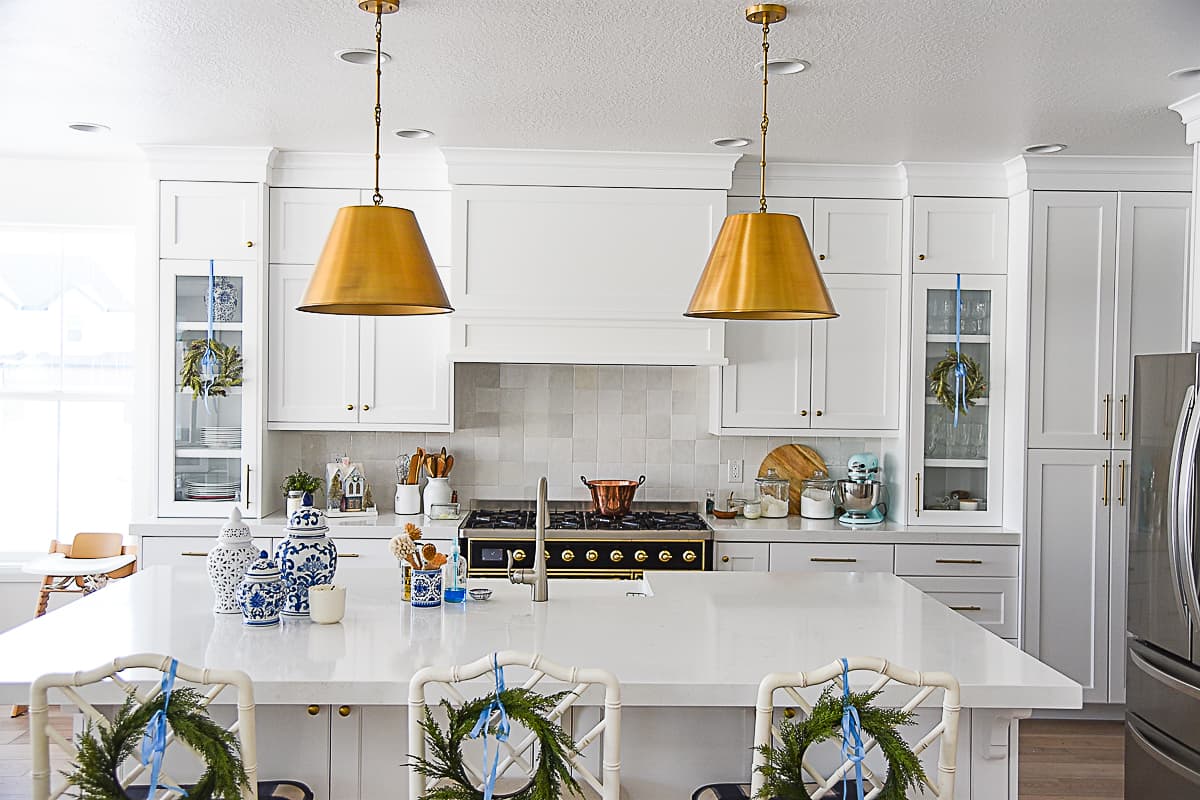 Plumbing fixtures: I wanted brush gold fixtures in my kitchen and some of my bathrooms and the builder didn't have any options I liked so we put in the basic fixtures and plan to replace them ourselves.
Backsplash tile: I had a certain tile in mind that I wanted and the design center didn't have that as an option so we just had them paint the sheetrock and then we tiled it once we moved in.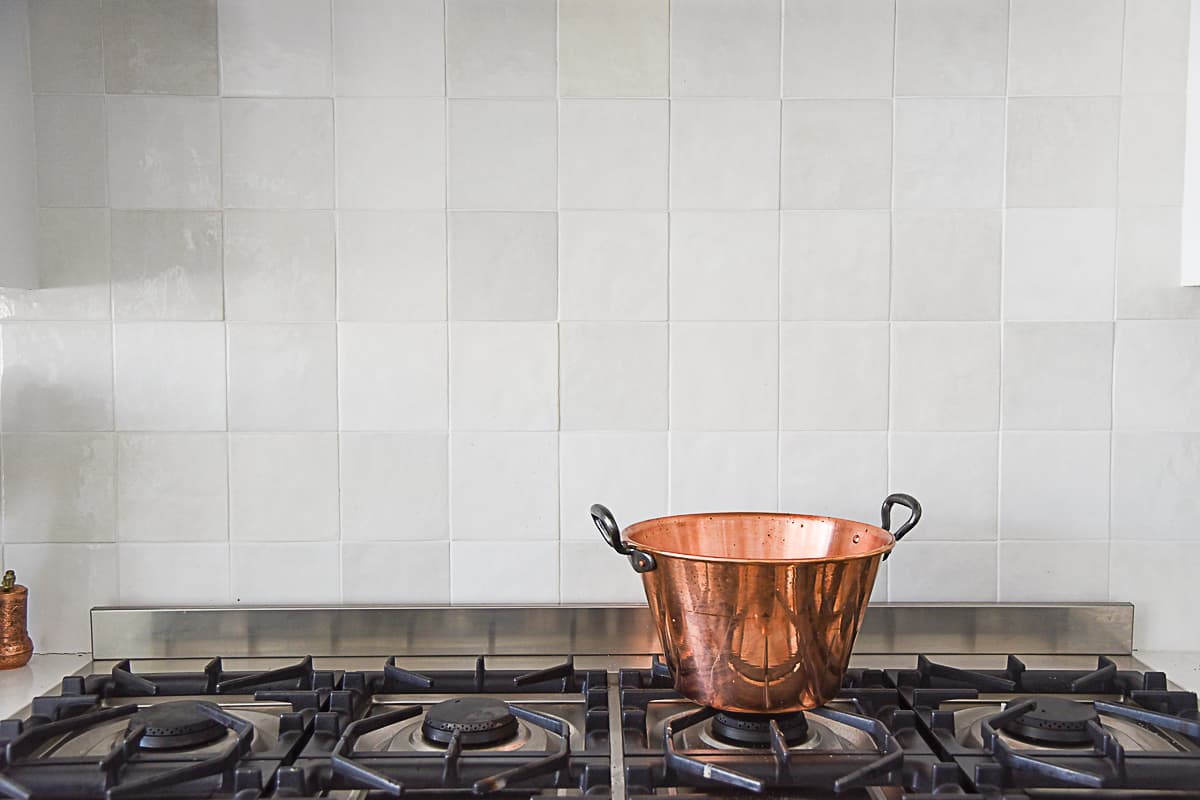 Leave things unfinished. To keep the price down while building a house, we decided to not have the builder finish our basement. We found our own contractor and were able to finish the basement after we moved in for less money.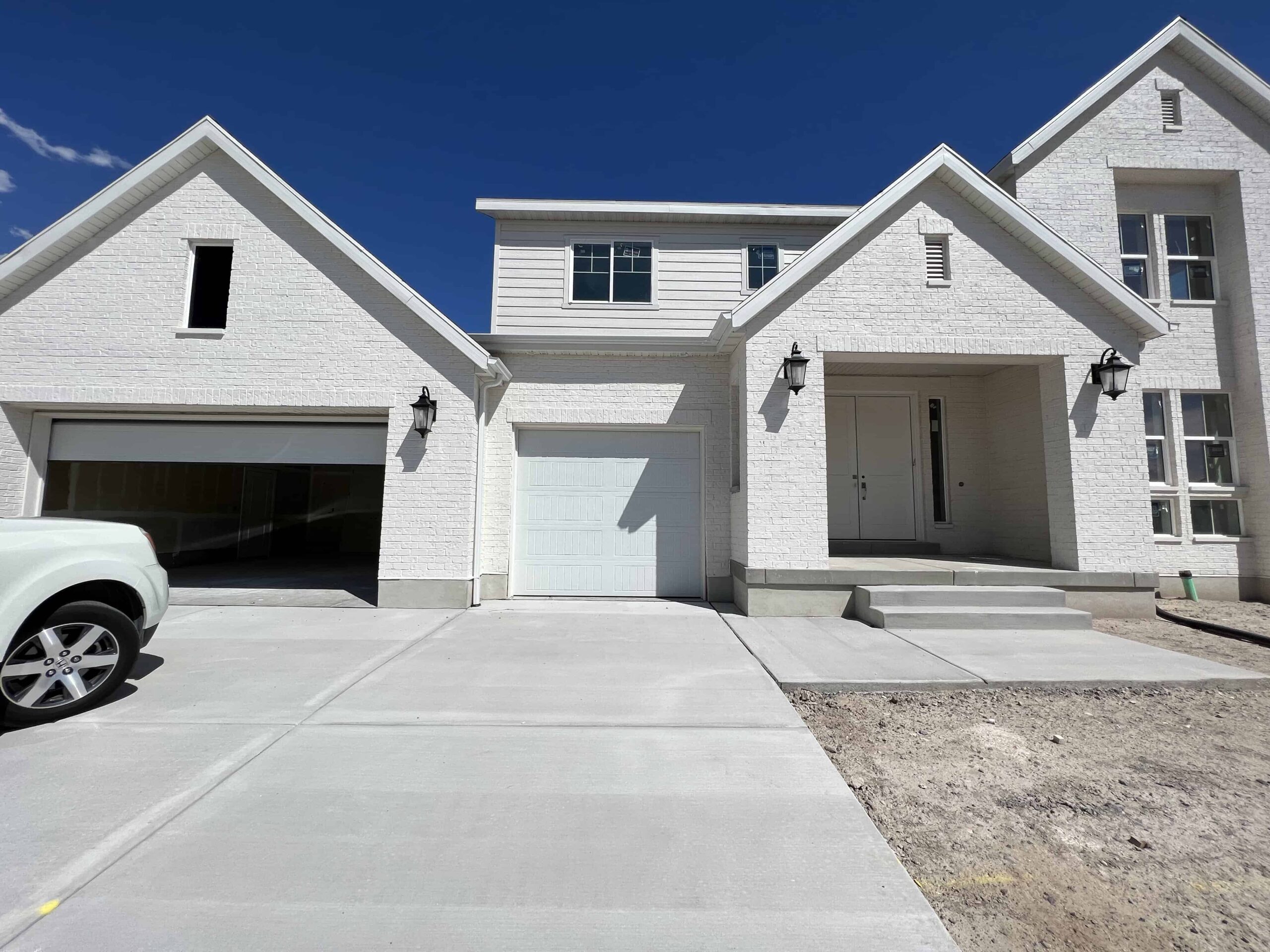 Building a house is a lot of work and stress but it is also so exciting. Having the opportunity to pick out all the design elements of a home, starting with a fresh, clean slate is amazing.
I hope these tips will help you as you begin your journey to building a house.
Be sure and follow me over on You Tube for weekly cooking demos.