I am a recipe collector.  I have piles of cookbooks and stacks of recipes.  But I bet if you were to look through all those recipes there is one kind of recipe I have more of than any other recipe.

I seem to be on an eternal quest for the BEST chocolate chip cookie recipe.
Several weeks ago I asked on Facebook how many chocolate chip cookie recipes does one person need!?  Most of you answered – just one!!
Well, I have several wonderful chocolate chip cookie recipes here on the blog. But I always seem to think there is a better one out there.  I would find one and try it and it usually wasn't better.  My friend Heidi did shared a recipe for a Chewy and Amazing Chocolate Chip Cookie that is really pretty amazing.
But I keep searching.
I have found that chocolate chip cookie recipes seem to go in and out of popularity, especially in the blogosphere.  The most recent chocolate chip cookie recipe to hit the blogosphere is one that was featured in the New York Times when they set out to find the best chocolate chip cookie recipe.
Their winner was a recipe adapted from Jacques Torres. I had actually printed off this recipe months ago and put it in my To Try file and totally forgot about it until I was reminded of it when Tidy Mom featured it on her blog and declared it the best chocolate chip cookie recipe!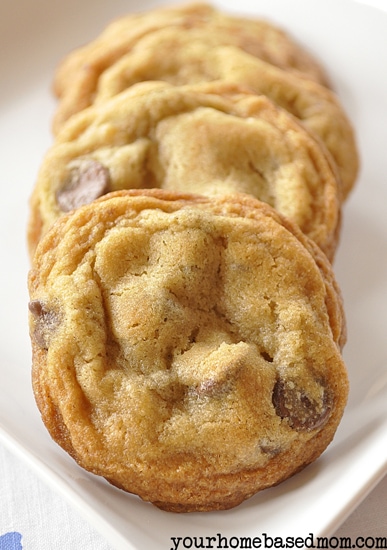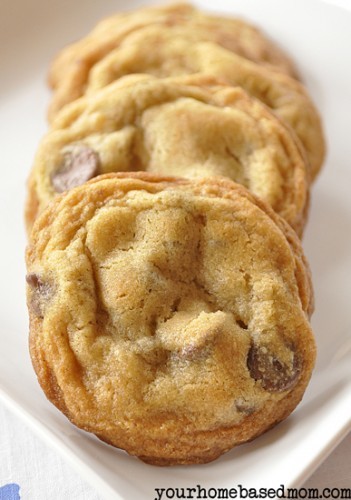 The recipe takes a bit longer than your typical chocolate chip cookie recipe because it needs to be chilled.  But let's just say the little bit of extra effort is worth it.
This chocolate chip cookie is everything a chocolate chip cookie should be, at least in my opinion.  Crispy on the edges and soft and chewy in the middle.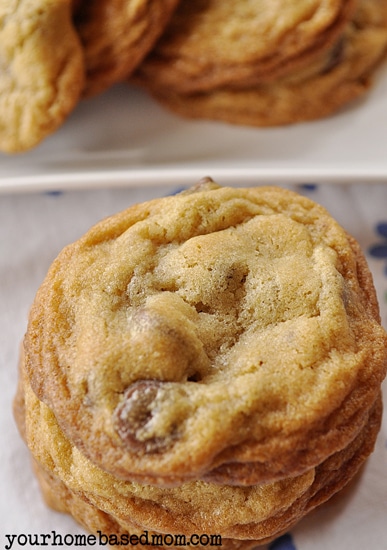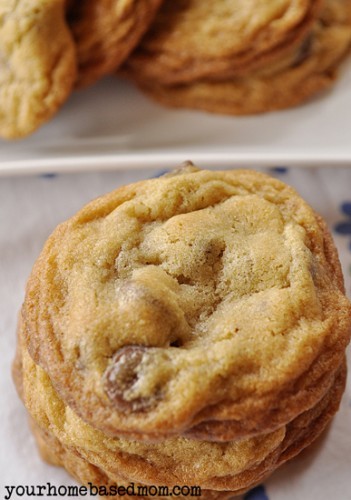 Top Tips for making the BEST Chocolate Chip Cookie:
Use a combination of cake flour and bread flour.  Don't cheat on this one.  Cake flour is finer than bread flour but the bread flour has gluten in it which is important.
Have eggs and butter at room temperature.  You don't want your butter really soft.  Soft butter is when you can use your finger to easily indent into the butter.
Cream your butter and sugar for 3 -5 minutes.
Chill your dough.  The recipe calls for you to chill it for 24-36 hours but seriously, who could wait that long.  I chilled it for a few hours and baked a batch.  They were delicious.  I then exercised self control and chilled it for 12 hours – they were still delicious.  Again at 24 hours – delicious!  Maybe my chocolate chip cookie tastebuds aren't that highly developed but I couldn't see any big difference between those chilled only a few hours and those chilled the recommended 24 hours.  So why wait!?
The other trick is to be sure and not make your cookies too small.  The recipe calls for you to make them 1/3 cup.  Do it.
A slight sprinkling of sea salt on the top gives it that extra special touch and flavor. (I did leave the salt off of one of my batches and they were still the BEST.)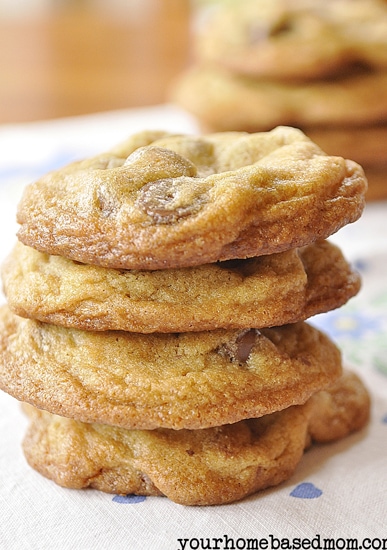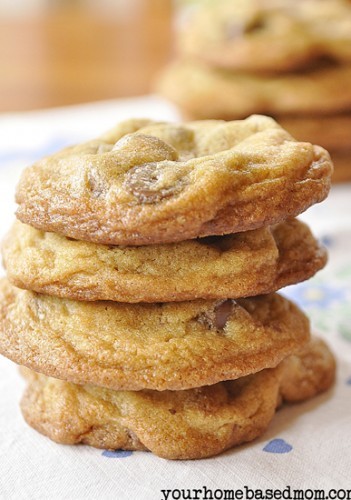 So take my word for your – if you have been searching for the best chocolate chip cookie recipe – your search is now over.  I promise!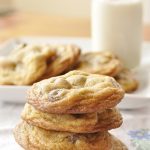 Print
The BEST Chocolate Chip Cookie Recipe
Ingredients
2

C

minus 2 tablespoons cake flour

1 2/3

C

bread flour

1 1/4

tsp

baking soda

1 1/2

tsp

baking powder

1 1/2

tsp

coarse salt

2 1/2

sticks

1 1/4 cups unsalted butter

1 1/4

cups

light brown sugar

1

cup

plus 2 tablespoons granulated sugar

2

large eggs

2

teaspoons

vanilla extract

1 1/4

pounds

bittersweet chocolate

I used Ghirardelli milk chocolate chips

Sea salt
Instructions
Sift flours, baking soda, baking powder and salt into a bowl. Set aside.

In your mixer with a paddle attachment, cream butter and sugars together until very light, about 5 minutes.

Add eggs, one at a time, mixing well after each addition.

Stir in the vanilla.

Add dry ingredients and mix until just combined.

Add chocolate chips and mix until incorporated.

Wrap dough in plastic wrap and refrigerate for 24 to 36 hours. (or just a few hours if you can't wait!)

Dough may be used in batches, and can be refrigerated for up to 72 hours.

Preheat oven to 350 degrees. Line a baking sheet with parchment paper or a nonstick baking mat.

Scoop dough (the size of generous golf balls) or about 1/3 cup onto baking sheet, making sure to turn horizontally any chocolate pieces that are poking up; it will make for a more attractive cookie. Sprinkle lightly with sea salt and bake until golden brown but still soft, 18 to 20 minutes. Transfer sheet to a wire rack for 10 minutes, then slip cookies onto another rack to cool a bit more.

Repeat with remaining dough, or reserve dough, refrigerated, for baking remaining batches the next day. Enjoy!