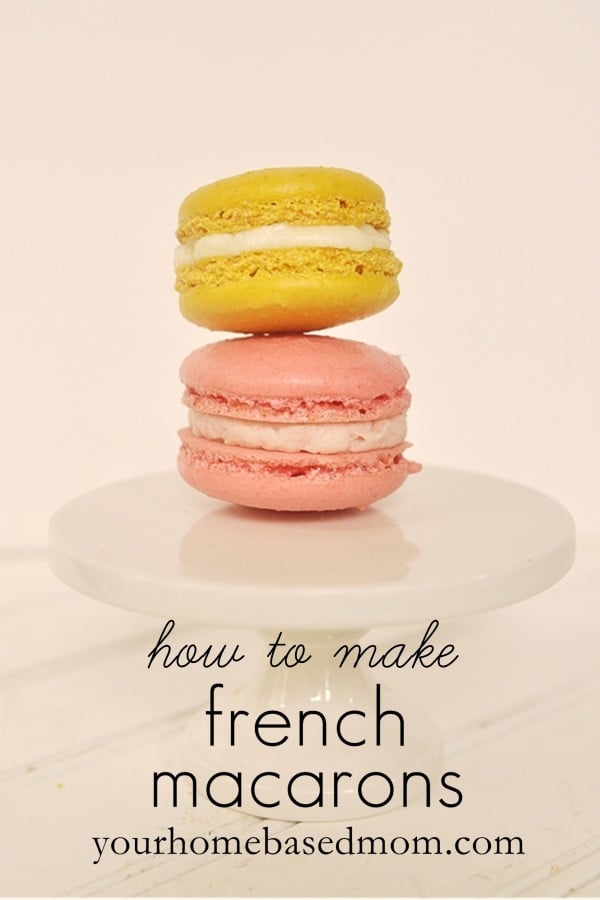 Today's recipe is another Food Bucket List item.
One of the items on my list is to eat macarons in Paris from Laudree Bakery. I have actually had a Laudree macaroon when my next door neighbor carried a box home with him from a trip to Paris and kindly shared with me. But I want to eat one in Paris. I am so excited to tell you that I am going to be able to cross that item off my bucket list next week. Yes, I am going to Paris. I'll share details with you later but let's just say I couldn't be more excited. I fell in love with the city of Paris a few years ago when I visited for the first time but fell in love with the whole idea of Paris years ago when I first studied French in the sixth grade and continued that study into college. It's been 30 years since I studied French but several months ago I enrolled in a Community College French course and I am reacquainting myself with that lovely language!
Now, French macarons are not to be confused with the more common coconut macaron. French macarons are different – very different!
You see, my Food Bucket List is two fold. It is a list of foods I would like to eat in certain places but it is also a list of foods I want to learn how to make. And mastering the macaron is on that list. Well, I am pleased and proud to announce that I did it – yes, I mastered the macaron! Today I am excited to share with you what I learned and beware – there are a lot of photos. I kind of fell in love with how pretty these little fellas are!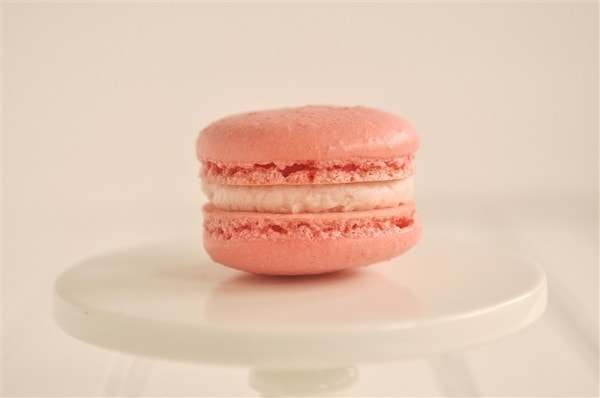 There are several things I love about macarons. First, they are from France, second, they are pretty, third, they are delicious and fourth, they are naturally gluten free as they are made with almond flour.
So, when Cali was home for break I decided now was the time, it was time to master the macaron. I did some reading, studying, You Tube video watching to learn more about the fine art of macaroon making. From all I read I knew that macaroon making could be a bit tricky but I felt like I was up to the challenge. I had two helpers in the kitchen with me, Cali and her friend Hannah.
One You Tube video I found very helpful was this one.
The ingredients are fairly simple – almond flour, egg whites, sugar, and cream of tartar. The thing I loved about the recipe I used is that the measurements were in cups, not in grams as most of the recipes I found were. I do have a kitchen scale and know how to use it but I know some of you may not have one and I wanted to make the recipe as easy to follow as possible for you.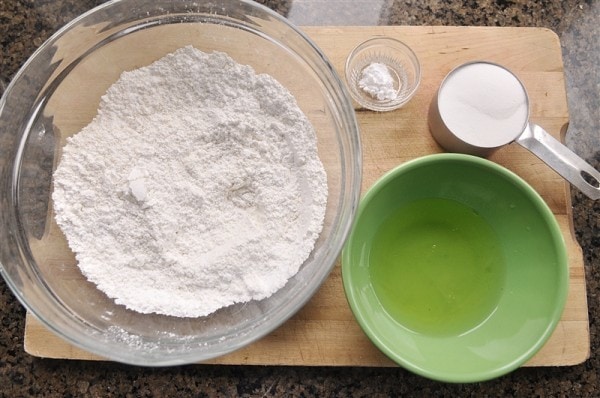 Almond Flour is fairly easy to find. It is a bit expensive but so worth it. You can make your own almond flour by grinding almonds but buying the flour was so much easier and I think you get a smoother product.
Some of my top tips for mastering the Macaron:
1. Sift your almond flour and powdered sugar. You don't want any clumps! Don't skip this step like you may in other baking recipes.
2. Make sure your eggs are at room temperature. Submerge them in a bowl of warm water for 5 minutes if you forget to take them out of the refrigerator.
3. Don't over mix (more info below on that)
4. The macarons must sit and try out a bit before baking. You want them slightly tacky to the touch but not stick to your finger. Doing this prevents them from spreading out as they back and forcing them to rise up which will create those cute little feet you want!
5. Only put one cookie sheet in the oven at a time. I tried to rush it and did two and it didn't work – had to throw a whole sheet of this little babies away!
So let's get started!
Like I said, you do want to sift your almond flour and powdered sugar to begin with. Be sure to toss anything that doesn't make it through the sifter.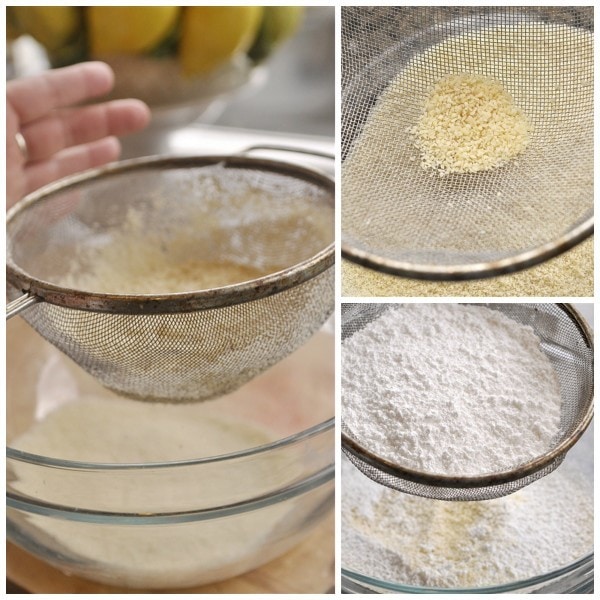 You are going to beat your egg whites (be sure they are at room temperature) and cream of tartar until stiff. If you are using food coloring you can add it in at this point. We were making raspberry and lemon macarons so we added in food color. I use the gel type of food coloring. Gel or powdered are recommended although one of the You Tube videos I watched used liquid food coloring.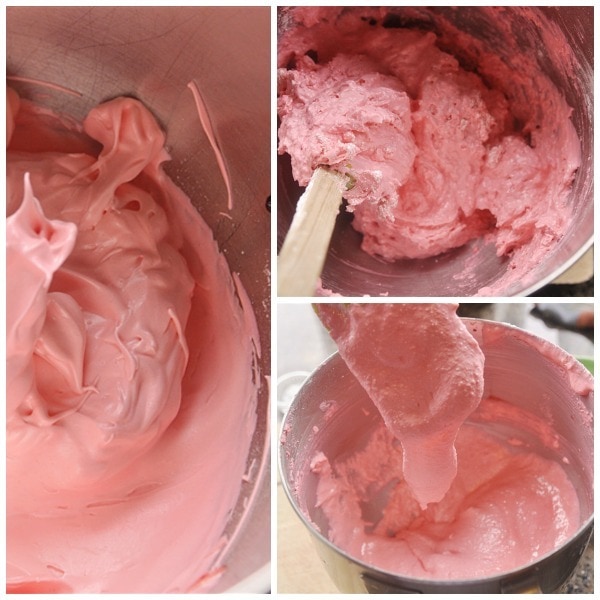 This is where the technique comes in – stirring it just the right amount. If you under mix your macaroons will be lumpy and cracked and no feet or "pied" will form. If you over mix them they will be flat and also won't have feet. Having feet or "pied" is the mark of a well made macaron. I got so excited when I looked into the oven and I could see the feet forming. I kept saying, "we've got feet, we've got feet!" The batter will slightly run off your spatula (see photo above)
To form your macarons you will need a large pastry bag and tip. My tip was round and about 1/2 inch across. I like to place my bag into a large glass or pitcher to hold it upright while I fill it. I closed off the end of the bag with a chip clip to prevent batter from coming out the top. I just eyed the size of the macaron. You do want them to be as close to the same size as possible.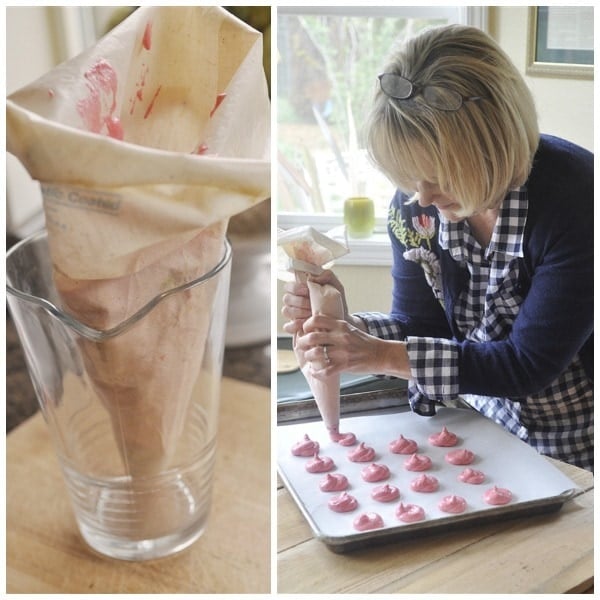 Before putting them in the oven take the cookie sheet and whack it on the table or counter several times. This will help flatten and smooth out the top of the macaron.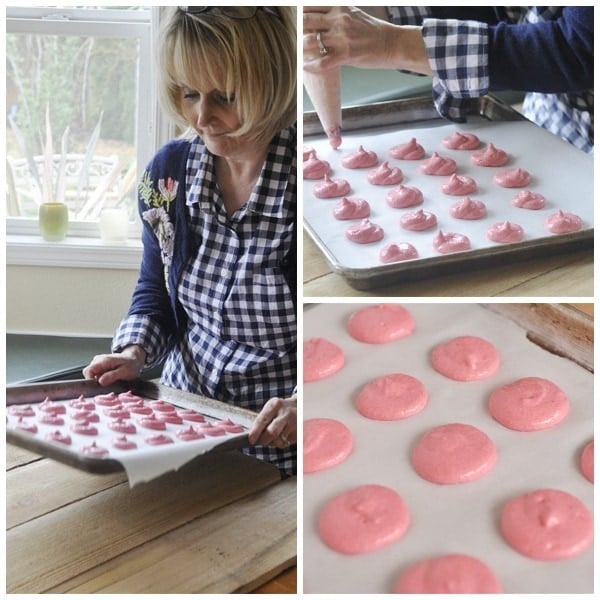 I also read that it is good to open the door to the oven a time or two to release some of the steam. That wasn't a problem because I loved looking at them and watching for the feet to form!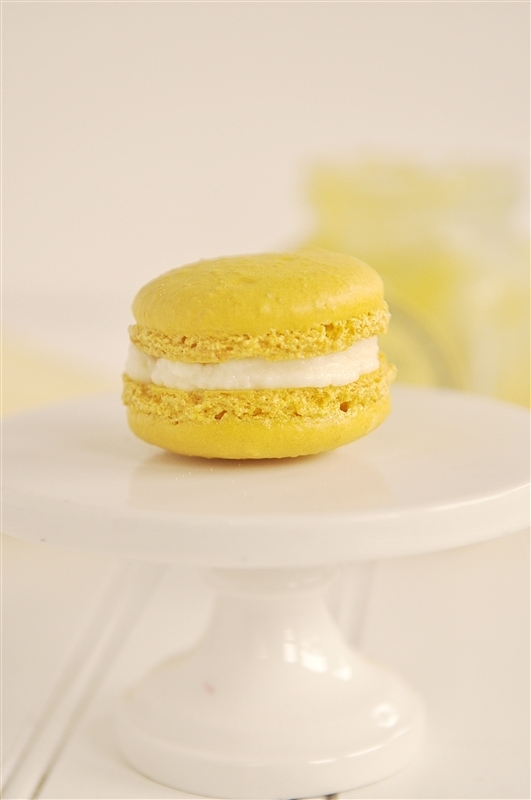 Allow them to cool and mix up your filling. We used a butter cream.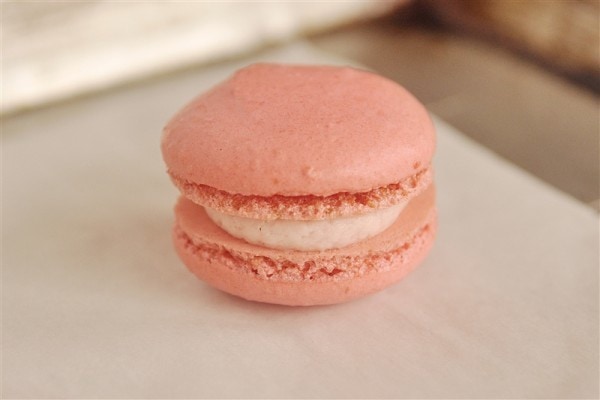 For the raspberry macarons we smashed some fresh raspberries through a sieve and used the juice to flavor the butter cream.
Fill another bag and a smaller round tip (1/4 inch) with your butter cream and pipe it onto the bottom of one cookie. Add a second cookie on top for a perfectly perfect and wonderful French macaron!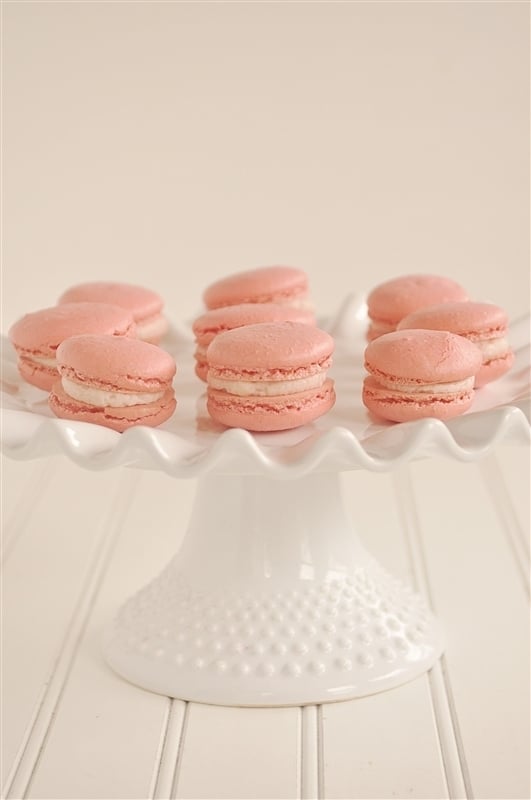 For the lemon version we made a plain butter cream but then topped it off with a bit of lemon curd – pure heaven!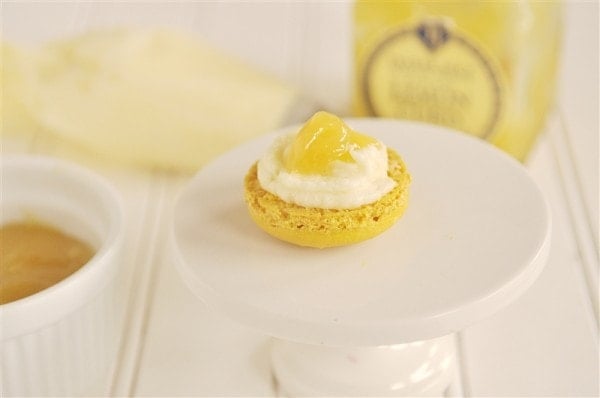 I think the lemon may have been my favorite!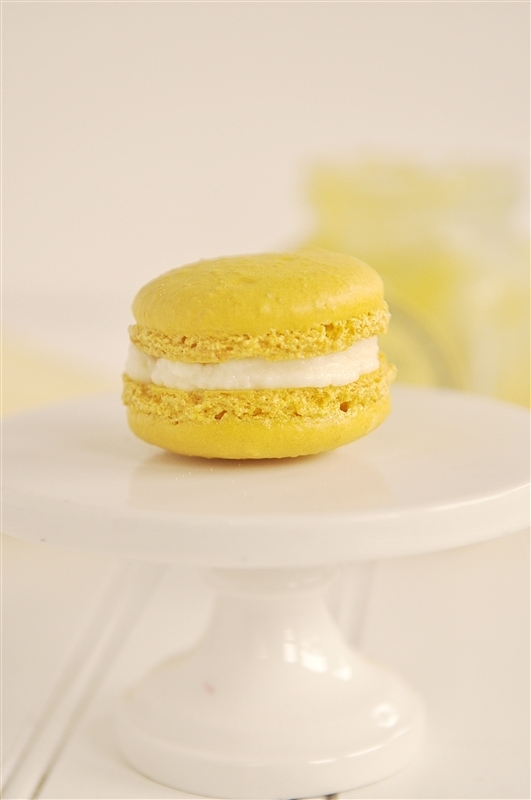 We even did a few lemon raspberry combinations! I think we almost had as much fun making them and photographing them as we did eating them. But I must say eating them was pretty darn fun! I pleased to say that they are fairly easy to make. Don't know why I was so intimidated by them for so long. Can't wait to do it again and try some different flavor combinations.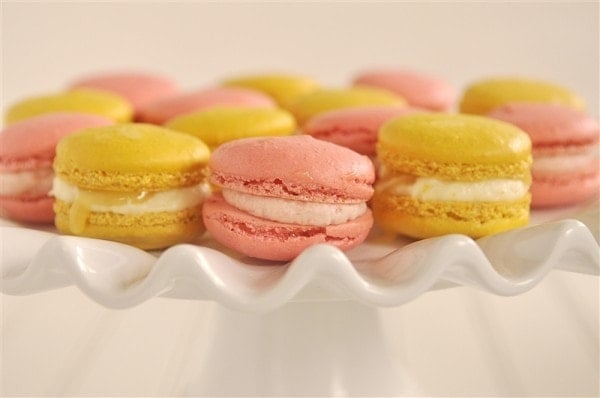 Voila, les macarons parfait!
Check out more French recipes: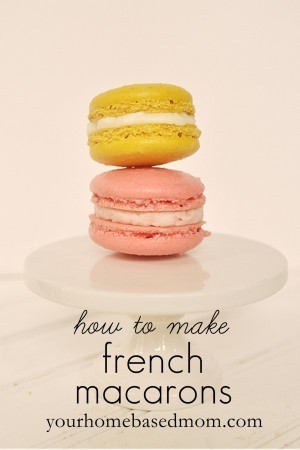 How to Make French Macarons
Step by step instructions on how to make homemade French macarons.
Let Macarons Sit Before Baking:
40

minutes
Ingredients
3 Egg Whites
¼ C white sugar 50 g
2 C confectioners sugar 200 g
1 C almond flour 120 g (SEE NOTE BELOW)
pinch of salt
¼ tsp cream of tartar 2 ml
Raspberry Filling
½ C salted butter 120 g
1 C powdered sugar 75 g
1 C 150 g fresh raspberries, worked through a sieve to extract 3 tbsp of juice
Lemon Filling
Use Raspberry Filling but omit raspberries just and use cream or milk instead
Lemon Curd
Instructions
Preheat oven to 300 degrees

Beat egg whites, cream of tartar and sugar for 8-10 mins.

Whip until they form a peak that stands upright.

Then add the food coloring. Color does fade as it cooks, so do a shade or two darker than you want them to be.

Sift almond flour, and powdered sugar. What remains will be the larger lumps of almond pieces. Just discard those, or use them to snack on You want a really fine powder mixture to create a smooth and pretty on top to your cookie.

Fold flour/sugar mixture into the egg white mixture.

This is where all your hard work can really go wrong. Approximately 65-75 turns of your spatula when folding is about the right amount of time. But again, it can be tricky,

Transfer batter to a pastry bag.

Pipe out 1 inch rounds on a baking sheet lined with parchment paper.

Tap the pan hard at least 2-3 times to release the air bubbles. This will prevent the tops of your macaroons from cracking.

Let them sit out for 30-40 minutes, or up to an hour if you want. This will allow them time to dry out a bit before hitting the hot oven. They should be "tacky" to the touch, but not stick to your fingertips. This is another important step to assuring your macaroons develop feet! When they dry out they can't spread out in the oven, and are forced to rise up. That's what creates the feet!

Bake for 20 mins. DO NOT UNDER BAKE, even if they look done! Otherwise they will stick to your tray.

Meanwhile mix the buttercream.

Whip butter with an electric mixer until pale and fluffy. Slowly add sugar.

Add juice to buttercream, and whip until combined. Transfer to a pastry bag, fitted with a small tip (about ¼ " in diameter)

Reverse cookie shells on their backs, and pipe a small mound of filling on one of them. Top with the other shell et Voila!
Nutrition Facts:
Calories: 129kcal (6%) Carbohydrates: 18g (6%) Protein: 1g (2%) Fat: 6g (9%) Saturated Fat: 3g (19%) Polyunsaturated Fat: 1g Monounsaturated Fat: 1g Trans Fat: 1g Cholesterol: 10mg (3%) Sodium: 40mg (2%) Potassium: 13mg Fiber: 1g (4%) Sugar: 17g (19%) Vitamin A: 118IU (2%) Calcium: 11mg (1%) Iron: 1mg (6%)
* Disclaimer: All nutrition information are estimates only. Read full disclosure here.