Sharing so many 70th Birthday Party Ideas for a vintage themed party. Such a fun way to celebrate a milestone birthday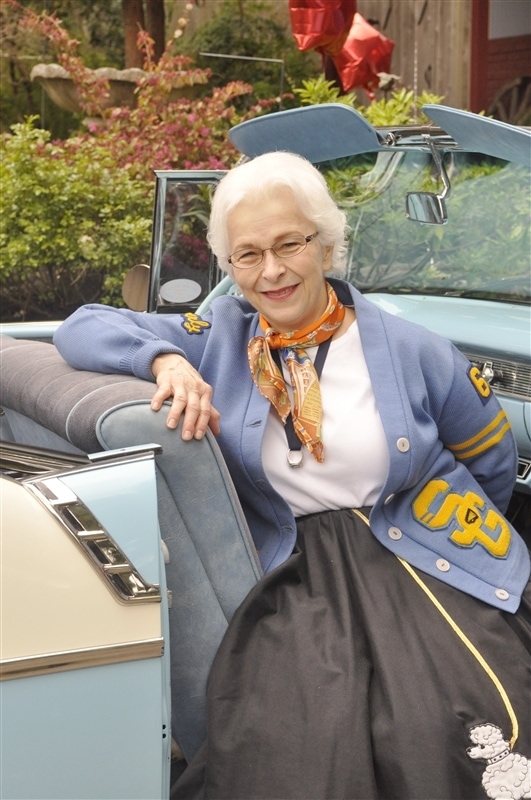 I met my friend Bev 20 years ago when she attended a photo organizing class I was teaching. Our relationship didn't end with that class and we have been friends for over 20 years. Bev is an inspiration to me. For several years she cleaned my house for me and she always left her special "Bev touch." She has a way of leaving everything she finds better than she found it. Bev is also a lover of "stuff" like I am. I love going to her home where her love of all things vintage is so evident.
70th Birthday Celebration
So for her 70th birthday celebration she had to incorporate that love of all things vintage. Bev and her daughters know how to throw a party. They decided on a 50's/60's theme for the party and look what was parked in the driveway when the guests arrived!
Isn't she a beauty? And she made the perfect backdrop for photo taking. The guests were asked to dress in 50's attire and it was so fun to see what everyone wore. Bev pulled out her high school letterman sweater!
And she and her sweetheart looked so cute together in the car!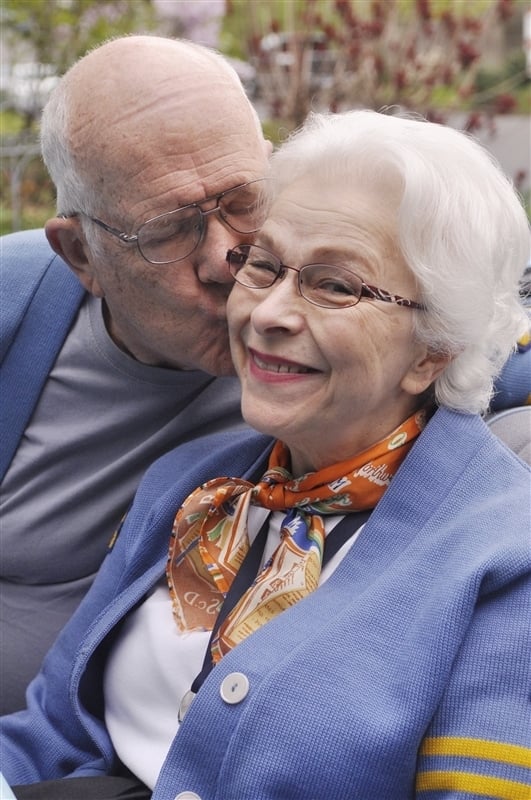 Of course all the guests got their photo taken with the birthday girl in front of the car. I was trying to channel my inner 50's housewife look!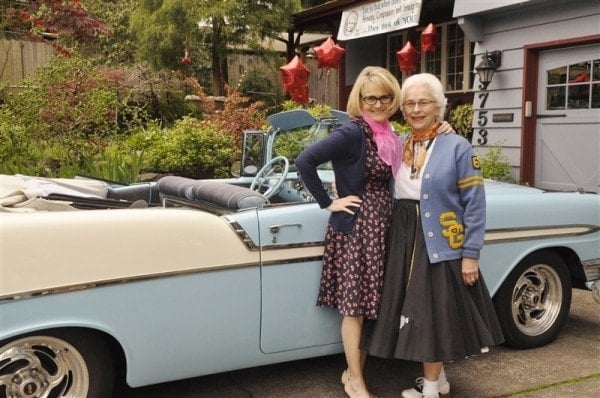 And the whole group!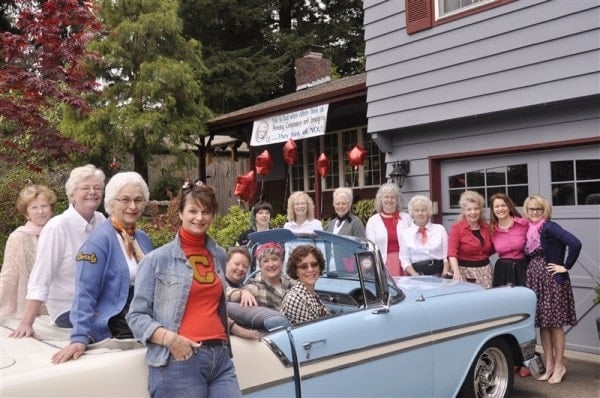 I can't wait to show you what greeted us inside. Bev has raised three daughters who love the attention to detail as much as their mother and let me tell you – they did an amazing job. I was in heaven!!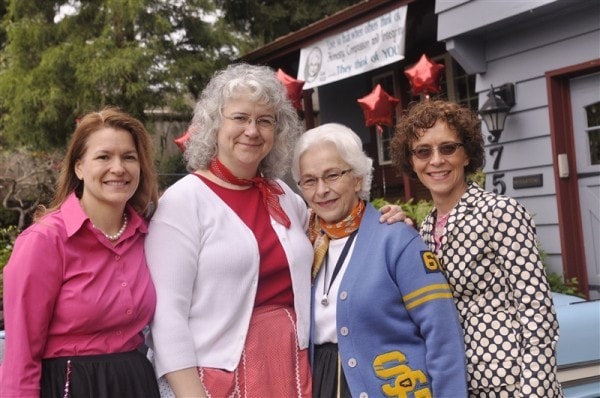 In the entry way was this fun display of some of Bev's childhood items. An old doll and I love what she did with her old records.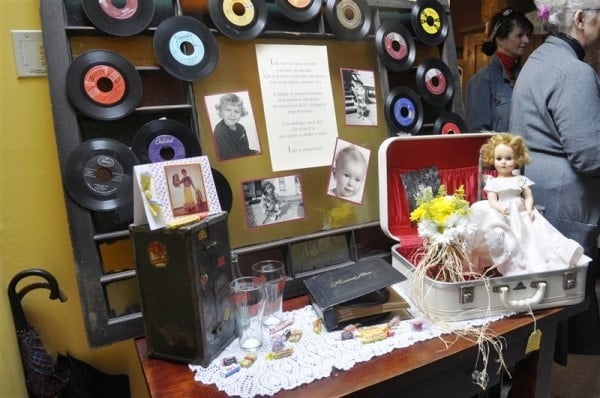 Bev was determined that all her party guests were going to sit at the same table and so her husband built her an extension to her dining room table so they could accommodate 18 guests! The table was set with lots of her vintage items.
70th Birthday Party Ideas
Each guest had their own little mason jar pitcher of lemon water and a jelly jar to drink out of. They know I am an herbal tea drinker so they had my own personal pot of herbal tea all ready for me! Bev's husband used some of her old tart molds to make the cute little name place holders.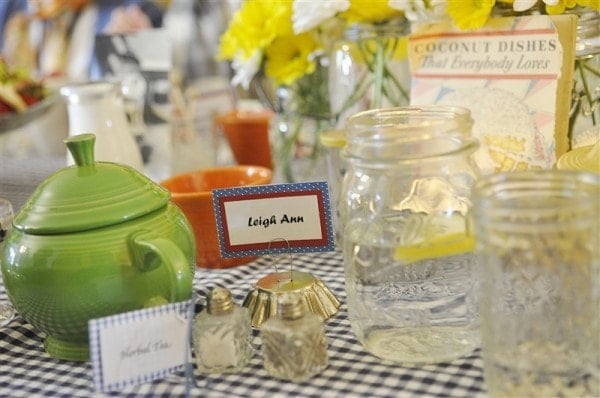 Each place was set and ready for the guest.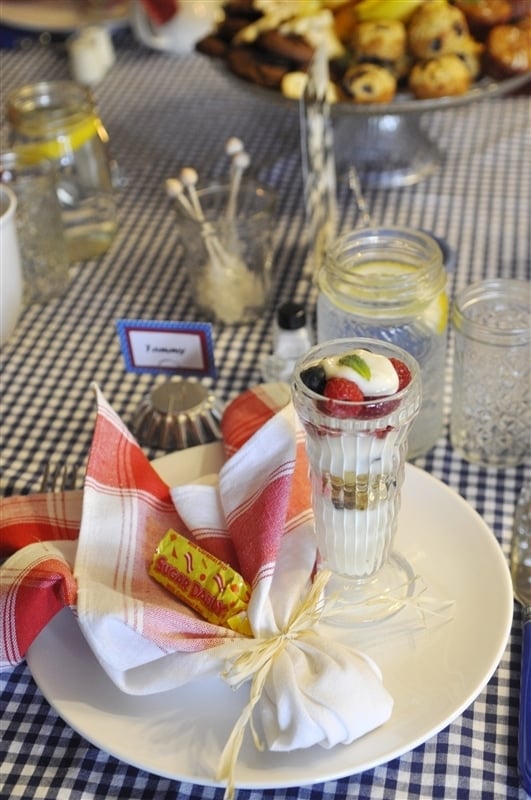 The menu included yogurt parfaits, curry chicken salad, mini quiches, sausage, a variety of muffins and even gluten free doughnuts and muffins!! Every detail was covered.
The table was also set with beautiful platters of fruit and more muffins!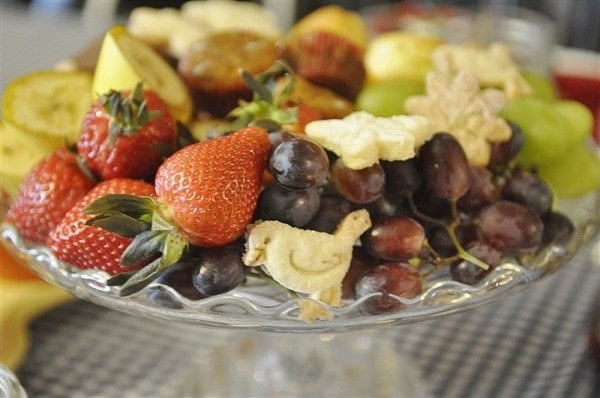 I loved the use of old jello molds to hold candles.
Pretty yellow and white mums in mason jars ran down the center of the table.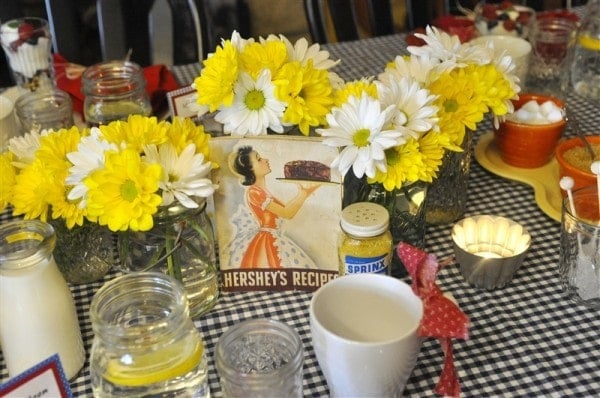 There was a coffee and tea station set up in the room also.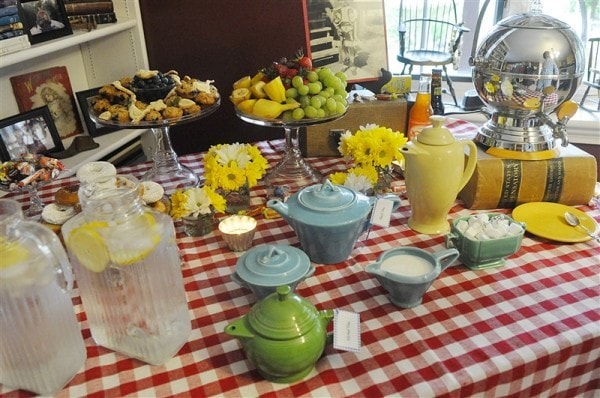 We played a fun 50's/60's trivia game. Questions were passed around the table and we each had a turn answering or trying to answer one. We each took turns sharing a special memory or thought about Bev too.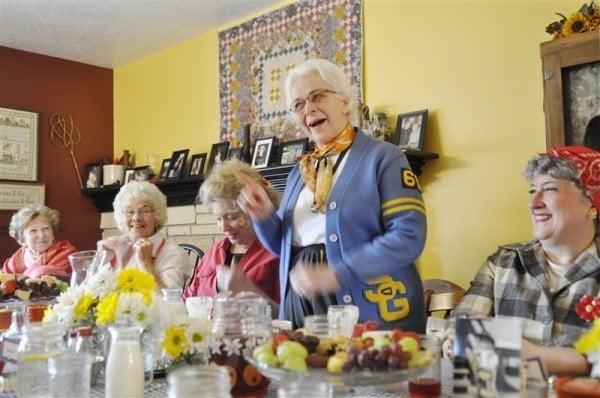 I think the birthday girl was pretty much in heaven!
I was so grateful to have been a part of this amazing birthday celebration. And of course, no one leaves Bev's house empty handed so we each had a gift to take home.
Loved the photo on the door – complete with a birthday cake.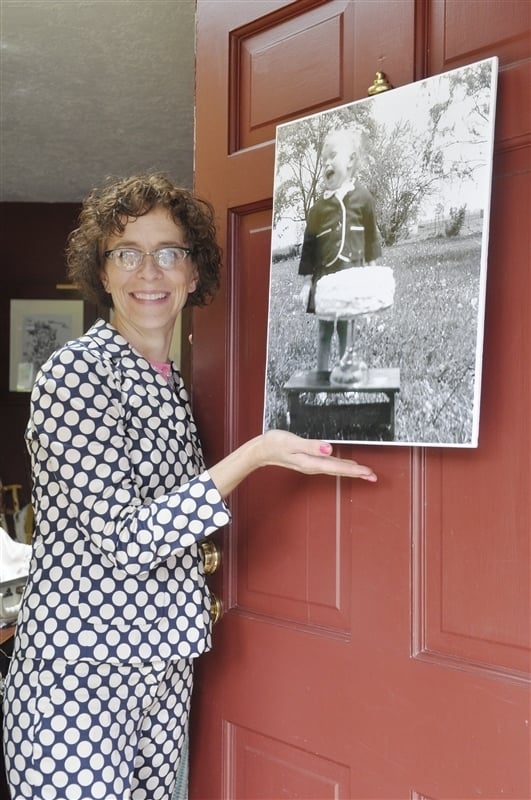 Bev's daughter Dyann has become a dear friend of mine and I couldn't resist having one last picture taken with her. Love her zoot suit! Only Dyann could pull this off!!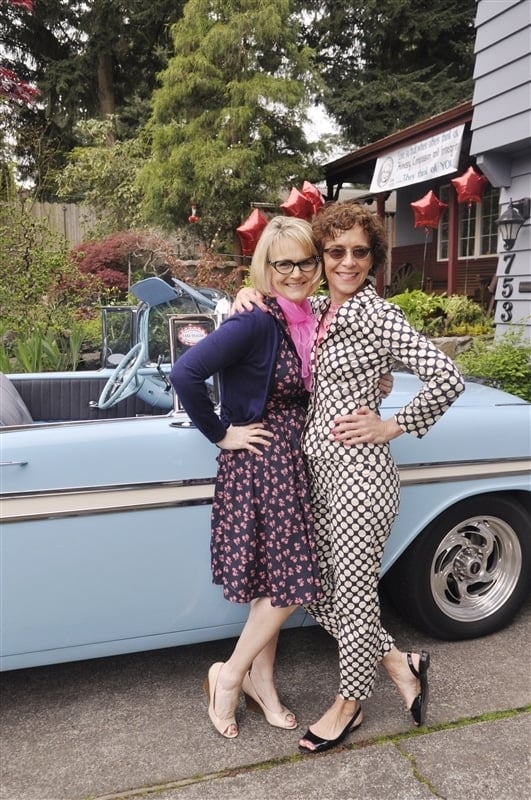 I am so grateful for amazing friends in my life!