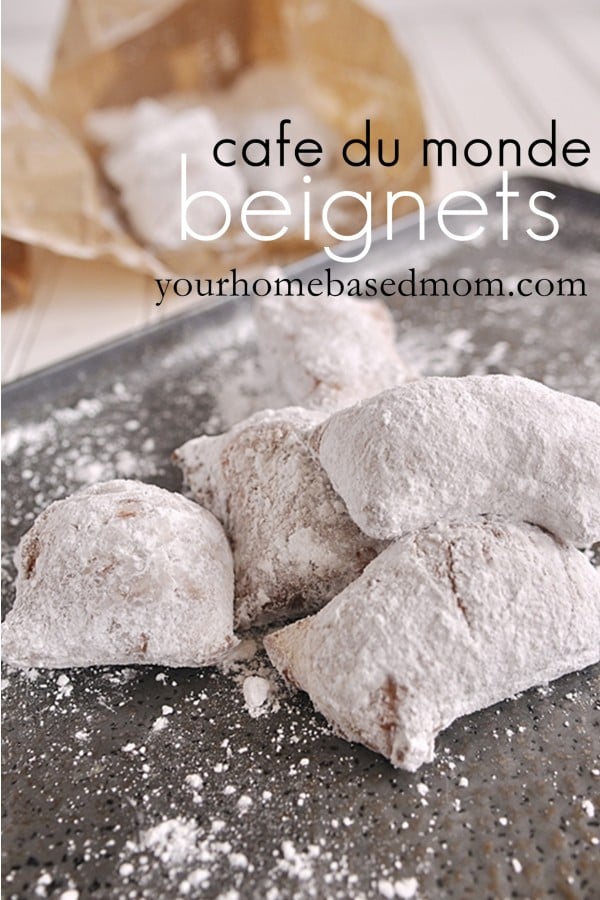 Like many of you I have a Bucket List. A list of places I hope to one day visit and things I'd like to do and accomplish. But I have another Bucket List – it is a list of things I hope to one day eat. One of those things I hope to eat one day are Beignets at Cafe Du Monde in New Orleans.
Originally established as a coffee stand in 1862 Cafe du Monde is open seven days a week, 24 hours a day and located in the French Quarter. It is famous for its cafe au lait and it's french beignets. Beignets is french for bump and is basically a piece of fried dough tossed in powdered sugar. They are best eaten warm and fresh. One tip, when eating a beignet, don't wear black. With all that powdered sugar they are a bit messy to eat but so worth it.
I have never actually eaten a beignet at Cafe du Monde but Portland use to have a small New Orleans inspired cafe that I loved and that made amazing beignets but unfortunately they have closed down. When Tessa was in town a month or so ago we went on a beignet hunt. There are a couple of food carts here that make them but much to our disappointment neither cart was open the day we went looking.
So I decided when all else fails – make your own! And that is just what I did. I googled a recipe for Cafe du Monde Beignets and made my own. I discovered that one of their secrets is that they fry their beignets in Cottonseed Oil which I couldn't find so I just used plain old vegetable oil.
After mixing up the dough I rolled it out thin and cut it into squares.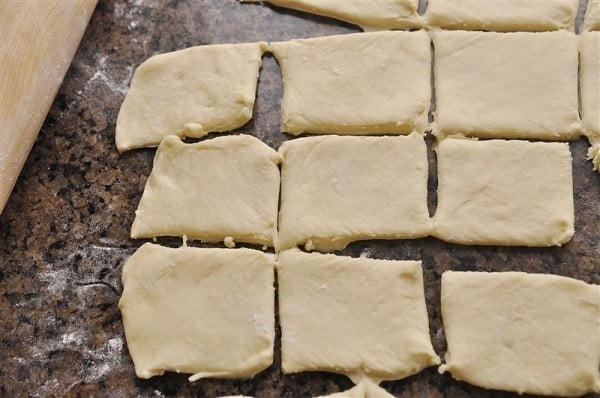 The dough is then fried in hot oil. Be sure and regulate your temperature with a thermometer. One clue that you are doing things right is that the dough will float right up to the surface after you put it into the oil and begin to puff up like a pillow or a bump (thus the name!) Another tip I learned from watching a few You Tube videos was to give the dough a oil bath as it cooked. Take your spoon and gently splash oil onto the top side of the dough so that it is actually cooking too.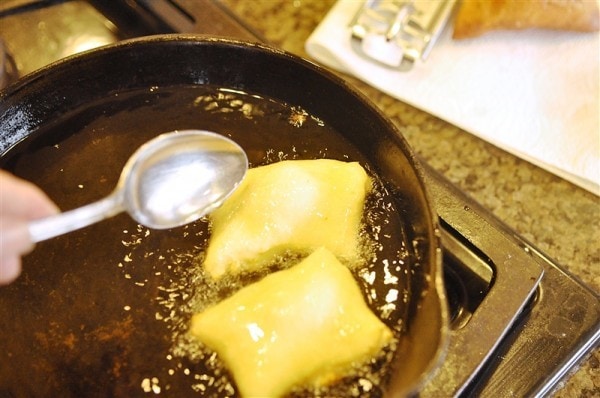 You want them nice and golden brown and puffed up.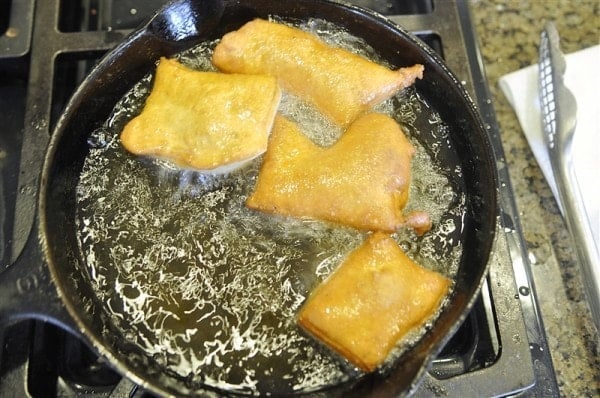 Remove them from the oil and put them immediately into a brown paper bag full of powdered sugar.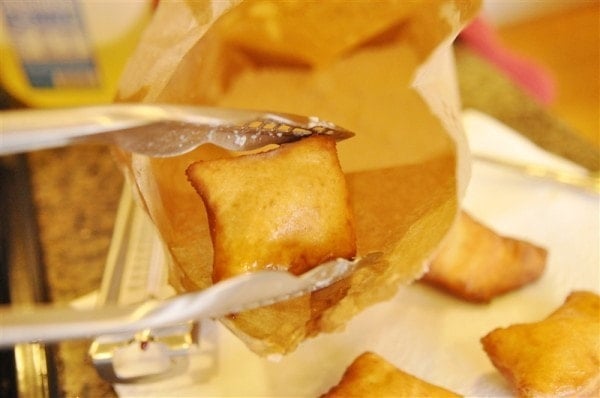 Shake the bag to coat and then be ready to eat and enjoy! Remember, you must eat these fresh and warm!!
And I can pretty much guarantee you won't be able to eat just one. When you bite into this yummy, sugary goodness the inside will be nice and airy!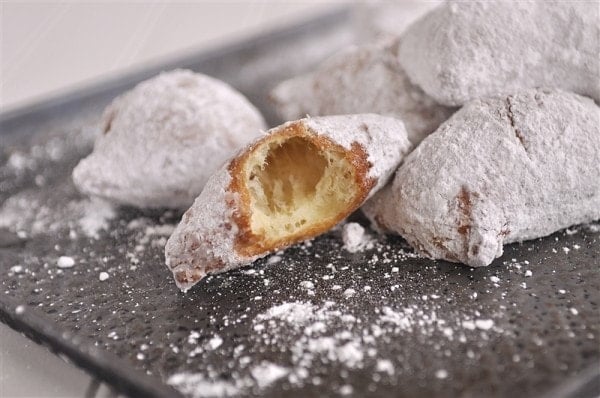 So hopefully one day I will get to Cafe Du Monde where I can partake of the real thing but until then the next time a beignet craving arises I don't have to go looking for an open food cart. I can take care of it right here at home! The recipe makes a lot of beignets – probably about 50 or so but the dough can be refrigerated for several days so you can enjoy them all week!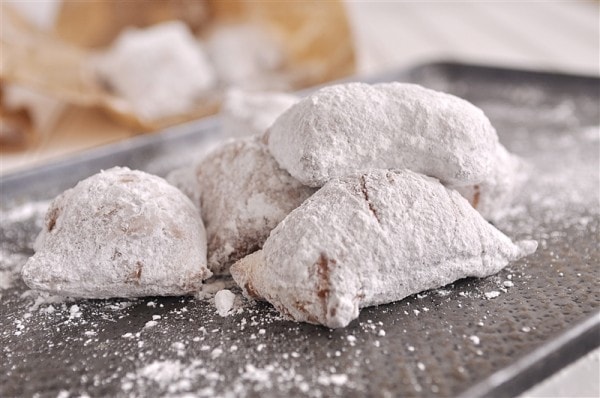 What's on your Food Bucket List??
Enjoy!
Leigh Anne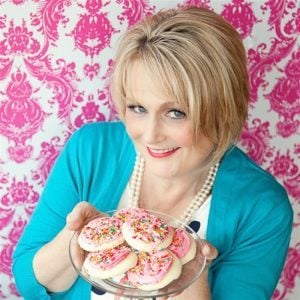 You can also visit me on Facebook, Pinterest, Twitter or Instagram.
For a list of where I Link Up each week go here.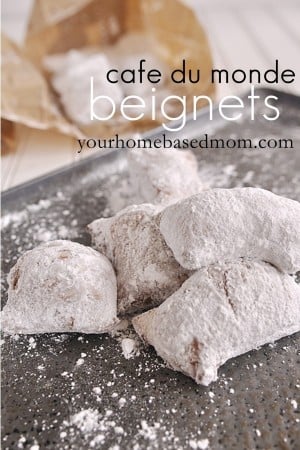 Cafe Du Monde Beignets
Ingredients
1 package active dry yeast
1 1/2 C warm water 100 to 115 degrees F
1/2 C granulated sugar
1 tsp salt
2 large eggs
1 C evaporated milk
7 C all-purpose flour
1/4 C vegetable shortening
Oil for deep frying
Powdered Sugar for dusting (or
burying depending on taste)
Instructions
Put the warm water into a large bowl, then sprinkle in the yeast and a couple teaspoons of the sugar and stir until thoroughly dissolved.

Let proof for 10 minutes.

Add the rest of the sugar, salt, eggs, and evaporated milk.

Gradually stir in 4 cups of the flour and beat with a wooden spoon until smooth and thoroughly blended. I used my Kitchen Aid

Beat in the shortening, then add the remaining flour, about 1/3 cup at a time, beating it in with a spoon until it becomes too stiff to stir, then working in the rest with your hands.

Cover the bowl with plastic wrap and refrigerate overnight in a greased bowl. (I didn't refrigerate)

Roll the dough out onto a floured board or marble pastry surface to a thickness of 1/8 inch, then cut it into rectangles 2 1/2 inches by 3 1/2 inches with a sharp knife.

Heat the oil in a deep fryer to 360 degrees F.

Fry the beignets about 3 or 4 at a time until they are puffed out and golden brown on both sides, about 2-3 minutes per batch.

Turn them over in the oil with tongs once or twice to get them evenly brown, since they rise to the surface of the oil as soon as they begin to puff out.

After removing from oil put into a brown paper bag full of powdered sugar and shake to coat.

Eat warm and fresh.

Dough can be refrigerated for several days.