Easy and delicious Italian Almond Cookie recipe that makes unforgettable almond cookies with a macaron like texture.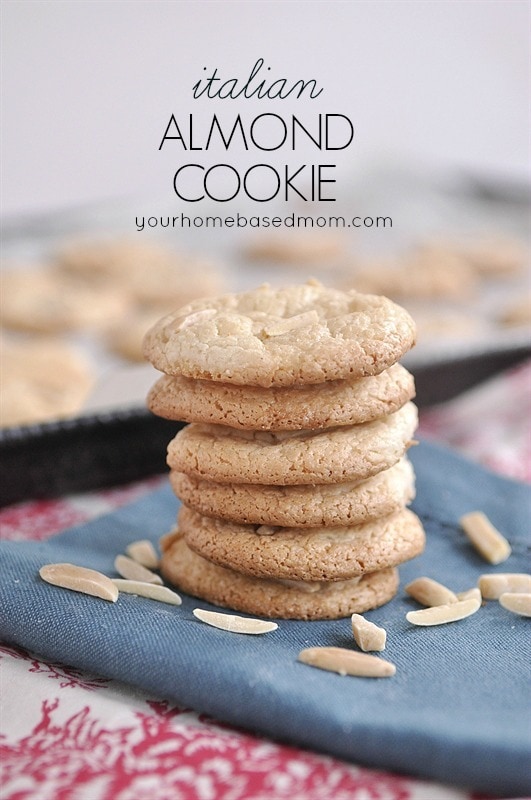 One of the things I love most about the holidays are cookies.  Although I bake cookies all year round, during the holidays I tend to take it up a notch or two in my cookie baking.  And today's recipe for Italian Almond cookies is not your average cookie.
A good friend of mine first had these cookies at a wedding she attended.  She came home raving about them.  She made a batch and shared them with me and I had to have the recipe.  We are huge almond fans at our house and this recipe uses almond paste.  Almond paste is usually easily found a the grocery store in the baking section.  I got mine at Target.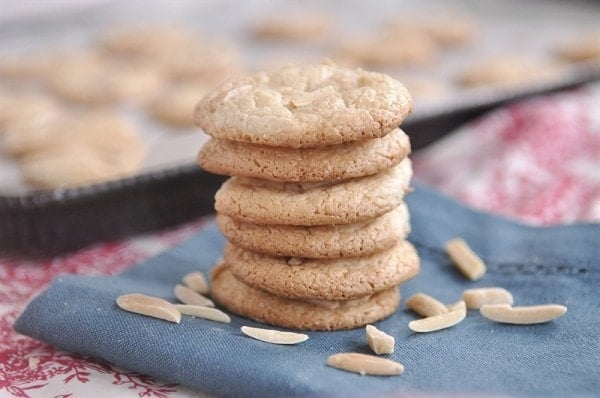 This cookie has the same texture has a french macaron.  It is a bit crispy on the outside but chewy on the inside.  Sometimes they are even called Italian Macarons.  I love the chewyness of the cookie and the crunch that the slivered almonds on top give.  Lots of good flavor and texture going on all at the same time.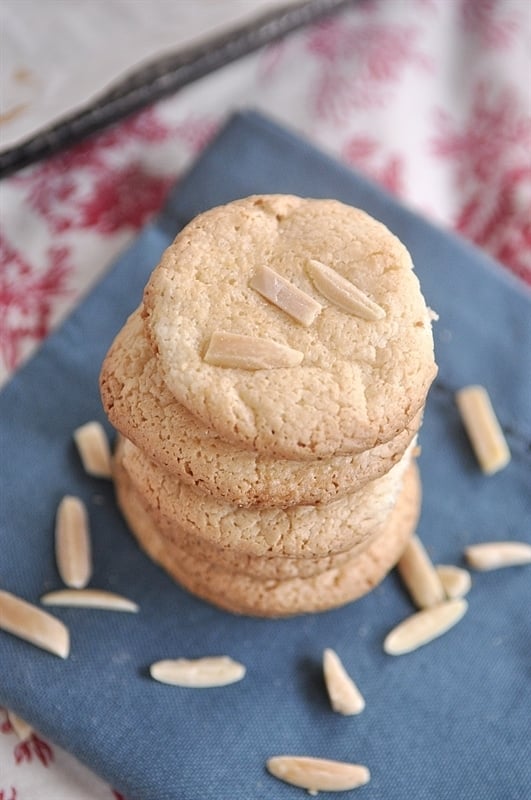 How to Make Almond Cookies
The process is fairly easily.  You first beat the almond paste until it forms small pea sized pieces.  Or you can use your hands and break it up into small pieces.  From there you add in sugar and small pieces will form.  Then add in egg whites and beat for about 5  minutes.  This will help them puff as they bake.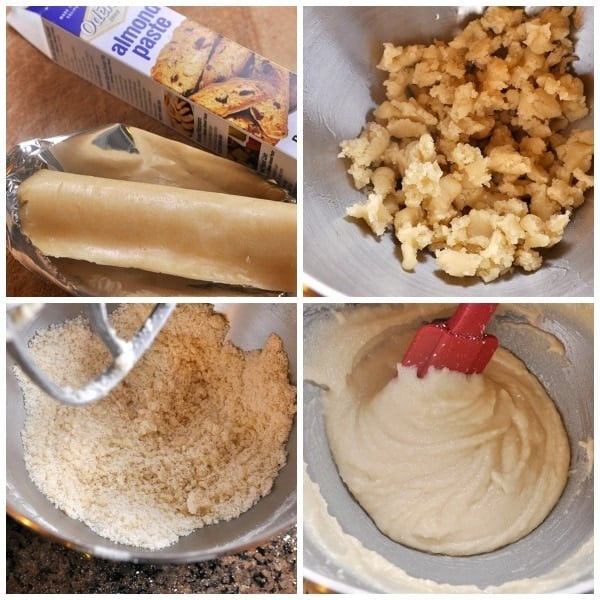 Fill a piping bag with a large round tip with the almond cookie batter.  Pipe one inch circles about one inch apart onto a baking sheet covered in parchment paper. Then, wet your finger and use it to smooth down the little tip that forms when you pipe. Sprinkle the cookie dough with some slivered almonds and bake for 10-12  minutes or until they turn golden brown and start to crackle around the edges.  Let the cookies cool completely on the parchment paper.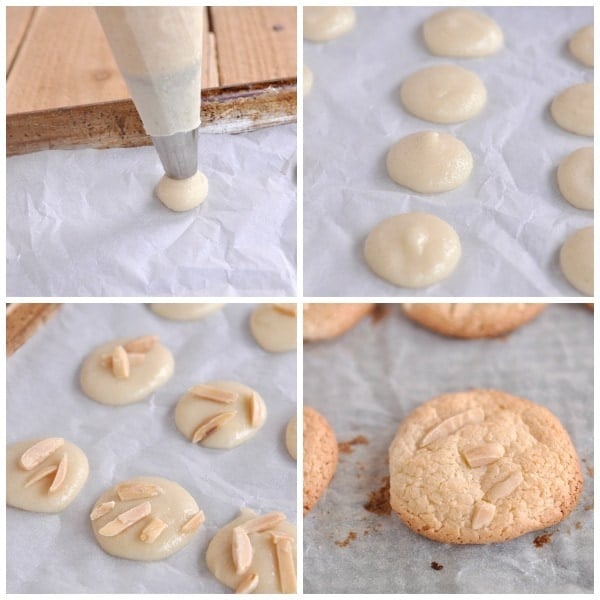 Store the cookies in an airtight container to keep their edges crisp and chewiness in the middle.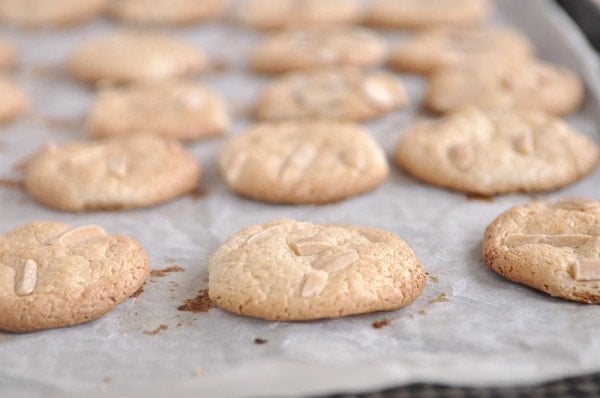 These cookies are delicious.  They are a nice, light cookie and they practically melt in your mouth!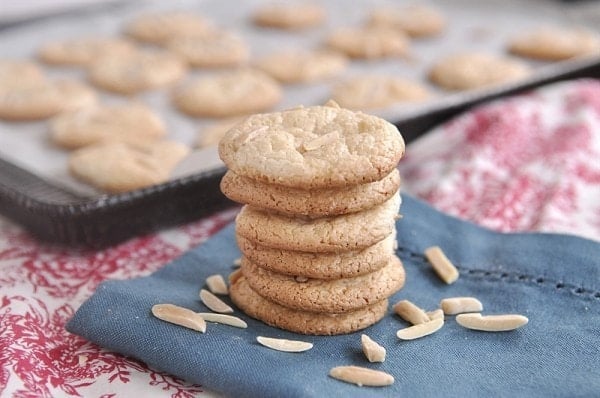 These Italian Almond Cookies would make a perfect addition to any holiday cookie plate you are putting together this season.
For some other almond goodness check out these recipes.
Toffee Almond Cookies with Browned Butter Icing
Italian Almond Cookie Recipe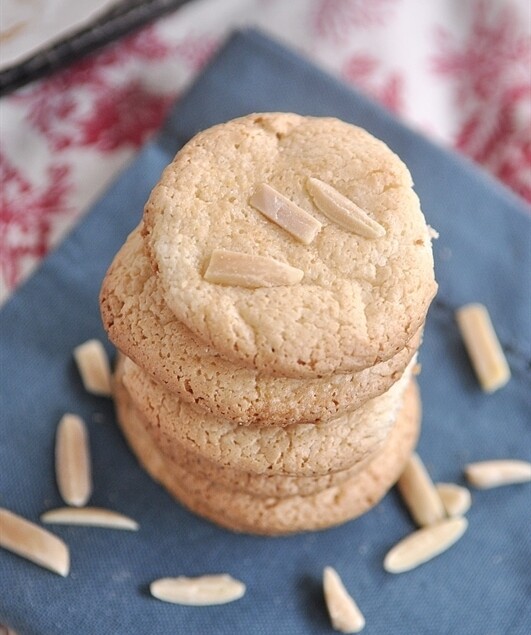 Italian Almond Cookies
Almond cookies are full of flavor and have a wonderful French macaron texture you will love.
Ingredients
6 oz. tube of almond paste
2/3 cup powdered sugar
1/3 cup sugar
2 large egg whites room temperature
pinch of salt
Slivered almonds for sprinkling
Instructions
In a mixer place almond paste and blend on low until pea (or smaller) sized pieces form. Approx. 2 minutes

Add sugar slowly and blend on low until crumbs are smaller about 2 minutes

Add egg whites in three steps blending well after each addition

Mix on high speed for 4-5 minutes (set a timer, this step makes them fluffy after baking)

Fill a pastry bag with batter using a large round tip

Pipe cookies onto a parchment covered baking sheet.

Make them about 1 inch in size and place 1 inch apart.

Using a damp fingertip, smooth out the top.

Sprinkle with slivered almonds.

Bake at 375 for 10-12 minutes or until golden brown and edges begin to crack.

Cool completely on the cookie sheet.
Nutrition Facts:
Calories: 38kcal (2%) Carbohydrates: 6g (2%) Fat: 1g (2%) Sodium: 3mg Potassium: 17mg Sugar: 5g (6%) Calcium: 8mg (1%) Iron: 0.1mg (1%)
* Disclaimer: All nutrition information are estimates only. Read full disclosure here.