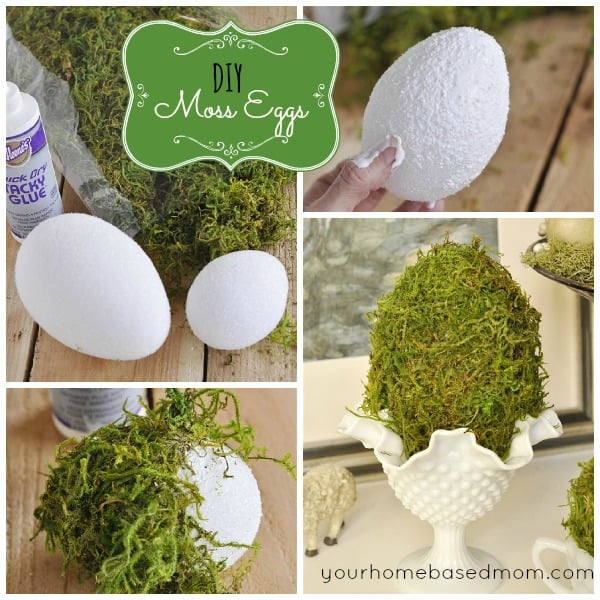 I finally managed to get my Valentine Decor put away (o.k., so it made it as far as the dining room table) and pull out the Easter Decor this weekend. I was shocked when I looked at the calendar and realized Easter was only two weeks away! I figured if I was going to decorate I better get it done.
I started my Easter grass a little late this year but hopefully I'll have a nice crop of grass by Easter. For more info check out my tutorial on Grow Your Own Easter Grass. It's not too late!
Each year I like to add a little something new to my Easter decor. This year I had been noticing some fun moss covered eggs on etsy. I decided I could make my own so I headed to the craft store.
I picked up some Styrofoam shaped eggs. I got three different sizes – 3″ 5″ and 8″. I also bought a bag of green moss and some quick drying glue.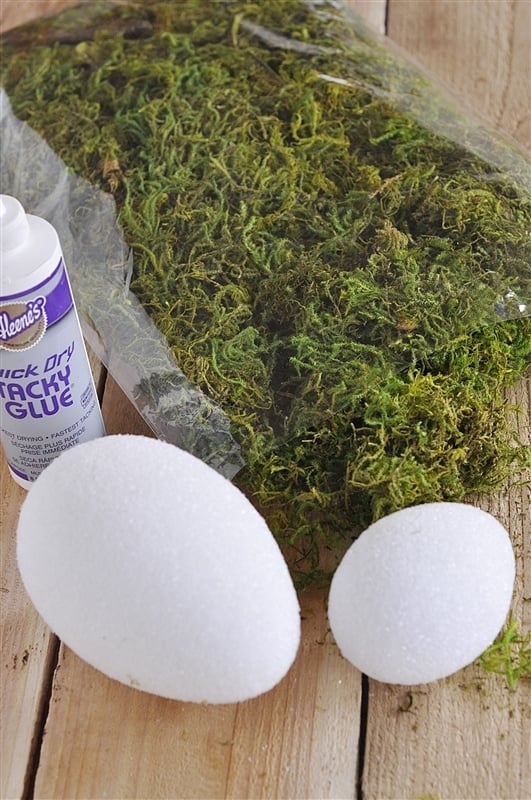 It is a pretty simple process – just a little messy! The first step is to coat your styrofoam with glue. Only put glue on half of the egg to start with so you have someplace without glue to hold onto! You can brush the glue on or just use your finger like I did.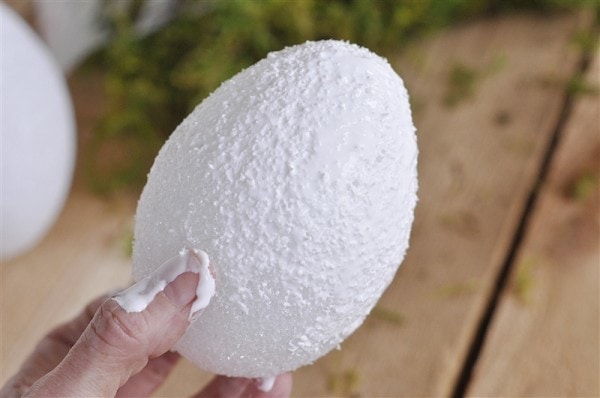 Next you press the moss onto the egg. Try to make sure none of the white sytrofoam is showing.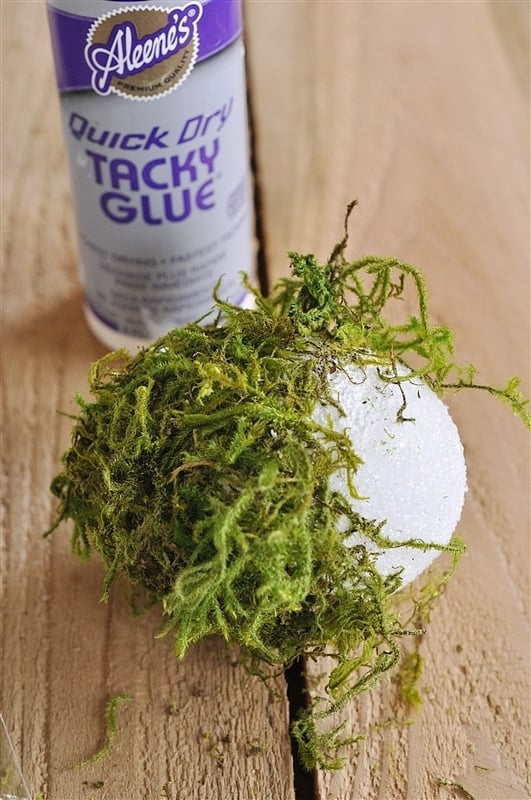 After you have the first half covered, add glue to the bottom half and add the moss there. Use your hands to press the moss into the egg. You can also give it a bit of a hair cut and trim off any long pieces of moss.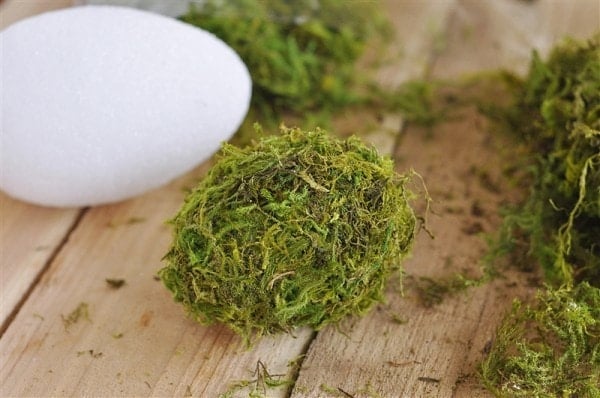 After it is dry you are ready to decorate with them. You can fill a basket with them or I put mine into some of my milk glass collection.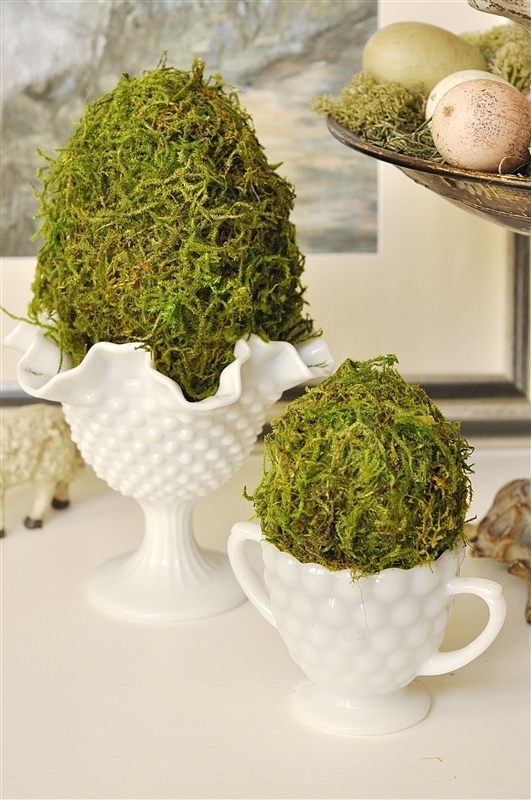 It is an inexpensive and easy way to dress up your Easter decor quickly.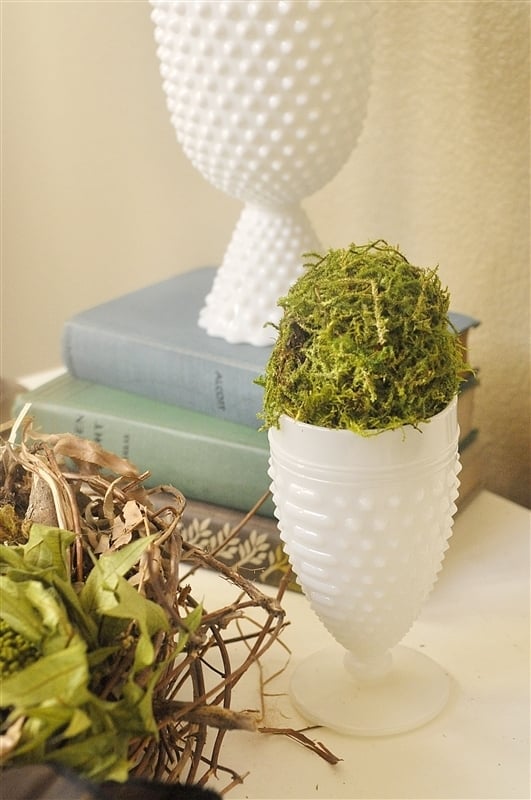 They can fill in just about any where! And make just a nice extra little touch to an arrangement.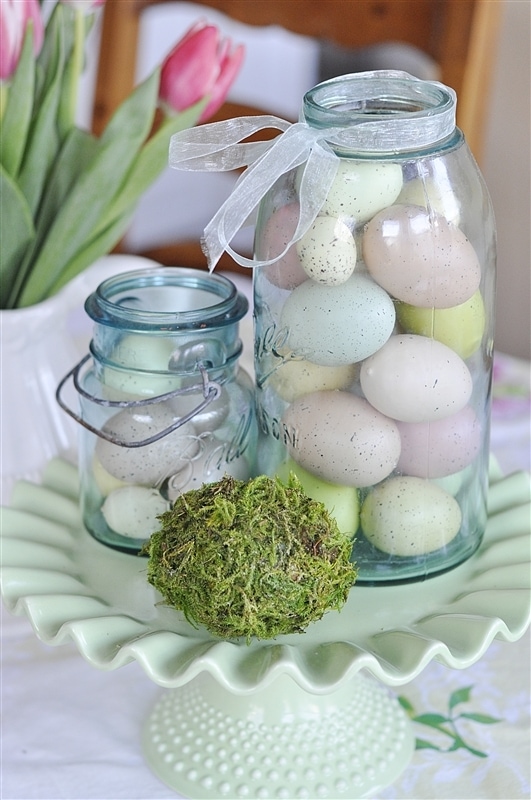 Come back tomorrow and I'll show you the rest of my Easter decor! Now go cover something with moss!!