Making Natural Easter Egg Dye is a fun and different way to color your Easter eggs. Discover all the beautiful colors you can get from things in your refrigerator.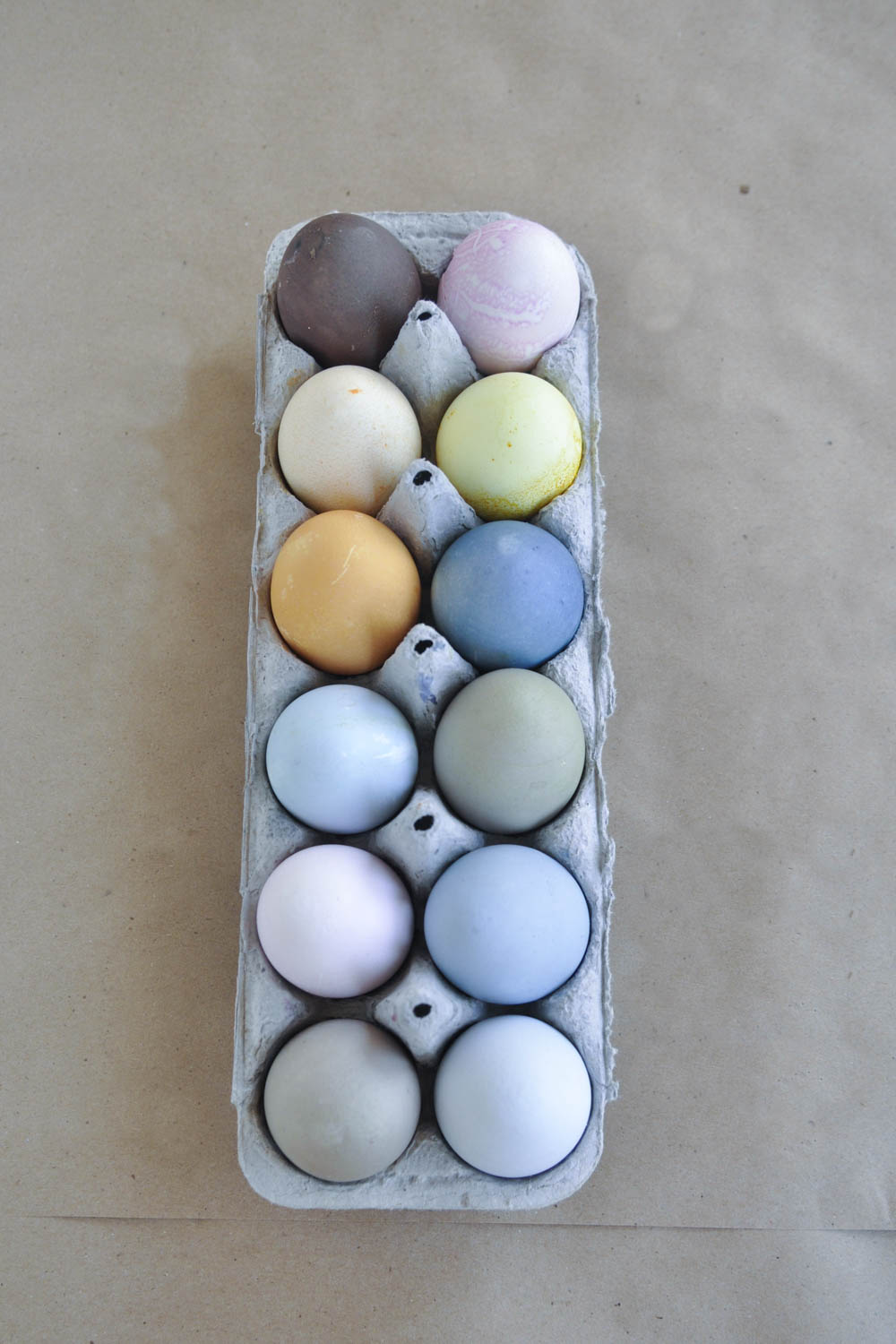 For Activity Day Girls this week we dyed Easter eggs except we didn't use store bought dye.  A few years ago I experimented with natural Easter egg dye using fruits, vegetables and spices.  I loved the results and the beautiful muted colors you got.  I decided it would be a fun science experiment for the girls to do it too.  It was so fun to see what colors certain fruits and vegetables would result in.
The prep work for this is a little bit more intense than picking up a pack of Paas Easter Egg dye at my local Kroger store.  Instead I headed to the produce department.
Natural dye takes some time to prepare so it is best to make it ahead of time.  I used red cabbage, red onion, yellow onion, blueberries, paprika, turmeric.  A few things I tried that didn't work were carrot tops and spinach.  I couldn't figure out a way to get a decent green color. Surprisingly red onion gives you somewhat of a green color!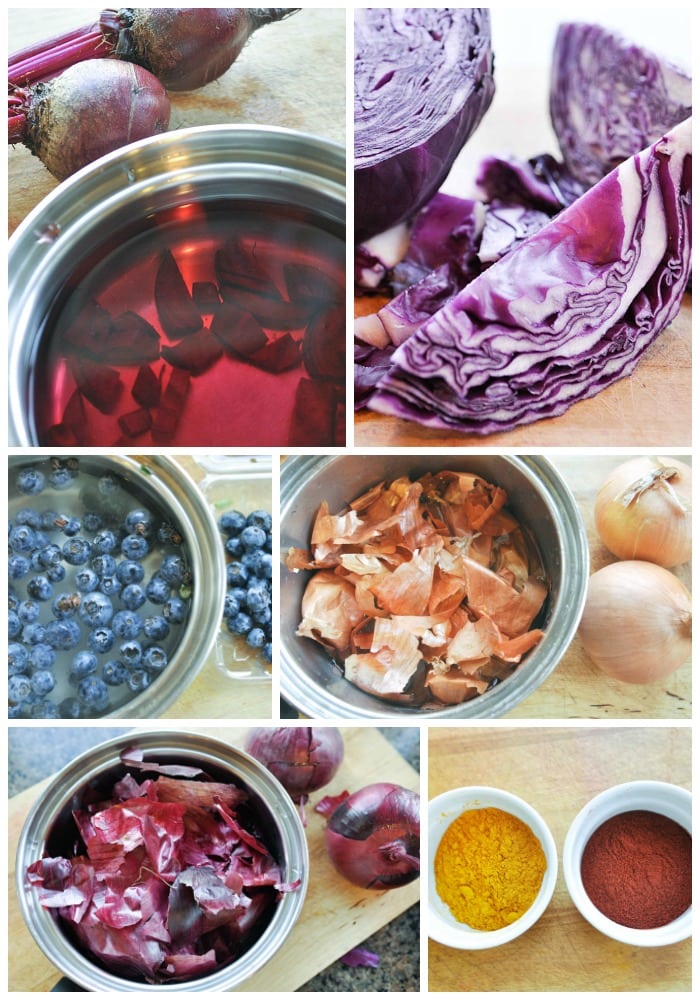 How To Make Natural Dyes:
Natural dyes can be made with a variety of ingredients.  I have had the best luck, and best color results, with beets, onion skins, red cabbage, blueberries, paprika, and turmeric.
Start by shopping all of your fruits and vegetables.  Then, one by one, place each ingredient into a pan with 2 cups of water and 1 tsp of salt.  Bring the water to a boil, and then  let it continue to boil for 10 to 15 minutes.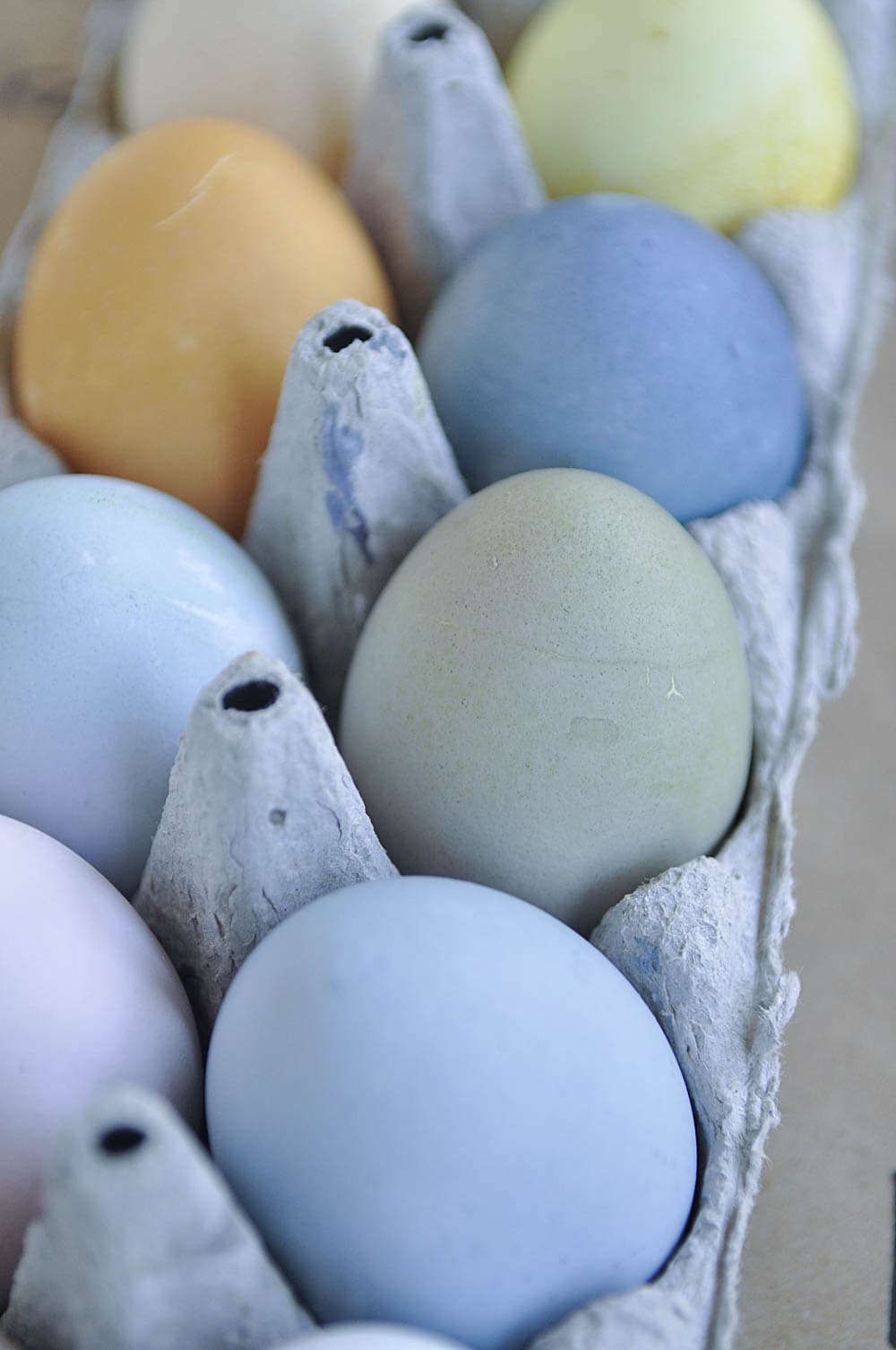 Strain the water from the pot and place it in a jar or bowl.  Add 1 Tbsp white vinegar and allow to cool.  Once cooled, you are ready to use your dye!
Pour all the dyes into small plastic cups and use plastic spoons to take the eggs in and out of the cups.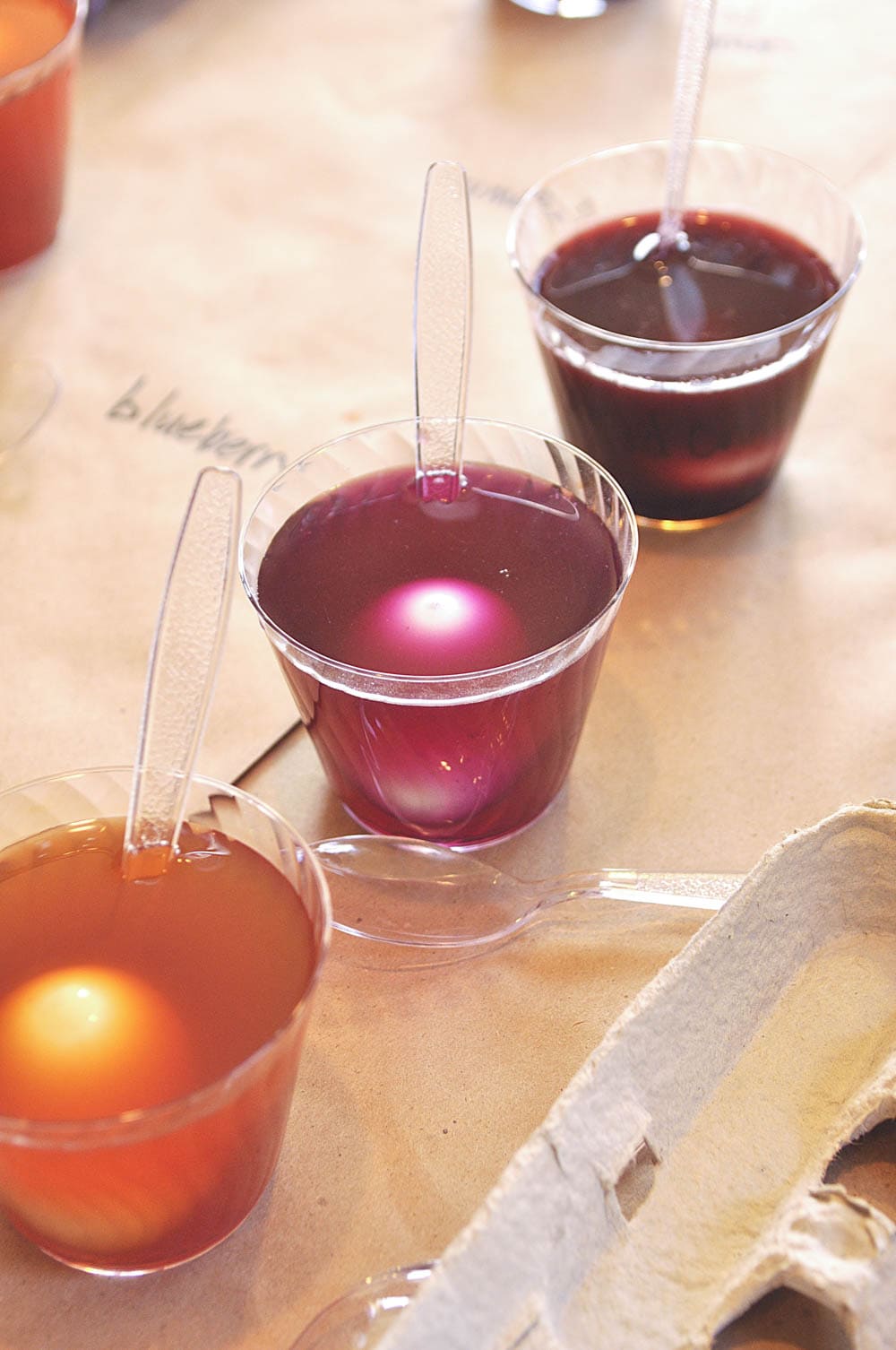 I wrote the name of what each one was on the plastic cups as well as on the table.  (You will want to cover your table with plastic and or paper because this can get a bit messy!)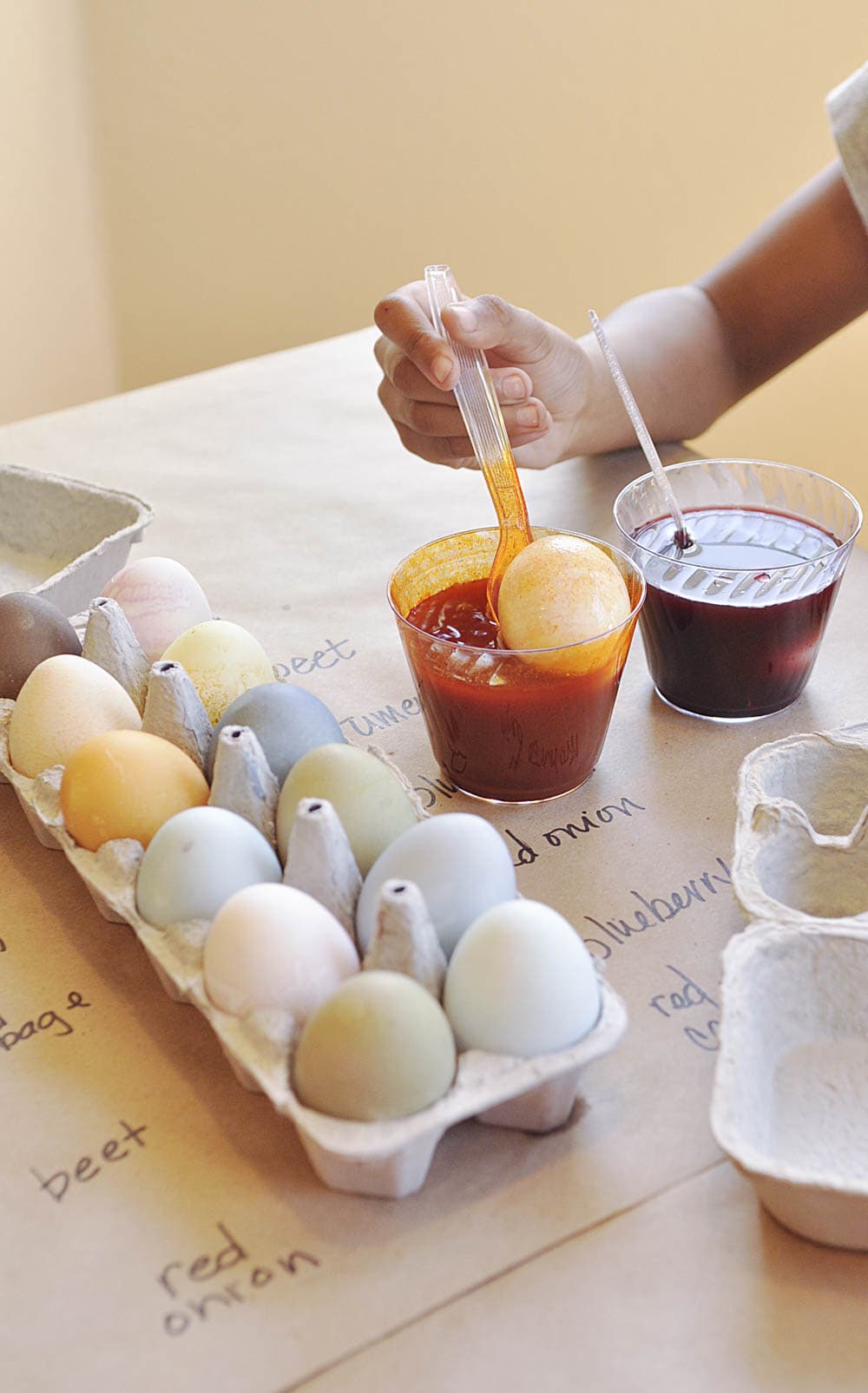 Natural dyes do not dye as quickly or as strongly as store bought dye so you need to have patience if you want brighter colors.  But I personally love the softer more muted colors you get.  For really bright colors you may need to leave it in the dye for an hour or more.  Most of ours were only left in for 5 minutes or so.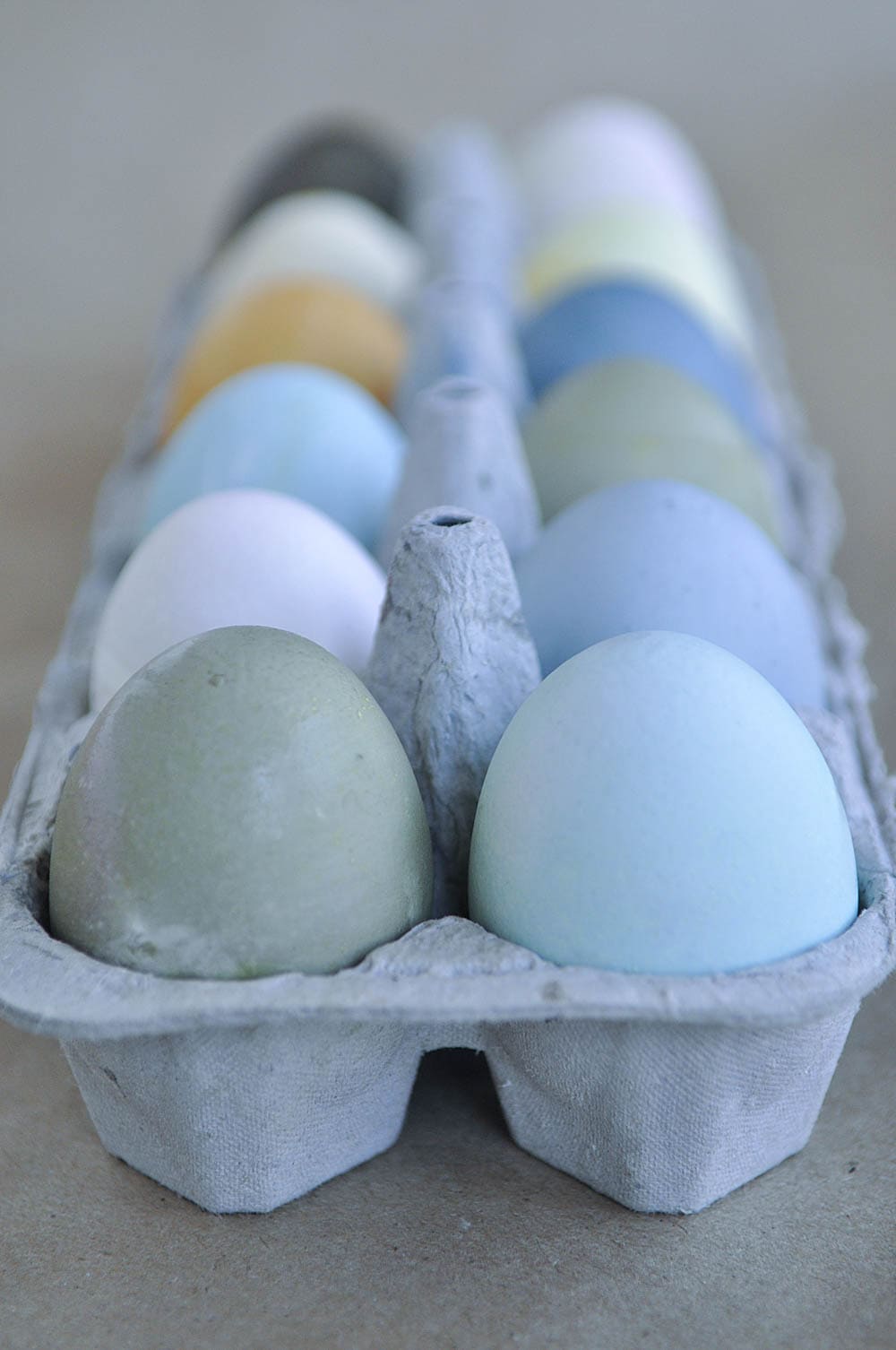 I think the colors are gorgeous! The blues we got from the blueberries were my favorite.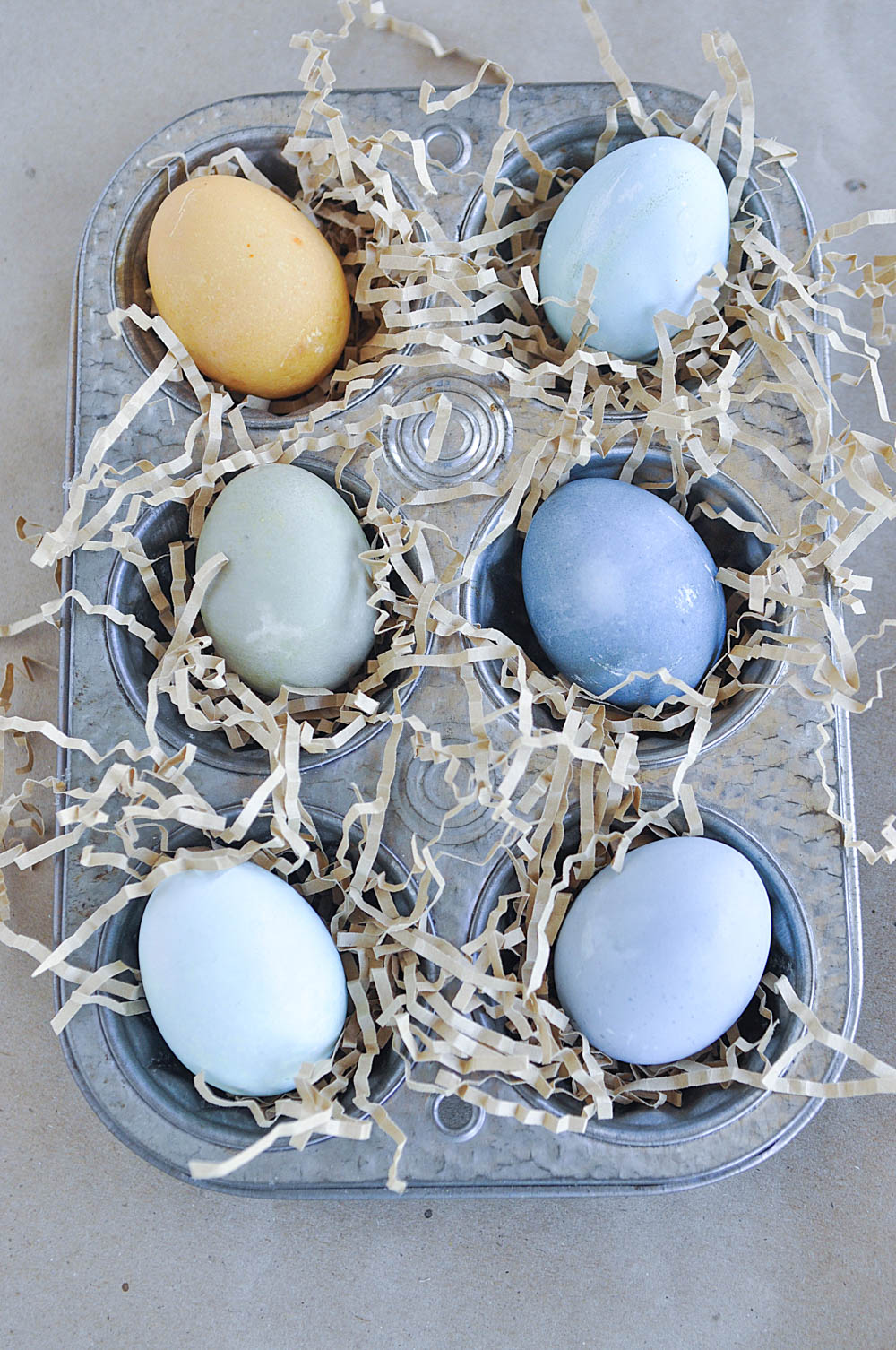 For other fun Easter fun check out:
Natural Easter Egg Dye Recipe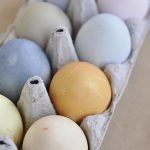 Print
Natural Easter Egg Dye Recipe
Create beautiful natural dyes using fruit, vegetables, and spices.
Ingredients
1

chopped beet

2

C

red onion skins

2

C

yellow onion skins

2

Tbsp

paprika

2

Tbsp

turmeric

1

C

blueberries

2

C

red cabbage

water

salt

white vinegar
Instructions
Place each ingrredient into 2 C of water along with 1 tsp salt.

Bring water to a boil and then boil for 10-15 minutes.

Strain the water and place in a jar or bowl and add 1 Tbsp white vinegar to each dye.

Allow them to cool before using.
Nutrition
Calories:
462
kcal
|
Carbohydrates:
105
g
|
Protein:
12
g
|
Fat:
4
g
|
Saturated Fat:
1
g
|
Sodium:
105
mg
|
Potassium:
1968
mg
|
Fiber:
24
g
|
Sugar:
49
g
|
Vitamin A:
6780
IU
|
Vitamin C:
69.2
mg
|
Calcium:
216
mg
|
Iron:
10.9
mg