These Golden Oreo Easter Egg Truffles are so pretty and so delicious! A fun holiday treat that is easy to make.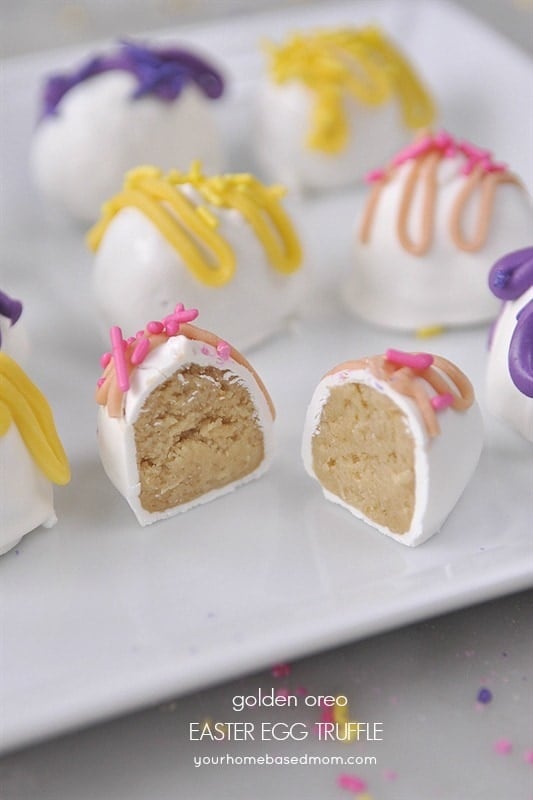 Back in 2009 I made 175 Oreo Truffles for a church event.  I shared the recipe here.  I like to call them little balls of goodness.  I decided to change that recipe up a little bit for today's post and make an Easter version.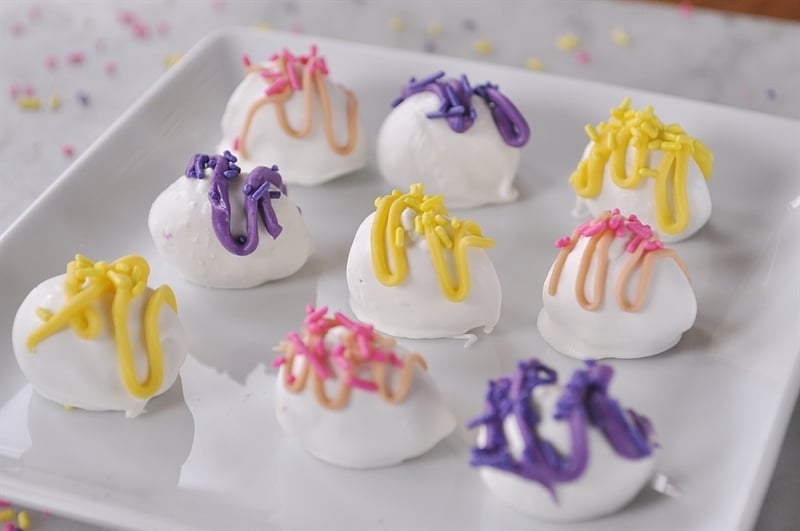 Instead of the regular chocolate Oreo I used the Golden Oreos which are my personal favorite.   The recipe is simple – only two ingredients,  Oreos and cream cheese.  
How to Make Easter Egg Truffles
Crush Oreos in a blender or food processor.
Blend in cream cheese.
Form dough into little balls of goodness.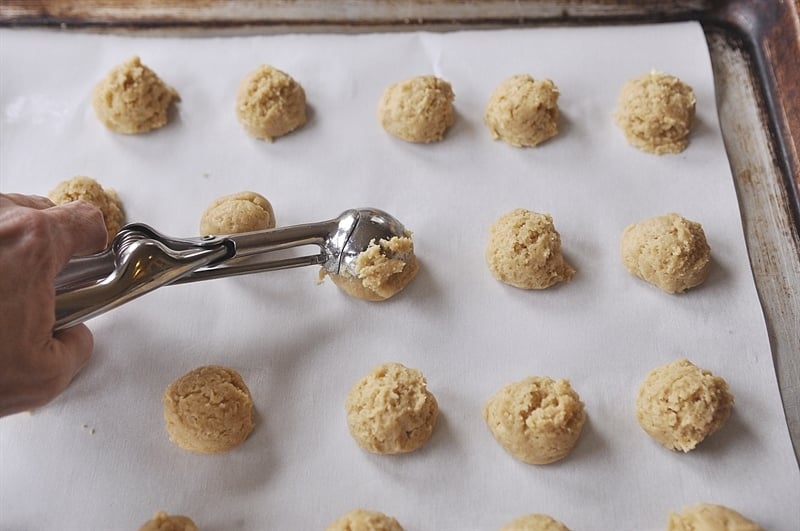 Because Easter is coming I thought they would be cute as little egg shapes of goodness so I just formed them into an egg shape by pushing one end of the dough into a soft point.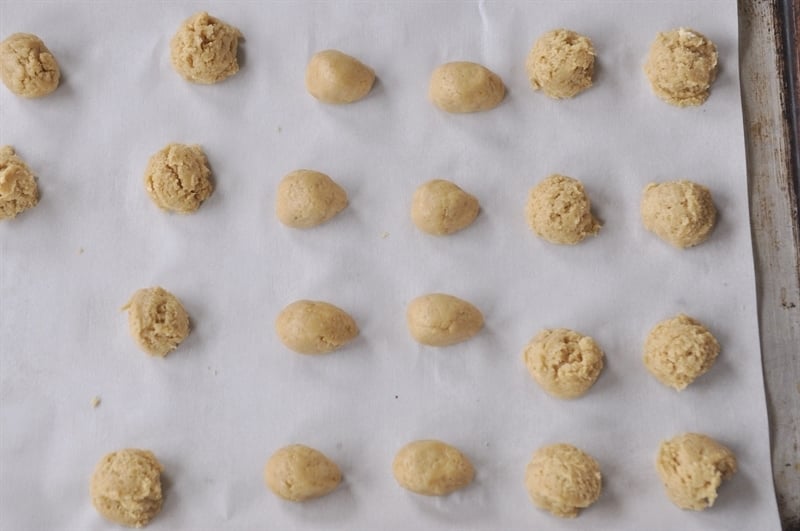 Then pop them back in the refrigerator to let them firm up.  Then they are ready to dip into some white chocolate flavored coating for some extra goodness.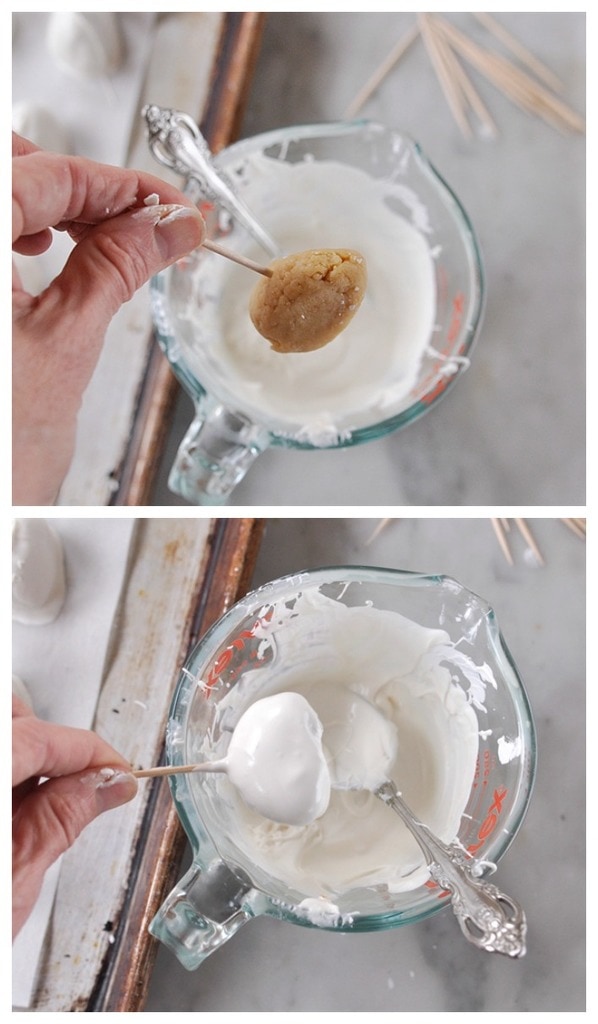 How to Dip Truffles in Chocolate
Melt chocolate in a  microwave safe container until chocolate is smooth.
After they have firmed up in the freezer I put a toothpick into each one to use as I dip them in the melted chocolate.  I like using Wilton Candy Melts.
After dipping truffle into chocolate gently tap it on the side of the glass so allow excess chocolate to drip off.  Then place it on a parchment covered sheet.  
Allow the chocolate to set up and then gently remove the tooth pick.  You will be left with a small hole in the truffle.  Use your toothpick and some of the left over chocolate to fill the hole.  If it doesn't look perfect don't worry you are going to be drizzling more chocolate over the top.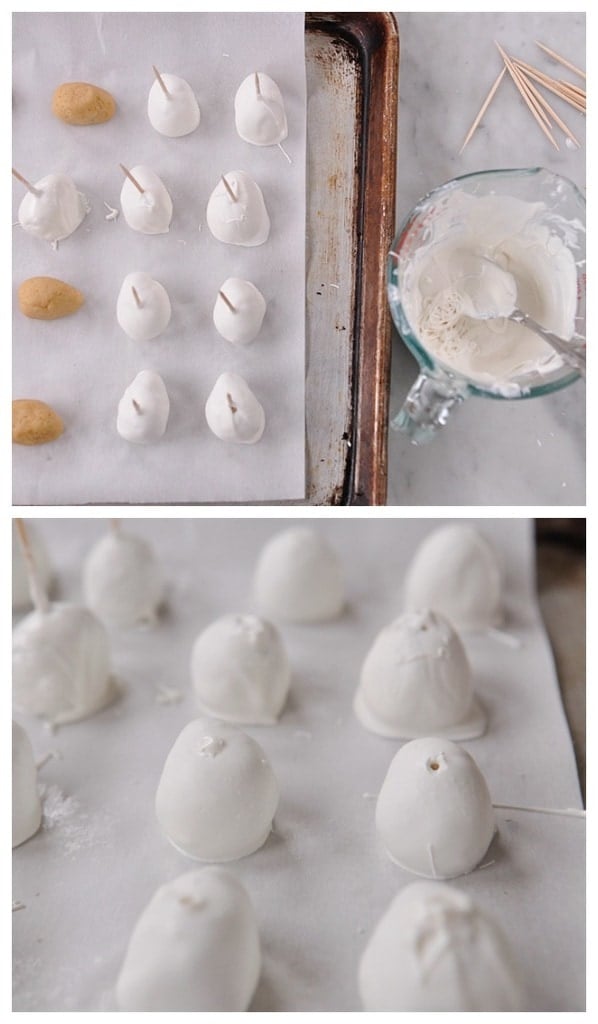 Melt some pastel colored Wilton Melts and put them into a freezer zipper bag (the freezer ones are heavier and the chocolate is hot).  Snip a small hole in the corner of the bag.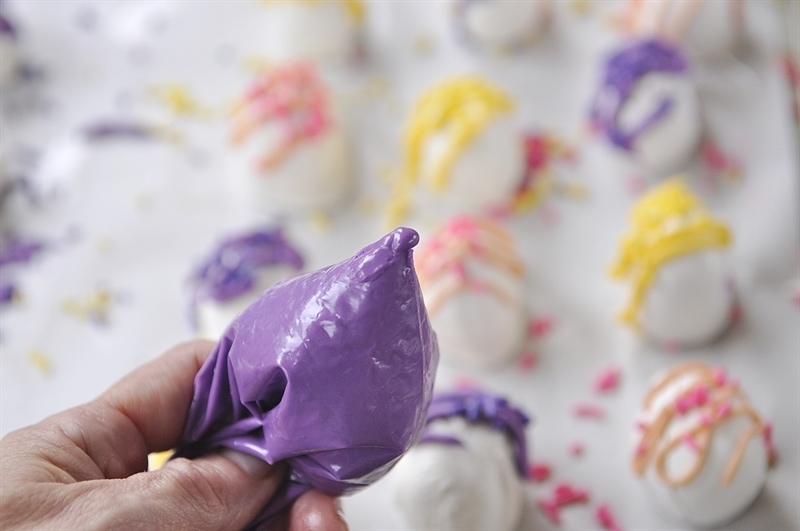 Then drizzle away.  I also add some colored sprinkles because everything is better with sprinkles.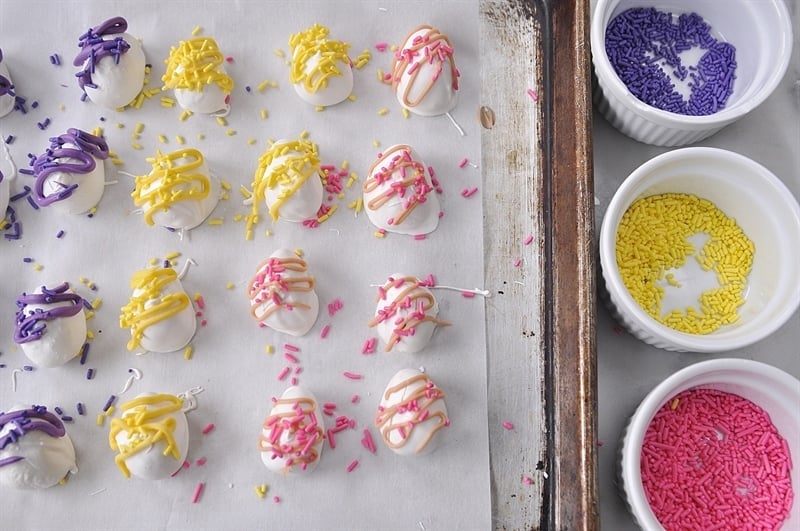 Keep them refrigerated until ready to serve.  I think they taste better chilled than at room temperature.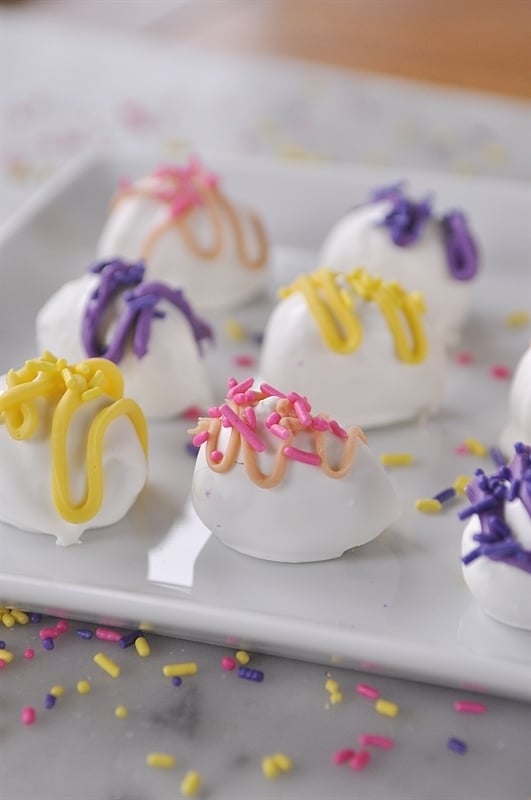 A fun little treat to add to your Easter baskets, serve at your Easter Brunch or give to your neighbors as a treat.
Here is another one of our favorite Easter treats –
For all of my other favorite kitchen products and tools visit my Amazon Store. 
Did you know I wrote a cookbook?  Check out the Holiday Slow Cooker Cookbook for 100 delicious recipes.
Easter Egg Truffles Recipe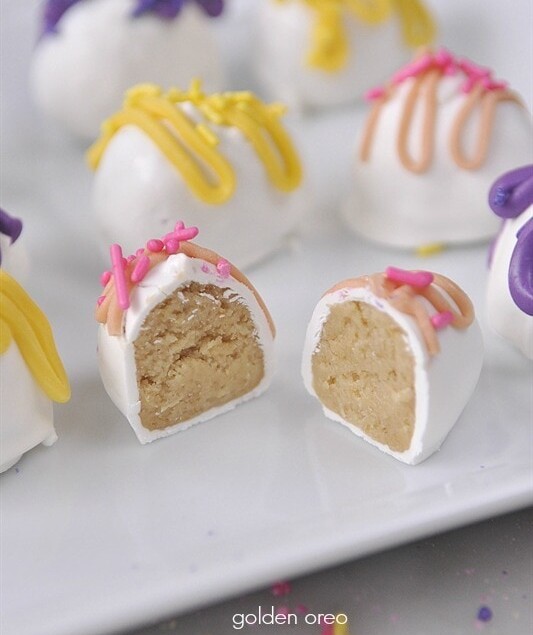 Golden Oreo Easter Egg Truffles
Ingredients
36 Oreos crushed
1 8 oz. package of cream cheese softened
White Wilton Melts
Colored Wilton Melts for drizzling
sprinkles.
Instructions
Crush 36 Oreos

Beat cream cheese until smooth and add 36 crushed Oreos

Beat until well mixed

Form into 1 inch balls and then form into Easter Egg shape if desired. Refrigerate and allow them to firm up.

Remove and insert a toothpick into each truffle.

Melt white Wilton melts in microwave in a measuring cup or bowl.

Dip truffle into chocolate and tap on side of bowl to remove excess chocolate.

When chocolate is set up remove toothpick and fill hole using a toothpick and the leftover white chocolate.

Melt colored Wilton melts and place in a freezer zippered plastic bag and snip a small hole in the corner. Drizzle chocolate over top of truffle.

Add sprinkles.

Refrigerate until firm