Hosting the perfect Tea Party Bridal Shower is the best way to celebrate the new bride to be.
Your favorite tea party foods along with pretty flowers and of course tea, are all you need as well as a few guests!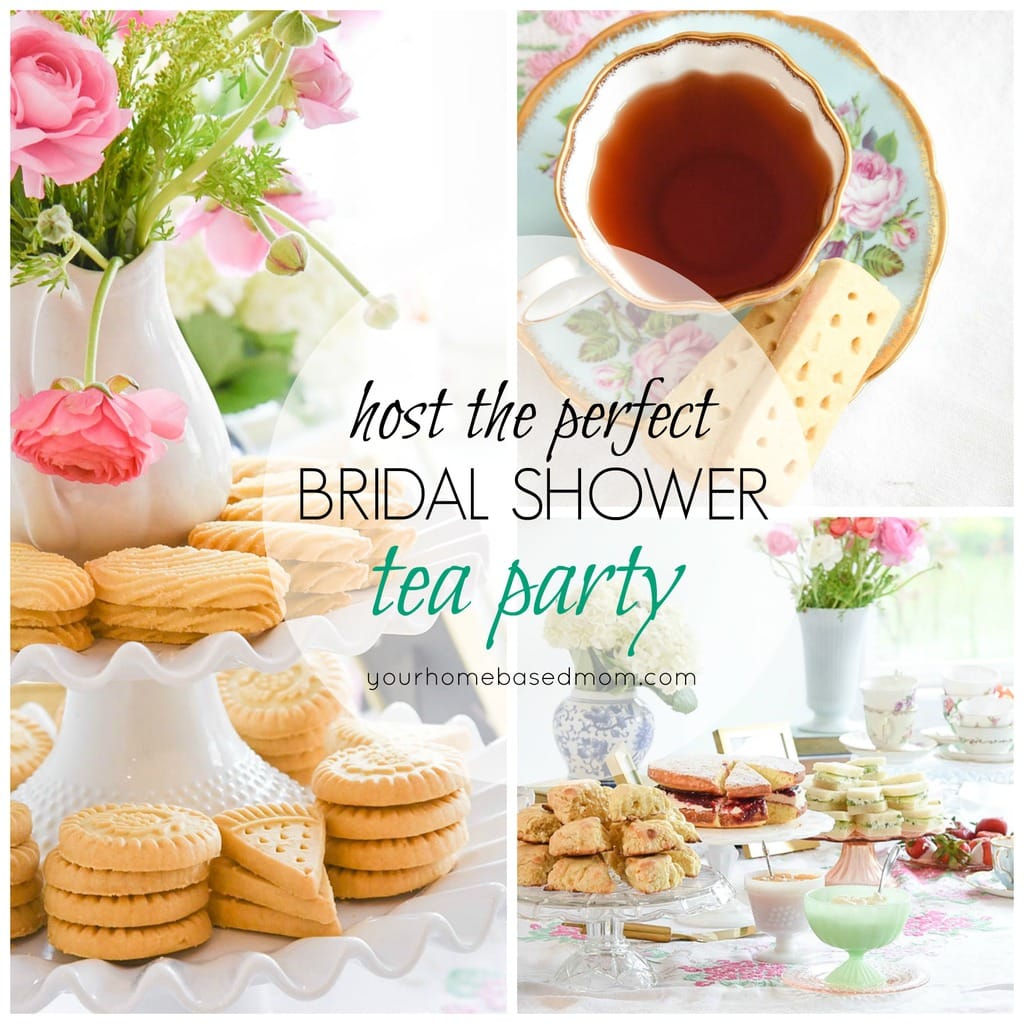 This post is sponsored by Walkers Shortbread but all opinions are my own.
I am a party giver and I especially love hosting a bridal shower. I love celebrating the bride to be and sharing in all the excitement of the upcoming wedding. One of my favorite ways to host a bridal shower is with a tea party bridal shower. I think it must be all my English blood or the fact that I watch a lot of British TV that has me craving scones, Victoria Sponge (thank you Father Brown!) and a cup of tea.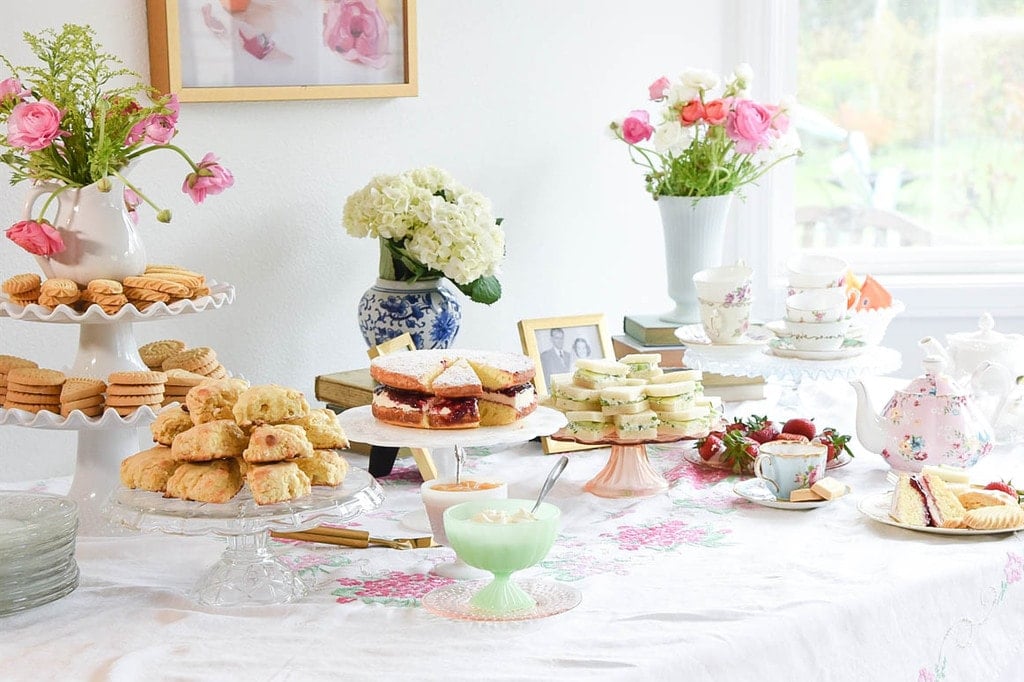 Today I have partnered with Walkers Shortbread to bring you a pretty and delicious tea party bridal shower. I have given a lot of showers over the years and I've learned a few tricks and tips along the way. My top tip is to combine homemade goodies along with store bought goodies. It saves on time and stress in the party preparation.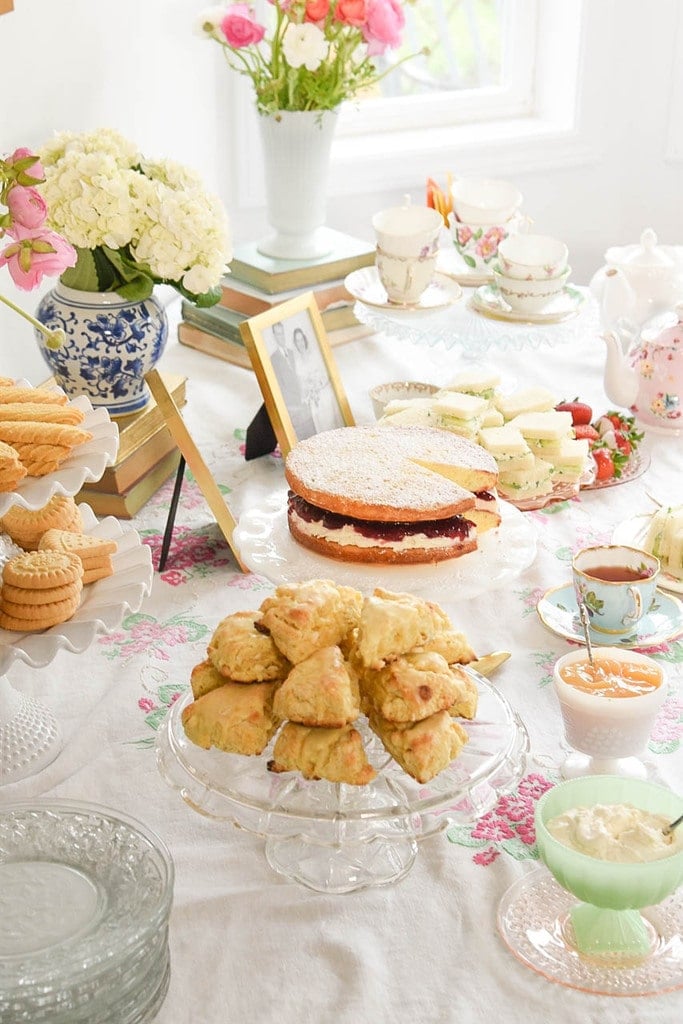 In planning the menu for this bridal shower I just drew on my British TV watching experience and knew that the menu needed to have Victoria Sponge, scones, lemon curd, Devonshire cream, cucumber sandwiches and shortbread cookies! Using store bought Walker Shortbread was a time saver and it's delicious.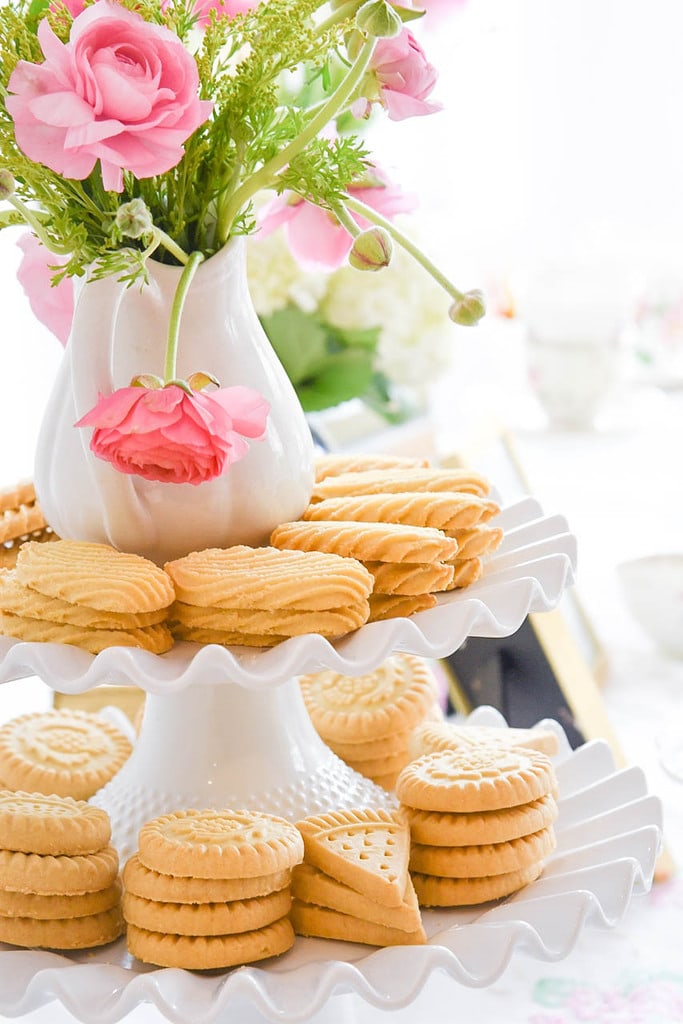 I've been eating Walkers Shortbread for years and it is the best. It's the one my British grandmother always brought with her. Walker's has been around since 1898 and is made with the finest quality ingredients. I also love all the different shapes of shortbread that are available. They make a great presentation on my tiered serving dish.

A pretty tea cup filled with your favorite tea and a piece of shortbread or two are the perfect way to celebrate the new bride or just the end of the day!
Tea Party Bridal Shower Menu
The menu for the tea party bridal shower included Victoria Sponge is similar to pound cake and is filled with a buttercream frosting and raspberry jam. It's delicious and always a conversation piece because many Americans have never had it.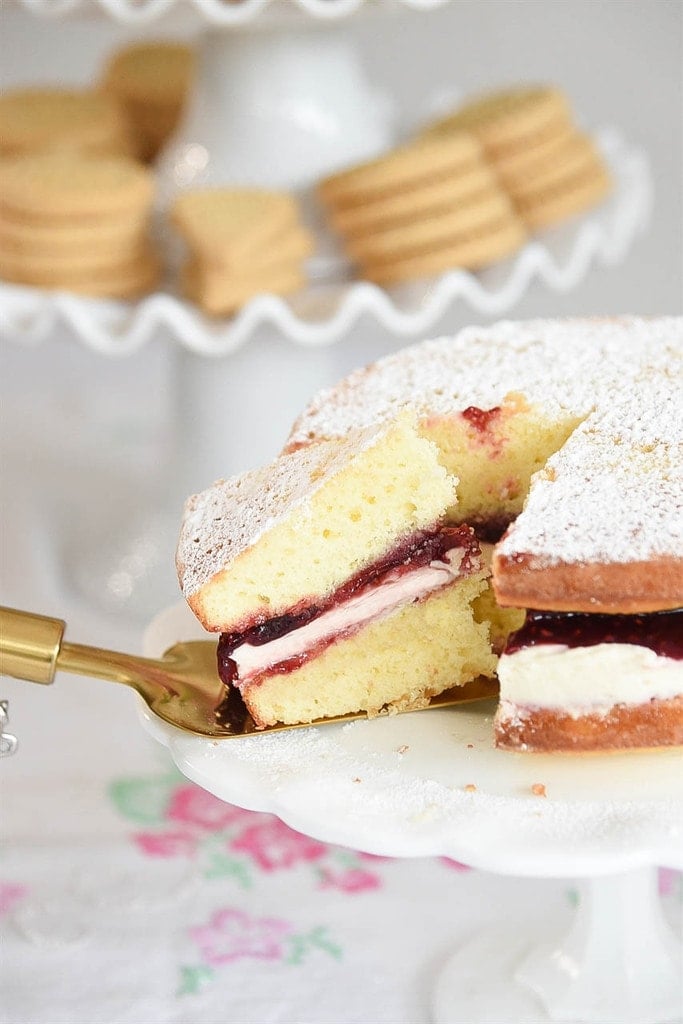 Of course there were scones. I love these Orange Scones that are made with fresh orange juice, zest and some white chocolate chips. You can't have scones without lemon curd or Devonshire cream.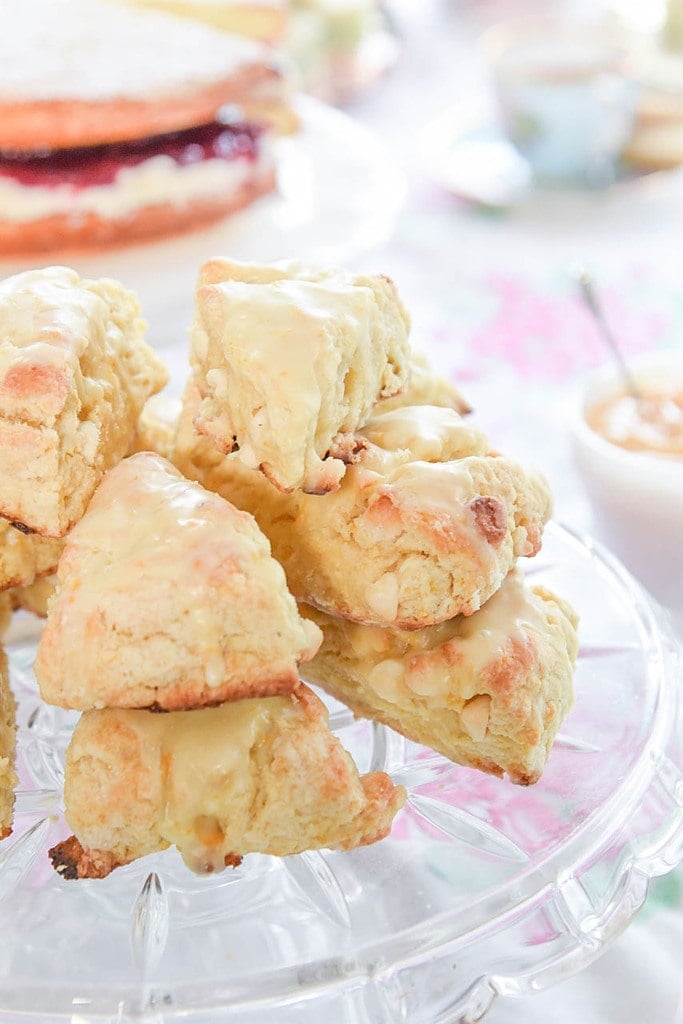 No tea party is complete without cucumber sandwiches. Thinly sliced cucumbers on a bed of cream cheese, parsley and green onion are delicious!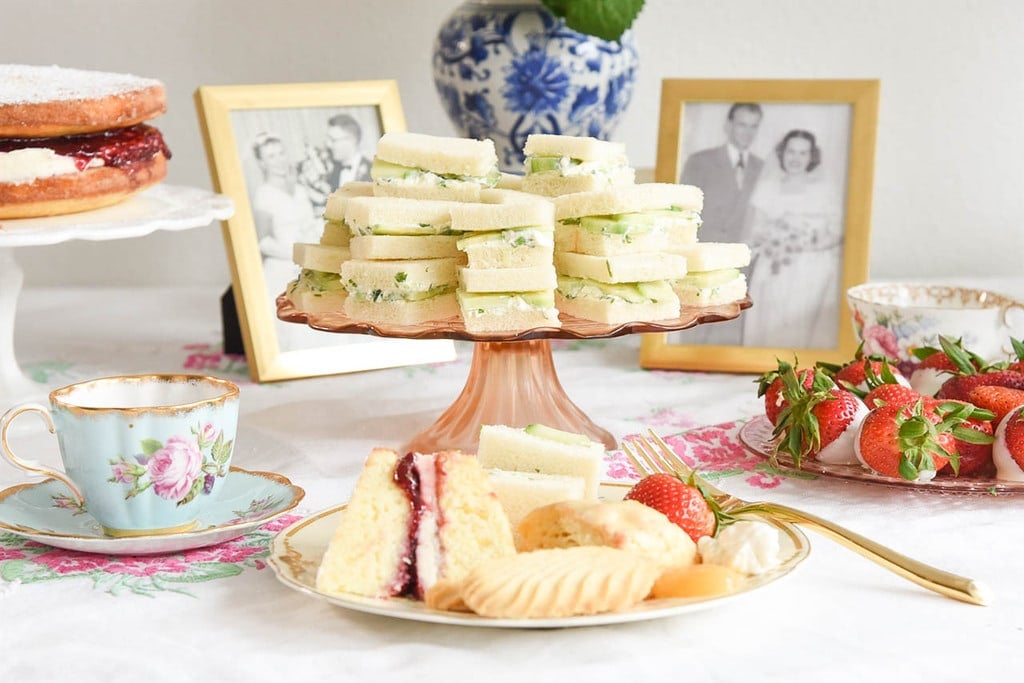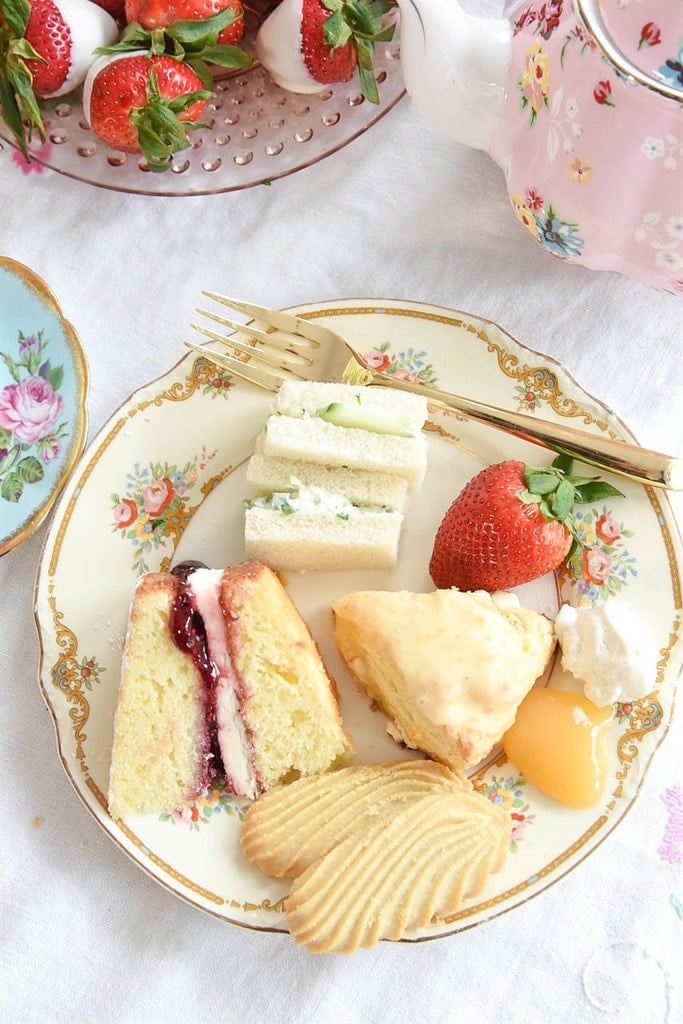 Your guests are going to want to enjoy a taste of everything!

I decorated the table with an assortment of tea cups and tea pots. None of them matched which is what I love most about them. My vintage table cloth came from a yard sale. Add a personal touch like the wedding pictures of the bride's parents and grandparents.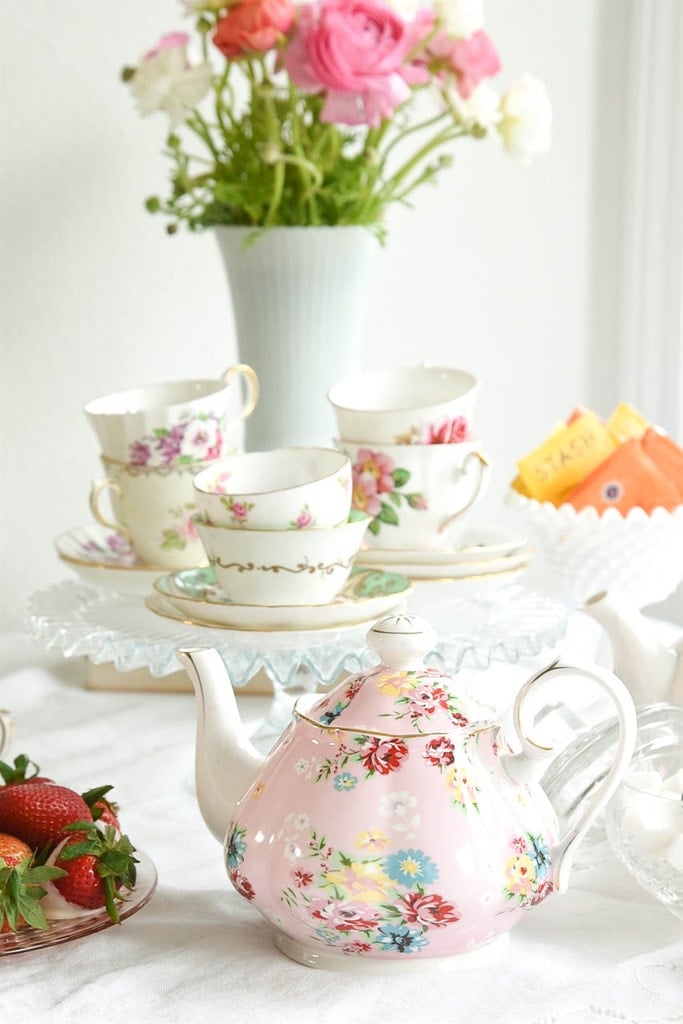 Of course no table or party is complete without fresh flowers. They add lots of extra color to the table.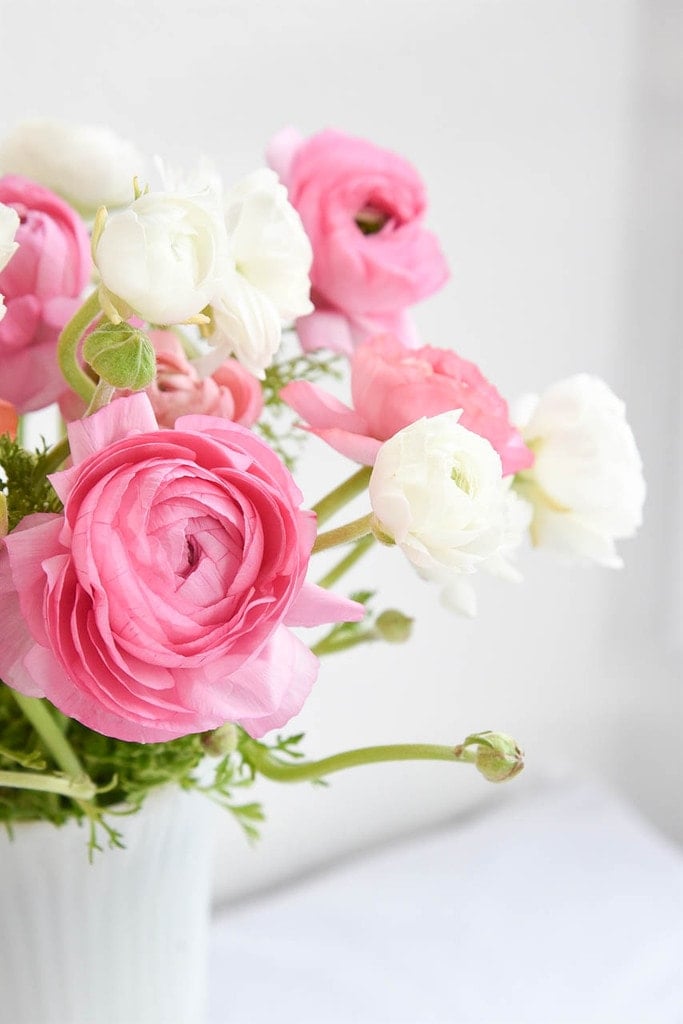 Hosting a Tea Party Bridal Shower is the perfect way to celebrate and shower the bride to be with love, friendship and yummy food! I sent each guest home with a little tea party to go. A bag filled with chocolate dipped Walker Shortbread and a tea bag. They will have everything they need to end or start their day!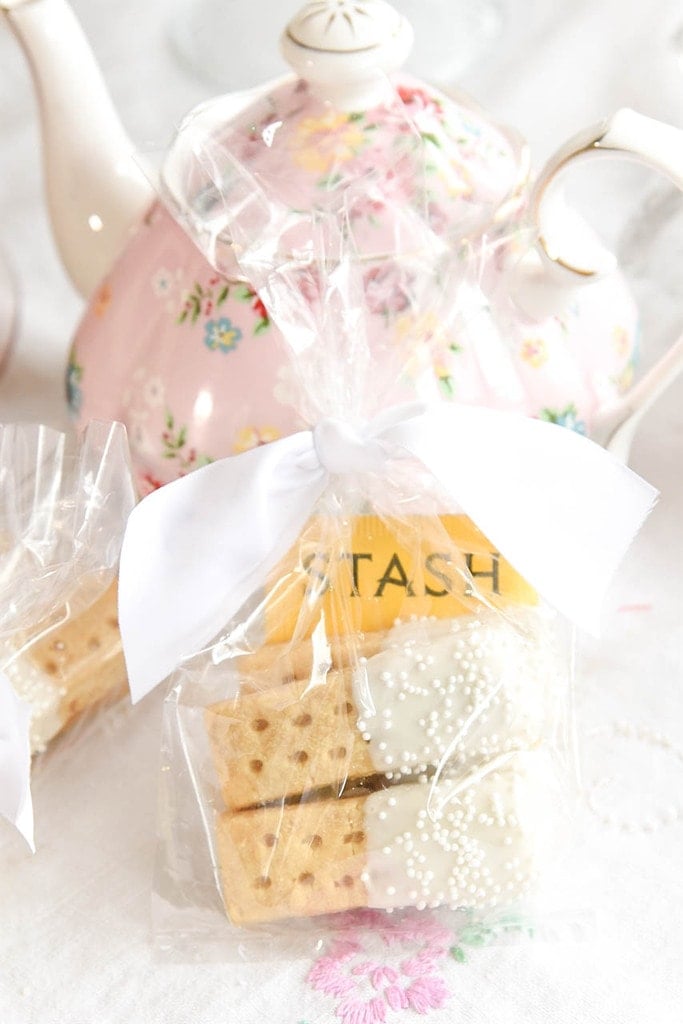 Combining homemade foods along with a few store bought items makes hosting the perfect bridal shower tea party easy and enjoyable! A tea party would be a great idea for a baby shower as well as a birthday celebration. How about a Mother's Day tea?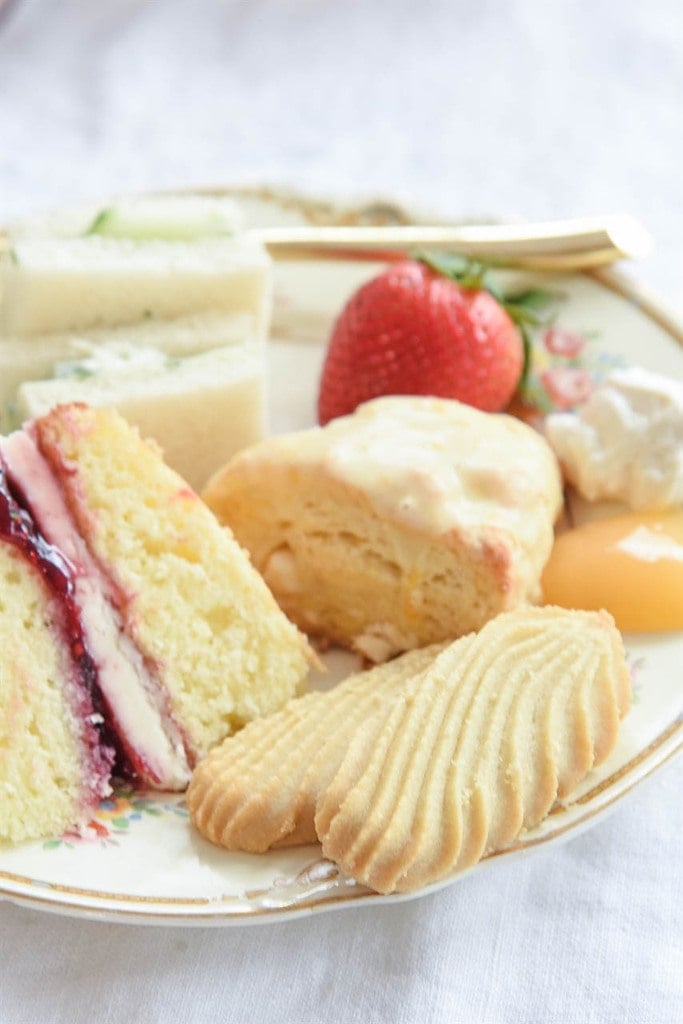 Don't wait for a holiday to celebrate, host a tea party for your friends just because. If the British can enjoy tea every afternoon why can't we? I think it's a jolly good idea!
Some of my favorite tea party foods: