Hosting a waffle bar for a bridal shower is fun and easy! The addition of a juice bar makes it even more special
Some of the other fun bridal showers I have hosted included a Crepe Bar, a Tea Party Bridal Shower and a What Will it Bee Shower.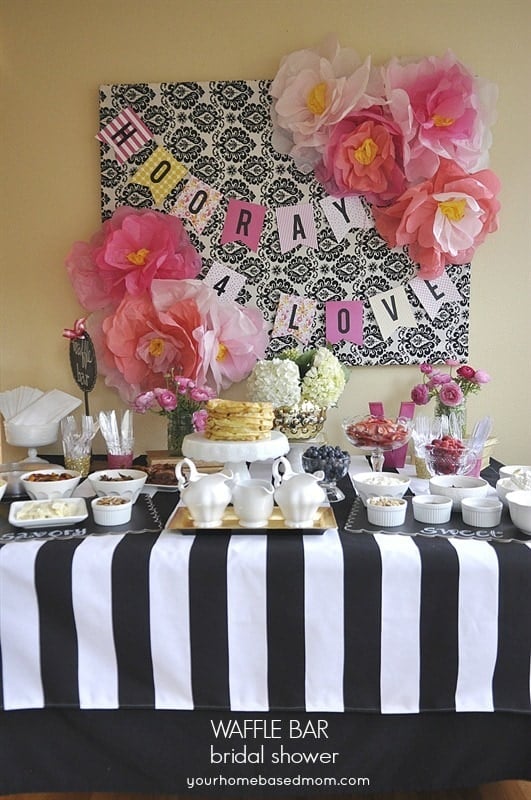 One of my favorite parties to throw is a bridal shower. It is just exciting to be a part of such a fun new beginning. A young couple in love. I love to see the bride's face as she talks about her fiancé and see and feel her excitement!
Bridal Shower
I recently gave a bridal shower for the daughter of a friend and had previously done showers for her other two daughters. Until today's Waffle Bar Bridal Shower, the Crepe Bar Bridal Shower I did for one of the girls has been one of my favorite parties. I wanted to put a spin on the Crepe Bar idea so I came up with a Waffle Bar. We love waffles at our house and dressing them up with all kinds of sweet and savory toppings.
How To Put Together a Waffle Bar
I divided the table into two different sections, a sweet section and a savory section.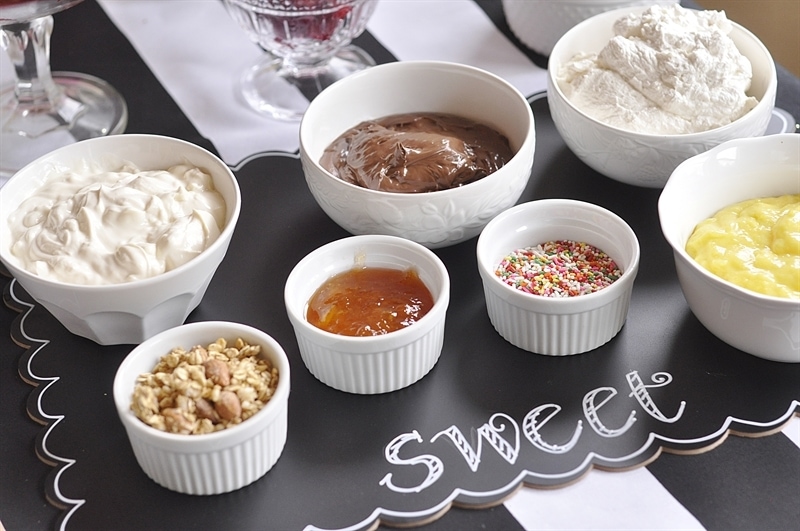 Sweet Waffle Toppings:
Lemon curd
Whipped cream
Greek yogurt
Sprinkles
Jam
Nutella
Granola
Berries- raspberries, strawberries, blueberries.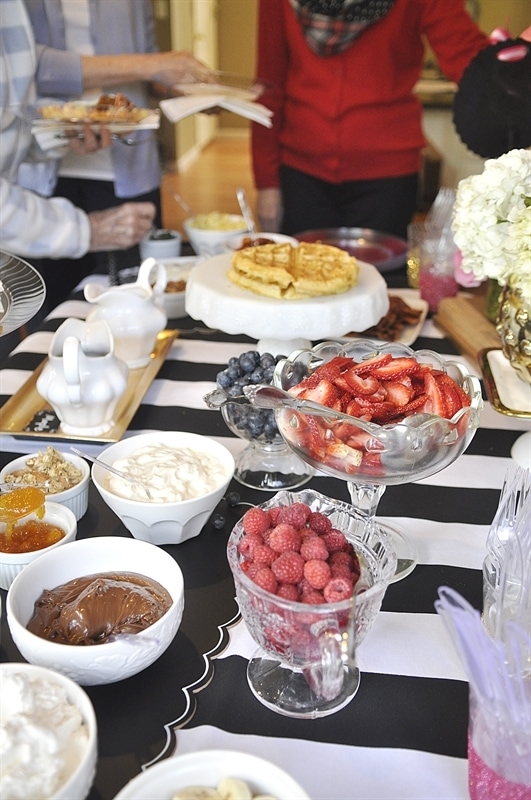 My favorite sweet combination is lemon curd, berries and whip cream.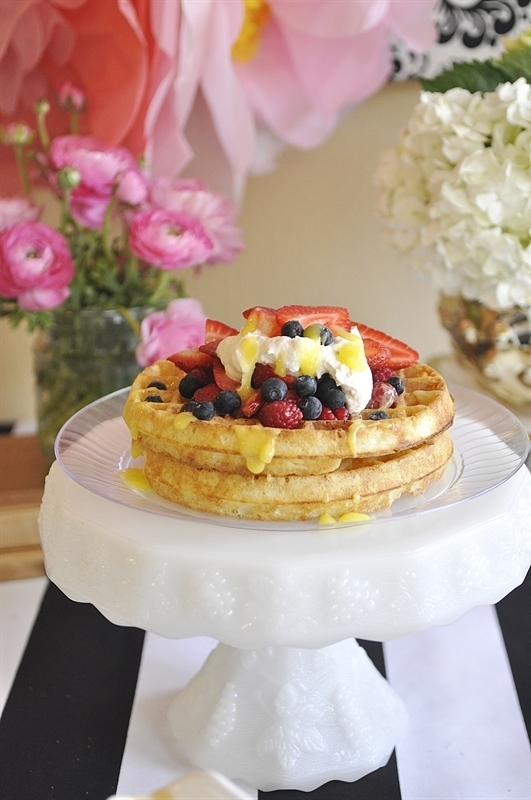 Savory Waffle Toppings
Caramelized onions
Sautéed Peppers
Eggs
Pecans
Brie
Basil
Bacon.
My favorite savory combination is bacon, brie, basil and a little peach jam. So amazing!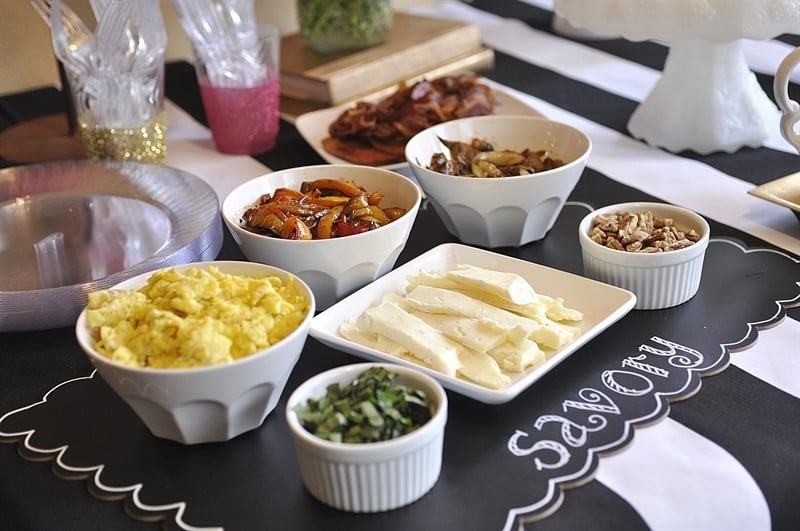 The guests all had a great time creating their own fun combinations.
How to Keep the Waffles Warm?
If you don't have multiple irons you can make them ahead of time and then keep them warm on a baking sheet in your oven at about 200 degrees F.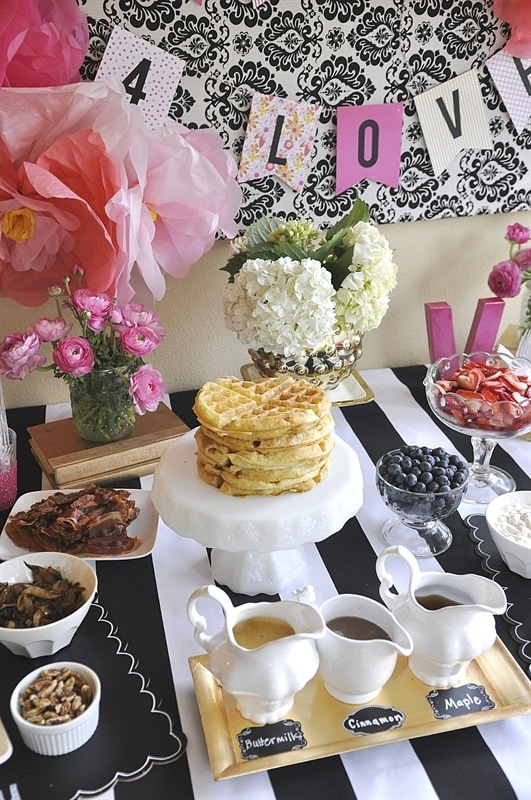 I also had a trio of syrups to put on the waffle bar –
cinnamon,
buttermilk
and maple.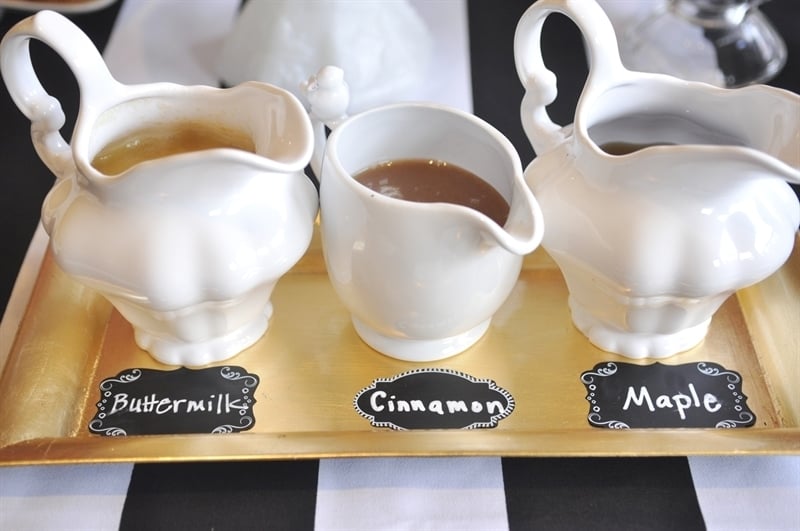 To make the party clean-up a total breeze I used
Chinet® Cut Crystal®
 disposable tableware because it makes clean-up easy—just throw away when done!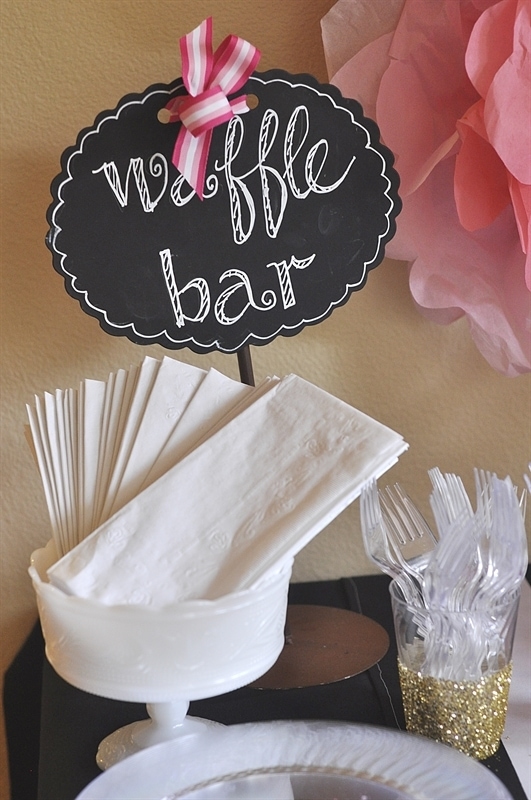 I just put the napkins in a pretty milk glass container and then I dressed up a few glasses with some glitter to hold the silverware.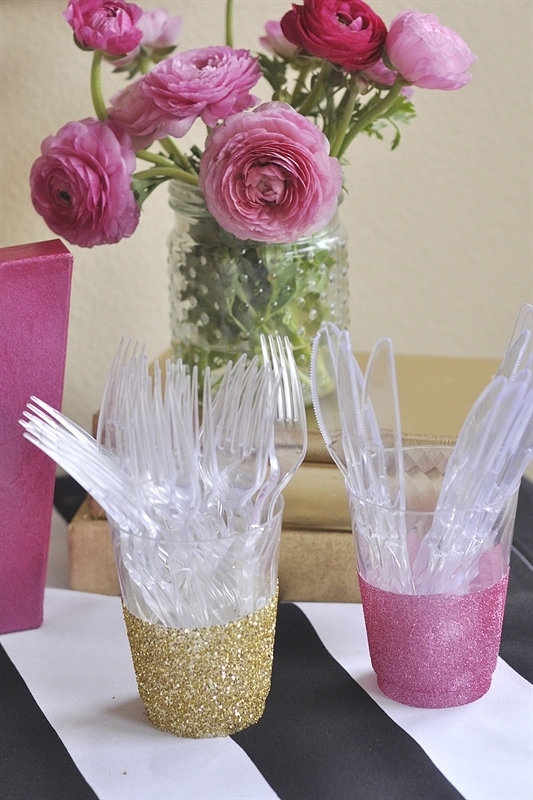 So that everyone knew which cups was theirs, I added a different color washi tape to each of the stemless wine glasses, which worked perfect for our juice bar. And yes, I have a lot of washi tape.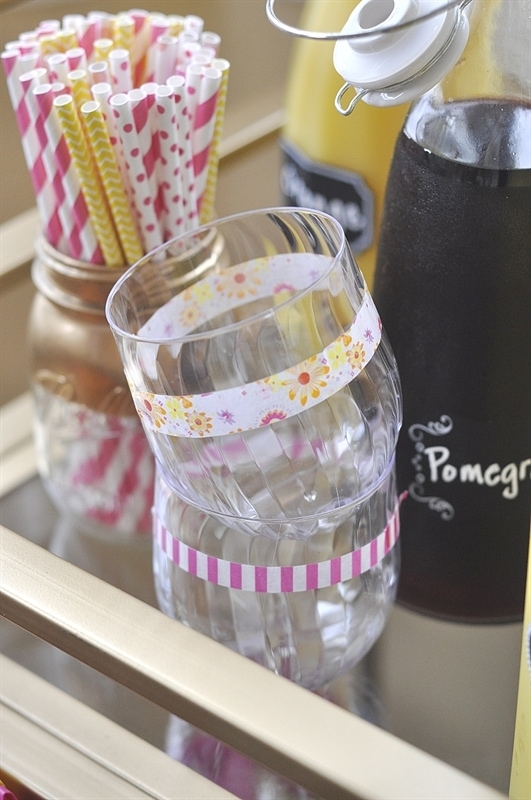 I used my party cart for the juice bar. We had six different flavors of juice and people could mix and match.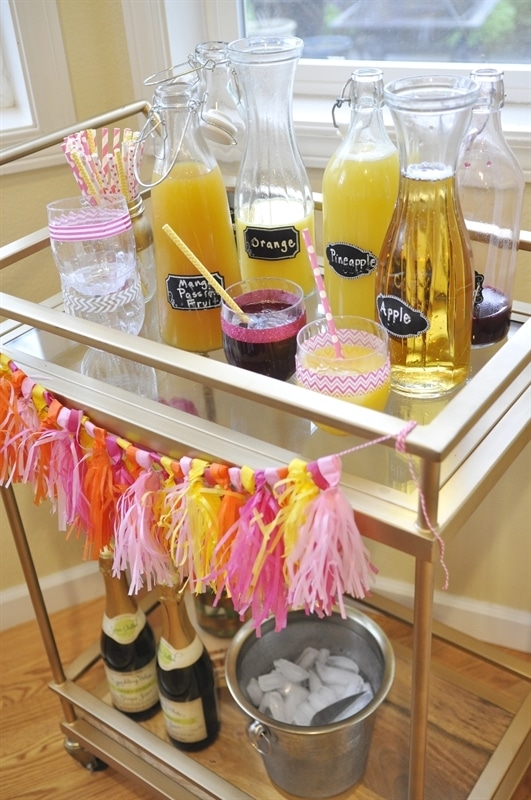 People loved making different combinations.
Also added some fun tissue paper flowers I had made for a recent activity at church and made a fun little banner. Then I just added lots of fresh flowers to the table too. You can never have too many flowers!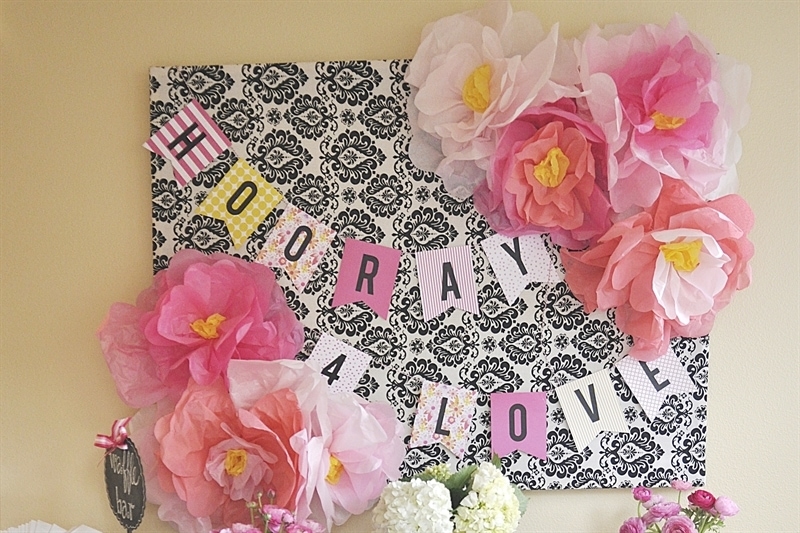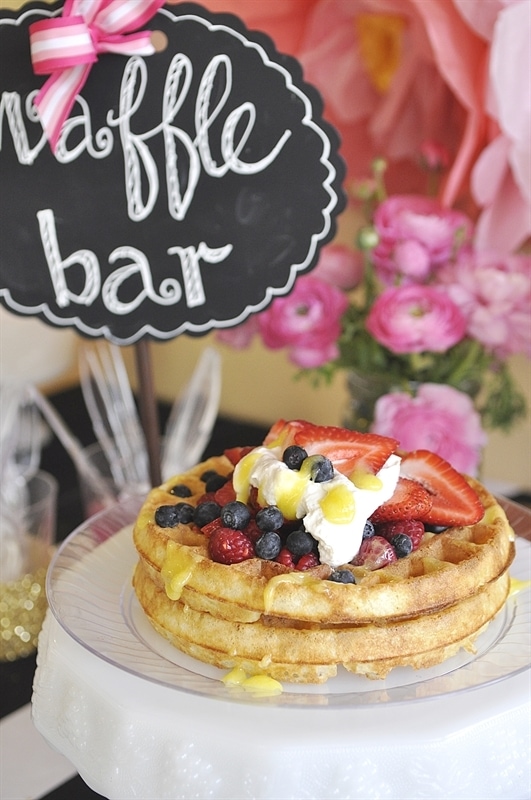 Here is the cute bride to be!