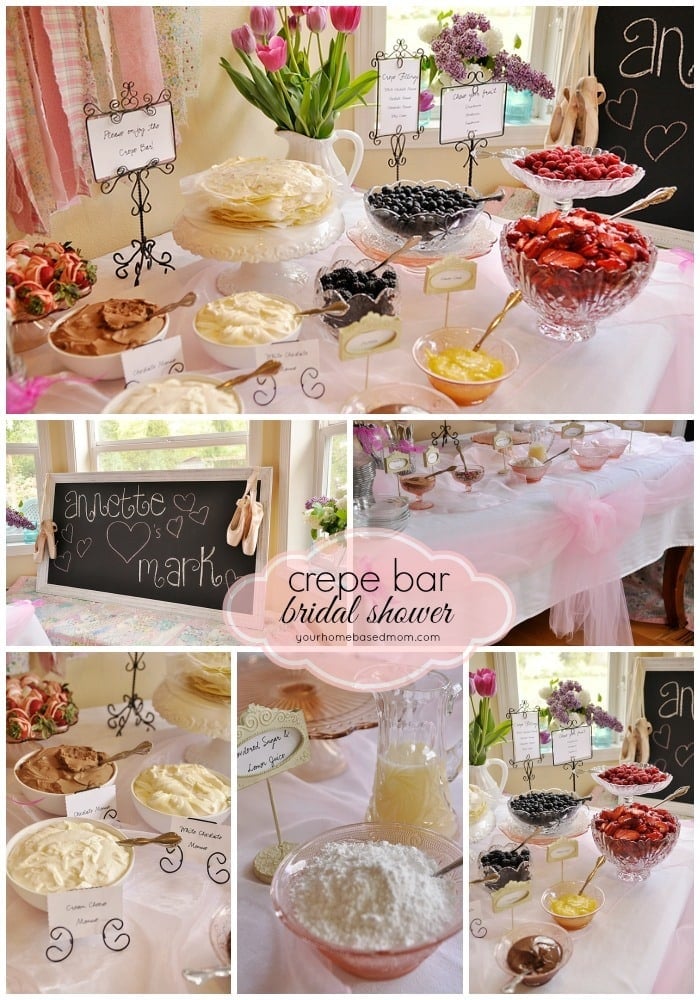 I hope you all enjoyed a lovely holiday weekend.  We flew our flag and gave thanks to all the men and women who have served and who are serving our country.  Last week we were able to spend a little  time with our "adopted son" James who just returned from his tour in Afghanistan and are so grateful for his safe return and for his service.  We also drove to Seattle on Monday to see a Mariner's Game – Jim and his girls.  Safeco Field has great food!
One of the other things I did this weekend was host a bridal shower.  I worked with the bride's sister to put things together.  We decided to go with a pink theme since the bride loves everything Barbie and has been a ballerina most of her life and is minoring in dance.  We used lots of pink and ballet influences for the decorations.  Thankfully my daughter Tessa has also been a ballerina so her point shows and old tutus came in handy!   I love it when I can use things I already have around the house to decorate with.
I saw a cute idea on a blog (sorry I can't find the link) for a fun backdrop for the serving table.  I used a collection of pink fabric with a few blue and green thrown in (the colors matched in the invite.)  It was simple and cheap to put together and I think it turned out darling.  Tessa has asked me to make one in colors to match her college bedding so she can hang it on her dorm wall.
I just tore (I wanted a rough edge) strips of fabric that were anywhere from 2-3 inches wide from the width of the fabric and then tied the strips onto a piece of ribbon.  I used thumbtacks to hang it on the wall.
Of course we also had to have fresh flowers.  Some pretty pink tulips and then some lilacs and snowballs from the garden.
I used the fun new chalkboard I shared last week and hung some of Tessa's pink point shoes from it for an added touch.  I also used my vintage quilt to cover the windowseat.
I bought about 7 yards of pink tulle and used it to dress up the table.  I just used ribbon and pins to tie it and fasten it to the table cloth on the corners and tied a big pink bow in the middle.
I got out all my pink serving dishes too.
The shower was Saturday morning so we decided to do a crepe bar.  It was so fun and a HUGE hit!  Cathrine who was hosting the shower with me has a friend who just graduated from culinary school who made all the crepes for us.  Here is the crepe recipe.
We had big bowls of berries – raspberries, strawberries, blueberries and blackberries.  As well as nutella and delicious homemade lemon curd made by the bride's mother.
There was also powdered sugar and lemon juice, cinnamon sugar and some sprinkles!
I made up 3 different kinds of filling for the crepes – a chocolate mousse, cream cheese mouse and white chocolate mousse. No worries, I'll be sharing all the recipes.  I must say the white chocolate was my favorite but the cream cheese disappeared the fastest!
We also had some pink and white chocolate dipped strawberries.
And some lovely French cheese puffs called gougeres.  Just like a cream puff but made with cheese.
To drink there was Good Water. I love it!  I used one of Tessa's old tutus around the punch bowl.
Everyone loved the food and enjoyed visiting with one another.  We let the cute bride go first.
In addition to my collection of pink dishes I picked up some clear glass plates at Ikea – they were less than a dollar each and then just used some clear canning jars to hold the silverware.  There were pink napkins of course (from Ikea)
Congratulations Annette and Mark!

Get my Weekly Menu Plan for FREE!
Receive my FREE "What's for Dinner?" Meal Planning Course, a copy of my FREE ebook that includes my most popular recipes and my FREE weekly Meal Plan.