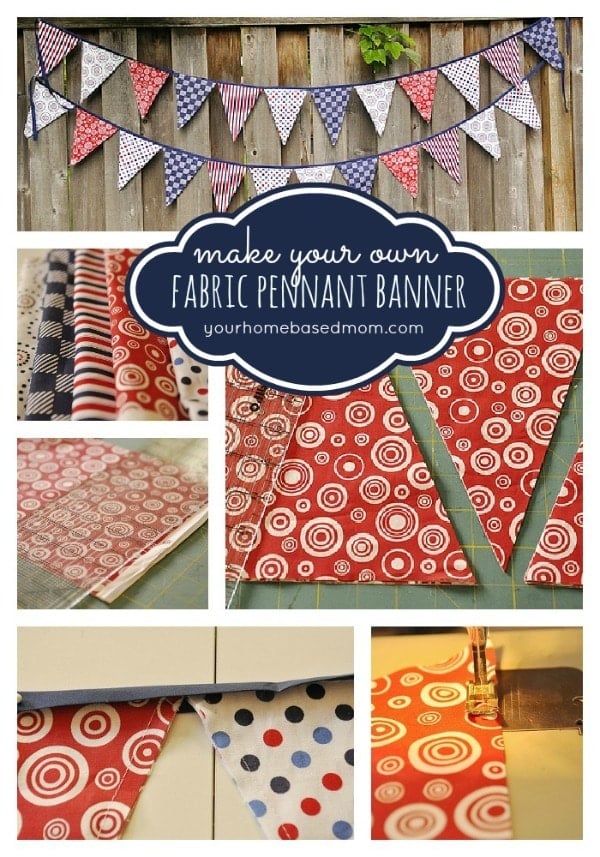 One of my favorite decorations to make for a party is a fabric pennant banner.  A banner just makes everything more festive!  It's also a great way to tie your color scheme together.
It also gives me an excuse to play with fabric which I love.
You may remember the banner I made for our family Christmas card photo this last year.
And here is the one I made for my Mummies Night Out last October.
Tessa's Sail Away Graduation party was the perfect excuse to make another one!  This time with a nautical color scheme.
The first step to making a fabric pennant banner is to choose your fabrics.  I like to use 5 different fabrics.  You want a variety of color, pattern and scale (some small prints, some large)  I think this is the best part – picking out the fabrics!  My nautical color scheme will work perfectly for the Fourth of July too!
I purchased half a yard of each of the fabrics which gave me enough fabric to make 4 banners that were 3 yards long each.    The pennants are 9 inches long and 7 inches across at the top.  A 1/2 yard is 18 inches so you will get two rows of pennants with 20 pieces or 10 pennants from each fabric.
Each banner  had 12 pennants on it or a total of 48 between the 4 (I had two extra left over)
The first step is to cut your fabric into two 9 inch pieces (cut fabric in half across the width of the fabric)
Open up the fabric so there is just two layers and lay each piece on top of each other.  You will have four layers of fabric.  Make sure salvage ends are together..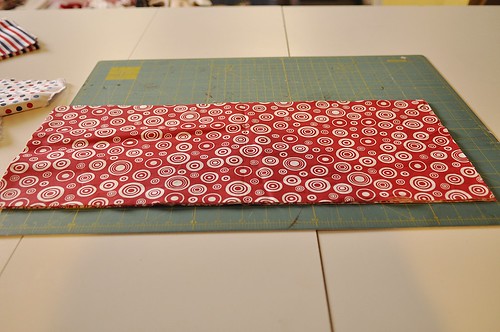 Trip off the salvage on the end.
Next you will cut your pendants.  Remember they are 7 inches across the top at the widest point and 9 inches long.
Using a ruler and a rotary cutter or scissors, lay your ruler at an angle.  At the 7 inch mark and the 3 1/2 inch mark and cut
Next place your ruler at the bottom 3 1/2 inch mark you just cut to and then angle it up to the upper corner and cut.  Discard the piece you cut off on the right hand side.
To cut your next pennant just angle the ruler from the upper point down to the 7 inch mark.
Just keep repeating.
You will get a total of 20 or 10 sets of pennants from the 1/2 yard.
Repeat with remaining fabrics.
After all pennants are cut place two pieces (matching fabric) together with wrong sides together.
With edges even sew down the two long sides of the pennants.  Starting at the top and pivoting at the point.  You do not need to sew the top closed as it will be closed when you attach to the bias tape.
I just keep my pressure foot right along the edge.
You will then have a nice pile of pennants.  Fifty to be exact.
The next step is to attach them to the bias tape.  I used Extra Wide Double Fold Bias Tape.  Each package is 3 yards long so to use all your pendants you will need 4 packages.
With bias tape, one side is slightly longer than the other.  Leaving about a  12 inch tail on the end (you will use this to tie it onto something), place your pendants inside your bias tape being sure the shorter side of the tape is up.  I do not put my pendants in perfect alternating order.  I mix it up a bit so it doesn't look too perfect.
I place the pendants so they are end to end.  Then sew down the bias tape, stitching close to the edge.
You will have a tail of about 12 inches on either end with no pennants.  Sew this closed too.  I prefer to make four separate banners rather than one long one as this gives me more flexibility in where and how I hang it.
Now you are ready to hang up your pennant banner and celebrate.   Here are half of mine!


I've got some more fun graduation party decoration ideas coming up later this week!
Can't wait to share my treasure I found at Goodwill.  It's amazing what you can do with a little bit of spray paint!!  We're having too much fun around here.