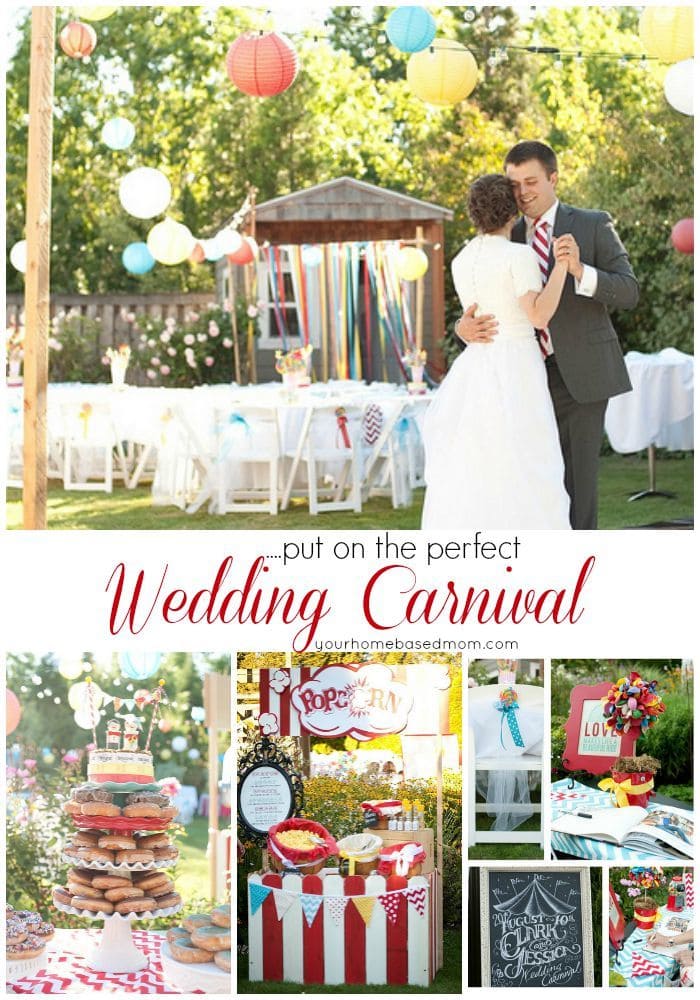 Today I am so excited to share with you photos from the Wedding Carnival! To be honest it was a very frustrating post to do because I have so many wonderful photos and I think I might blow up your computer if I tried to share them all in one post!!! So what I will be doing is sharing an overview of the entire carnival today in photos (and there is a lot of them) and over the next week I will break it down into sections (decorations, food, etc.) and post more photos and information, resources etc., in those posts. So, as you look at the photos if you have specific questions for me please leave them in the comments and I will try to answer them in the follow up posts I do.
I began working on the carnival soon after I knew about the engagement last March. I spent the next four and a half months having so much fun and pouring my heart and soul into the wedding carnival. It was so much fun and I loved every minute of it. It was a total DIY wedding thanks to all the creative efforts of my husband and friends. Jim spent the last four months working building booths, hanging lights, and tending the garden in every free moment. I have some amazingly creative friends who spent uncountable number of hours helping me too! I am also grateful for my great group of friends who showed up at my door on Friday to help set up and those who worked behind the scenes that evening making sure everything ran perfectly so I could enjoy the evening.
It was truly a group effort of amazing people who love and care about Clark and Jessica (and me).
I owe my friends big time.
I am a firm believer that life is in the details and I so agree with this quote by John Wooden:
It's the little details that are vital. Little things make big things happen.
I love focusing on and spending time on the details and I hope that will come through in the pictures I am sharing.
All the wonderful photos were taken by talented friend and photographer Megan Elle Photography.
So welcome to our Wedding Carnival!

The beautiful bride and groom.

The new and improved Wilkes Family!

Please sign in!

There was lots to eat!

I scream, you scream, we all scream for ice cream!
Carnival Food is fun! Hot Dogs, BBQ Pork Sliders, Mac & Cheese and Curly Fries!

We didn't do the traditional wedding cake. Instead we did a doughnut cake! The cake topper made by my friend Meg was one of my favorite parts of the carnival!!

You couldn't have a carnival without games so we had plenty of those!

And what would a carnival be without a balloon man!


And there was a Photo Booth too!

Some of the best money we spent was on a live band! They were amazing and added so much to the atmosphere of the carnival. If you are in the Portland/Vancouver area I highly recommend the band 24/7.


We danced and danced until we had to stop because of the noise ordinance!!

The only thing that Jim gave me a hard time on in regards to the carnival was a dance floor. He didn't think we needed one and I did. After months of searching I was able to find one to rent for a reasonable price. The week before the carnival it fell through. Not one to be defeated easily I talked Cali and her friend Hannah into building me one! It turned out wonderful and it was perfect. Jim even admitted after the carnival was over that I was right – the dance floor was great!! (If you are in the Portland area and want to rent a dance floor – call me!!)
It is hard to pick a highlight of the evening as it was just one magical moment after another but I have to admit that the Flash Mob we did was pretty amazing! Cali, Tessa and Hannah choreographed it and then enlisted the participation of our neighbors and friends! We did it when the band took a break and used the song "Call Me Maybe." Cali introduced what she told the crowd was a lipsync of this song as it is what Jessica said to Clark the first time she met him. They began their lip sync and then groups of neighbors who were scattered through the crowd began to join in – it was great!!

The crowd loved it!

And so did the bride and groom. We even got them to join in at the end.
I think a flashmob may have just become a new tradition at all Wilkes' weddings in the future!! It was a blast!!! I can now cross that one off the Bucket List but I'd do it again in a heartbeat.
Then the sun began to set and our backyard turned into a magical fairyland thanks to the hundreds and hundreds of feet of lights that Jim had strung through the yard. It was truly magical.
The best part of the evening was of course celebrating the new bride and groom.

It was so amazing to be able to share it with so many of our dear family and friends.
As I looked out over the yard and saw everyone laughing, eating, dancing and enjoying themselves my heart was so full.
It was a perfect moment in time. Just what I had hoped for.
For more details check out:
The Wedding Carnival}The Food Part One
The Wedding Carnival}The Food Part Two
The Wedding Carnival}Decorations
The Wedding Carnival}Carnival Games
The Wedding Carnival}Music, Dancing and a Flash Mob
The Wedding Carnival}The Bride and Groom