After reading the title of today's post you may have thought – I will never need to build a dance floor. I thought the same thing. But you might and when and if you do this post on How to Build a Dance Floor will come in handy. Be sure and Pin it so you know where to find it when you need it.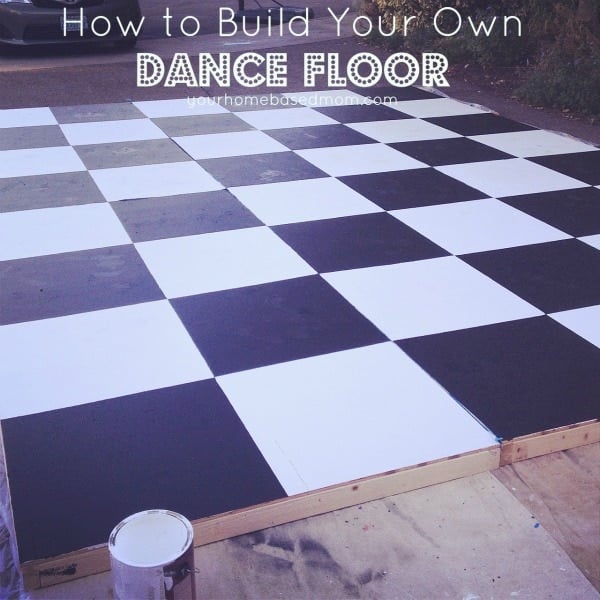 I shared with you in a previous Wedding Carnival post the story of our dance floor. When we decided to book a live band for the Wedding Carnival I thought we needed a dance floor. My husband did not. We have a large backyard and plenty of grass and he thought dancing on the grass would be just fine. I did not.
I am not easily dissuaded or discouraged.
I got on line and immediately started pricing dance floors from rental companies. They are not cheap, between $700-800 for the size we needed. It wasn't in the budget so I decided I needed to get creative.
To make a somewhat long, 5 month long story, short, I had a dance floor and then I didn't have a dance floor, I had a dance floor and then I didn't. In fact I thought I had a dance floor until the Sunday before the Wedding Carnival. It fell through – five days before the event.
Remember I am not easily discouraged so I decided we were going to build a dance floor. Or rather my daughter Cali and her friend Hannah were going to build me a dance floor (with some help from dad of course.)
By this time I had totally broken Jim down and he agreed so we headed to Home Depot on Monday night (the Wedding Carnival was Friday).
How to Build a Dance Floor
We loaded up the cart with wood and nails.
Supplies Needed for a 12×16 Dance Floor
6 sheets of 1/2″ plywood
30 eight foot long 2 x 3's – cut 18 of them into two 45″ pieces (you will have pieces leftover) This will leave 12 of the boards 8 ' long. They cut them for free for you at Home Depot.
Nails and hammer
Floor Paint and supplies for painting
Painters Tape
6 Mending plates to join the pieces together
The dance floor measured 12 x 16 and was created out of 6 sections that were 4 x 8. The size of a sheet of plywood.
The whole neighborhood got involved or enjoyed watching the process taking place out in front of our house.

The above photo is about how involved Tessa got – she held a hammer for a photo but she was working full time so we need to cut her some slack.
From the 2 x 3's they created 6 frames that measured 4 x 8.
They then added four support pieces to each frame.

The next step was nailing a sheet of plywood to the top of each frame and nailing it down along the edges and across the support pieces.


The moms got involved in this step of the process. Had to bring in the big muscles!
The next step was the painting process. I decided that I wanted the floor to be checker board to go along with the carnival theme so I purchased black and white floor paint. We primed the boards first and then added a coat of white paint to each section.


After it was dry, yes I sat in a chair and watched it dry! I like watching paint dry.


The girls used blue painters tape to tape off the squares. The squares measured 24″ x 24″ so each 4 x 8 section had 2 x 4 squares.

Using small foam rollers the girls rolled the black paint into the taped off squares.


We waited for the paint to dry, removed the tape and we had a dance floor!!

We then numbered the pieces so that we knew how to put it back together once we moved it into the backyard. Can I tell you something? It was perfect and it was a wonderful addition to our carnival and YES, we needed a dance floor. Even my husband admits that now. It added such a fun element to the carnival and really got people dancing.
The mending pieces were hammered into to hold the pieces together.
Total Cost of Dance Floor (including paint but not including labor) Approx. $300.00.

Who wouldn't want to dance on a black and white checkerboard dance floor!!!

For more Wedding Carnival posts check out these:
Carnival Pictorial can be found here
The Wedding Carnival}The Food Part One
The Wedding Carnival}The Food Part Two
The Wedding Carnival}Decorations
The Wedding Carnival}Carnival Games
The Wedding Carnival}Music, Dancing and a Flash Mob