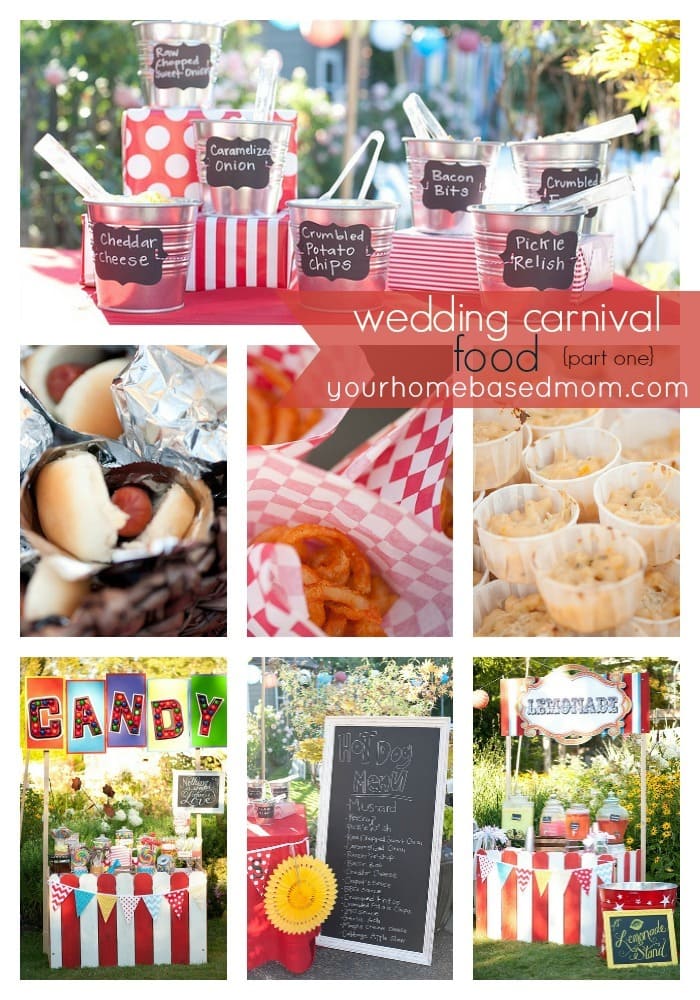 When I came up with the idea for a Wedding Carnival my main goal was for everyone to have FUN! That meant the food had to be fun too.
Really, what isn't fun about carnival food?? It may not be the most health conscious food but it is fun and that was the theme of the evening so we went for it.
My dear friend Patrice took charge of the food for me. It was such a gift and blessing not to have to worry about it. We got together and discussed the menu and then she took over!! Patrice is amazing in the kitchen and I knew everything would be perfect because she was in charge.
Our Carnival menu of course included hot dogs.


But we didn't just have regular old hot dogs – we had gourmet hot dogs with an array of amazing toppings.


I have to say that the maple cream cheese and crushed up Frito were two of my favorites! The combinations possibilities were endless!!


I found the fun little buckets for the condiments at Ikea. The squirt bottles and the plastic tongs came from Cash & Carry.

We also had little individual macaroni and cheese that were so cute and so yummy!


There was also BBQ Pork sliders with coleslaw too.


And what would a carnival be without curly fries!?


I bought some locker shelves to hold the paper cones of curly fries. The teal color worked perfect with my carnival color scheme.

For beverages there was a lemonade booth.


We had four kinds of lemonade. Regular lemonade of course.

Pink lemonade, raspberry lemonade and strawberry lemonade…
I made cute little flags for our paper straws with the name of the bride and the groom of course. The straws were purchased from Gygi's in Salt Lake City but you can also find them through etsy.

There was also a big metal barrel full of water bottles. I had purchased the metal containers at Home Depot and spray painted them red. I used my Cricut machine to cut out white vinyl stars which I added to the sides. All my chalkboard art was done by my amazingly talented friend Bill who also may just have designed the Nike tennis shoes you may be wearing right now! Talent runs in his family because his wife Darlene designed and made all the fabulous signs for the booths and the carnival entrance. Yes, I have very talented friends!!

There was also a Candy Booth which was my favorite. The sign was amazing!


And looked even more amazing when it was dark!


The candy bar was full of bright, fun colored candy. I used the whirly lollipops in a lot of the decorating so of course there were some of them in the candy booth too.


There is just something about little boys and candy!

Nothing is sweeter than love!
More amazing chalkboard art from our friend Bill.
Check back tomorrow for Wedding Carnival}The Food Part Two
Carnival Pictorial can be found here.
The Wedding Carnival}The Food Part Two
The Wedding Carnival}Decorations
The Wedding Carnival}Carnival Games
The Wedding Carnival}Music, Dancing and a Flash Mob
The Wedding Carnival}The Bride and Groom
Photography by Megan Elle Photography