All the details on how to throw an End of Summer Dinner Party.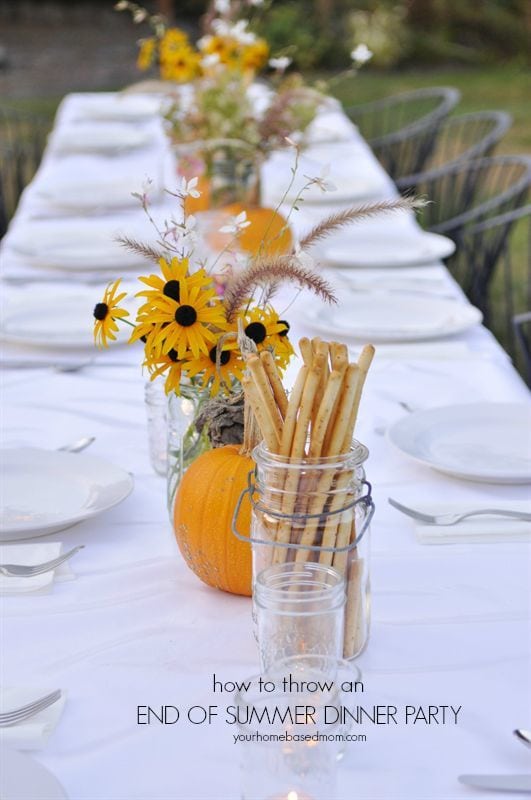 We said goodbye to goodbye to summer this weekend.
Although we are hoping the good weather (meaning no rain) continues to hold for a few more weeks, the mornings and evenings are getting cooler. This is my favorite time of year weather wise. I am so ready to break out the sweaters and the boots!!
It was a good summer. A busy summer but a good one. We are fortunate to have wonderful neighbors, neighbors we love and enjoy spending time with. To celebrate the end of summer we decided to hold one last outdoor get together under the lights. We have yet to take down the wonderful lights we put up for the Wedding Carnival.
We keep coming up with excuses not to take them down. The end of summer dinner party for one and I think they will be fun to have for our annual Halloweenie Roast later next month and then they would be fun to have for Christmas and then what if it snows in January or February?? How fun would it be to have all those lights reflecting off the snow! I think they may just stay up permanently!!
For our End of Summer dinner party we set up one long table in the backyard, under the lights, and covered it with white paper. I used flowers and pumpkins from the garden to decorate the table with along with lots of candles. The garden is about done for the summer but I was able to scrounge up a few flowers.

Our pumpkins didn't get very big this year but they were the perfect size to decorate the table with. I love being able to use things from my own garden to decorate with.
The white table covering provided a perfect canvas for any would be artist at the table so we set out jars of crayons if anyone felt like creating!
I also like using part of the menu to decorate the table with. We used all the fun beverage bottles and cans as well as jars full of breadsticks for our Italian feast!

The setting of one long table in the garden under the lights was magical.
Everyone pitched in with the food so it wasn't a lot of work for anyone. We decided on an Italian pasta menu. I cooked up all the pasta and made an artichoke/olive red sauce. Other neighbors brought a meat sauce, pesto, alfredo and my favorite a browned butter and mizithra cheese.
Another neighbor made a delicious Caesar Salad as well as a Caprese Salad with tomatoes fresh from the garden. There was also a selection of toppings for bruschetta and lots of yummy garlic bread.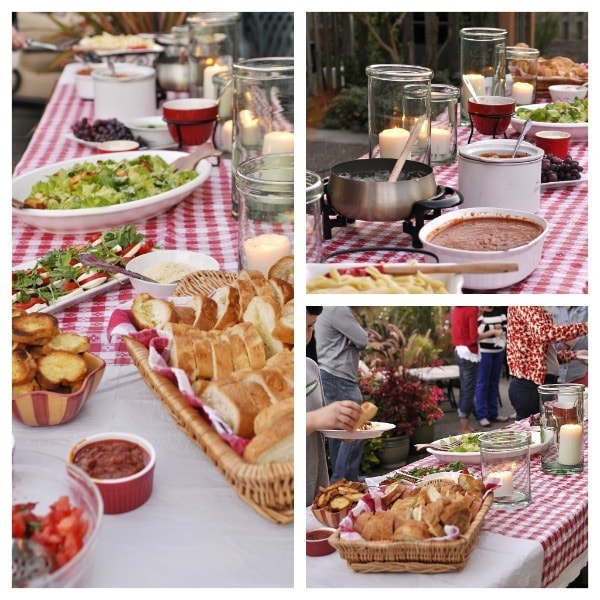 We wanted to keep it authentic so for dinner we had Spumoni ice cream and some delicious chocolate and marshmallow cookies!
The food was delicious and the company was amazing!

And there is just something magical about when the sun goes down.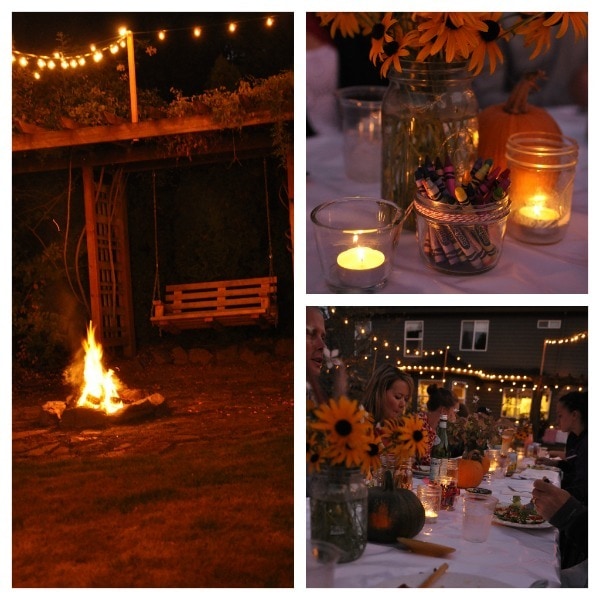 Evenings like this are what I like to call "Magical Moments in Time." Moments when the world just seems to melt away and the time and place you are in is all that really matters.
I am so grateful for the wonderful friends we have to share these moments with.
Here's to a great summer and to many more!!