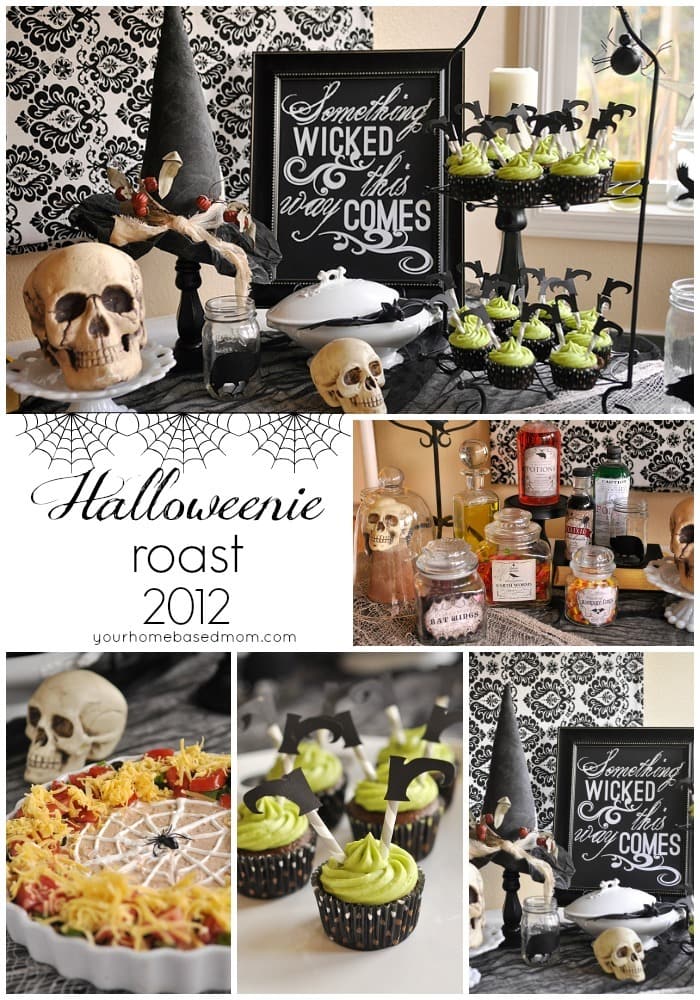 Last night was our annual Halloweenie Roast 2012.  I think it might just be one of my favorite parties of the year!
I have to admit this year though it snuck up on me a little bit.  We've had some distractions going on around here and I hadn't really done a lot of planning when I realized it was only a few days away.  This is when having a lot of "stuff" comes in handy.  I started walking around my house and pulling things off my shelves and tables to decorate the serving table!


I had made the backdrop for a bridal shower I gave earlier this year.  The black and white pattern worked perfect for Halloween.  All I had to do was hang a piece of gauzy fabric over it and tape some black bats I cut out on my Silhouette Cameo to the wall.
The potion bottles were from last year and had been tucked away in the closet.


A quick trip to the bulk bins at Winco filled the candy jars.
The one new piece I did put together for the party, that I am pretty much in love with, is the "Something Wicked This Way Comes!" piece I put together using an old frame I found at Goodwill.


The idea came from Whipperberry.  As soon as I saw it on her blog I knew I needed one!  I tweeked it ever so slightly and cut it out on my Silhouette Cameo.

I thought my cute little witch cupcakes looked darling next to the sign!  To download the pattern for the witch shoes check out this post.


I had seen the idea for the cupcakes in Better Homes & Garden and fell in love. I used paper straws and cut the little witch boots out on my Silhouette Cameo, it's getting a lot of use!


I used the Oreo Cookie Recipe I have here on the blog and my Favorite Buttercream frosting. I just hot glued the shoes to the straws and stuck them in the cupcake.

The cupcakes were for dessert as was the Make Your Own Caramel Apple Bar!


I used Pete's Caramel (which you can buy at Cash & Carry or a local cake decorating shop) It melts easy and tastes wonderful. There were apple slices and some fun toppings to dip your caramel covered apple into – oreo cookie, Halloween sprinkles, mini chocolate chips, peanuts, mini M & M's.


A fun and much easier way to make and eat caramel apples!
The third dessert item was a recipe I saw just yesterday morning on my friend Melanie's blog – Mel's Kitchen Cafe.  As soon as I saw the  Caramel Apple Cider Floats she posted yesterday I knew I had to add it to the menu for that evening.  I am so glad I did – they were delicious.  Can't wait to make them again.
We did have something other than dessert.  Of course there were hot dogs to be roasted and lots of fun toppings to put on them – ketchup, mustard, JDawg sauce, pickle relish and crushed Fritos.


I also made a pot of Pumpkin Chili.  It disappeared and I didn't even get to take any pictures so I guess I will just have to make it again.  It was yummy!! I also turned my Mexican Layer Dip into a Spider Web Dip!'

Neighbors brought delicious salads and appetizers and we had lots of great food!
After dinner we played a few fun games.  Of course there was the traditional bobbing for apples.  Let's just say some people got more wet than others!!
We also played a few fun Minute to Win it Games.
Ready Spaghetti was a big hit.  Two players have to move soda cans from one table to another using only their mouths and a spaghetti noodle.


Baby Blocking is where players have to balance a plate on their head and stack 5 blocks on top of the plate without it falling. They can use only one hand.


Face the Cookie is another fun one where you place a cookie on your forehead and have to move it down to your mouth using only your facial muscles. Oreos work better but I ran out so had to use the bigger Maple cookies – they were harder to do.


Everyone loved it!


It was a fun night!

 Check out our other Halloweenie Roasts: