This Cruella De Vil Halloween Costume and the dog catcher Horace make a great couple for your next Halloween party.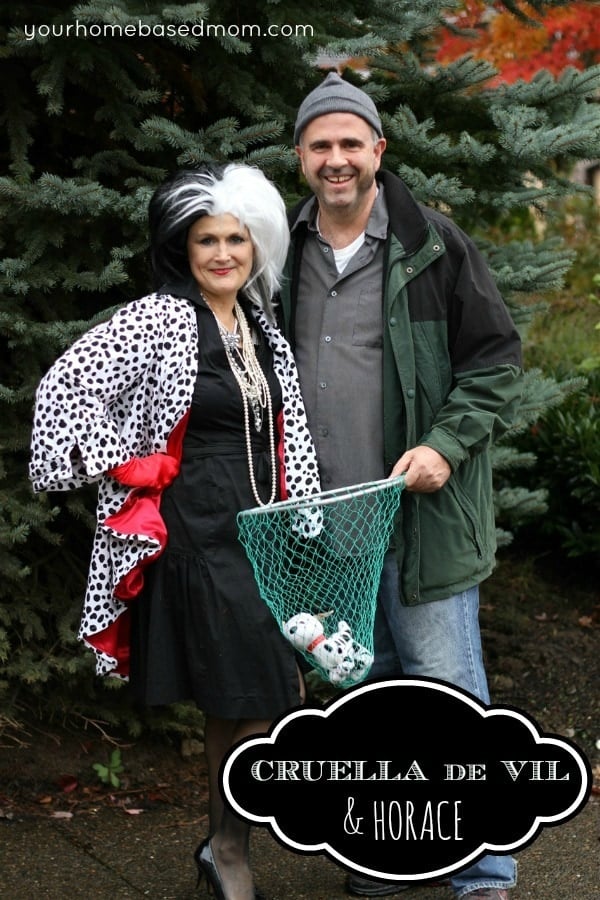 Since we have become empty nesters we have started a new tradition. We dress up for Halloween. When we had kids at home I was too busy making and helping with costumes for my kids to ever even think about dressing up myself.
When Halloween arrived last year and I found myself with no children at home and no costumes to make (although I still did help a couple of the college kids put together costumes with things from Goodwill) I decided it would be fun if Jim and I dressed up. We had a Halloween party to go to afterall.
You may remember we looked pretty darn cute as sweet and sugary Mary Poppins and the handsome Bert!!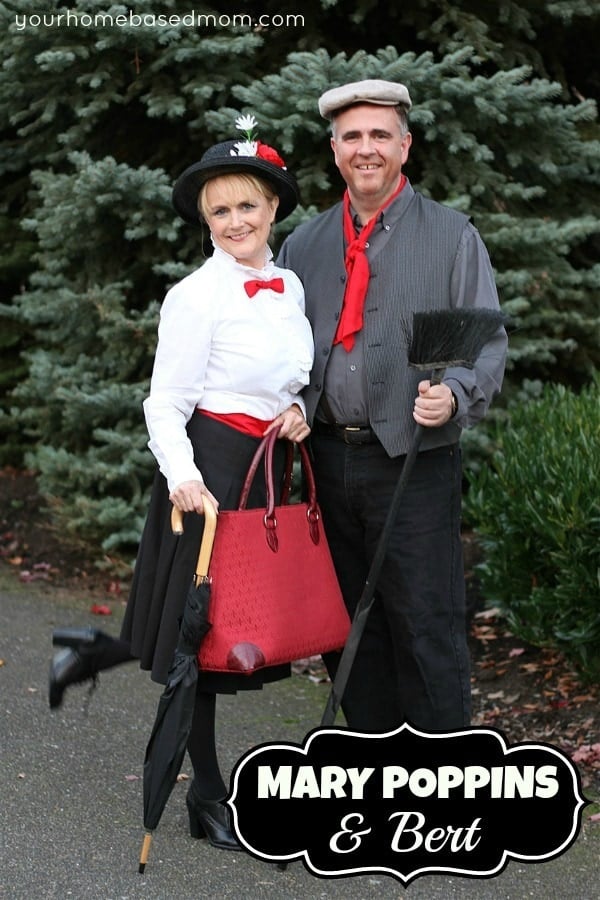 This year we decided to go to the other end of the spectrum!  We went for evil!!!  Cruella De vil and the dogcatcher Horace.  I did keep with the same color scheme though.
Cruella De Vil Halloween Costume
For my costume I used a black dress I already owned and put on every piece of jewelry I had with pearls in it!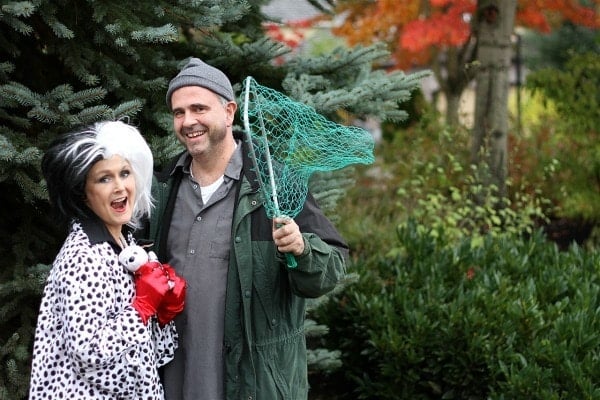 My wig and gloves were ordered off of Amazon and I made my Dalmatian coat the morning before the party!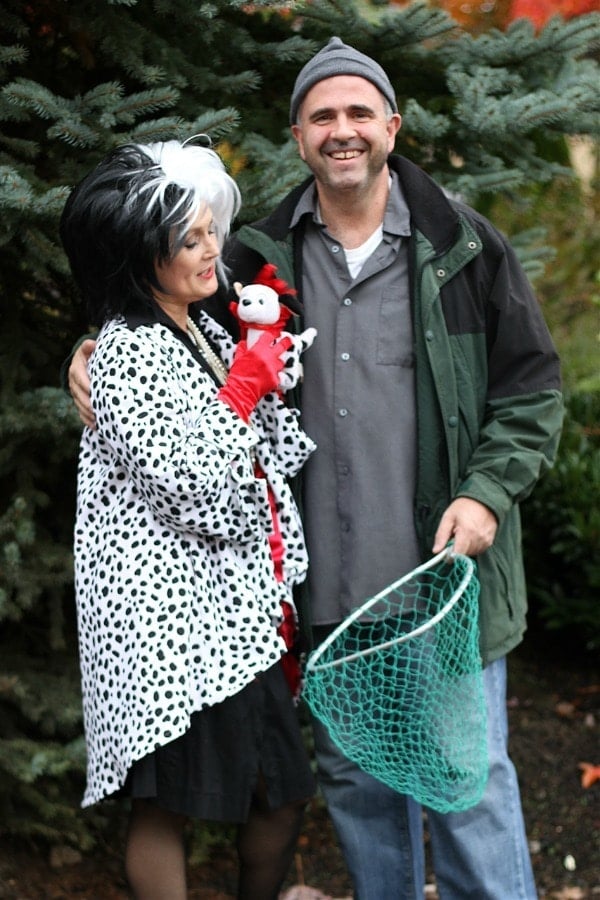 Horace the Dog Catcher
Horace the Dog Catcher aka Jim's costume was pulled from his closet about an hour before the party started.  I also asked him not to save for a few days before the party and then I darkened his stubble with some black makeup.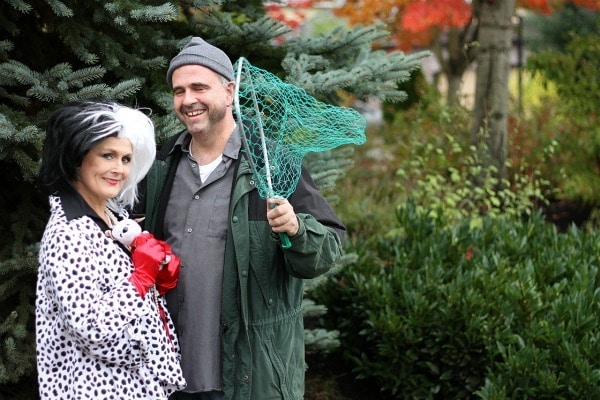 I did buy his hat and his net from Goodwill – 99 cents each.  So that is really a fishing net not a dog catching net but we had a small dog!  The dog was pulled from our box of stuffed animals in the garage.  I am glad that Cali went through a dalmatian phase so we had one on hand!!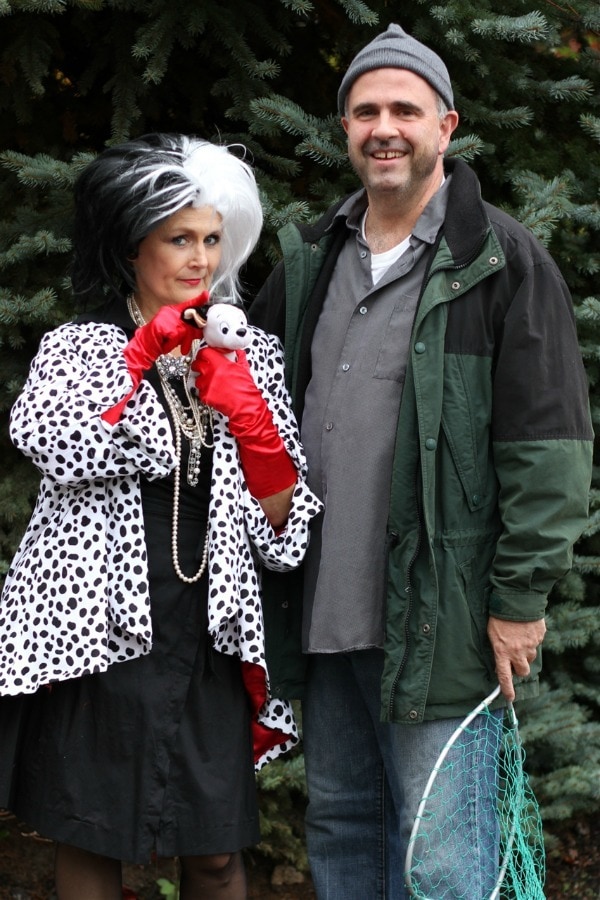 We had a great time at the party in our Cruella De Vil halloween costume and Horace and I have decided we should have started dressing up years ago.  Halloween is much more fun when you dress up!
So to carry on this famous couple theme we have going, who should we be next year? Taking suggestions in the comment section.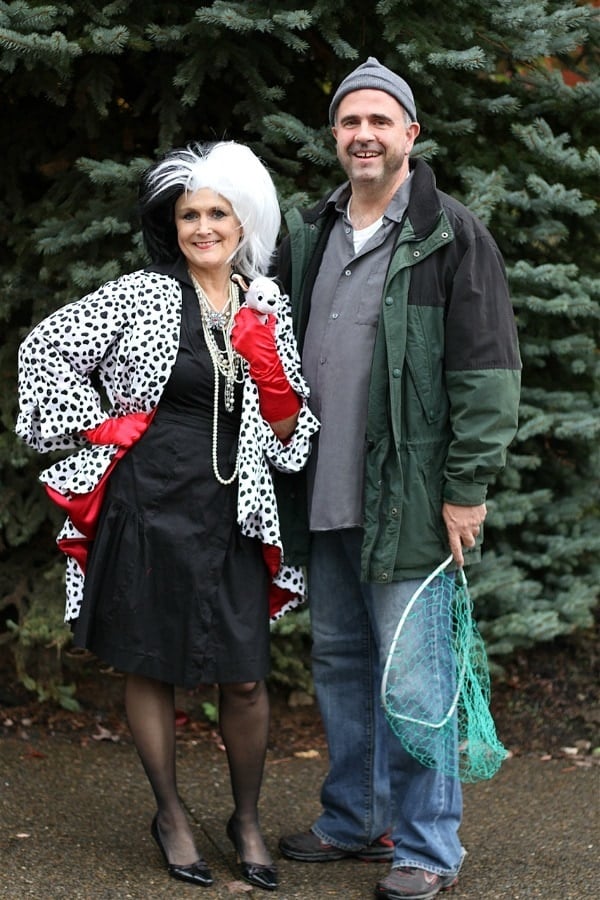 Happy Halloween!
See all our other Couples Halloween Costumes here.
For all my other favorite kitchen products and tools visit my Amazon Store.
Did you know I wrote a cookbook?  Check out the Holiday Slow Cooker Cookbook for 100 delicious recipes.
Be sure and follow  me over on You Tube for weekly cooking demos.