Halloween and ice cream, what a perfect combination for this I scream, you scream Halloween Witch Party!  Fun witch party ideas and Halloween ice cream treats!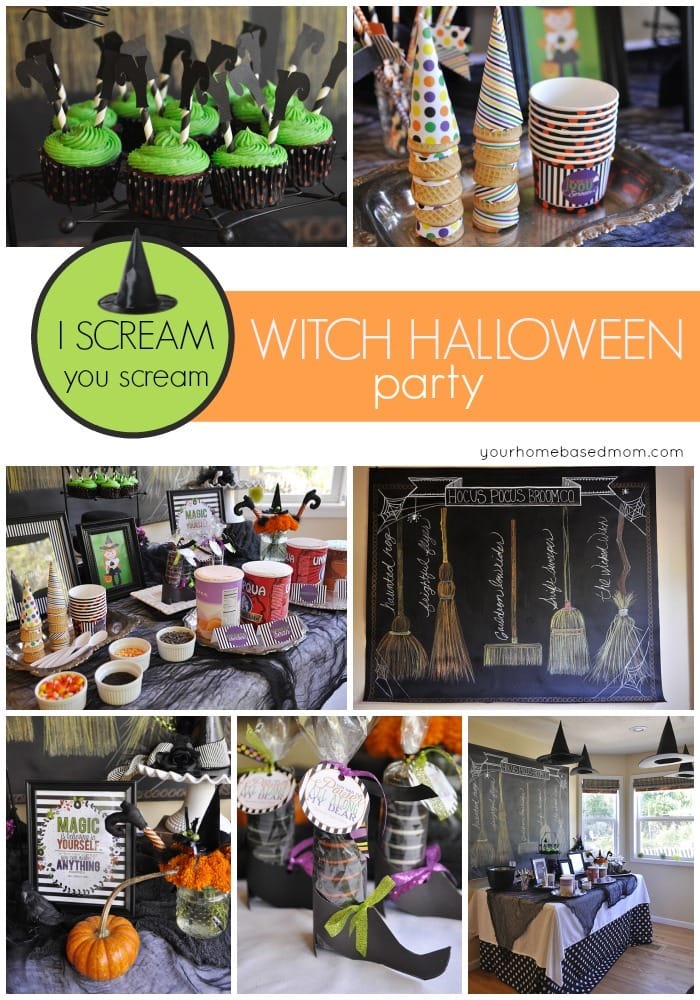 Hocus Pocus Broom
This fun Ice cream themed witch party is perfect for witches and warlocks of all ages. For the halloween party decorations, I enlisted the help of my friend, Darlene. I found a picture of this amazing Hocus Pocus Broom Co. chalk art from Inspired by Charm that I knew would be the perfect backdrop for the party. We used my chalkboard party backdrop and it worked perfectly!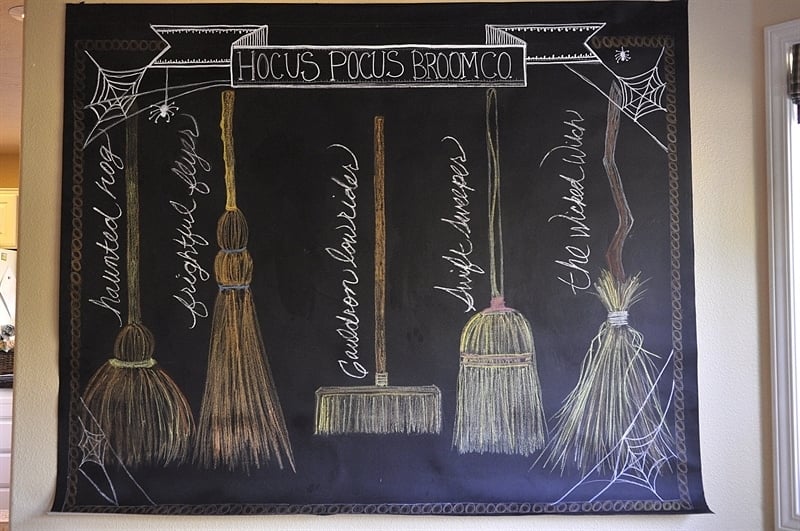 Darlene did an amazing job and it was perfect.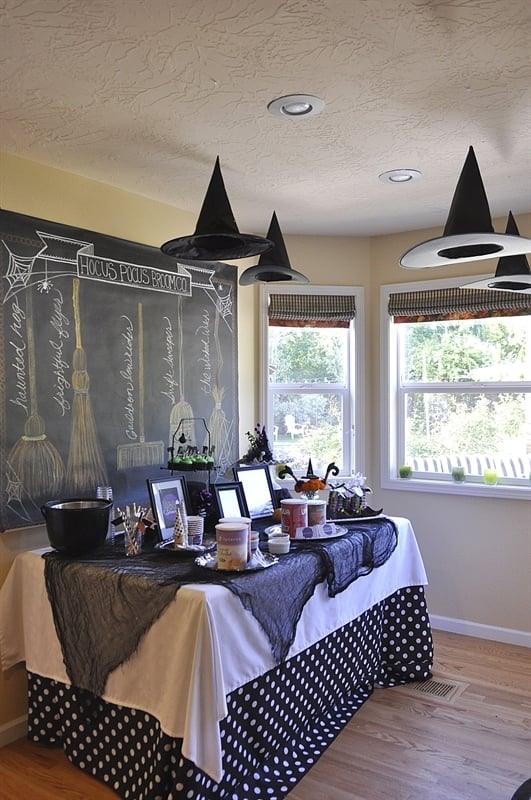 Also, I found black witch hats at Goodwill and hung those with invisible fishing line from my ceiling for a fun effect.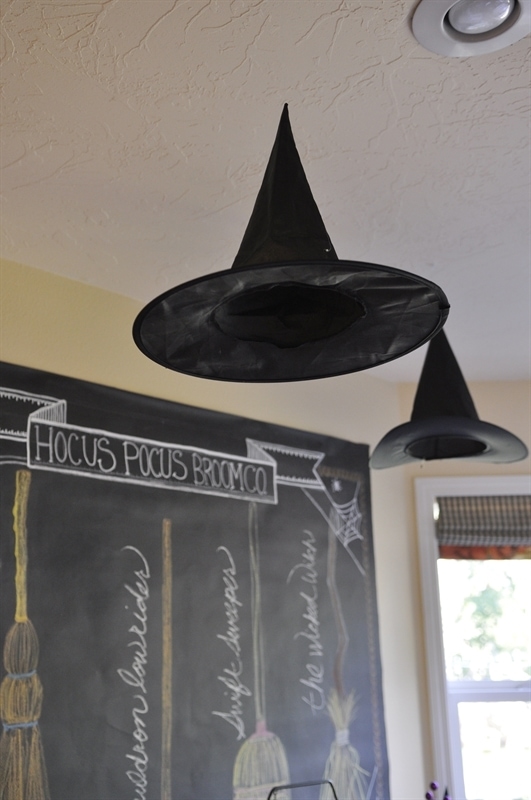 For the table I had some fun witch themed decor too. I used a brown kraft paper hat from Michaels and spray painted it black and decorated it up with some ribbon, and flowers.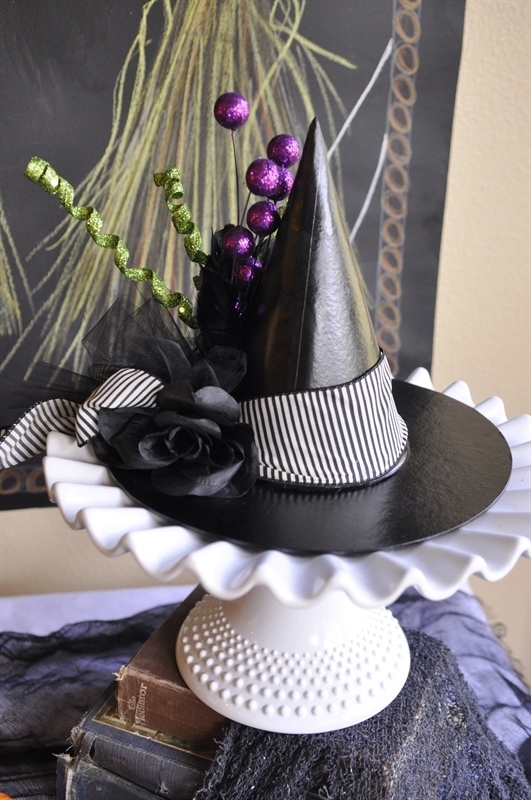 These darling witch feet and hat came from Michaels too and it was perfect in with my orange mums.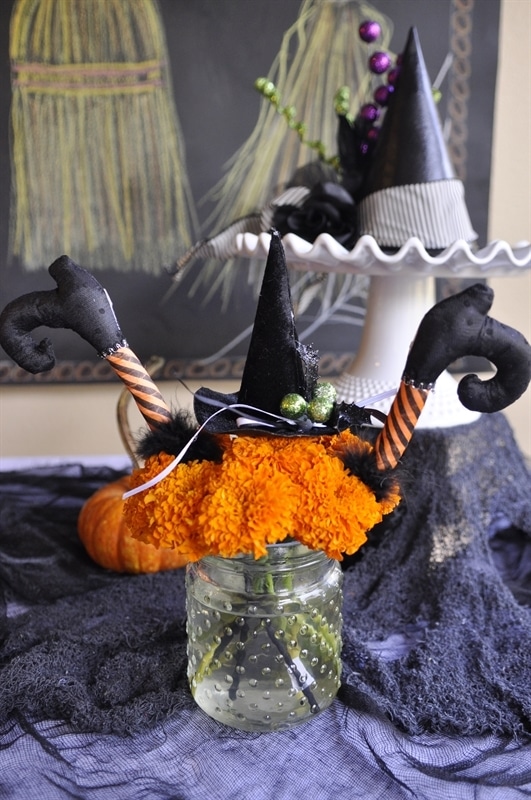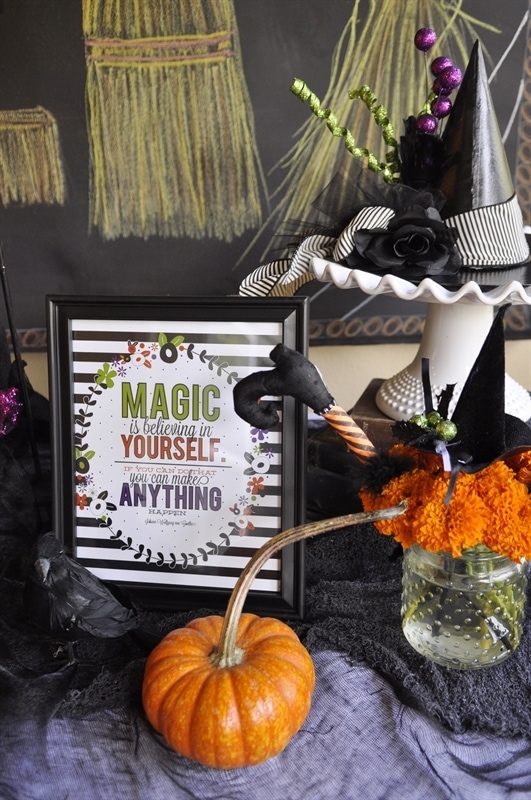 The Magic printable was done by another talented friend of mine, Kiki of Kiki & Company. I've got a free downloadable printable of this quote for you today!
Halloween Party Treats
Since it was an I Scream You Scream party of course we had ice cream!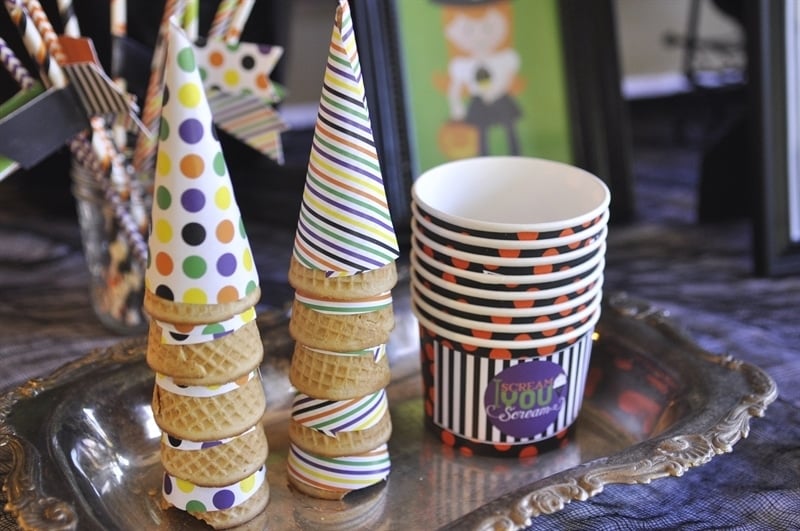 We had four flavors of ice cream and four different toppings. The flavors went with my color scheme – vanilla, chocolate, mint chocolate chip and orange sherbet. Of course there were cute little place cards with the names of the ice cream.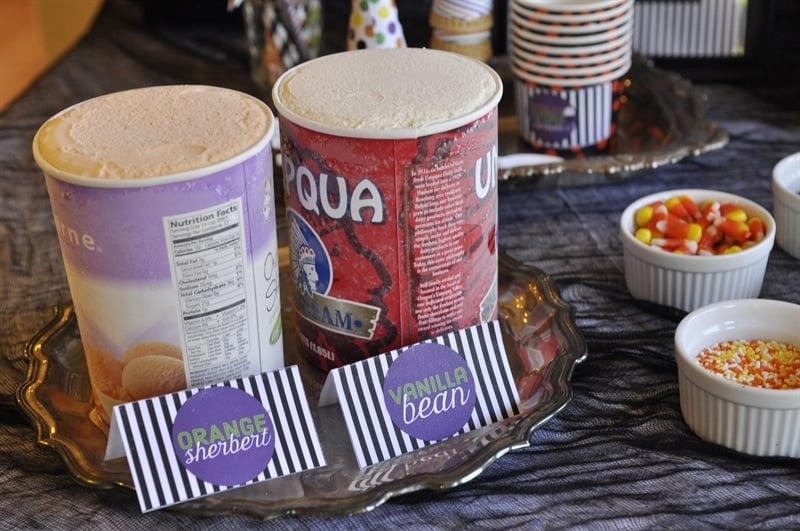 The toppings included candy corn, Halloween sprinkles, chocolate sprinkles and mini chocolate chips. I loved the cute I Scream You Scream printables Lindi made that I framed for the table.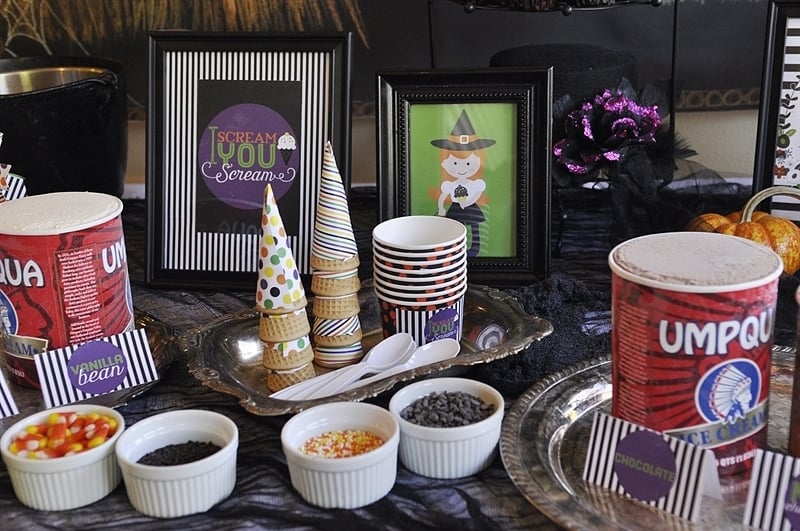 I also made some witch cupcakes. They were red velvet with buttercream frosting topped with some little witch feet! You can print off the witch boot pattern here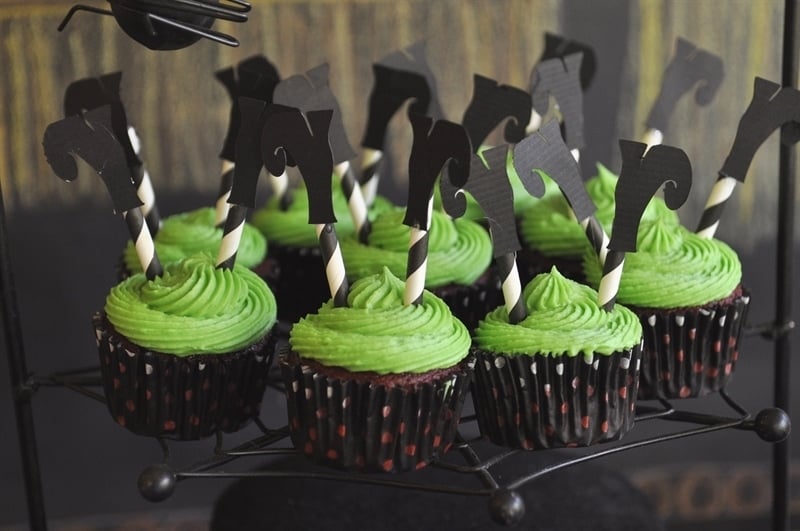 And then there was Witch's Brew, a fun green punch with eyeballs floating in it.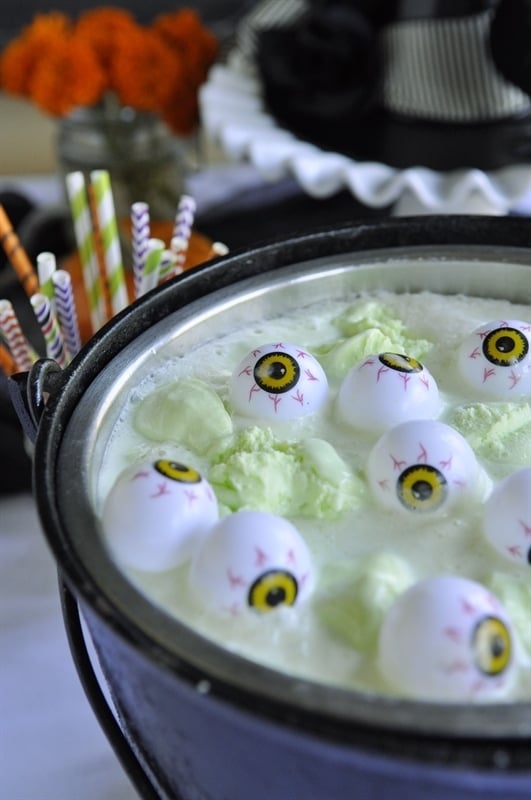 Halloween Party Craft
For our activity for the party the girls each decorated a witch hat. I had purchased the hats at the dollar store along with some black flowers, ribbon and tulle.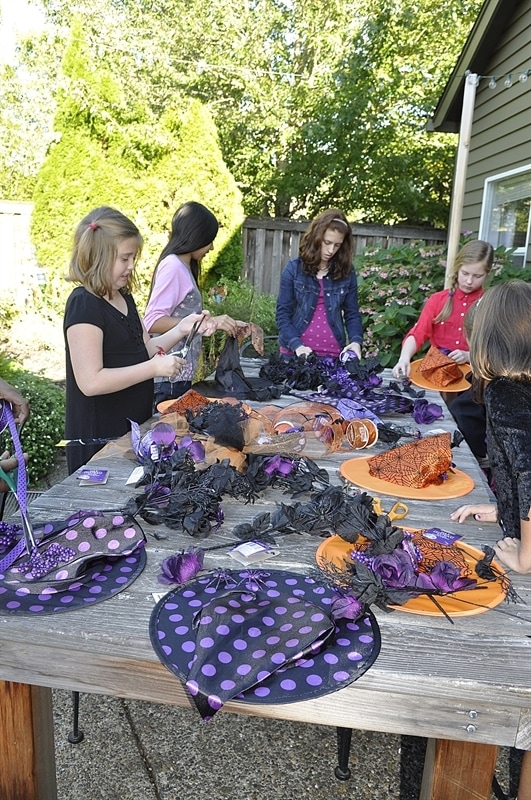 It was fun to see their personalities come out as they decorated their hats.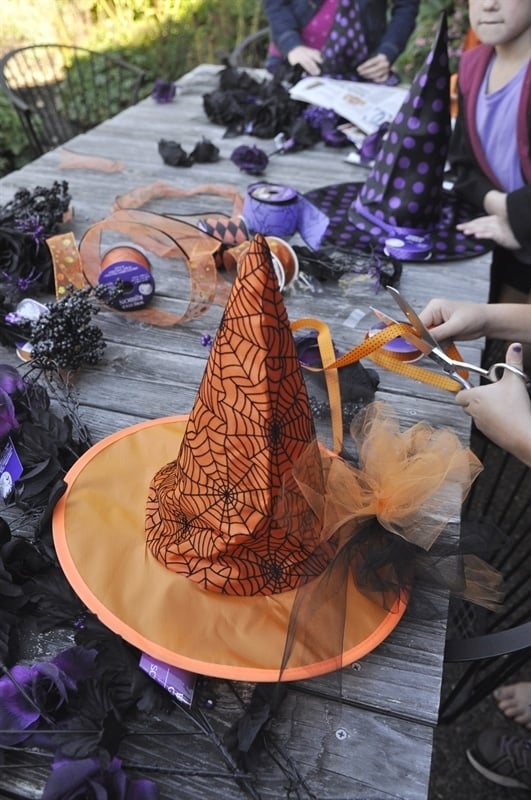 Here are my cute Activity Day girls!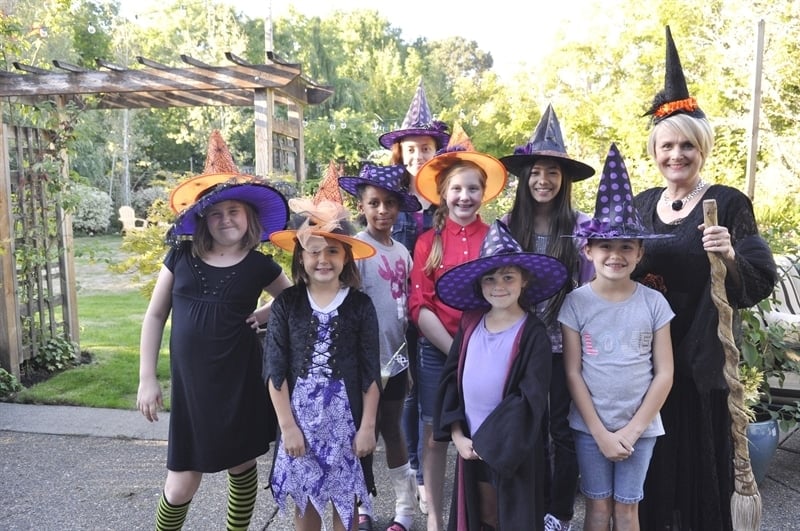 After we decorated hats they loaded up on ice cream!
Halloween Witch Party Activity Day Idea
We talked about Dorothy and the Wizard of Oz and how Dorothy's main goal was to get home. We have that same goal, to return home to our Heavenly Father and Mother. Dorothy finally discovers that she had had the power to return home all along in her ruby slippers. We talked about how they each had the power of the Holy Spirit that can help guide and direct them so that they could one day return to their heavenly home. All they need to do is look within themselves and draw on the power of the Holy Ghost and they will find the strength that they need. Like Glinda said, "You had the power all along my dear."
Witch Party Printable
I made a cute little witch shoe for each of the girls with Glinda's words on it. Find a tutorial and a free printable for the oreo witch shoes here.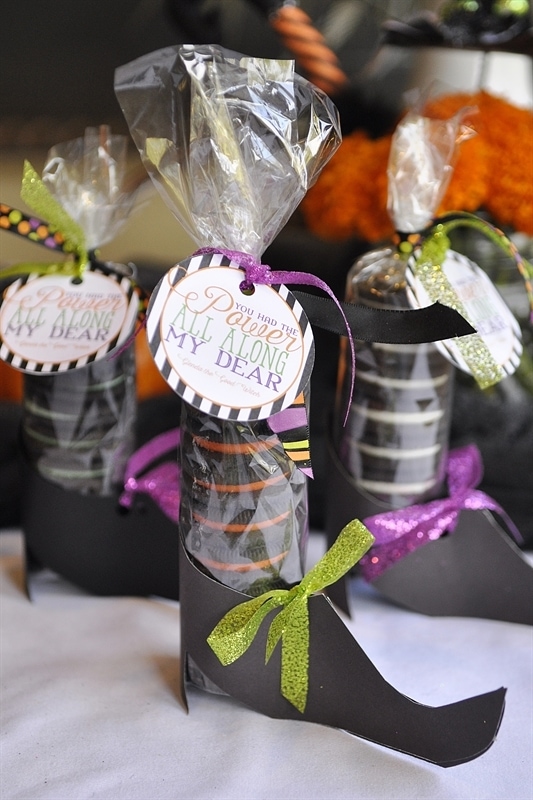 We also talked about how we each have strengths and talents and that they each have the "magic" they need. That by believing in themselves they can accomplish anything they want to! The characters in the Wizard of Oz – the scarecrow, tin man and lion all went searching for something that they already possessed. All they had to do was to look inside of themselves to discover they were already smart, brave and loving.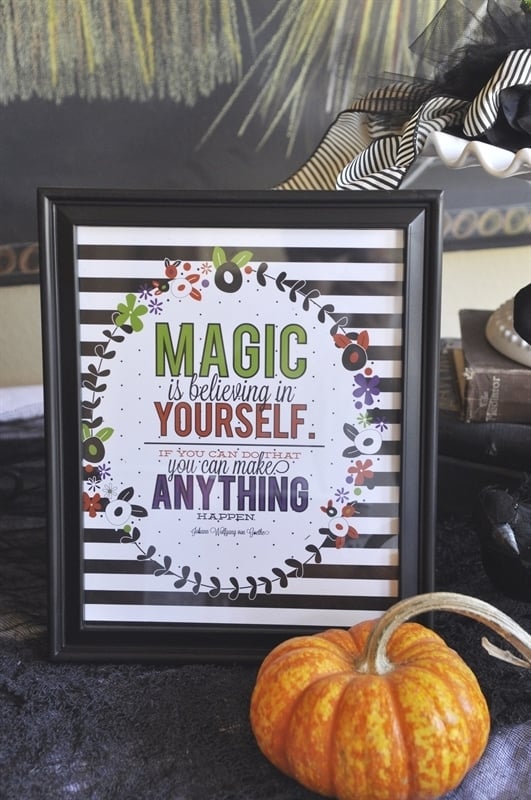 You can download this darling Magic is believing in yourself printable from Kiki & Company here.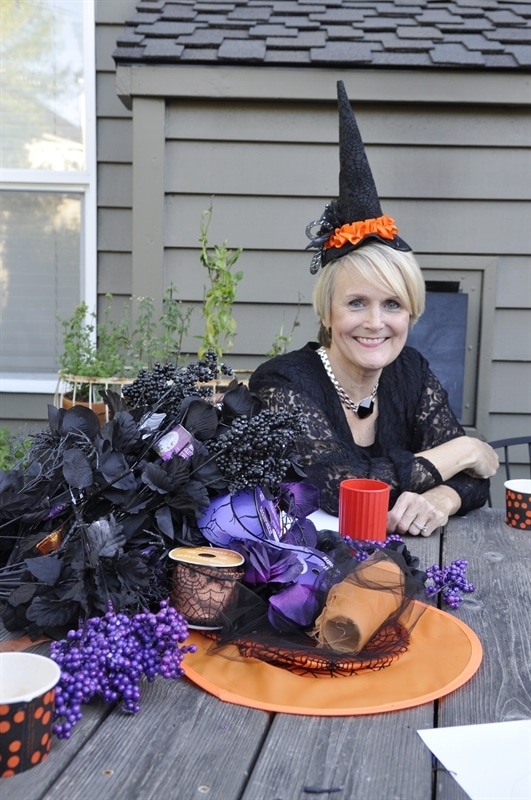 I wanted each of the girls to leave knowing they were loved. By their heavenly parents and by me!
With the time we had left we played a fun game that I found on Pinterest. They rolled diced and for each number they rolled they were able to add a different feature to their pumpkin. To print off the directions go here.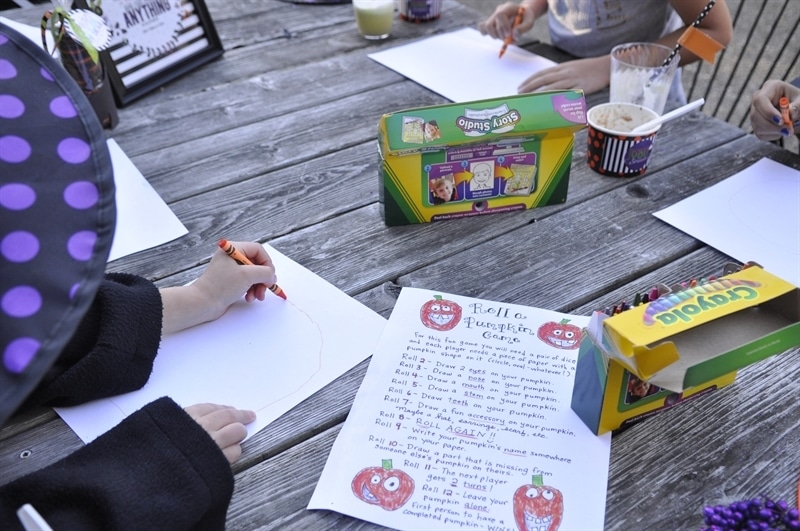 It was a fun party. The girls had fun and I had a blast putting it all together with help from all my creative friends!.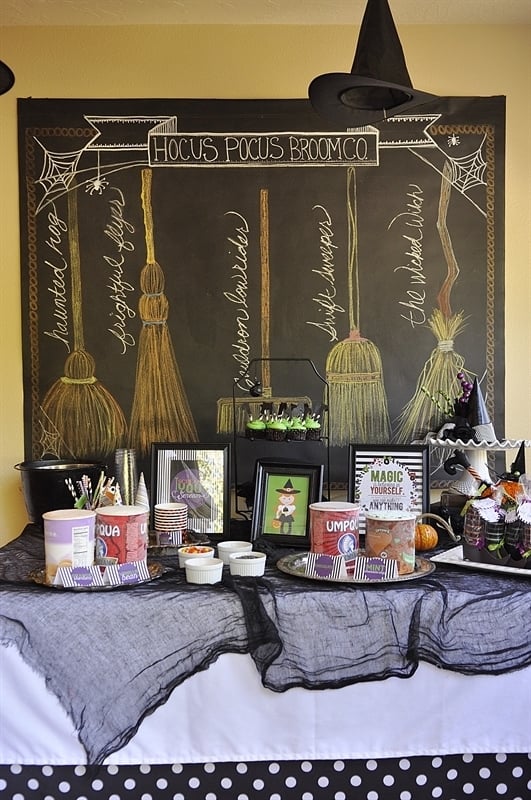 Check out more Halloween fun: