We're mad for the idea of a Mad Scientist Dinner Party and your guests will love being part of the experiment!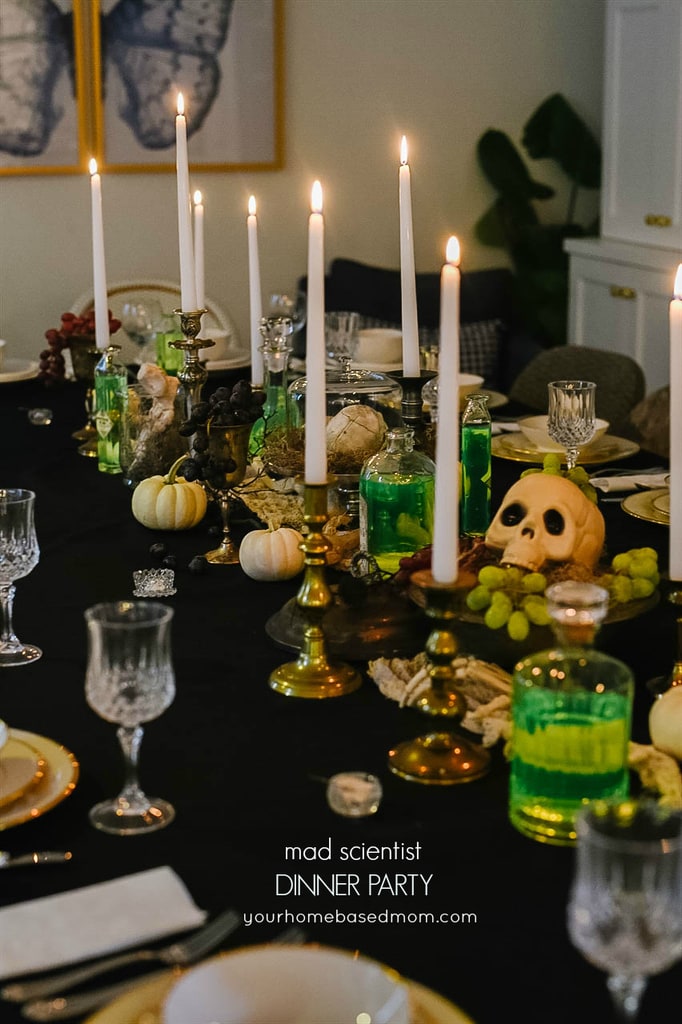 This was our third year hosting an annual couple's Halloween dinner party. You can check out the past two years here – 2017 and 2016. It has become a fun tradition since we have become empty nesters and our friends love it too! Everyone dresses up and they are already talking about what they will dress up as next year before they leave this year's party!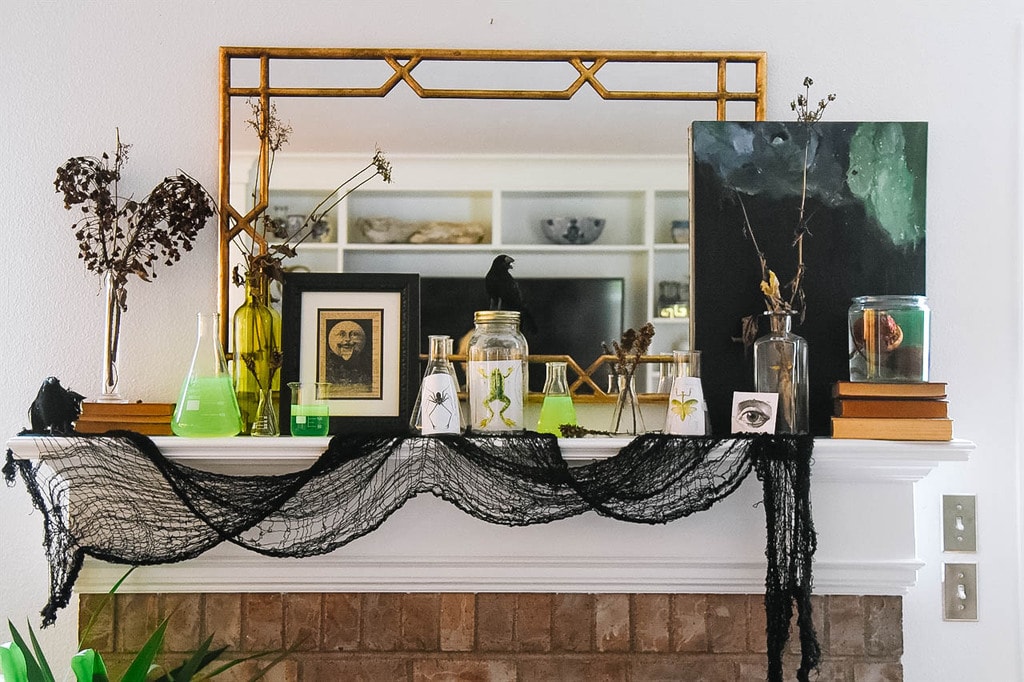 This year I decided to go with a Mad Scientist Dinner Party theme after seeing the idea in the Better Homes and Gardens Halloween Tricks & Treats magazine. Using printables from Better Homes & Gardens, bottles I already had on hand from my Mad Scientist Soda Party, and some dead flowers from my yard, this mantel piece came together quickly. I also have a very talented friend who painted the canvas for me!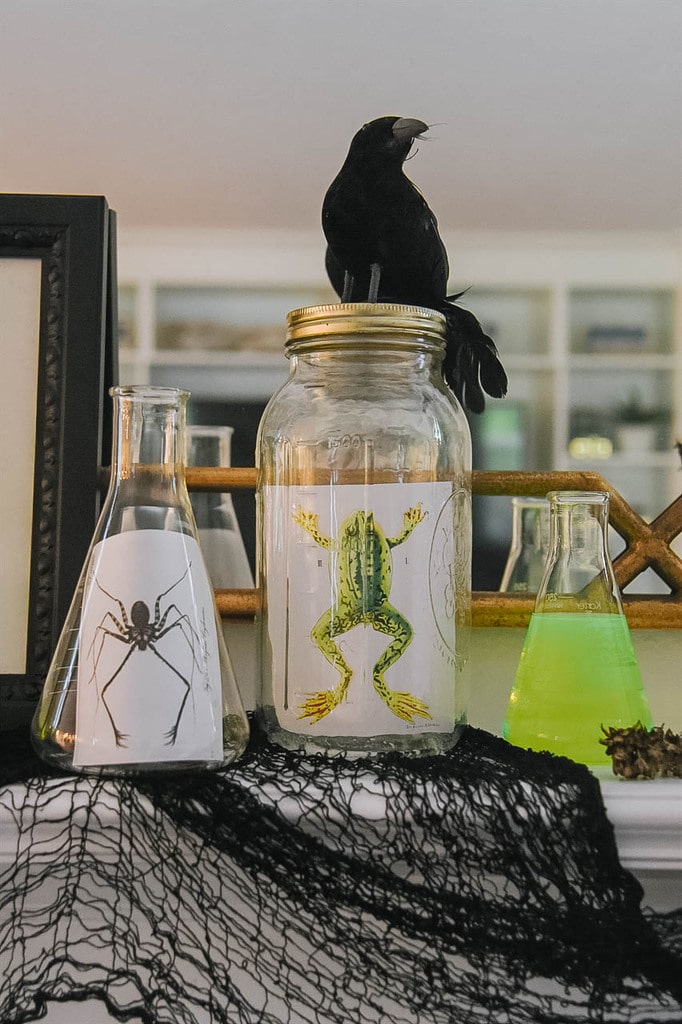 I think my favorite thing may have been the beets in the water! How fun and spooky is that!?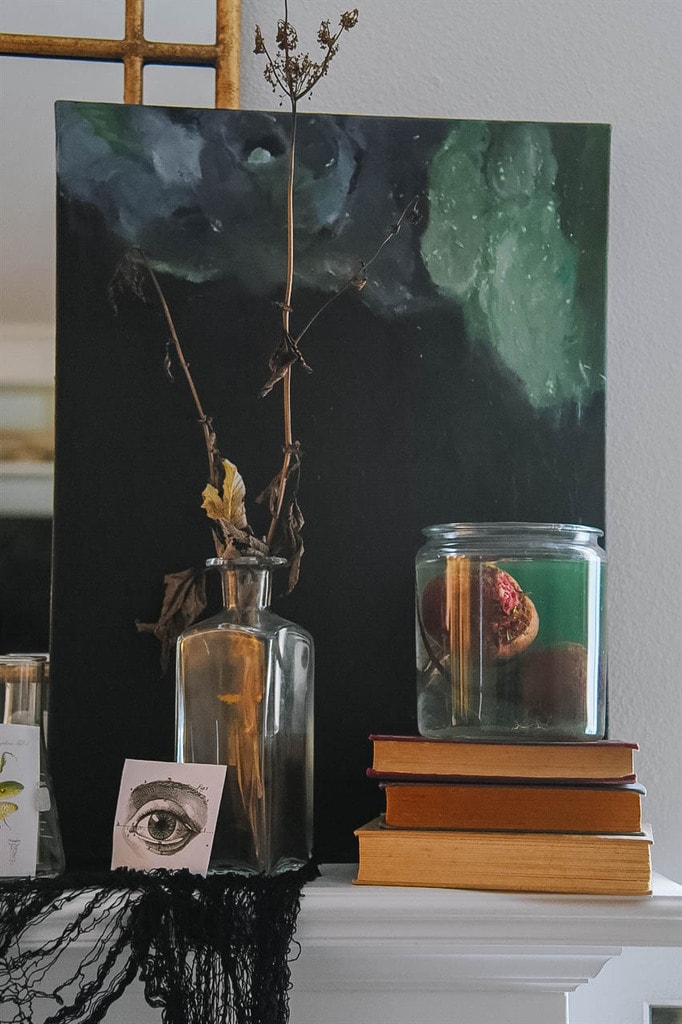 I continued the mad scientist theme onto the dinner table. We had 16 dinner guests and I like everyone to be able to sit together so we put four folding tables together to make one big table! It requires a little moving of furniture and it's a tight squeeze but it works and I love having everyone together.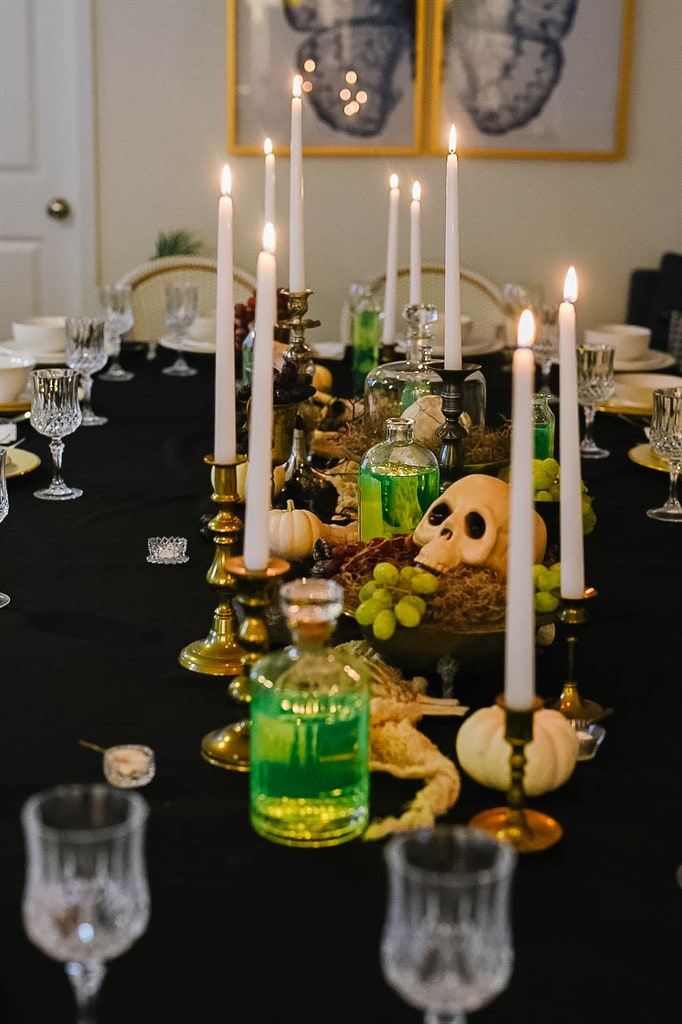 I pulled out more of my potion bottles I have collected over the last few years at Goodwill. Several of them are old wine decanters along with various other shapes and sizes. To get the fun green color to the water, I filled the bottles with water and then broke open yellow highlighters and squeezed the ink out of them into the water! Isn't that an awesome color!!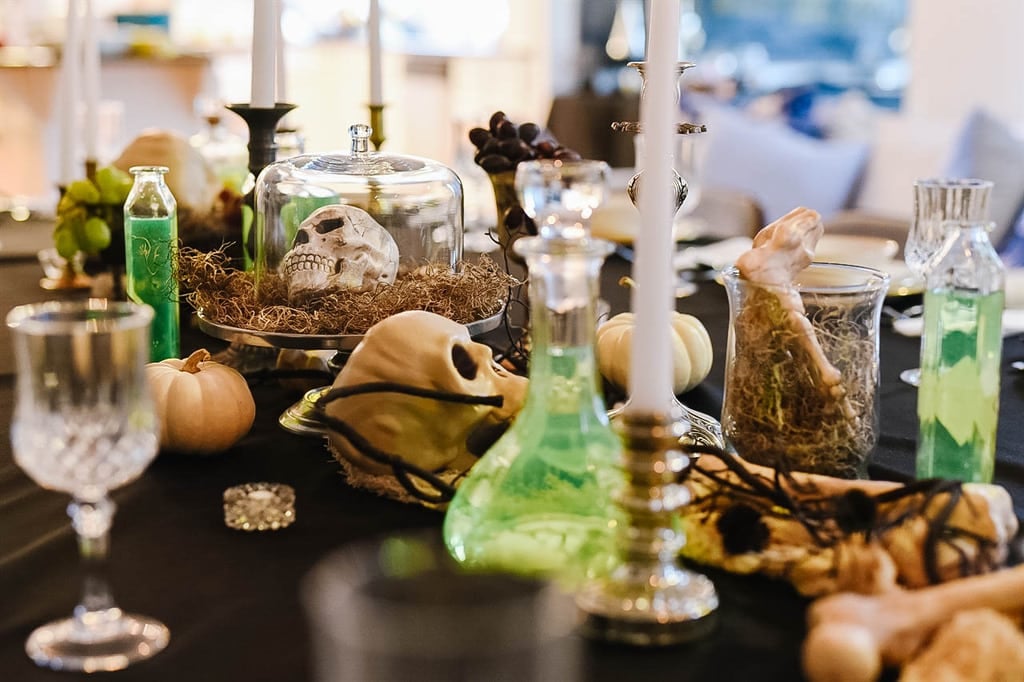 I used an assortment of silver and brass candlesticks I've found at Goodwill along with some various plastic bones and skulls I've collected over the years, many came from the Dollar store. Candles are always a must at any dinner party and they really help set the mood. It's always a little spookier with candles.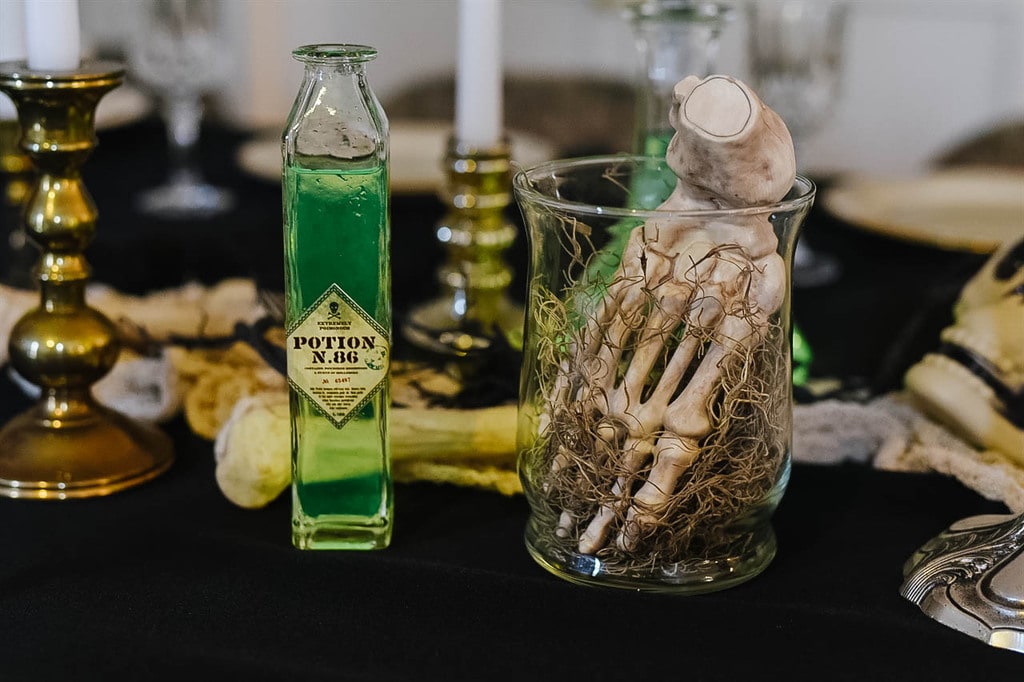 I also love to add in some fresh fruit to add some color and "real life" to the table setting. Some little mini white pumpkins were the finishing touch.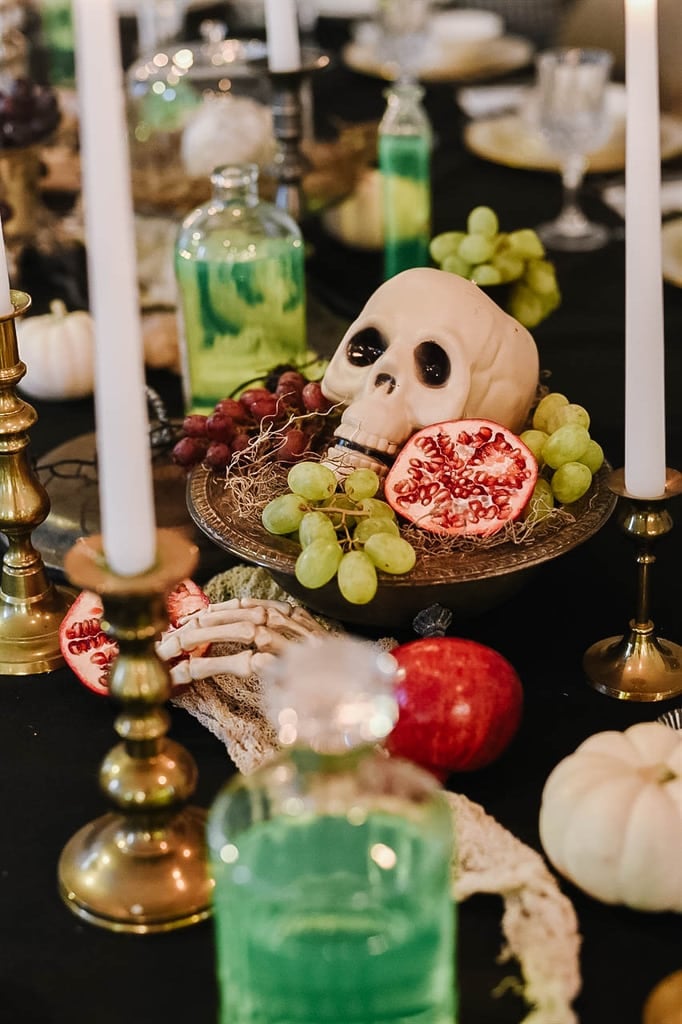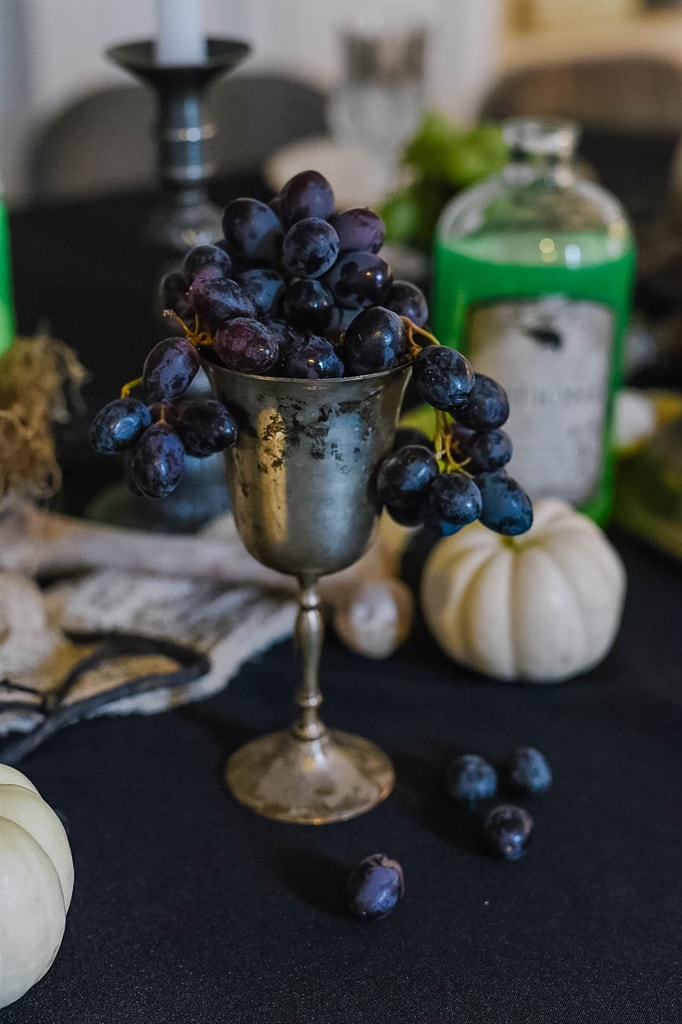 Mad Scientist Dinner Party Food
Everyone brings something to contribute to Mad Scientist Dinner Party which makes it easier for me. The evening started out with an amazing cheeseboard.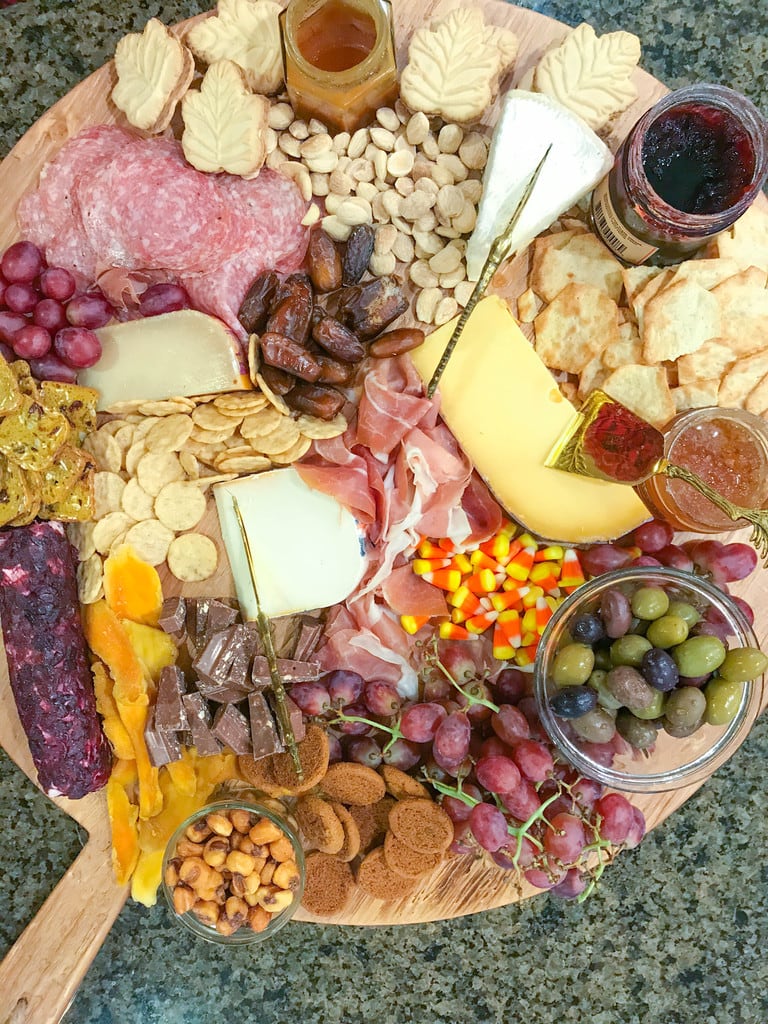 For our Mad Scientist Dinner Party, we did a pasta bar with five different types of pasta including some zoodles.  We had three sauces: meat sauce, artichoke mushroom sauce, and alfredo sauce.  We started dinner with some delicious soup, then a salad and then the pasta bar with bread.  Dessert was chocolate fondue which was super fun!  I have three small fondue pots and I borrowed a few more so that every three people had a pot of chocolate to share along with a plate of dipping goodies.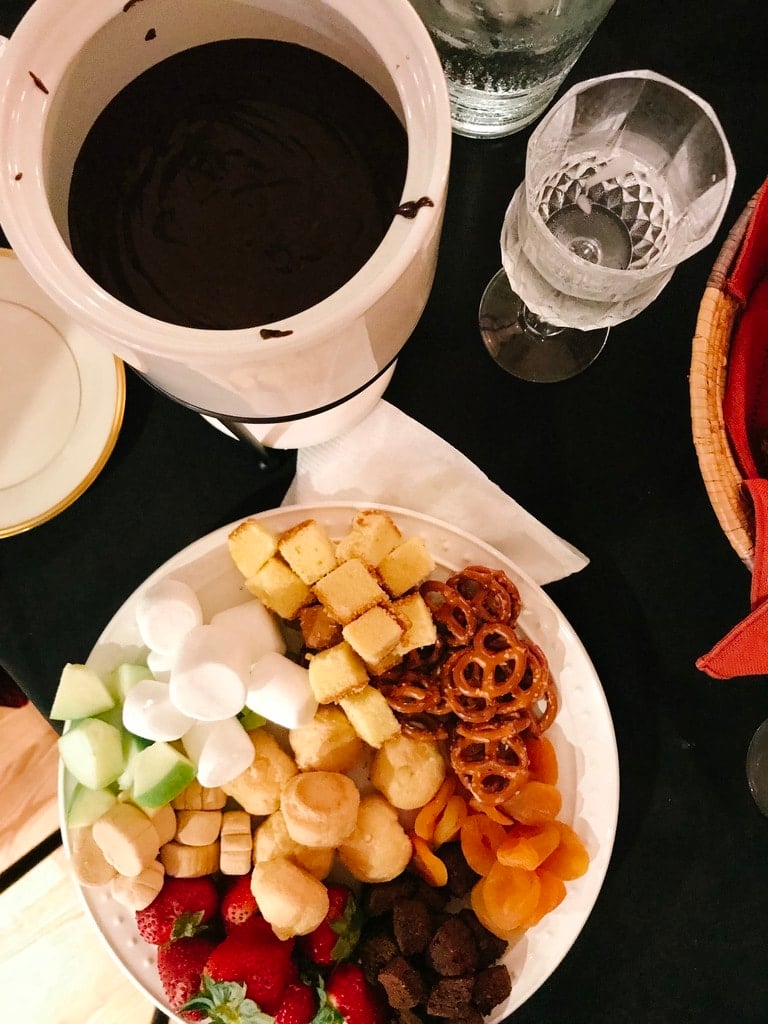 And in case anyone was still hungry we had a fun assortment of Halloween candy.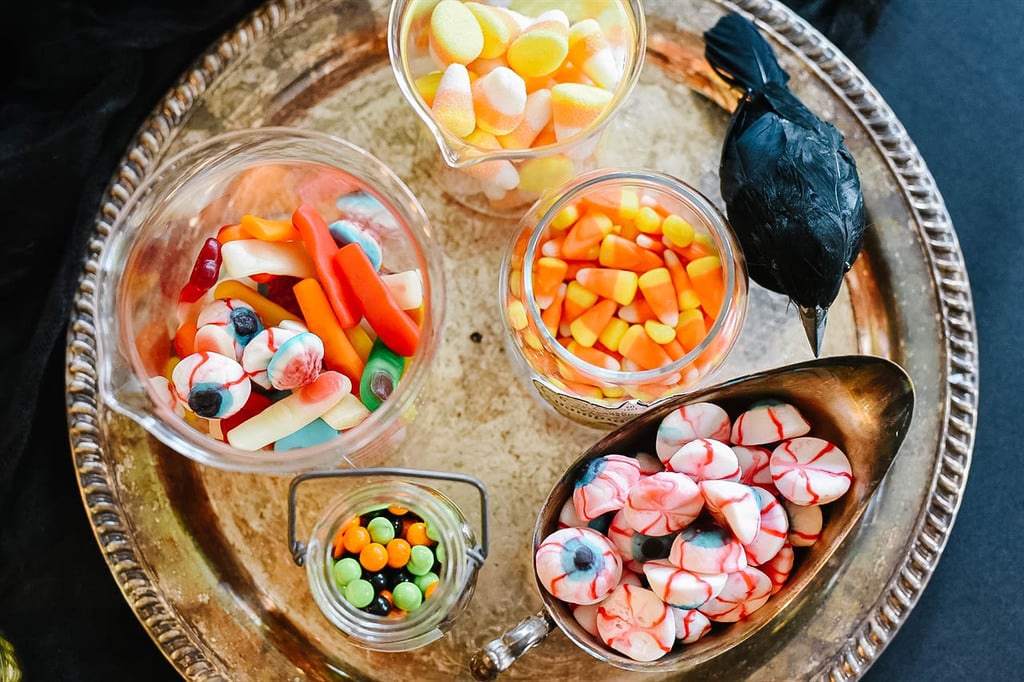 I love seeing what my guests come dressed up as every year. It is so fun to greet them at the door and be surprised! So many fun costumes. How clever is that bumble bee and witch – they are Bee-witched! And Curious George and the Man in the Yellow Hat were so fun too. I loved everyone's costume!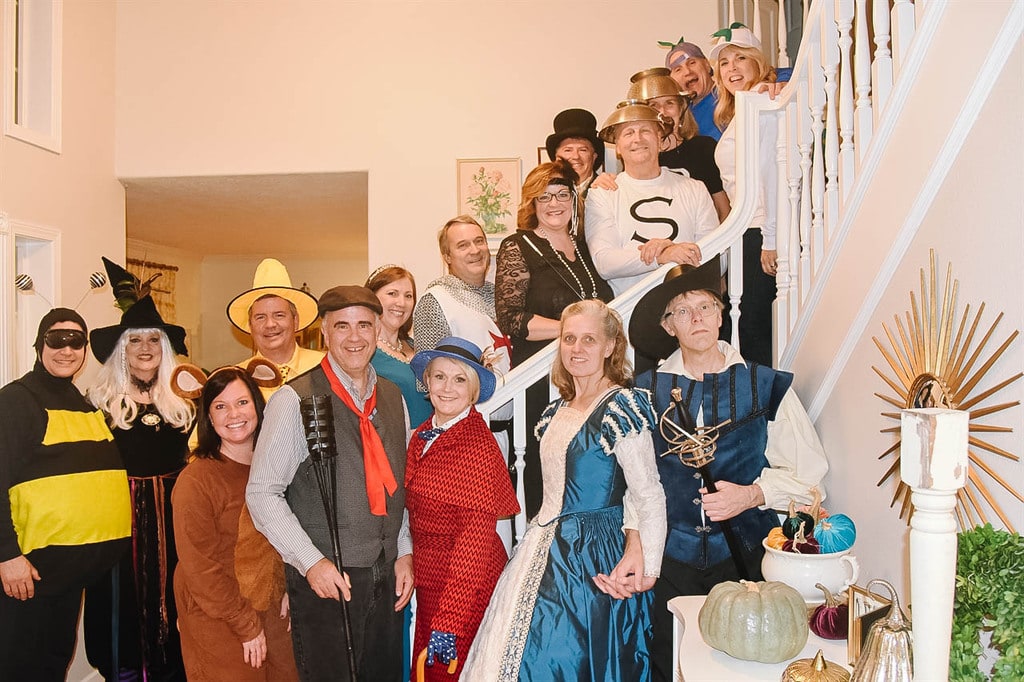 I think Halloween may be more fun now that we are empty nesters. And our Mad Scientist Dinner Party was the perfect way to celebrate!!