Red Velvet Cupcakes are a classic southern dessert topped with cream cheese frosting. Flavored with a hint of chocolate they are always a crowd favorite.
I am a fan of cupcakes because the frosting to cake ratio is usually better than with a cake – I like a lot of frosting with my cake.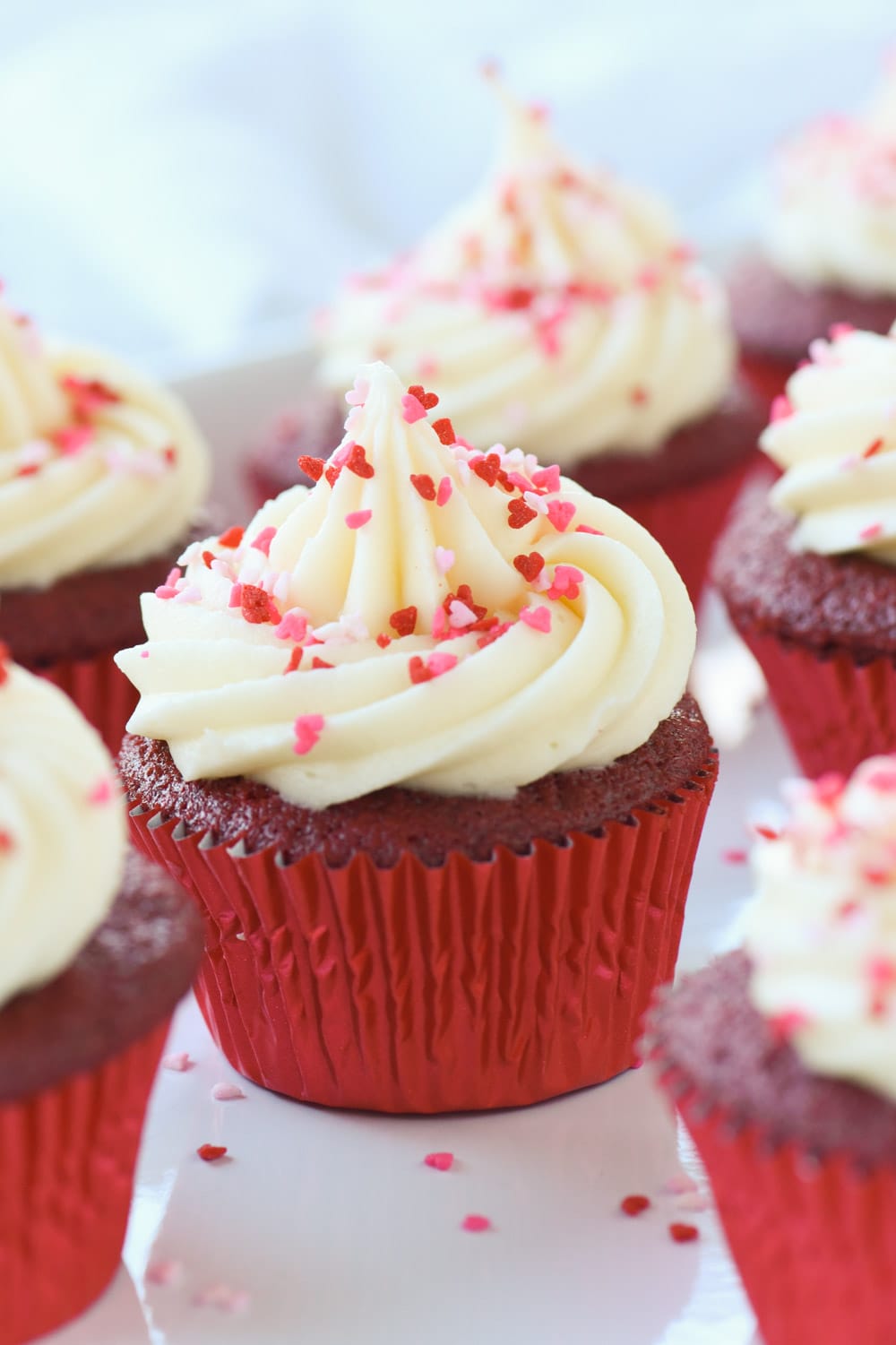 Valentine's Day is coming up and that means it's Red Velvet season. Can you think of a more perfect cake/cupcake to celebrate the holiday of love? Although they are popular at Valentine's Day, Red Velvet Cupcakes are perfect for any celebration.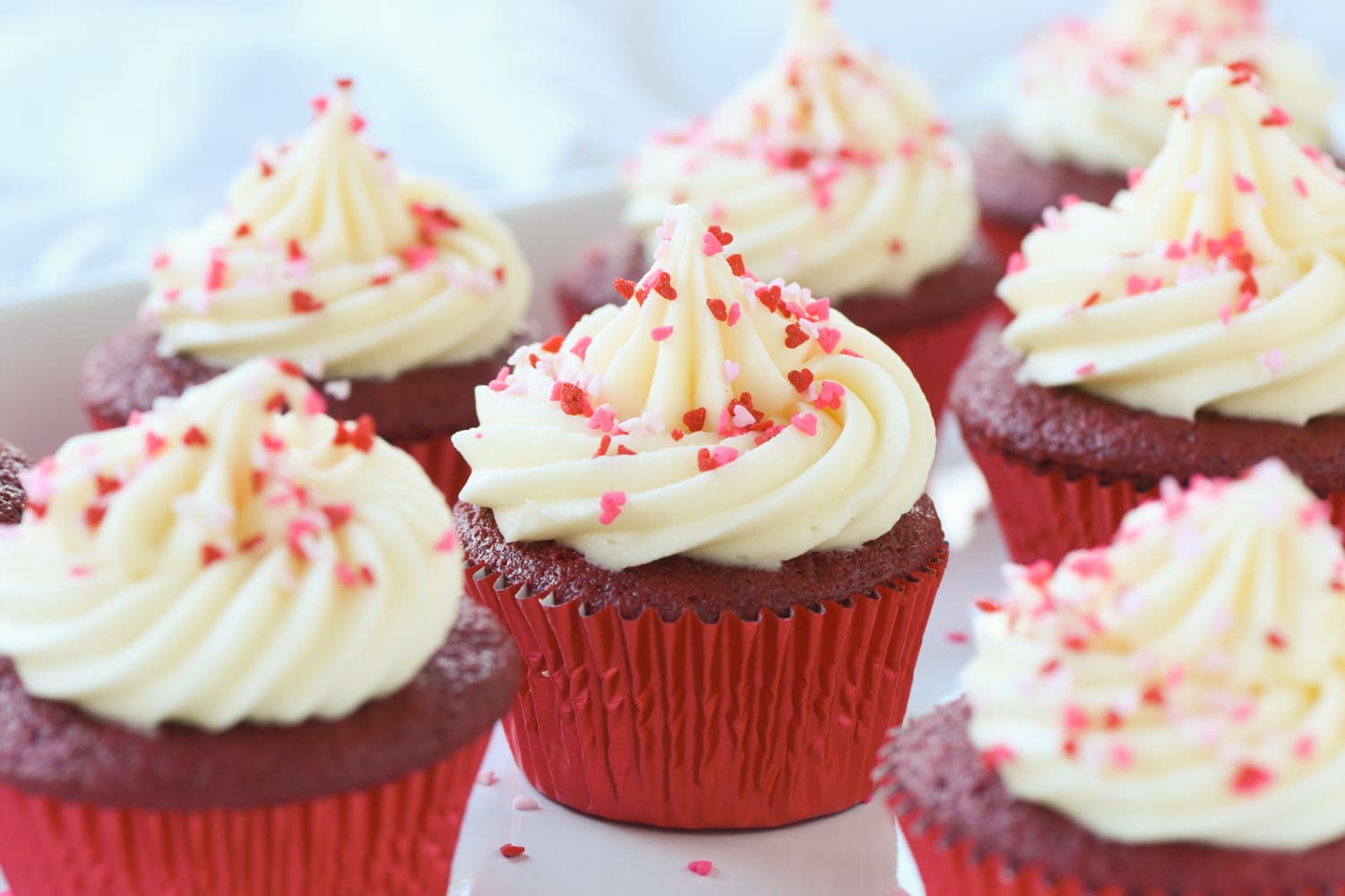 What is Red Velvet?
Being the history buff I am I had to do a little research on where red velvet cake originated. Here's what I found out according to Wikipedia.
A red velvet cake was a signature dessert at the Waldorf-Astoria Hotel in New York City during the 1920s. According to a common urban legend a woman once asked for the recipe for the cake, and was billed a large amount. Indignant, she spread the recipe in a chain letter.
A resurgence in the popularity of this cake is partly attributed to the 1989 film Steel Magnolias in which the groom's cake (another southern tradition) is a red velvet cake made in the shape of an armadillo.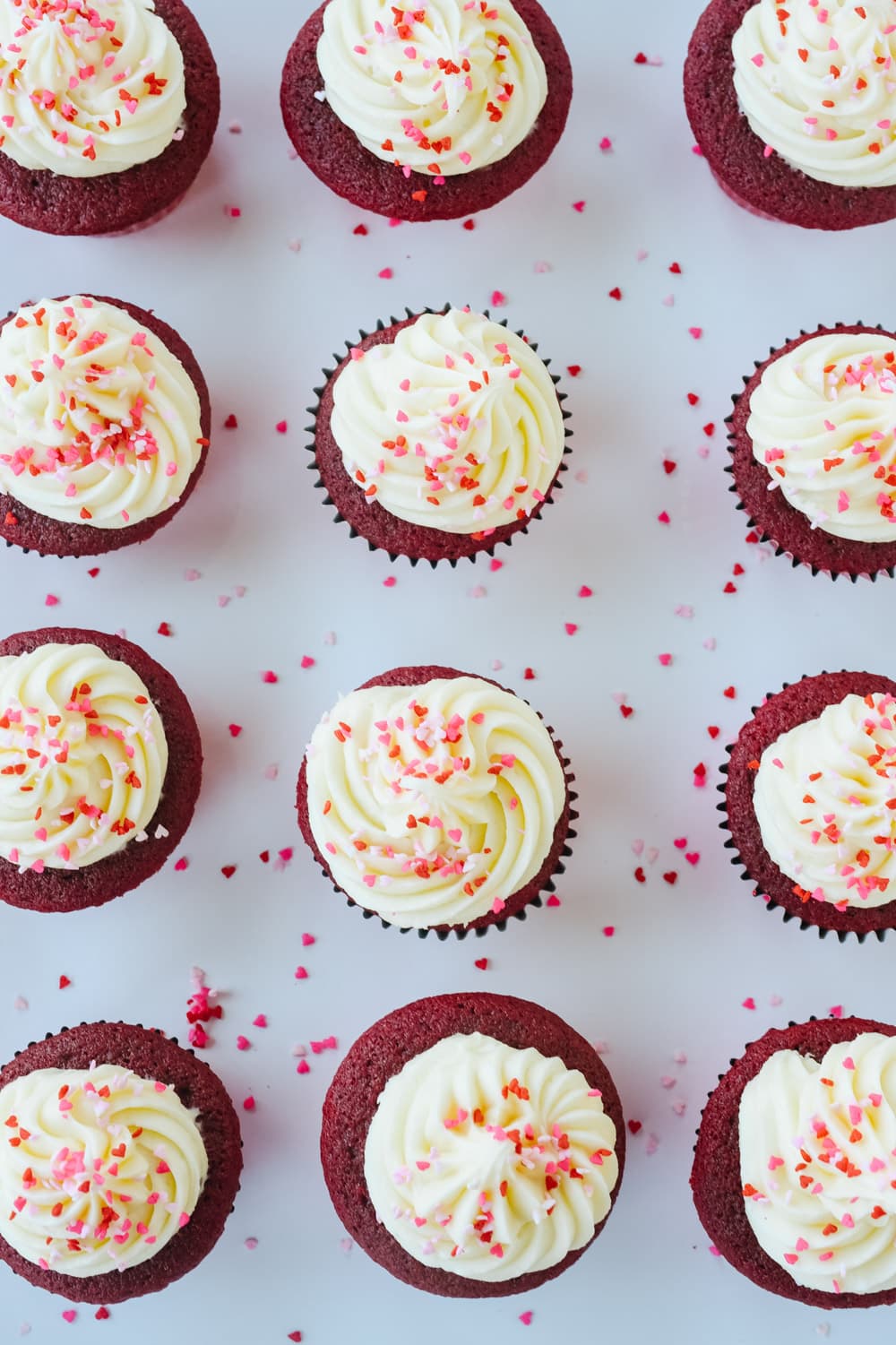 What Makes Red Velvet Red?
Red food coloring is the source of the red. A lot of red velvet recipes call for A LOT of red food coloring. So much food coloring that you end up with red gums and red teeth after eating one!! I cut the amount down a lot and still got red cupcakes.
Red Velvet has a unique flavor thanks to a hint of chocolate from cocoa powder and buttermilk.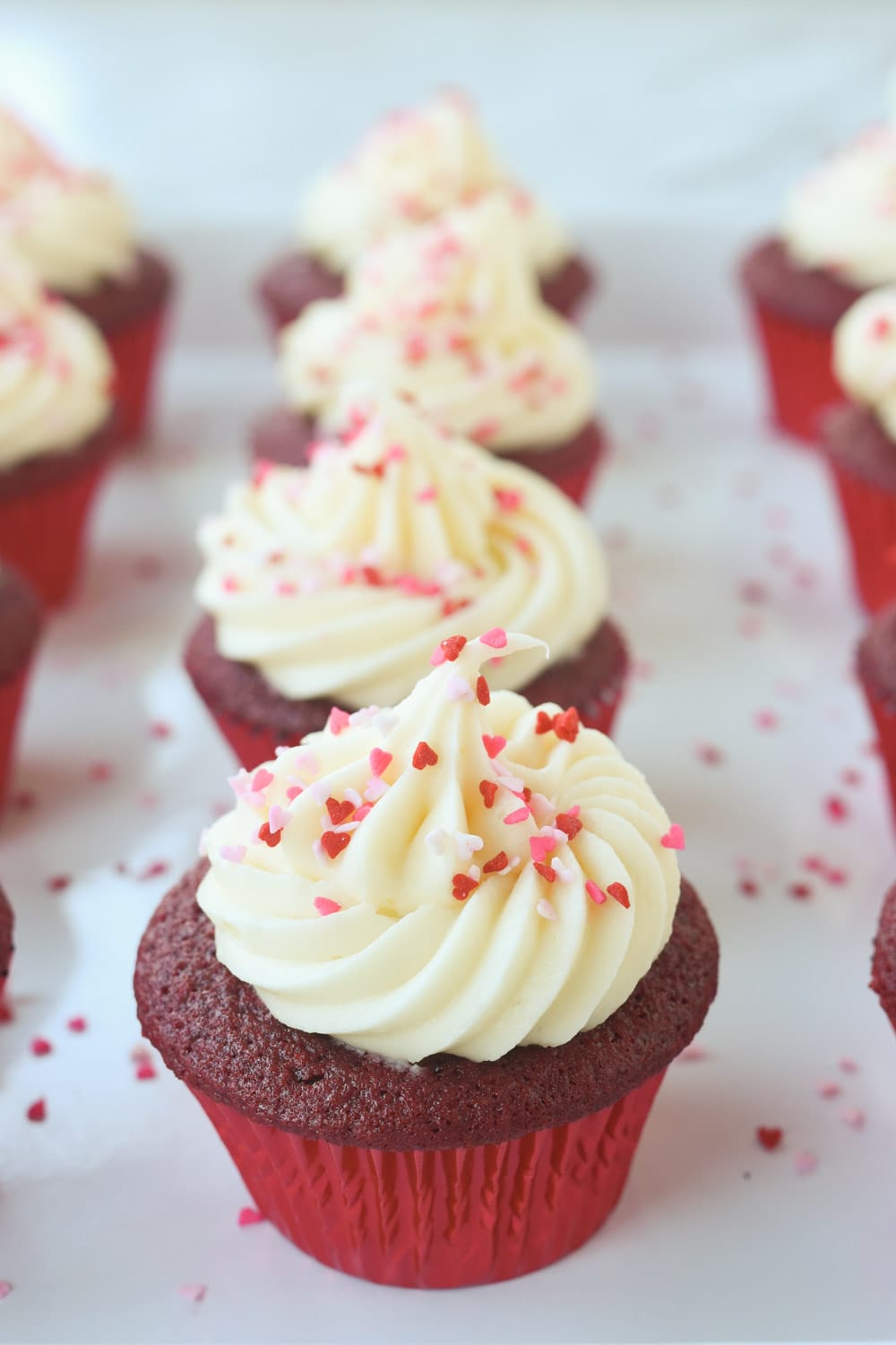 How to Make Red Velvet Cupcakes
Cake Flour – I have used both cake flour and all purpose flour in these cupcakes and had similar results.
White Vinegar – helps to make the cupcakes to rise a little better and actually helps make the red, redder.
Buttermilk – it's best to have the buttermilk at room temperature before adding it in. Buttermilk reacts with the baking powder and soda to help make the cake lighter and more tender. If you don't have buttermilk you can make your own. To make your own buttermilk, add 1 tablespoon fresh squeezed lemon juice or white vinegar to 1 cup of milk. It won't be as thick as regular buttermilk but it will create the desired effect.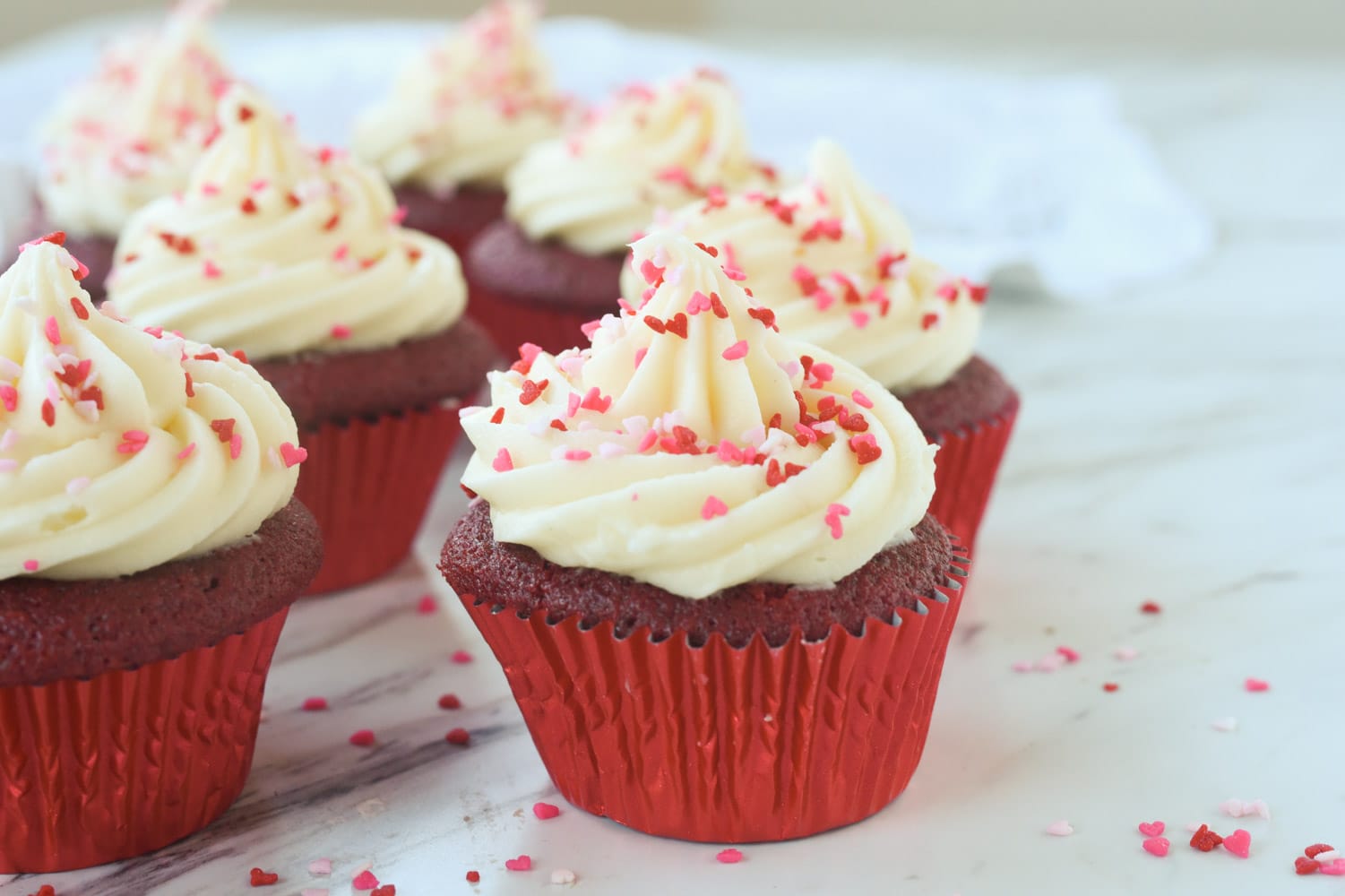 Red Velvet Frosting
Red velvet cupcakes or cake is traditionally frosted with cream cheese frosting (recipe below). I used a decorating bag and a large star tip to pipe the frosting on.
If you are going to pipe on the frosting, you will need to double the frosting recipe in order to have enough frosting for all 24 cupcakes. One batch should be enough if you choose to spread it on with a knife. And if you prefer a plain buttercream frosting try this recipe.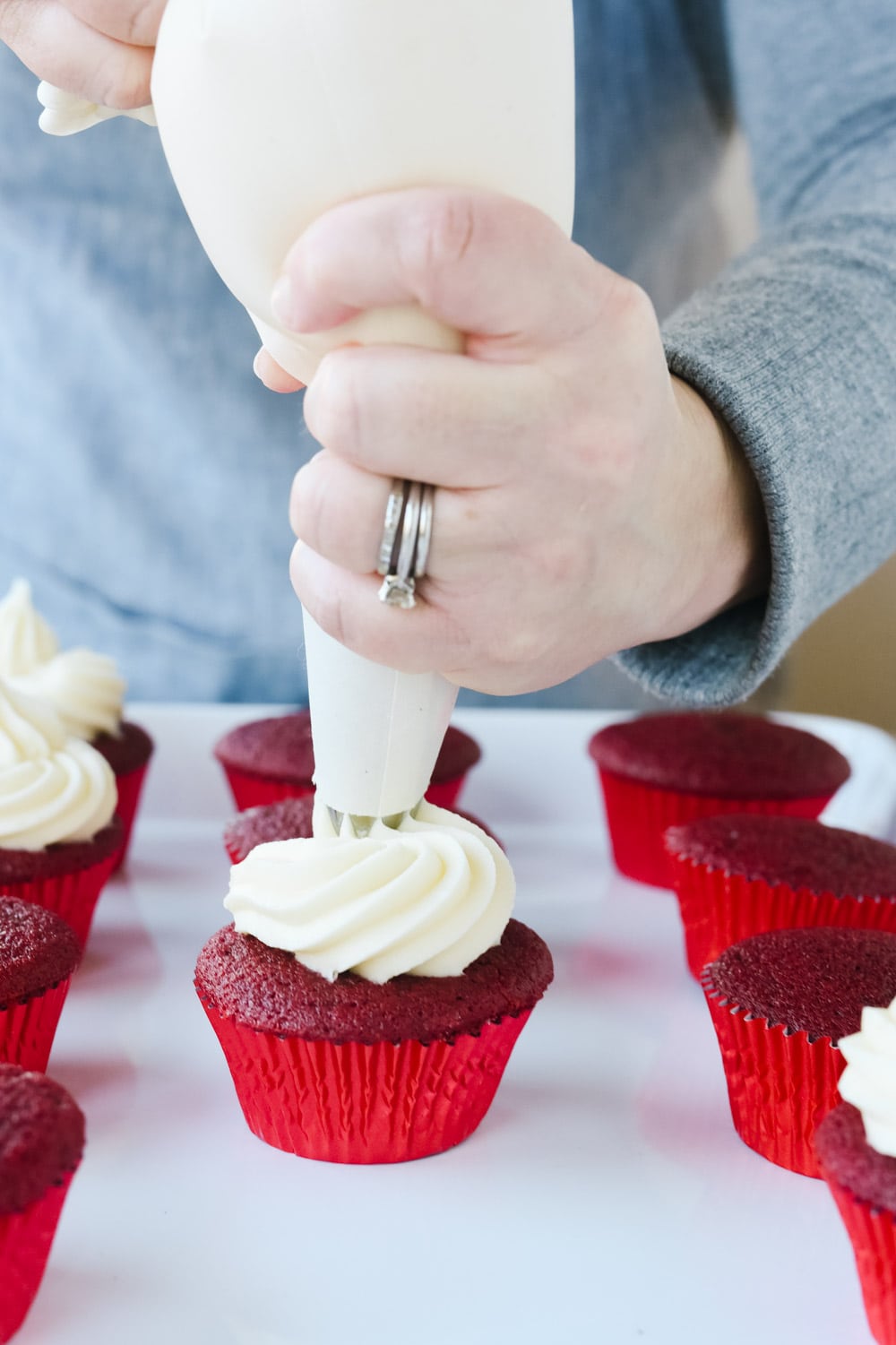 The red velvet cake has a nice light chocolate flavor which I really liked, I am not a dense, heavy chocolate fan so the lightness was just perfect for me.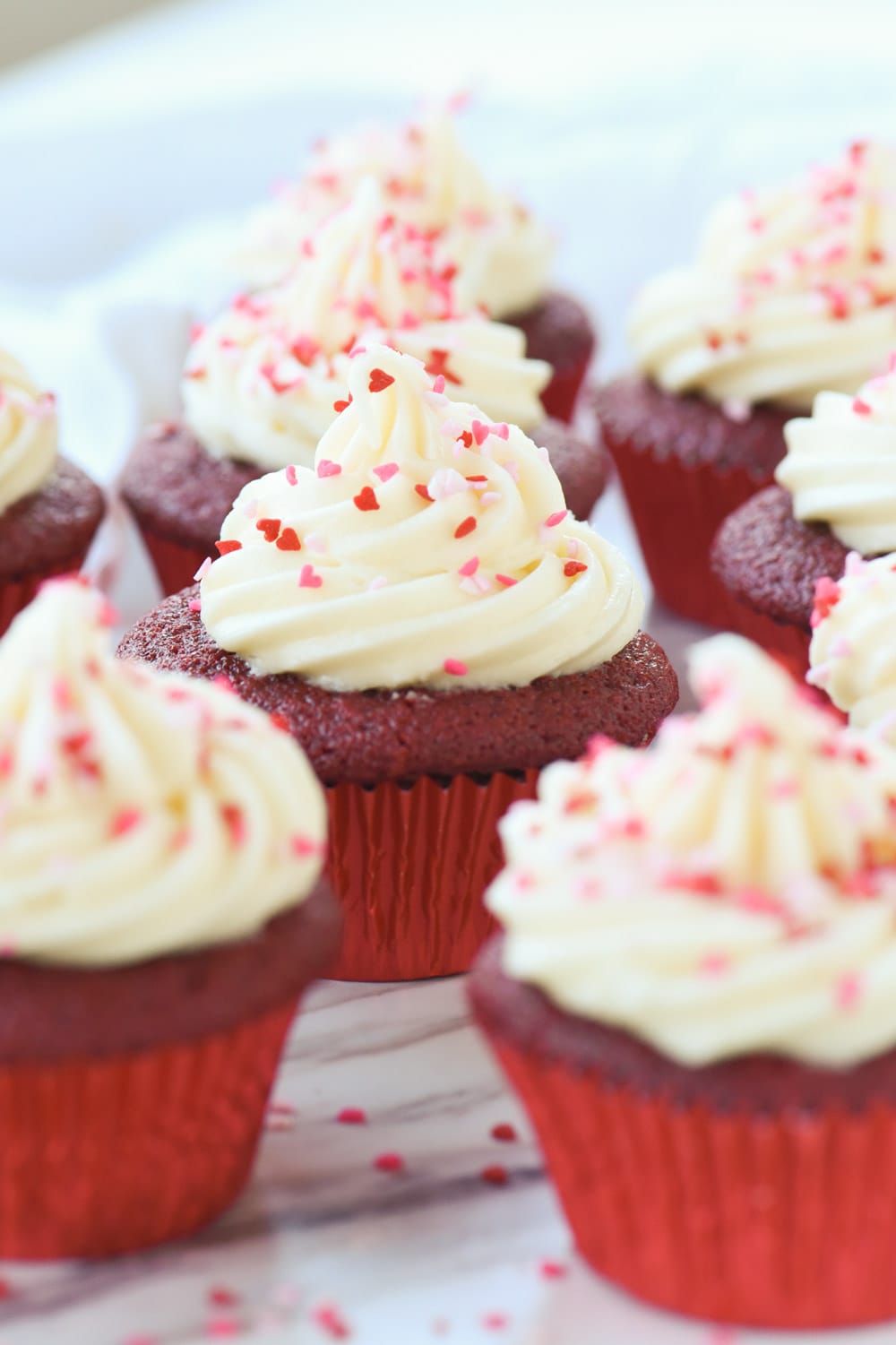 For all of my other favorite kitchen products and tools visit my Amazon Store.
Did you know I wrote a cookbook? Check out the Holiday Slow Cooker Cookbook for 100 delicious recipes.
Be sure and check out these other delicious Valentine treats:
Red Velvet Cupcake Recipe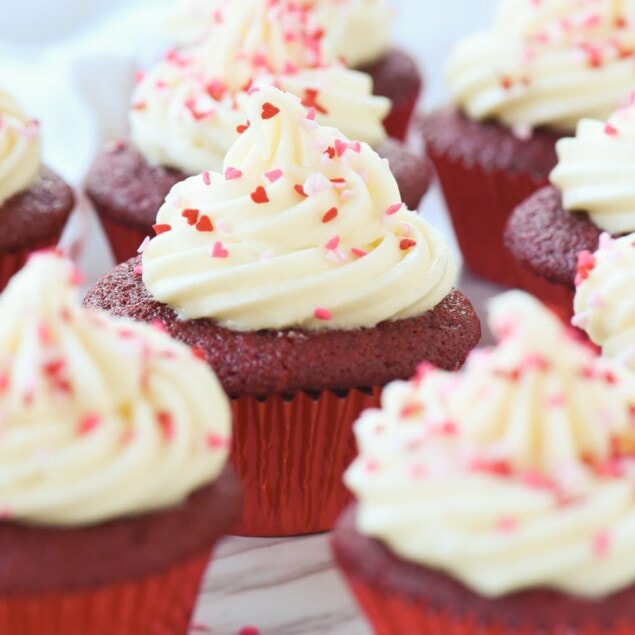 Red Velvet Cupcakes
Red Velvet Cupcakes are a classic southern dessert topped with cream cheese frosting.  Flavored with a hint of chocolate they are always a crowd favorite.
Ingredients
2 1/2 cups flour can use cake flour or all purpose flour
1 tsp baking powder
1 tsp salt
2 Tbsp unsweetened cocoa powder
2 Tbsp red food coloring
1/2 cup butter softened
1 1/2 cup sugar
2 eggs at room temperature
1 tsp vanilla extract
1 cup buttermilk at room temperature
1 tsp white vinegar
1 tsp baking soda
Cream Cheese Frosting
1/2 cup butter slightly softened
8 oz cream cheese softened
3 cups powdered sugar
1 tsp. vanilla
Instructions
Preheat oven to 350 degrees F.

Line two 12-cup muffin tins with cupcake papers

Mix together the flour, baking powder, and salt into a medium bowl; set aside

In a small bowl, mix food coloring and cocoa powder to form a thin paste without lumps; set aside

In a large bowl, beat butter and sugar together until light and fluffy, about three minutes

Beat in eggs, one at a time, then beat in vanilla and the red cocoa paste, scraping down the bowl with a spatula as you go.

Add one third of the flour mixture to the butter mixture, beat well, then beat in half of the buttermilk Beat in another third of flour mixture, then second half of buttermilk. End with the remaining flour mixture. Mix until combined.

In a small bowl, mix vinegar and baking soda.

Add vinegar mixture to the cake batter and stir well to combine

Using an ice cream scoop, fill cupcake cups with cake batter (they should be 2/3 – 3/4 full)

Bake for 20-22 minutes or until a toothpick comes out clean.

Cool completely and frost with cream cheese frosting.
Cream Cheese Frosting
In the bowl of a mixer, beat the butter and cream cheese until smooth

Slowly add the powdered sugar and mix until everything is combined. Add vanilla

Frost cupcakes
Nutrition Facts:
Calories: 268kcal (13%) Carbohydrates: 39g (13%) Protein: 3g (6%) Fat: 12g (18%) Saturated Fat: 7g (44%) Cholesterol: 45mg (15%) Sodium: 257mg (11%) Potassium: 69mg (2%) Fiber: 1g (4%) Sugar: 28g (31%) Vitamin A: 400IU (8%) Calcium: 35mg (4%) Iron: 1mg (6%)
* Disclaimer: All nutrition information are estimates only. Read full disclosure here.
Originally posted on February 10, 2010