It's time for another fun, monthly blog hop–featuring 10 of our favorite creative bloggers! This month's theme is all things CHALKBOARD, and we just know you'll have a blast with these projects. We'd love for you to pin our collage below, check out  my Chalkboard Party Backdrop I made below and then go see all the other fabulous projects created by some of our friends!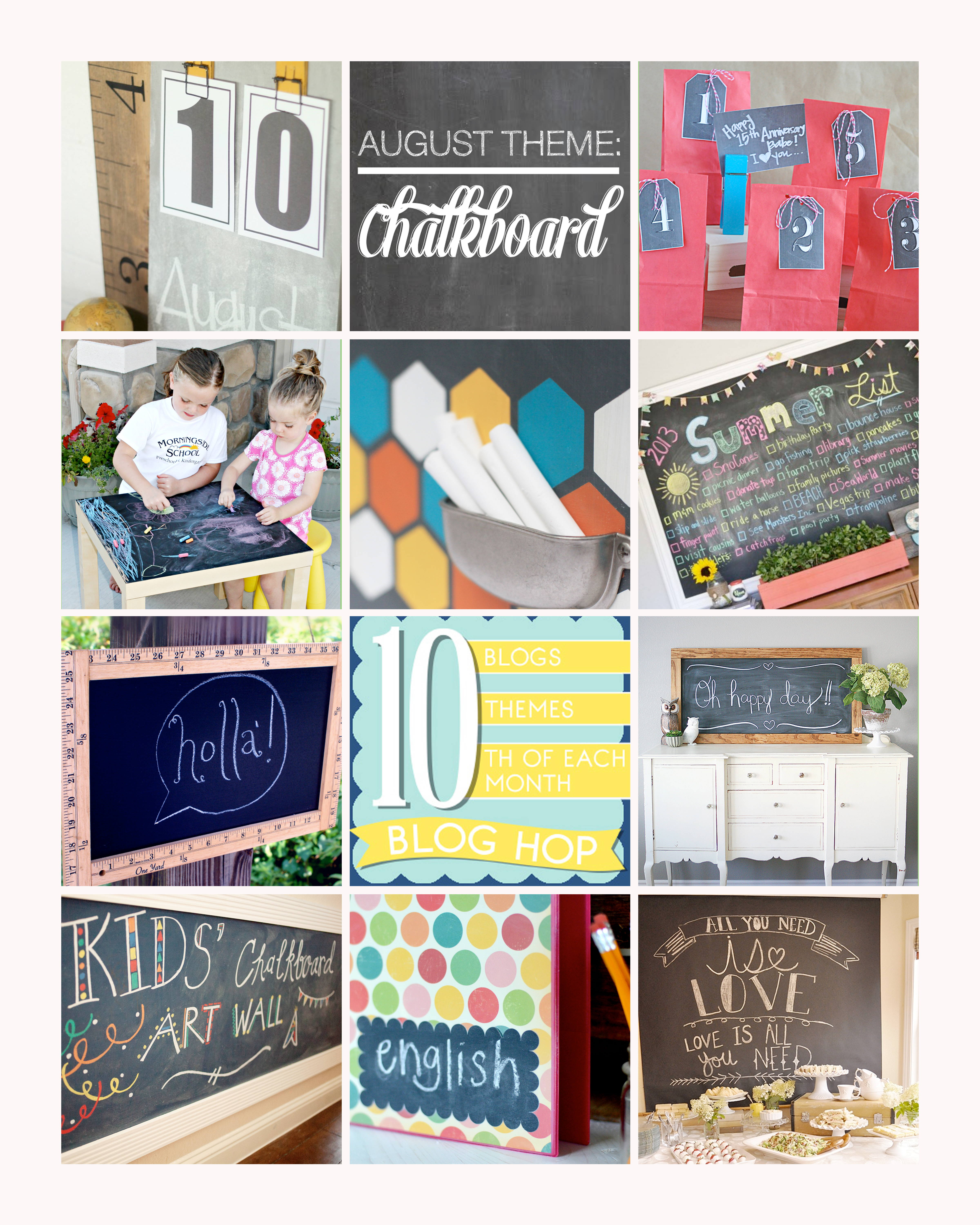 To see each fantastic Chalkboard Project up close, join the Blog Hop!

1 • Lolly Jane sharing a Chalkboard Calender
2 • Thirty Handmade Days with an Anniversary Idea + Collection of Printable Chalkboard Tags
3 • Six Sisters Stuff sharing a Cheap and Easy Kids Chalkboard Table
4 • Landee See Landee Do sharing a Hexagon Chalkboard
5 • Little Miss Momma sharing a Jumbo Chalkboard Tutorial
6 • Or So She Says sharing a Vintage Ruler-Framed Chalkboard Sign
7 • Eighteen25 sharing a Super Simple XL Chalkboard
8 • Capturing Joy sharing a Kids Chalkboard Wall Art
9 • Simply Kierste sharing her Chalkboard Binder Labels
10 • Your Homebased Mom sharing a Chalkboard Party Backdrop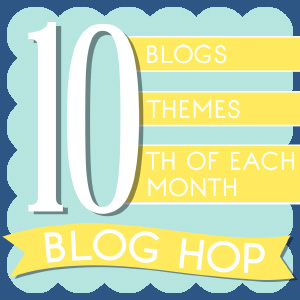 You can click the button above to check out our past projects.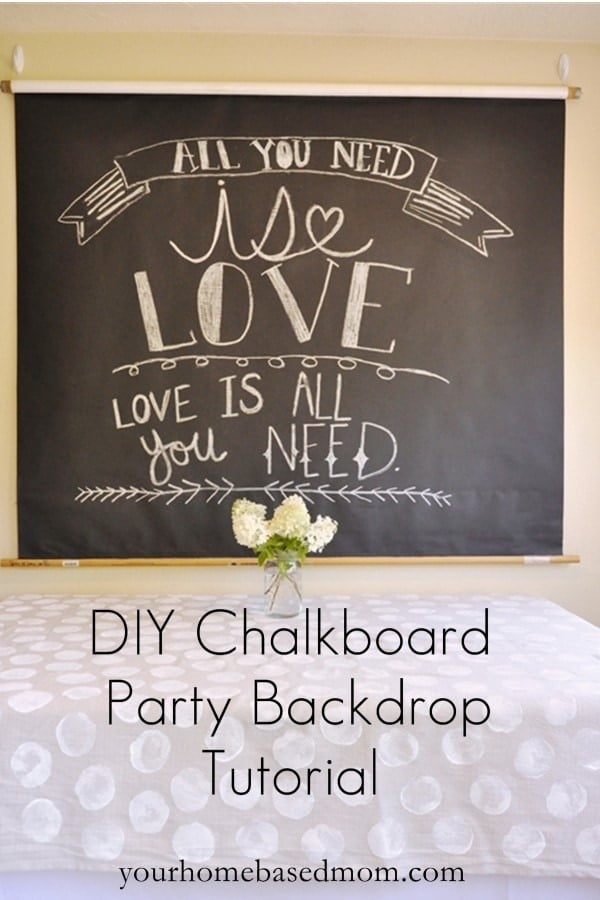 As you know we love parties at our house and I look for excuses to hold parties.
I love finding fun, new and creative ways to decorate for parties and I especially love decor that I can use over and over again for various parties and themes.
I love creating party backdrops. Things I can hang on my walls to create a fun atmosphere. I have shared a couple of party backdrop ideas before.
There was this one I made out of 2 x 1's and a piece of fabric.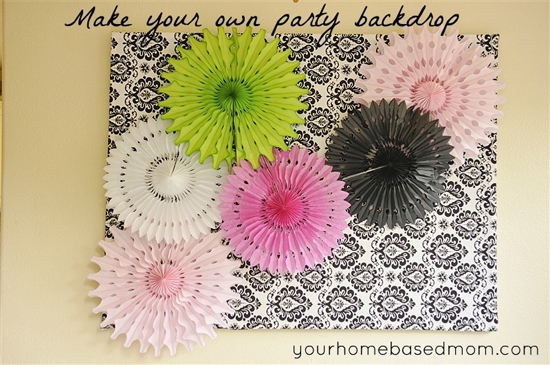 And the party backdrop I made out of curtains from Goodwill.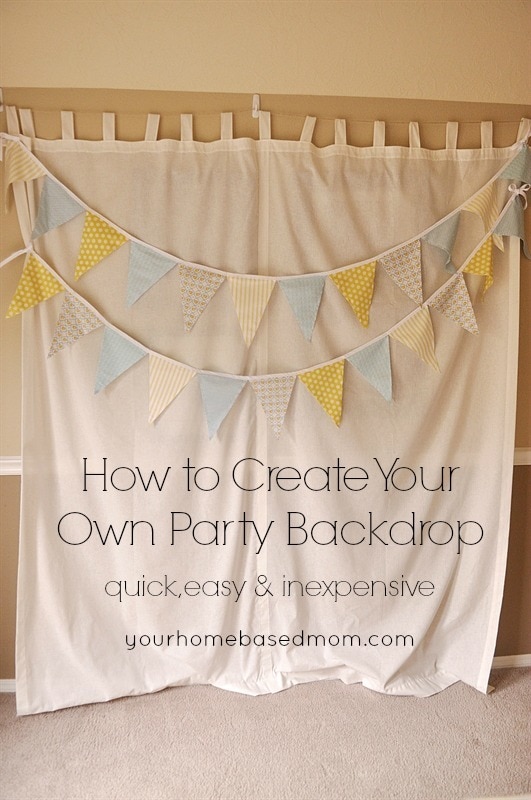 Today's Party Backdrop is just as fun and as versatile.  It's a chalkboard party backdrop!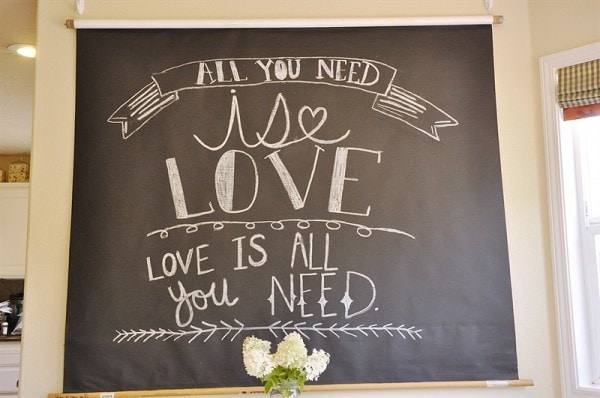 Can you guess what I made it out of?  It's an old school retractable map!!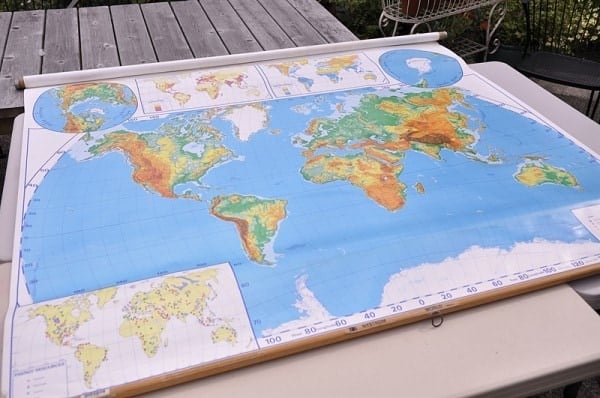 Now if you don't have one of these just laying around your house you can get yourself one on ebay for $30-40.00  That's where I got mine!  Mine also came with a bonus – two maps!
I just cut off the more interesting of the two maps – for a possible future project.  Since I was painting over it I left the less interesting one attached to the roller at the top.  I did remove the metal casing that it comes with because of the weight of it.  It would be easier to hang on the wall with out and I really didn't need it to retract anymore. I could just roll it up when I wasn't using it.  I used regular black chalkboard paint to paint it.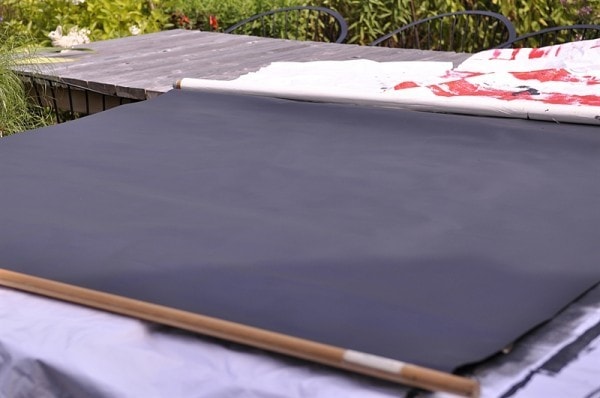 It took about 3 coats of paint to cover it.  It was then ready to be chalked.  I used regular chalk on it instead of chalk pens because I would be erasing it and regular chalk erases better than chalkpens.
I  had a bridal shower I was hosting and I wanted to use it as the backdrop to our serving table.  I called in a friend to help me with the chalkart.  Hannah is the darling daughter of a friend of mine.  I follow Hannah on instagram and had seen photos of some very fun chalkart she had been doing so I asked if she'd come help me and she so kindly and sweetly obliged.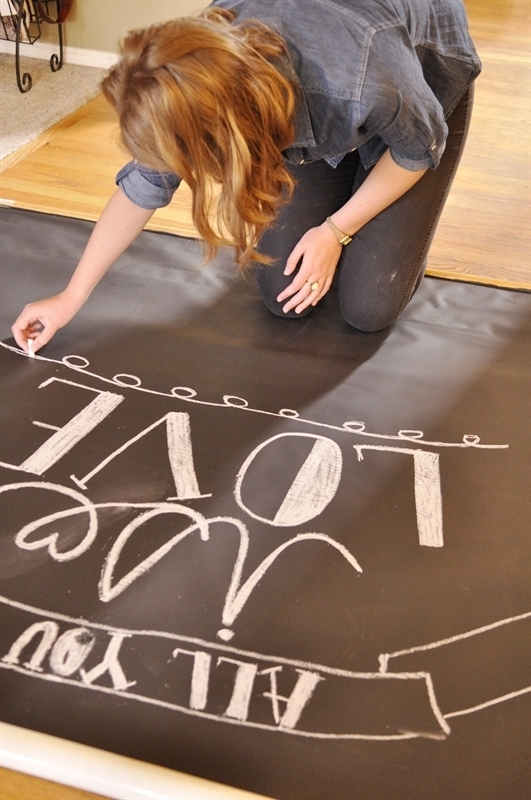 Since it was a bridal shower we went with the words from an old Beatles song – All you need is love!
Hannah did such a great job and she just free handed it all – no tracing or lines!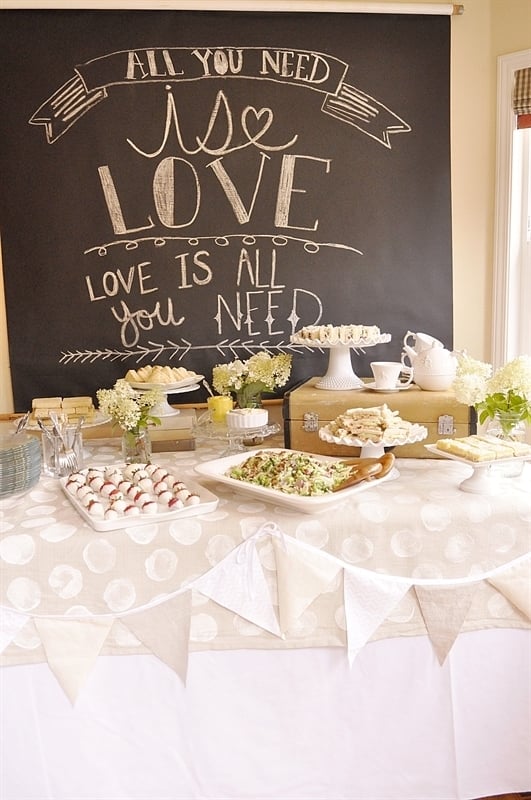 It made the perfect backdrop for our bridal tea party and the pretty bride to be!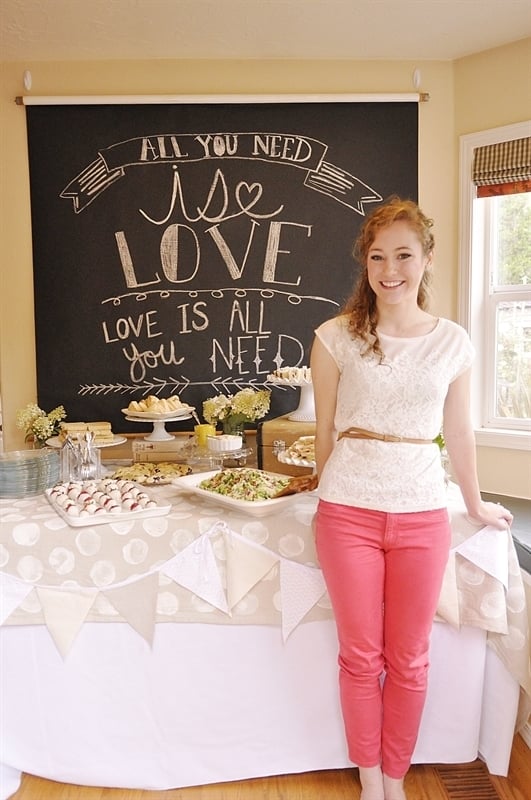 I used Commando hooks and some string to hang it on the wall.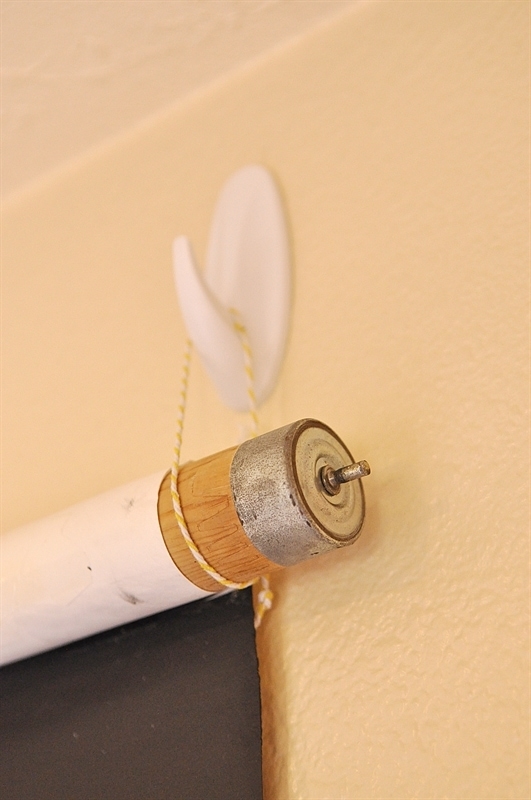 I may just leave it hanging in my kitchen for a while I like it so much.  Can't wait to use it again at our next party.  It would be a fun backdrop for a photo booth too.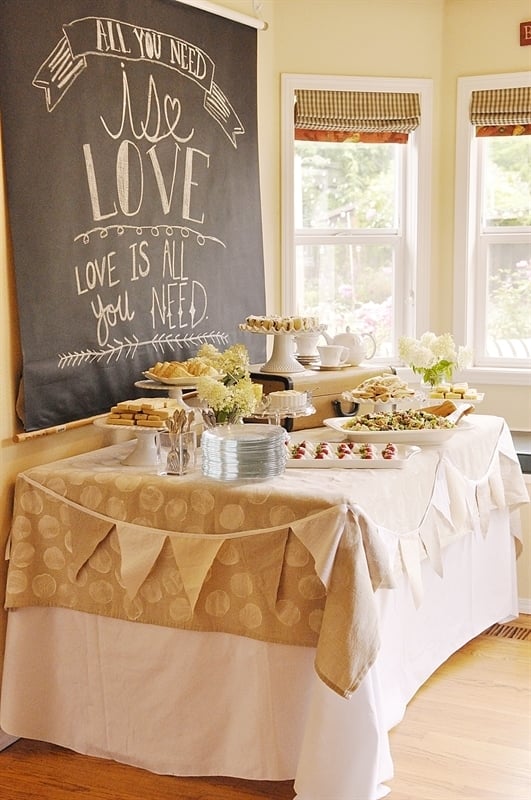 More details on our bridal tea party on the blog next week!
Enjoy!
Leigh Anne
You can also visit me on Facebook, Pinterest, Twitter,  Instagram
and Google+
For a list of where I Link Up each week go here.