A What Will It Bee Baby Shower is perfect when you don't know if it's a boy or a girl. A fun Bumble Bee Shower Theme carried through the decor and the food.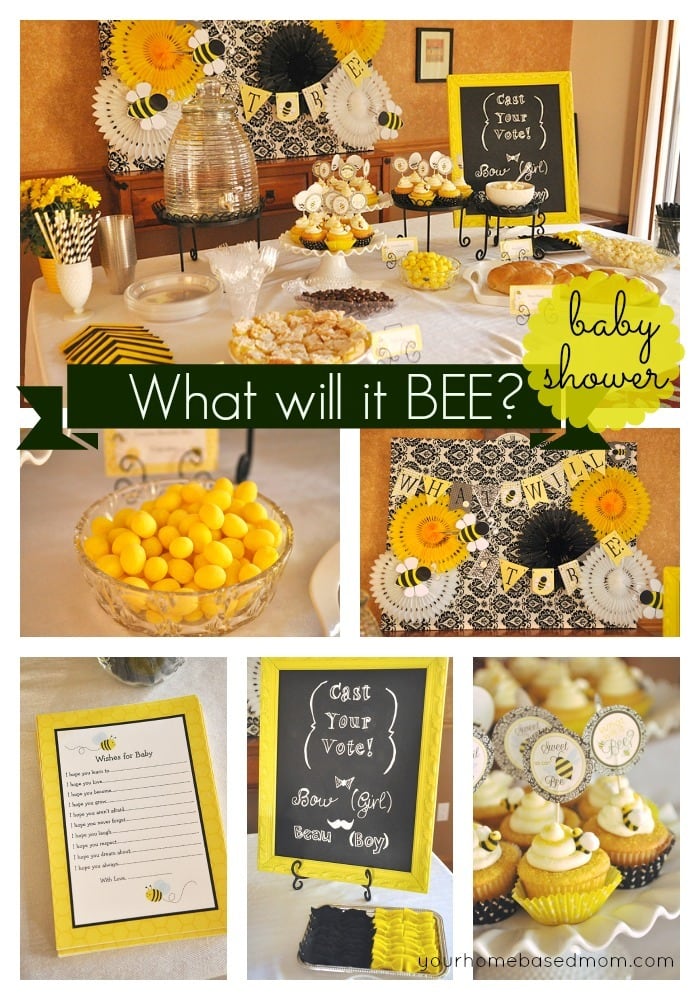 Bumble Bee Shower Theme
I love hosting baby showers. I really just love parties and a new baby is one of the best reasons to have a party.
This mom to be does not know the gender of her baby. I am a huge fan of not knowing. I didn't know with any of my children. My husband knew with the last one, but I didn't. I am of the opinion that there are very few surprises left in life and not knowing the sex of your baby is one surprise you can enjoy!
What Will It Be Baby Shower
So since we didn't know if it was a girl or a boy we decided to go with a fun "bee" themed party – "What Will it Bee??"
Our color scheme was black, white and yellow of course! The shower was not at my house but I helped with the decor and some of the food.
Bee Baby Shower Decor
I pulled out my fabric party backdrop that comes in so handy and added some paper fans and bees in the party color scheme. I also made a banner using my Silhouette to hang on it. For directions on how to make your own party backdrop go here.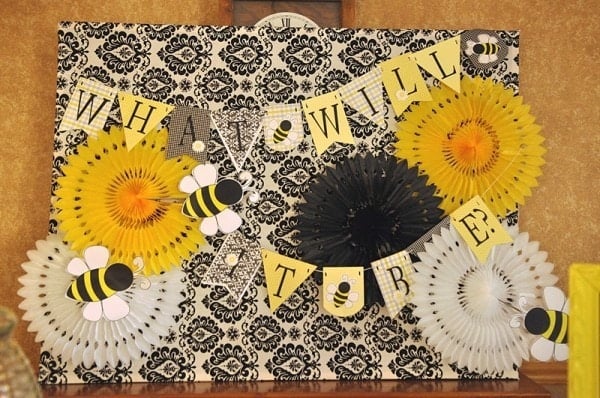 I purchased the download for the cute bees from Love the Day's etsy shop as a printable download.
This made the perfect backdrop for our food table.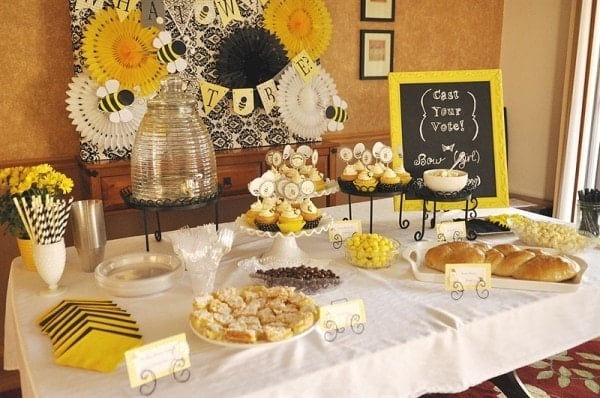 What Will It Bee Baby Shower Food Ideas
We carried the yellow and bee theme through with our food too with lots of lemon and honey based foods. I made a yummy honey braided bread and we served it with honey butter.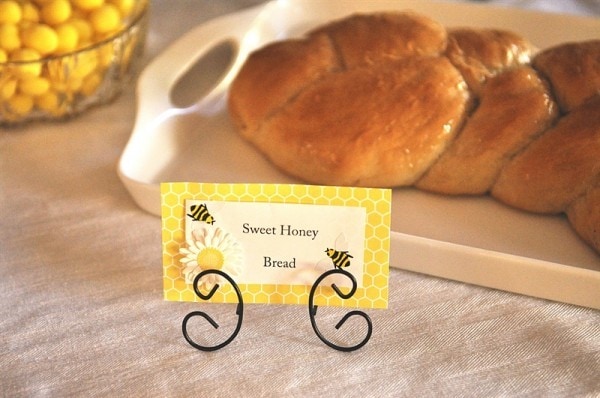 Of course there were lemon bars. I don't have this recipe on the blog but I really should. But I do have another amazing lemon cheesecake bar recipe on the blog that is amazing.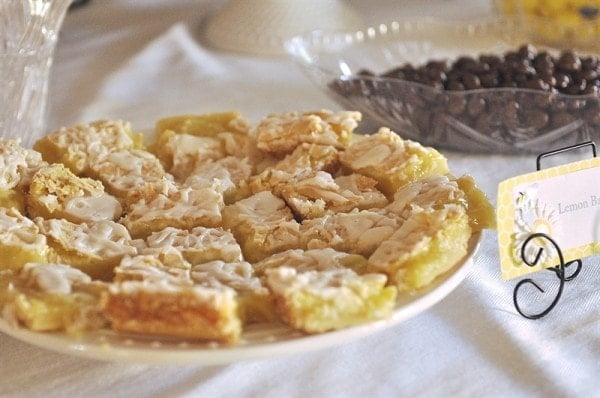 And I used my Perfect Lemon Cupcake recipe to make some little beehive cupcakes for our What Will It Bee Baby Shower. If you like lemon you must try these cupcakes.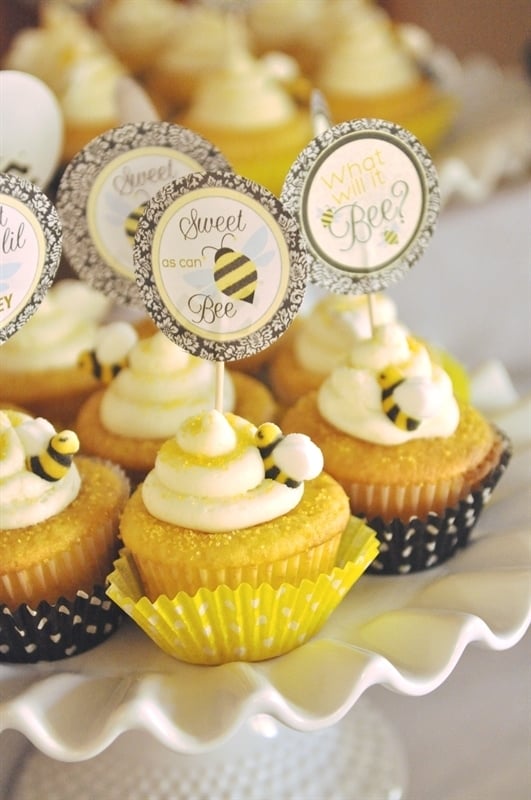 To make the cupcakes I added a blob of frosting in the middle of the cupcake.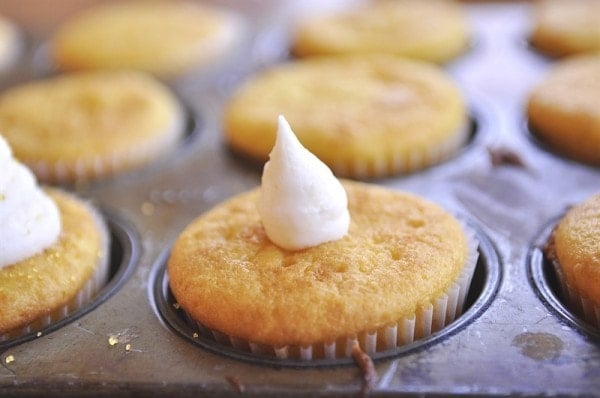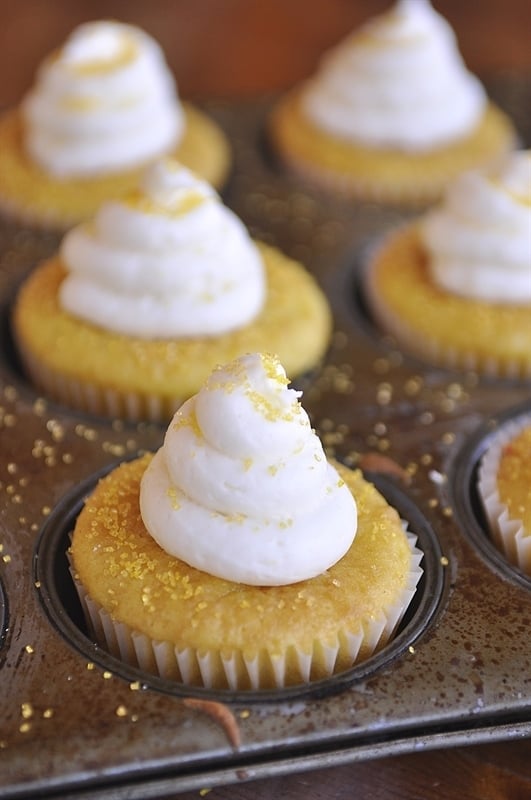 And then using a large round tip I piped frosting around the center blob spiraling up to make it look like a hive.
I then added some yellow sugar and some cute little bees I bought at the cake decorating store in town.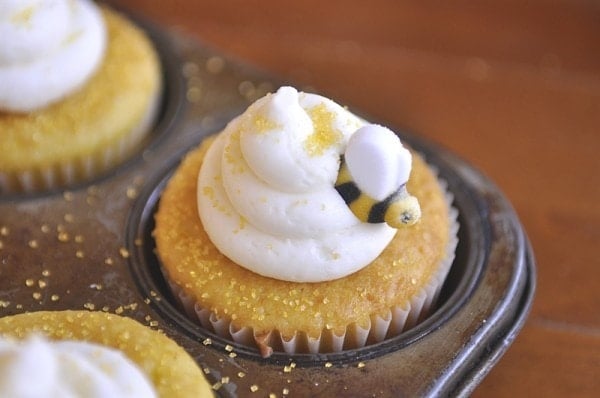 Pretty cute!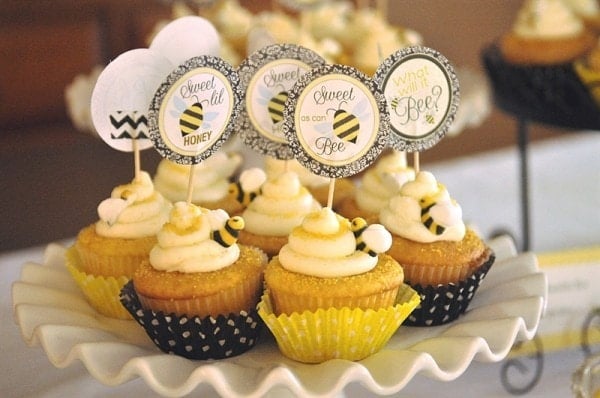 I then added some cute little cupcake toppers I bought at Gretchee Etsy Shop.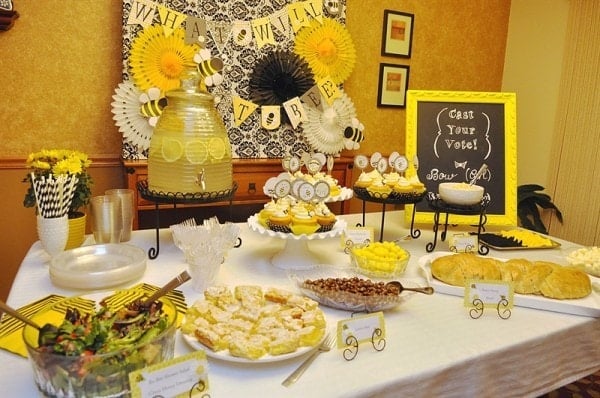 There was also a yummy salad with a honey lemon dressing.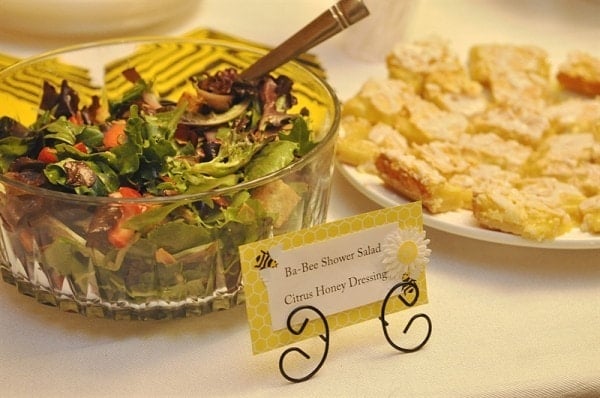 And some Good "lemon" water.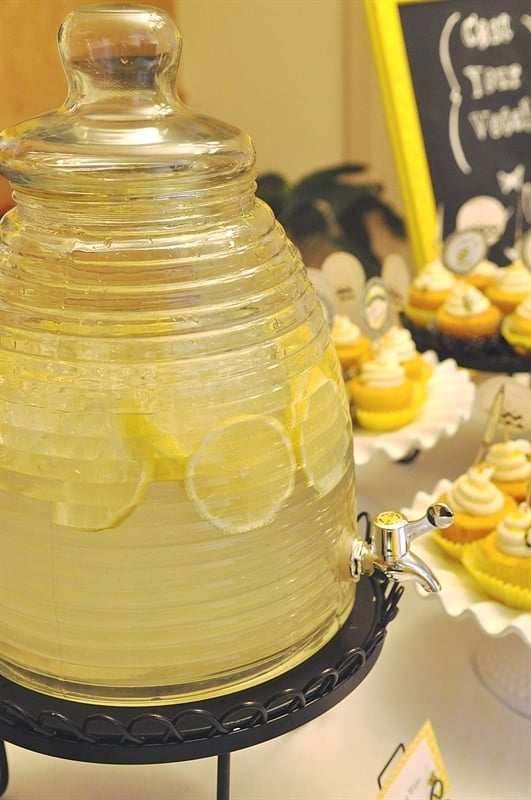 I just happen to own a beehive shaped water container so that worked perfect for our What Will it Bee Baby Shower theme! In fact I may or may not have planned the theme for this party around that water container!

There was also yellow and black (chocolate) candies scattered around the table.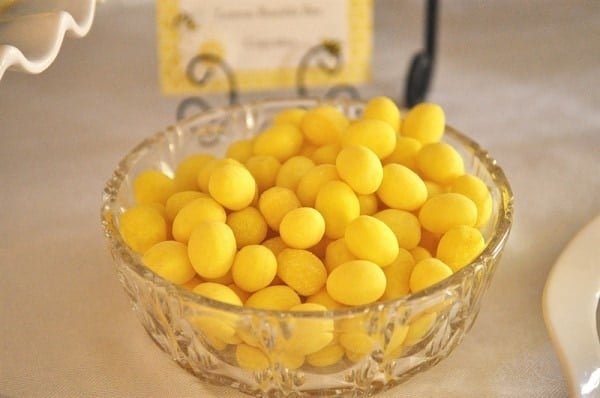 We are not big into party games but Liz, one of the other hosts put together this fun little questionnaire for the guests to fill out with their wishes for the baby.

What Will it Bee Baby Shower Games
We also took a vote on whether we thought the baby would be a boy or a girl. The girls won!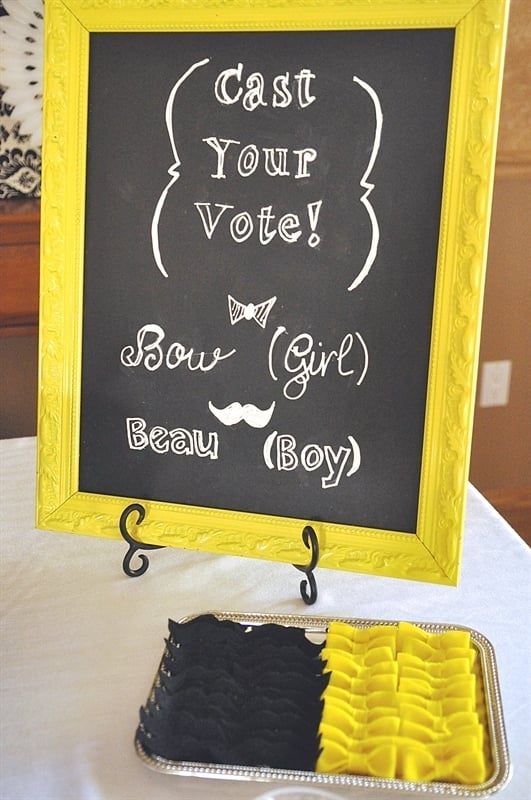 A cute little bow if you thought it was going to be a girl and a mustache for a boy. I voted for a boy!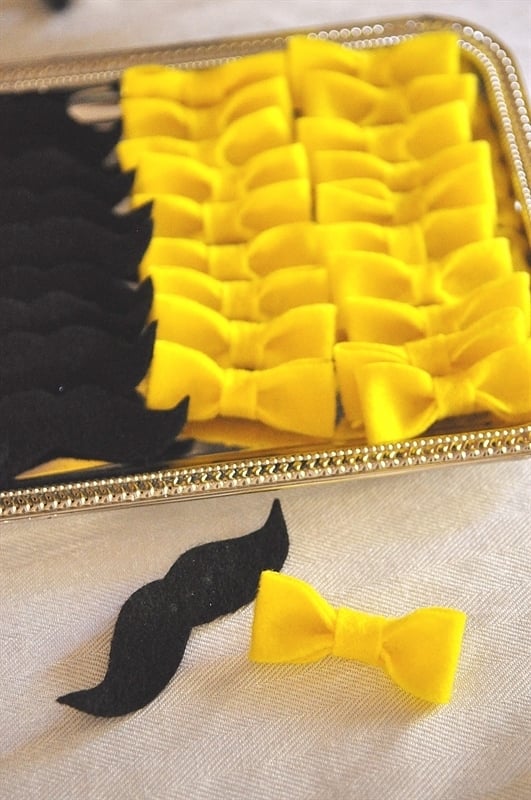 Here is the cute little mom to be and her sister. She may look familiar. I did a a fun crepe bar bridal shower for her a few years ago! And a Tea Party Bridal Shower for her sister.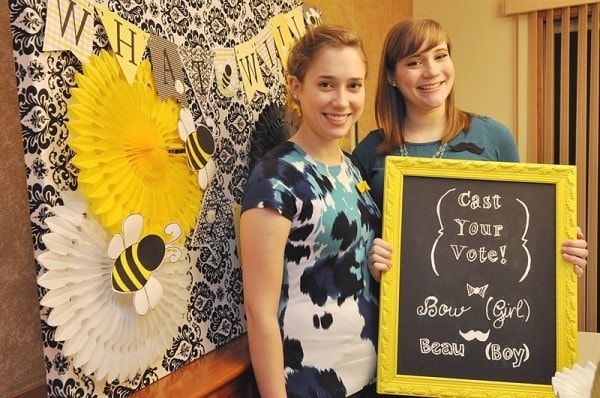 Check out these other party ideas!
Be sure and follow me over on You Tube for weekly cooking demos.