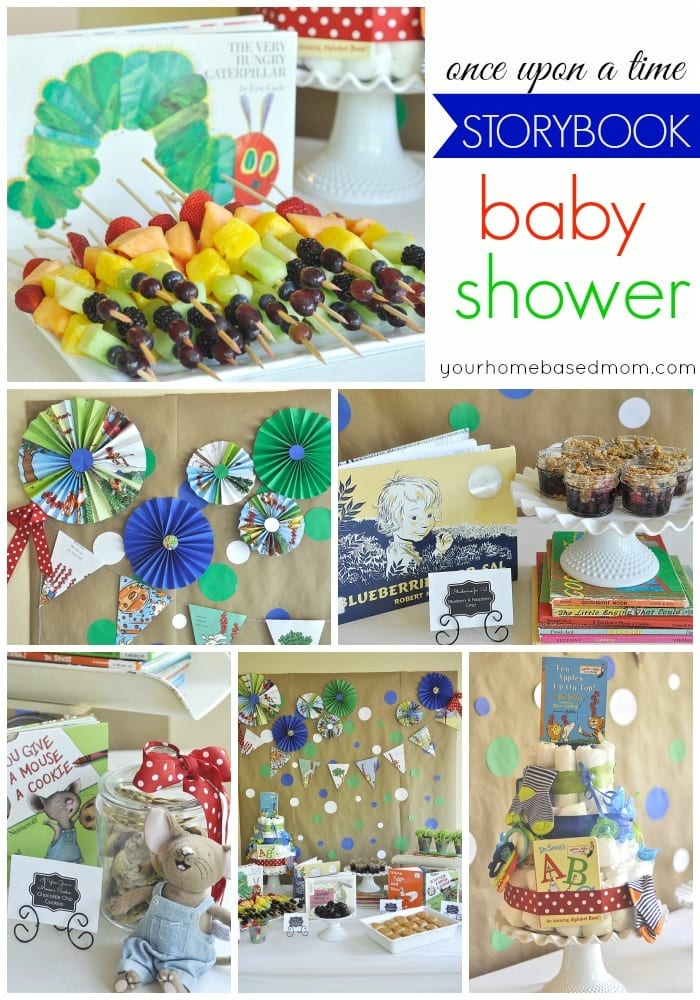 I am so excited to finally share with you a storybook baby shower I hosted back in April.  I did the shower in conjunction with Kroger and their new Inspired Gatherings website.
Today I will give you an overview of the shower and then you can head over to the Inspired Gatherings website to get all the details on how I made all the fun party decor.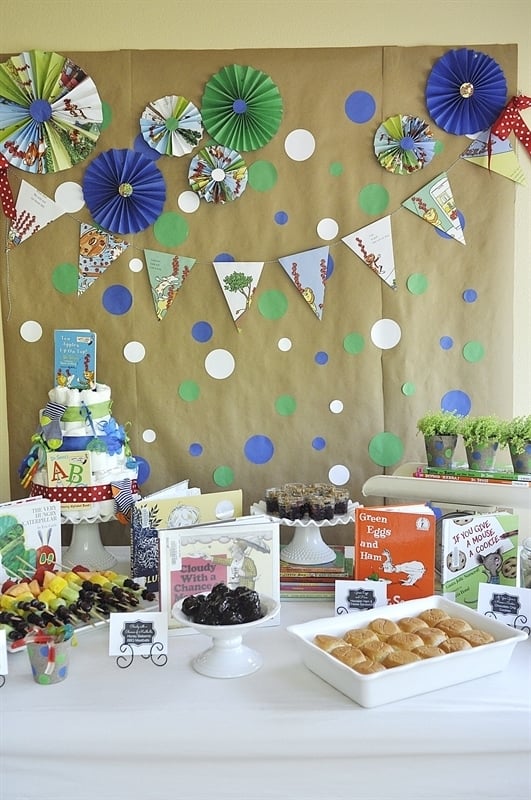 I hosted the shower with my friend Tina. We decided to go with a storybook theme.  All of our decor and food was based on different children's storybooks.  I chose some of my favorites:  If You Give a Mouse a Cookie,  Cloudy with a Chance of Meatballs,  The Very Hungry Caterpillar, Green Eggs and Ham and Blueberries for Sal.
Instead of bringing a card we asked everyone to bring a book instead.  We included this cute card enclosure with the invite.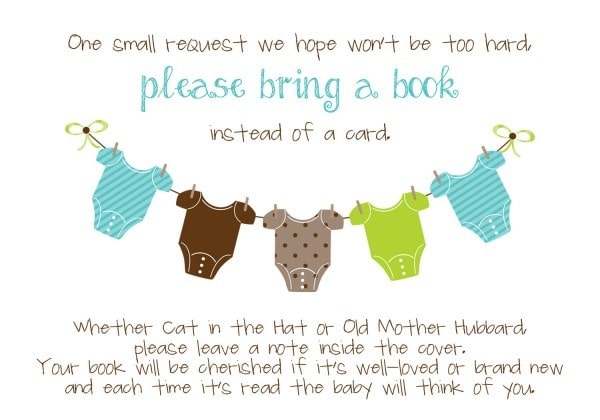 The cute enclosure card and invitation were made by Lily Grove Designs and I purchased them through her etsy shop.
They were both darling and set the color scheme and feel for the shower.  You'll see how I incorporated the cute onsies on the clothesline as part of the party decor.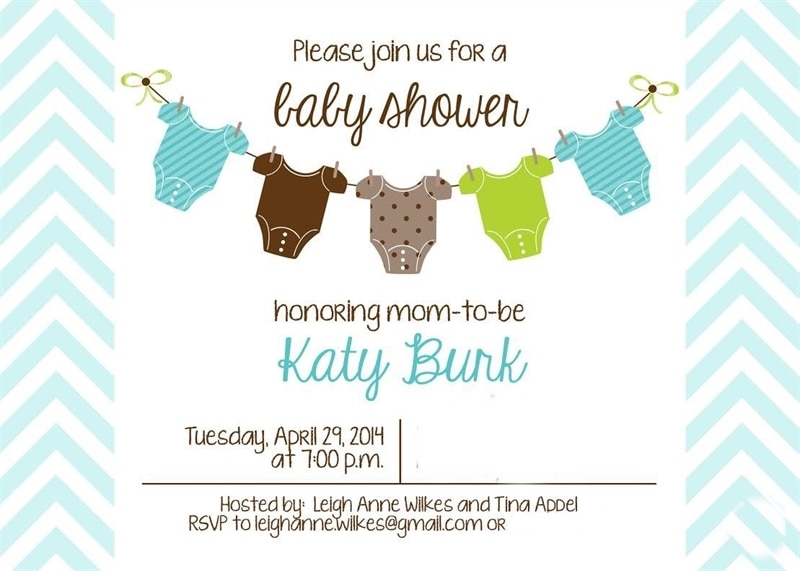 I also used books in the decor.  For our food table I created a fun, easy and inexpensive backdrop using polka dots and papers.  All the details on how I made the backdrop can be found here.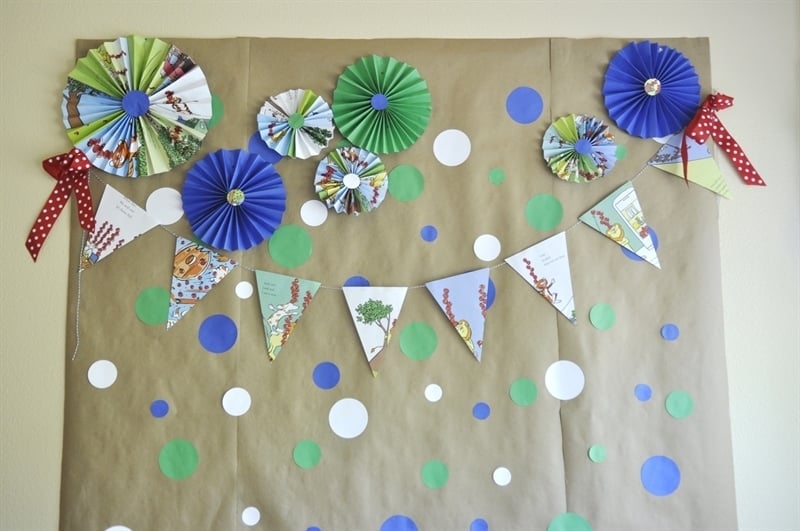 I added some paper rosettes I made from pages of a book and a no sew book page pennant banner.  Tutorials for both of them can be found here.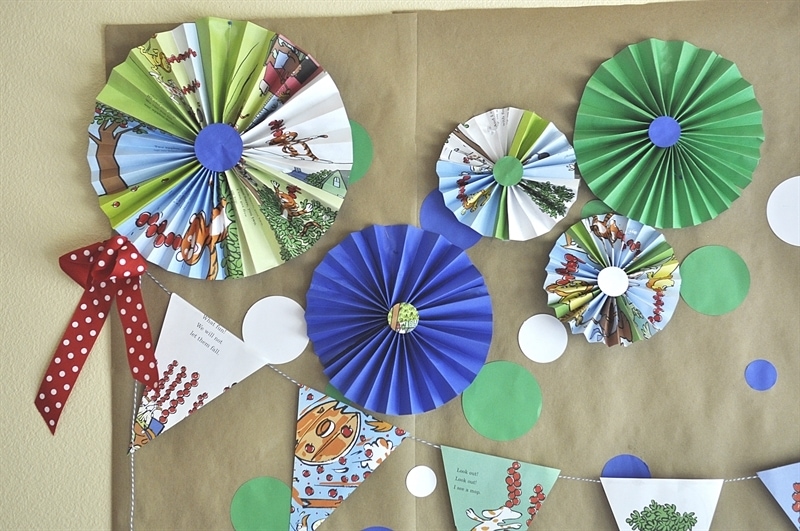 I also created a fun onsie banner to use as party decor and then it made a perfect gift for the mother to be.  Because the shower was book themed I used Chapter One, Chapter Two, etc. on the onsies instead of months.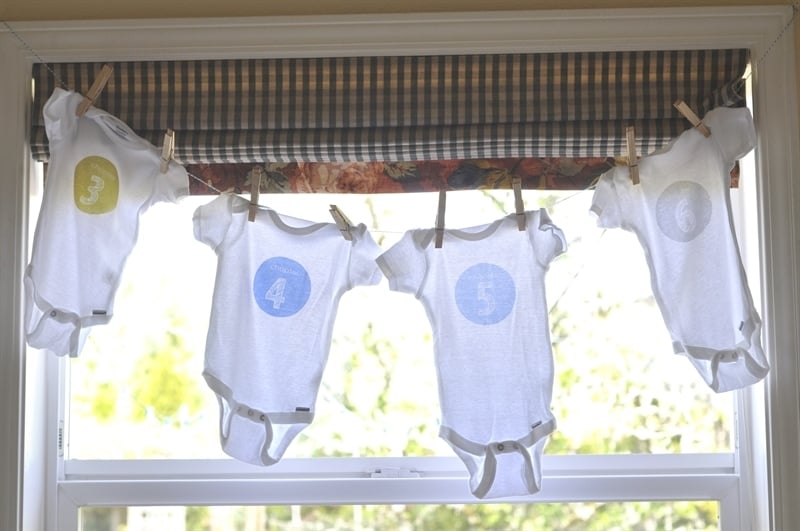 The onesies will be perfect for that monthly photo of the baby to see how much they have grown. A step by step onsie tutorial can be found here.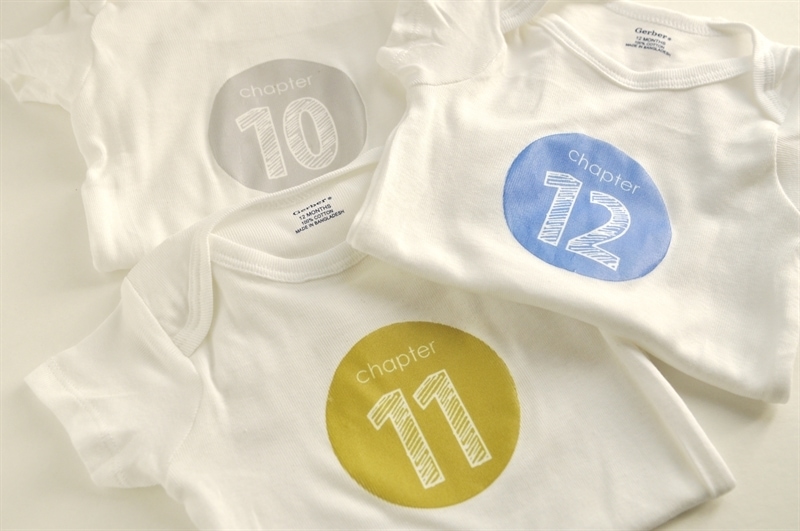 For part of the table decor and as another gift for the mother to be I created a fun diaper cake.  This was my first time making it and I was surprised at how easy it was.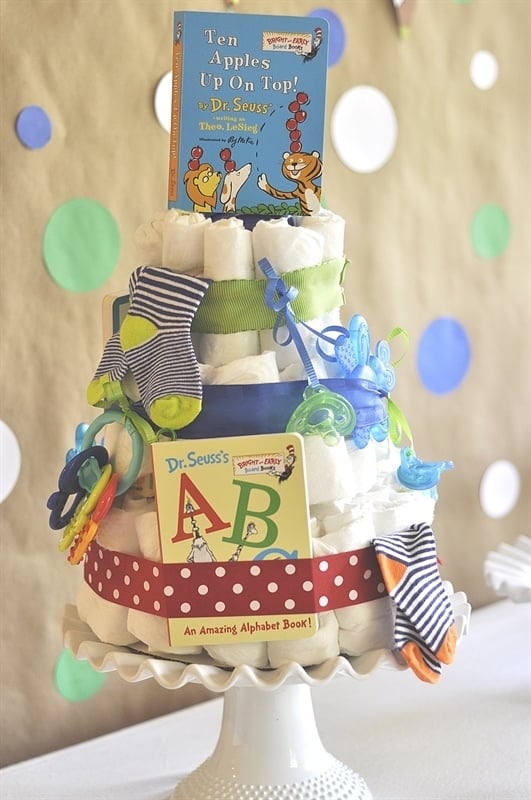 I continued the storybook theme with the diaper cake and used some Dr. Seuss books to decorate the diaper cake.  A step by step tutorial for the diaper cake can be found here.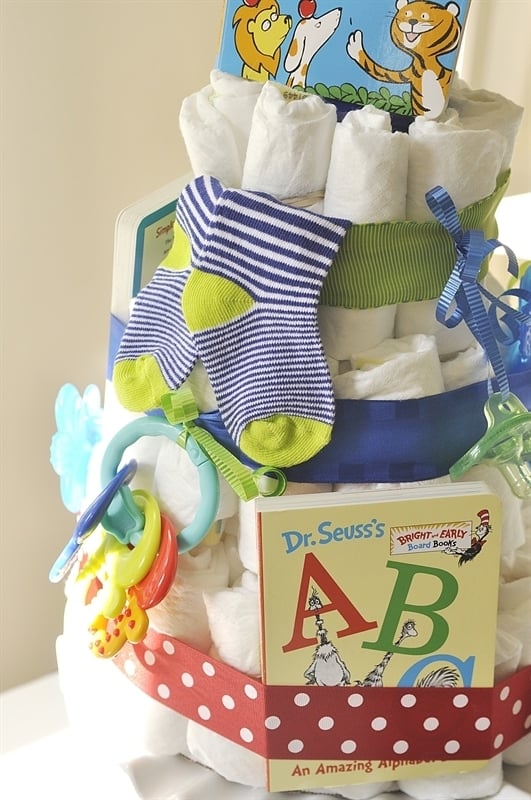 I think I had the most fun with the food.  Each item on the menu tied in with a children's storybook.  I used some of the books I would read to my kids when they were little.  When I decided on the storybook theme the first book I knew I had to use was If You Give a Mouse a Cookie.  I love that book and who doesn't love cookies.  We filled a jar full of yummy chocolate chip cookies.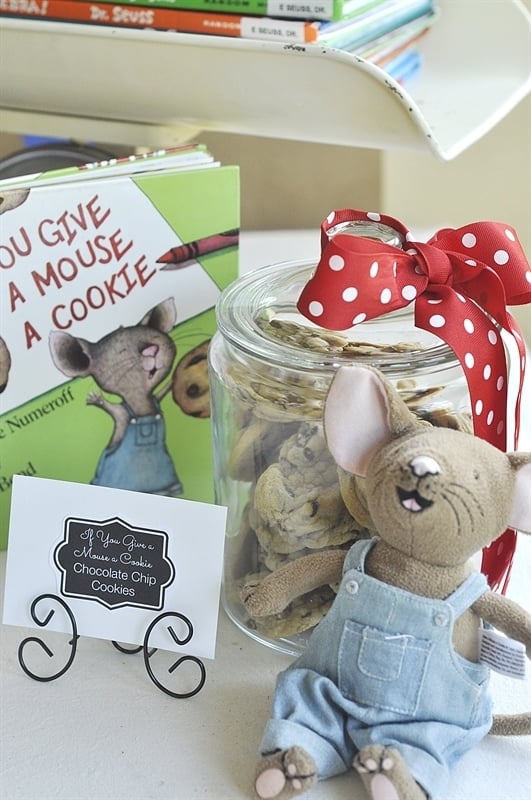 Thanks to my friend Dawn who I borrowed a lot of the books from since mine were all packed away in the attic!  She even had the cute little stuffed mouse.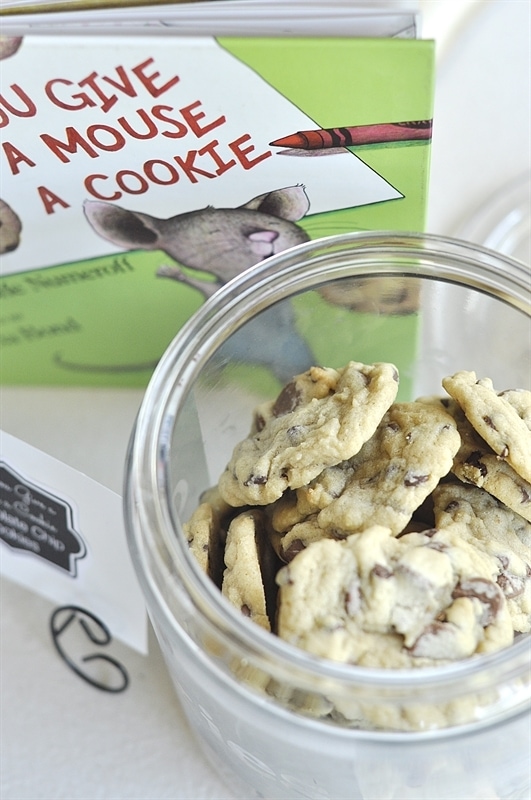 My friend Tina also made these adorable mice sugar cookies.  She used a heart shaped cookie cuter and then decorated them.  Aren't they darling!!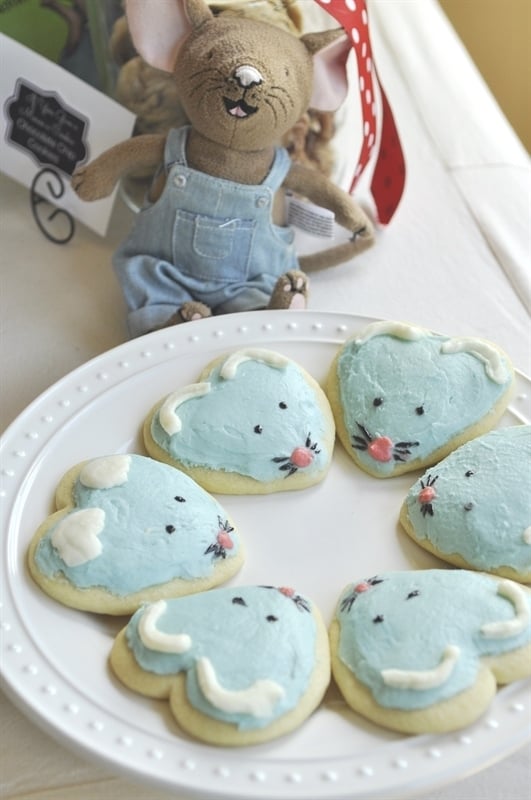 Next was Blueberries for Sal so of course we had to have blueberries.  I made Blueberry and Raspberry Fruit Crisp in little mason jars and displayed the storybook next to the food.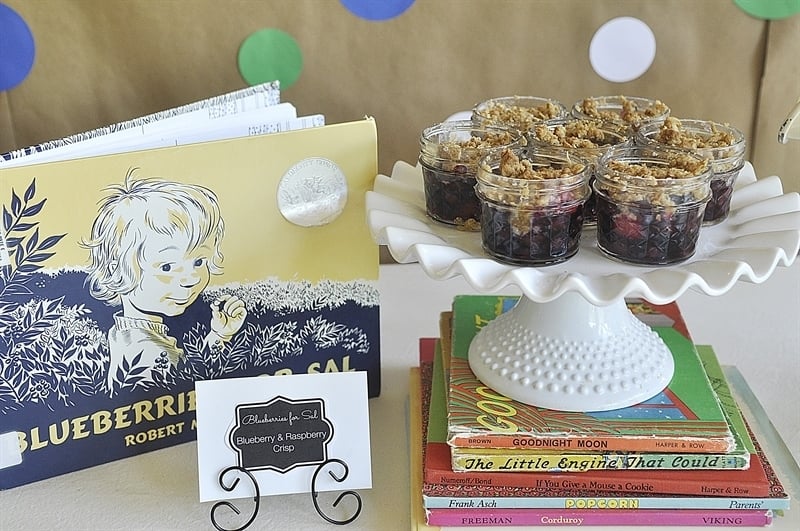 The next book I chose was Cloudy with a Chance of Meatballs which meant we needed some meatballs!  I made a honey balsamic meatball.  They don't photograph great but they were yummy.  I made them gluten free by using quinoa in them instead of breadcrumbs.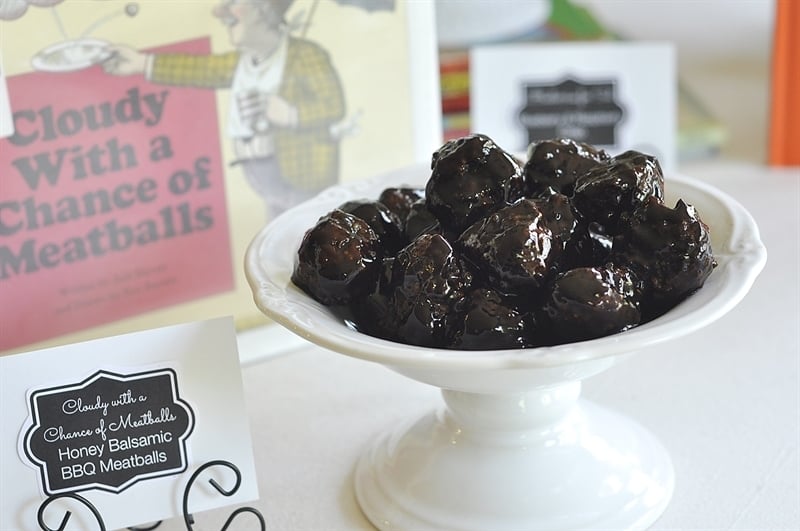 Another favorite children's book of my kids is The Very Hungry Caterpillar and fruit kabobs looked just liked the Caterpillar!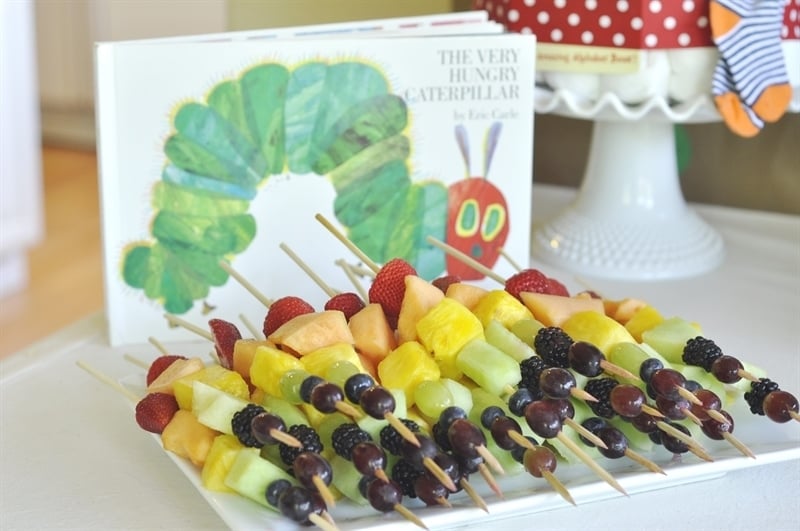 The last book we used was Green Eggs and Ham.  Decided to omit the green eggs and we went for Hawaiian Ham and Cheese Sandwiches.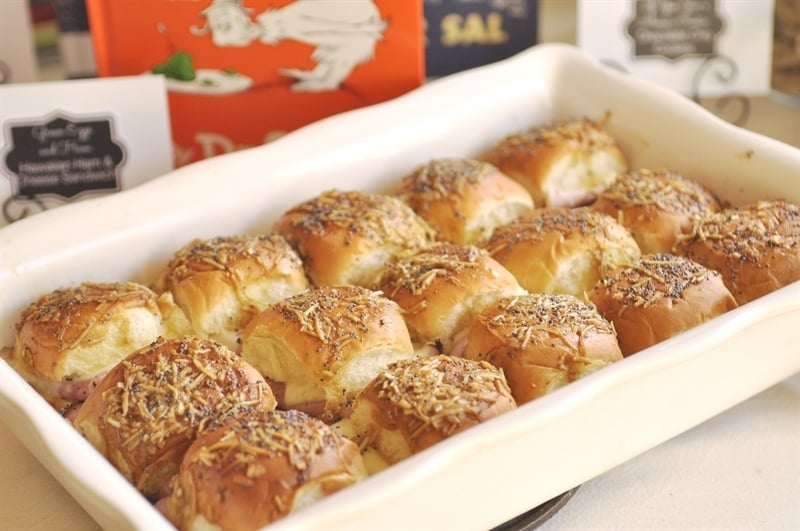 These were a huge hit – so yummy and gooey!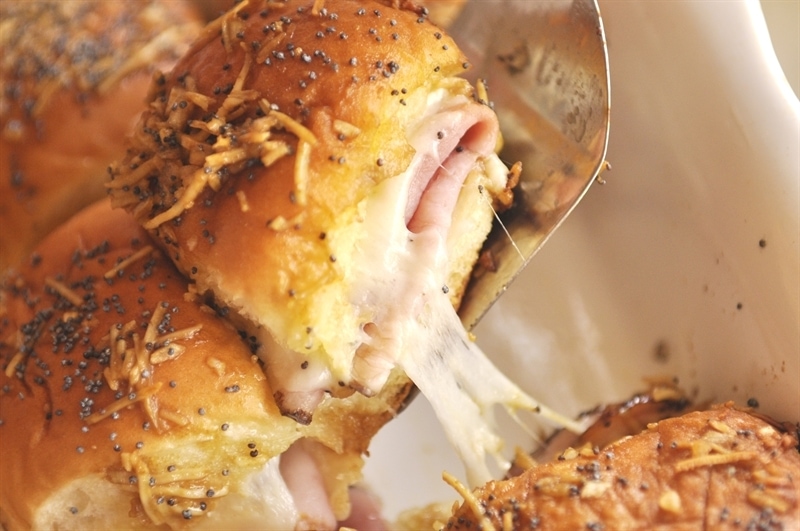 The guest of honor's sister in law brought some of the most adorable cupcakes I have ever seen!  Little rubber duckies in the tub! They were almost too cute to eat but we managed to eat them.  The little duckies were made out of marizpan I think or maybe it was fondant but they were totally edible.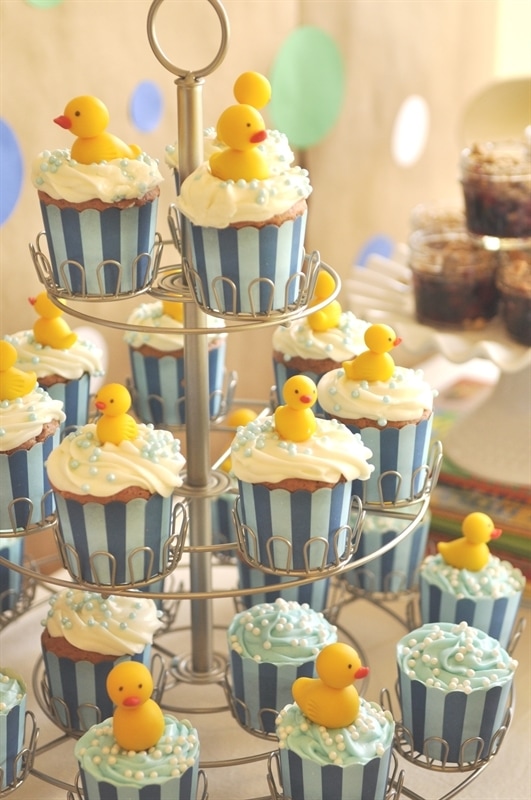 Loved how fun and colorful the table was.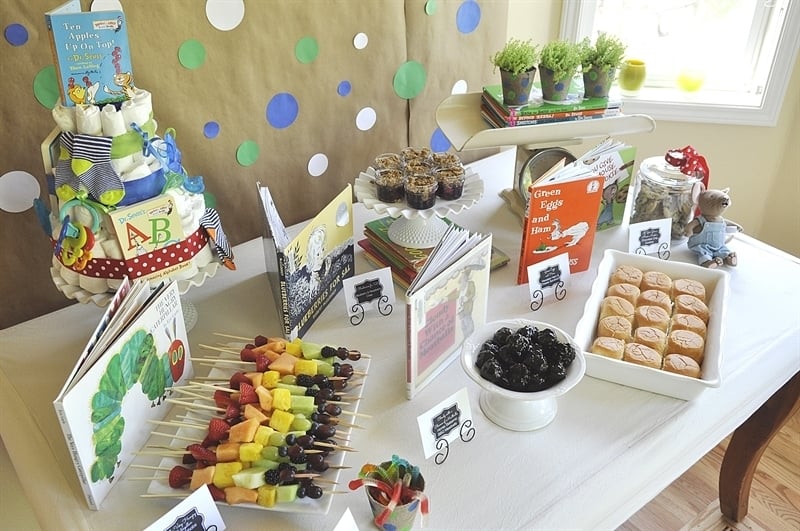 What would a book themed baby shower be without some book works!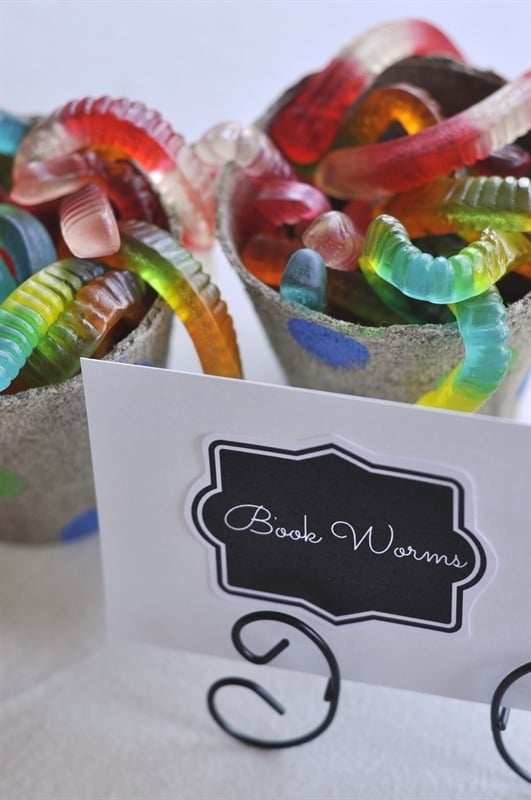 And here is the cute mommy to be!  The shower was a few months ago and baby Max has arrived safe and sound.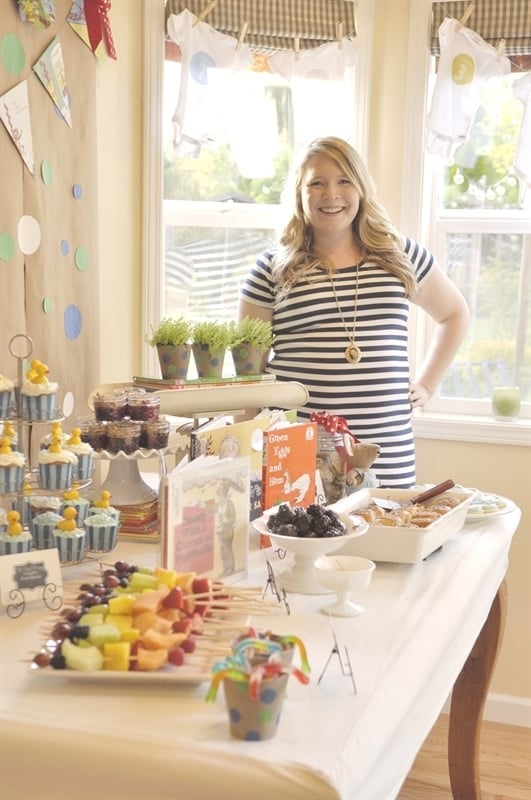 Don't forget, for all the how to's, details and tutorials for the decorations head over to Inspired Gatherings.
For other fun party ideas check out these:
Crepe Bar Bridal Shower – Vintage Baby Shower – What Will It Bee Baby Shower

  Enjoy!
Leigh Anne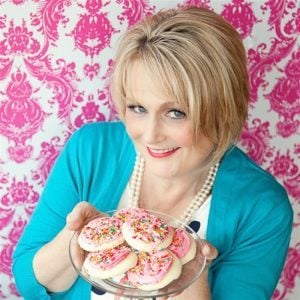 You can also visit me on Facebook, Pinterest, Twitter or Instagram.
Get my Weekly Menu Plan for FREE!
Receive my FREE "What's for Dinner?" Meal Planning Course, a copy of my FREE ebook that includes my most popular recipes and my FREE weekly Meal Plan.