Check out how to make an easy DIY polka dot backdrop and paper pennant garland for your next party!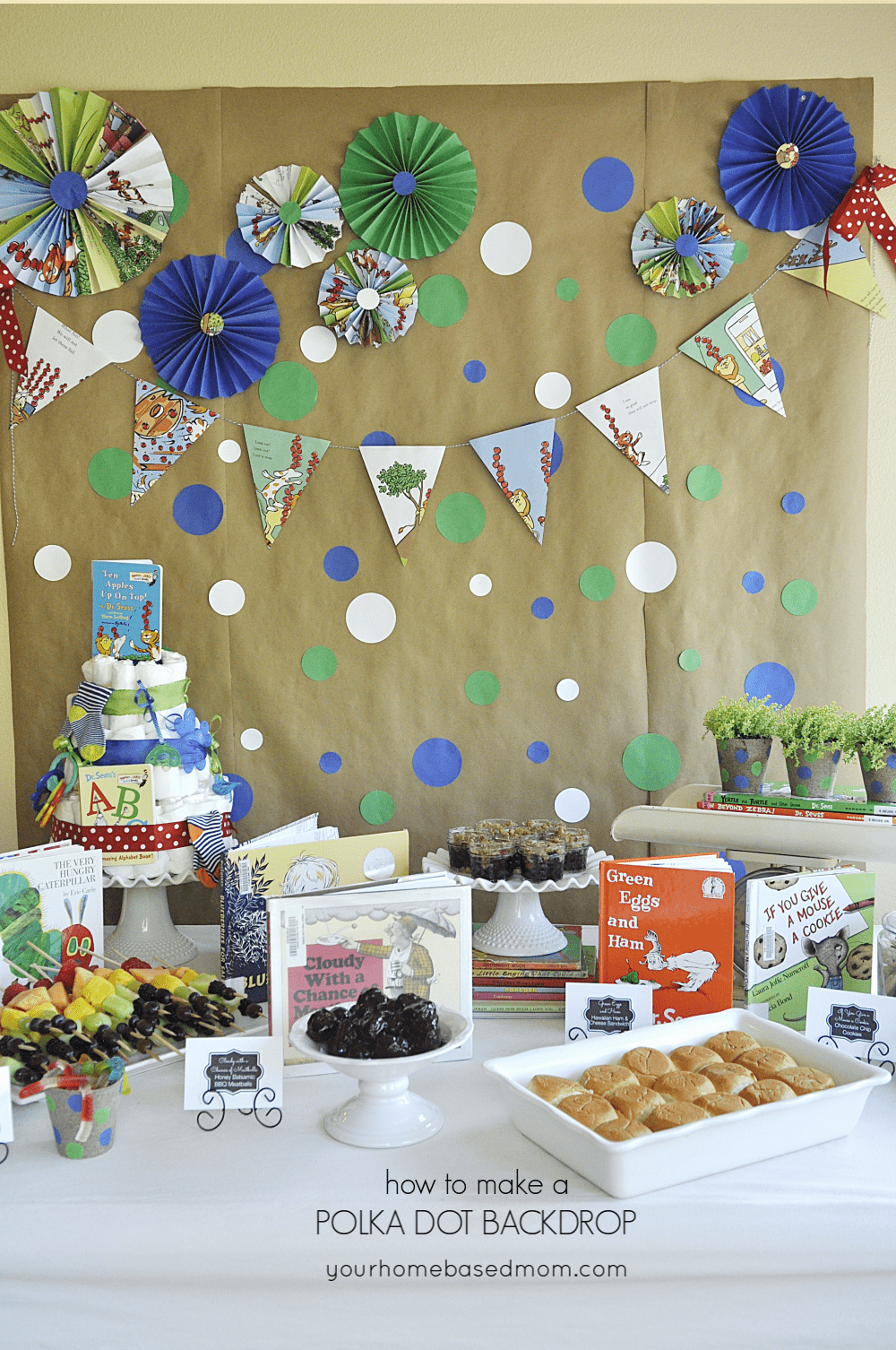 Party Backdrops can really make a difference in the feel and mood of your party. They can be easy, simple and inexpensive to create when you use paper. For our DIY Polka Dot Party Backdrop I just used brown paper and some color copy paper I purchased in the office supply section of Fred Meyer. The brown paper is meant for wrapping and shipping packages but works great for a party backdrop too. I used two lengths of paper. One down the middle of my wall and then cut the second piece in half and place each half on either side of the middle piece. That way I didn't have a seam down the middle.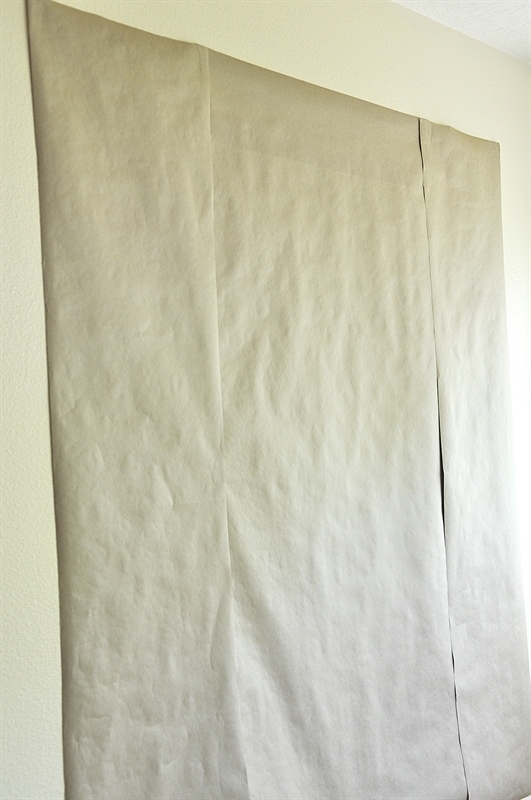 I have a wall in my kitchen nook that I love to use as the backdrop to my party food table. I just simply remove the art work that normally hangs there and use Command hooks to hang up the paper. You will find them in the home improvement area of the store. They make the backdrop easily removable and don't damage the paint on the walls. Love that I don't have to put nail holes in my wall either.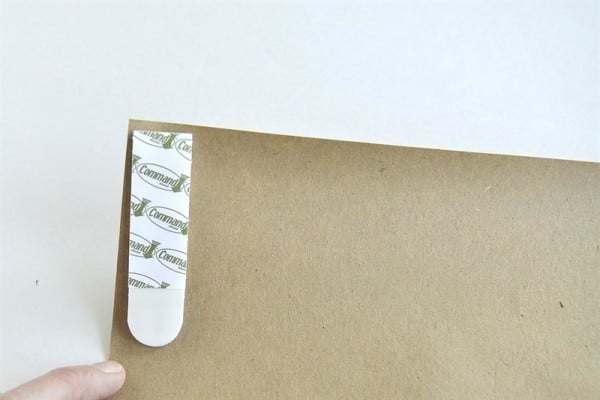 I used the color scheme for our book themed baby shower which was blue, white and green and cut out dozens of paper polka dots! Just use a glue stick to attach them to the paper backdrop.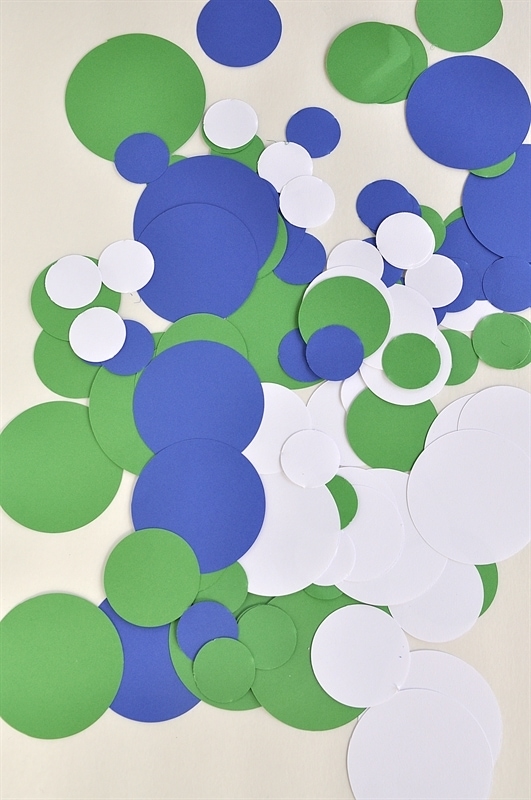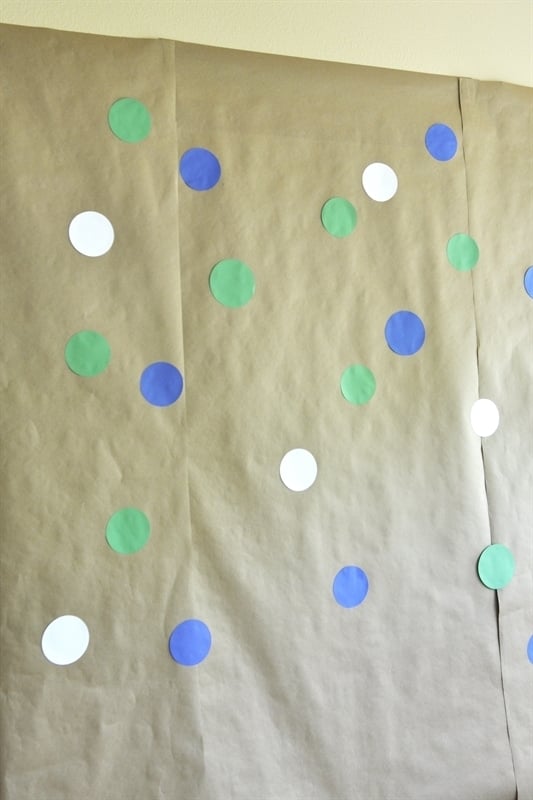 I used a very random pattern.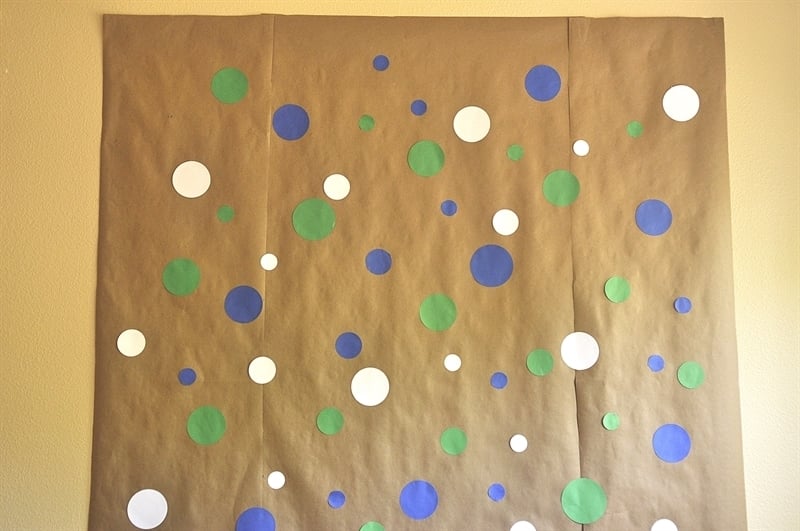 You can use your polka dot party backdrop as is or you can dress it up with more additional paper rosettes that I show you how to make here. (insert link)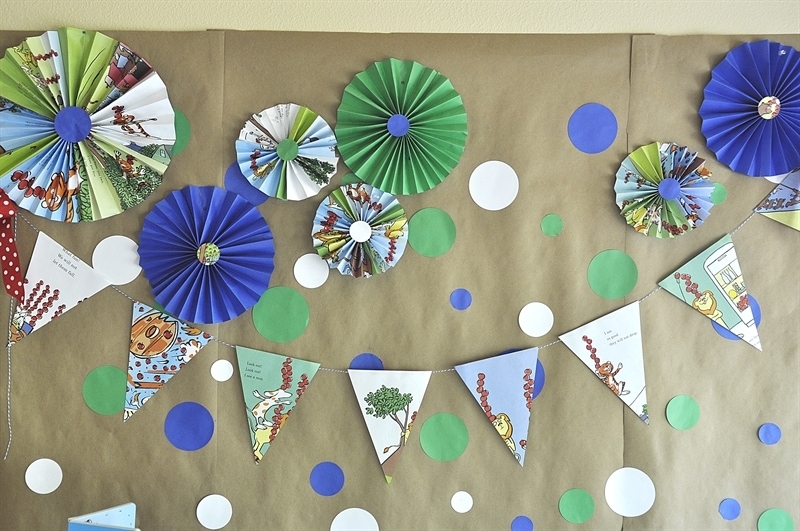 Paper Pennant Garland
Creating a quick and easy No Sew paper garland is the perfect addition to the party backdrop. You can use any type of paper. I actually used pages from a book since our party theme was books!
Use a X-acto knife to cut the pages of the book and then trim them to the width and height you want your pennant to be. My pennants were 6″ wide by 8″ high. Make a mark in the center of the bottom of the paper (this will be the point of your pennant)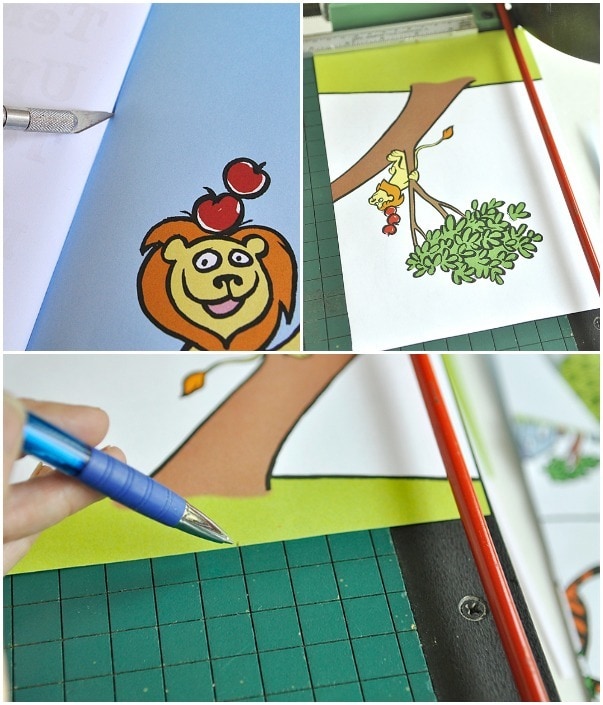 Use scissors or a paper cutter to cut your pennant using the mark you made at the bottom of the paper. Start by cutting from the upper outside edge down to the point. Then do the same thing on the other side. Continue to cut as many pennants as you need for the length of banner you want.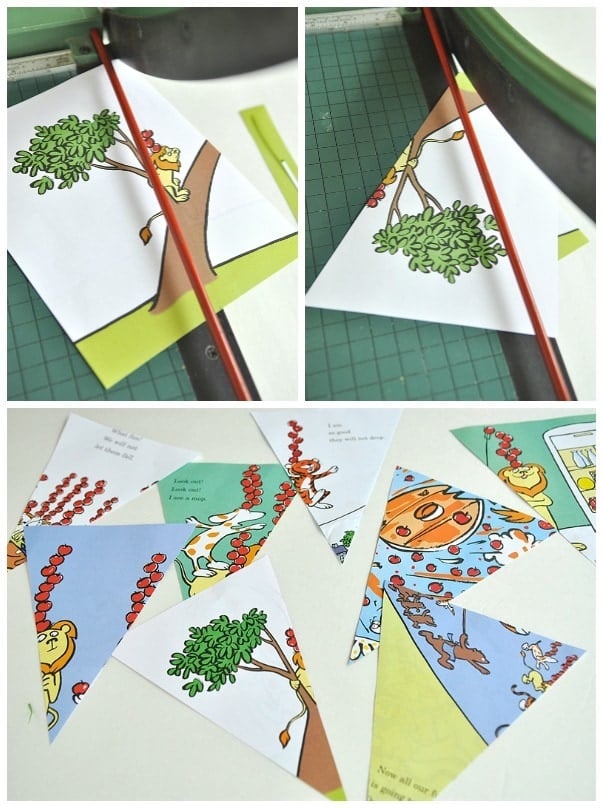 Measure and cut your string so that it is 24″ longer than the length of your banner. This way you will have 12″ of string on each end to attach the banner.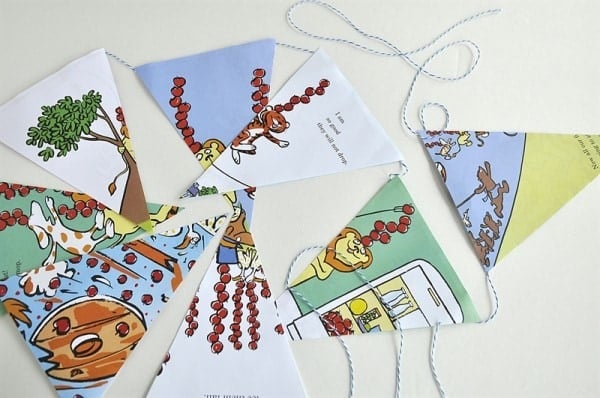 Using a hot glue gun, attach the paper pennants to your string. Run a line of hot glue along the top of the back of your pennant and lay the string into the glue until it cools.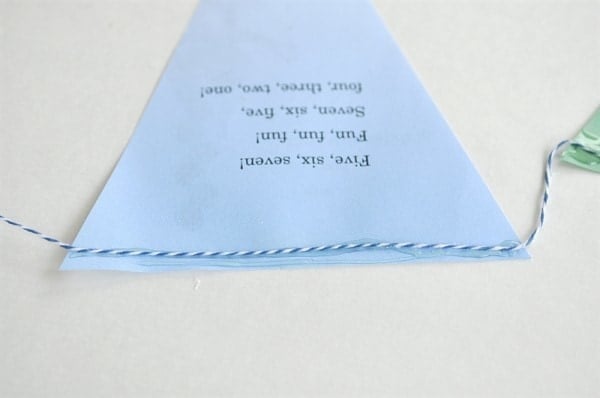 You can place your pennants as close or far away from each other as you like.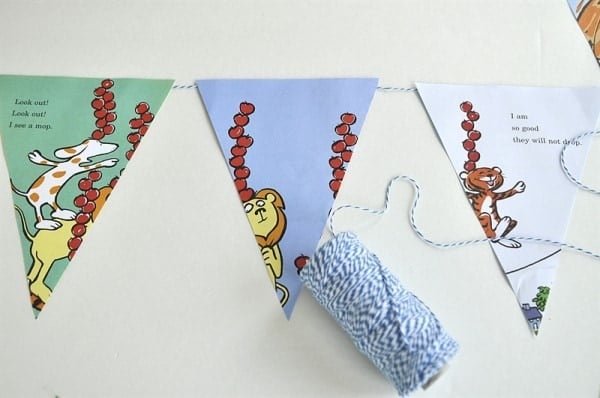 The banner is then ready to attach to your polka dot party backdrop.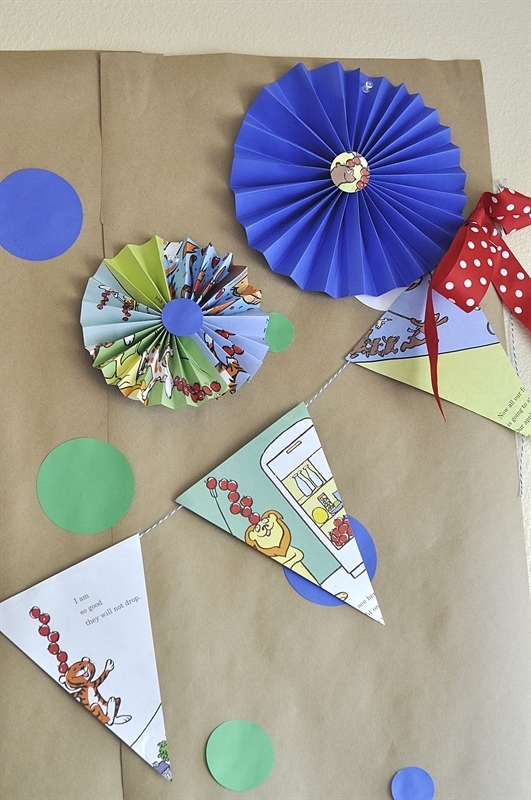 Make sure to check out how to make the paper rosettes and other details from this fun storybook baby shower.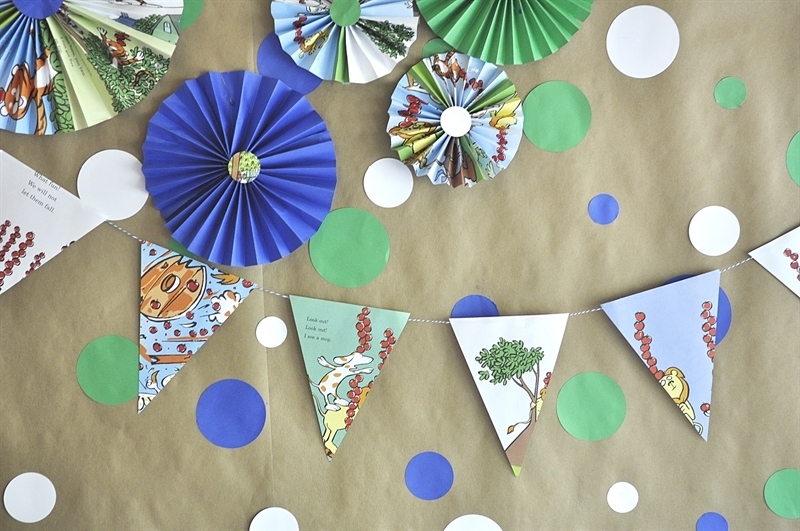 Monthly Onesies Baby Shower Banner
Make sure to follow me on Facebook, Pinterest, Twitter or Instagram.