This baby shower banner is both adorable and useful! Decorate the baby shower with this fun onesie banner, and then let the mom to be take home the monthly onesies to document her babies first year.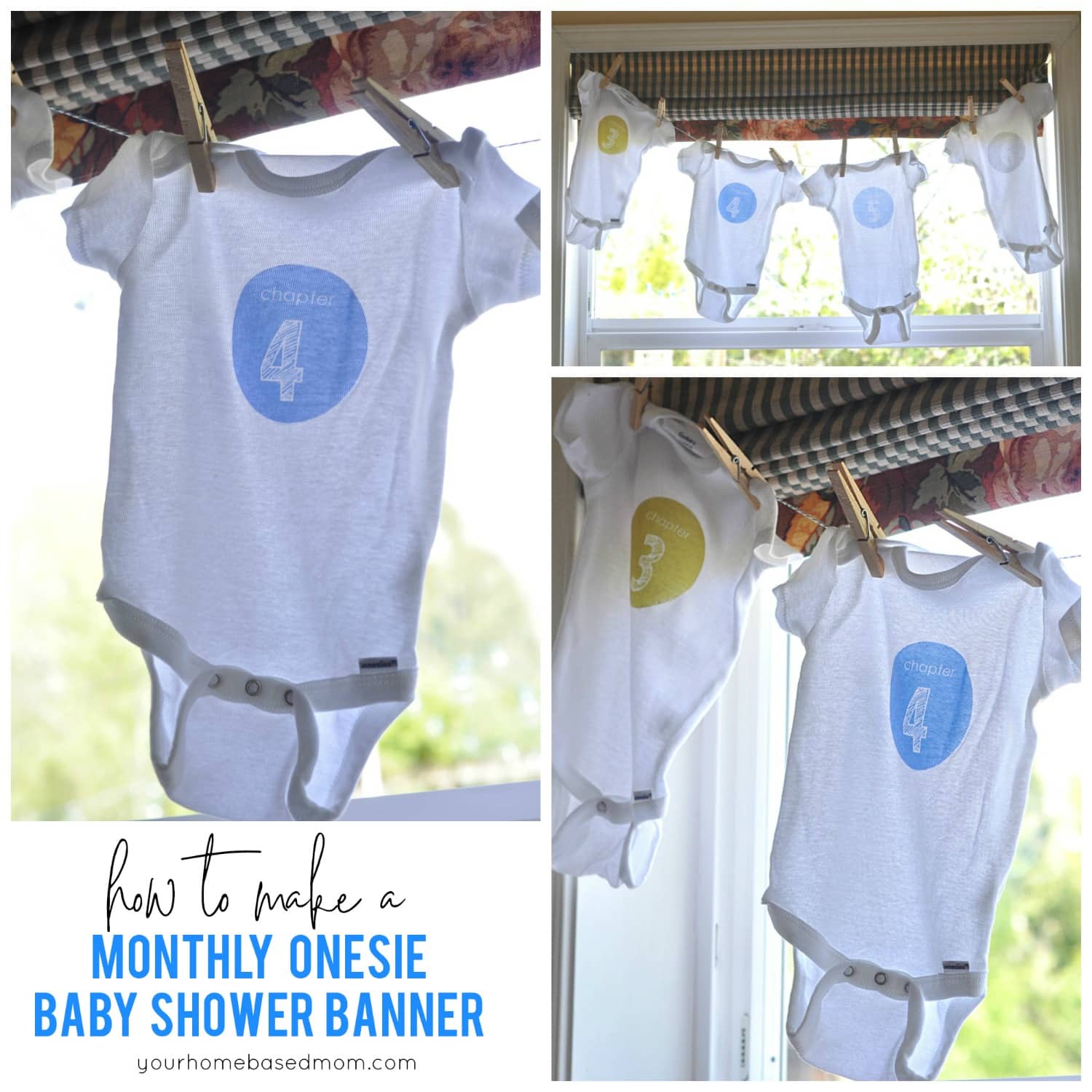 I love creating banners for a party. They are fun, festive and a great way to add color and decor. For our book themed baby shower I created a banner out of monthly baby onesies. The onesies are not only party decor but they are a gift for the momma to be. The monthly onesies are also a fun way for the momma to record the growth of her baby over the next 12 months. Just take a picture of the baby in the onesie each month of their first year. It is fun to see how much they have grown and a great thing for the scrapbook!
DIY Monthly Onesies
From the baby apparel department at Fred Meyer I purchased 4 packs of onesies – 1-3 months, 3-6 months, 6-8 months and 9-12 months. You will use three onesies from each pack.
I also picked up a package of Avery Iron-On Paper available in the Craft Section of Fred Meyer. It comes in light and dark and since we are using white fabric be sure and grab the light.
I chose to use Chapter One instead of Month One on my design since our theme for the shower was books. I thought it was pretty clever of me!
You can design your iron on transfer it various programs on your computer – Word, Photo Shop, Illustrator etc. Just be sure when you go to print that you reverse the image.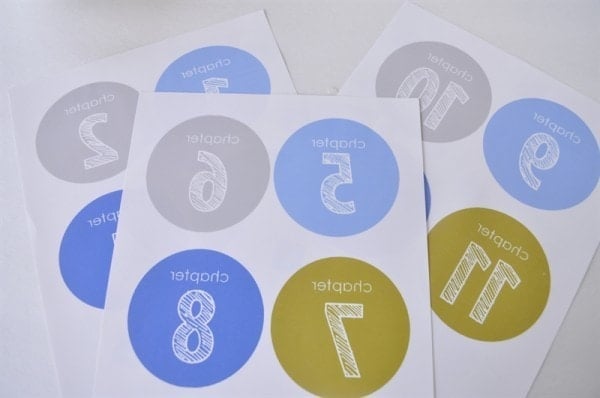 Cut out each circle and place it onto the front of the t-shirt. I used size 1 -3 months for chapters 1-3.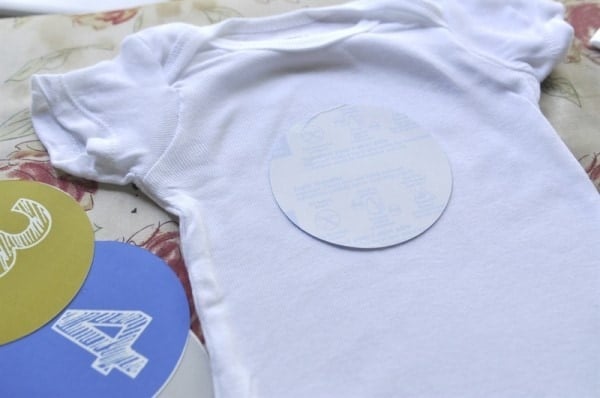 The next part is where some muscle comes in. Use a dry iron (no steam) and apply a lot of pressure and heat to the transfer. It will take a few minutes. Allow it to cool before you remove the backing. If the color is not staying on the t-shirt put some more heat and muscle into it. It took me several tries.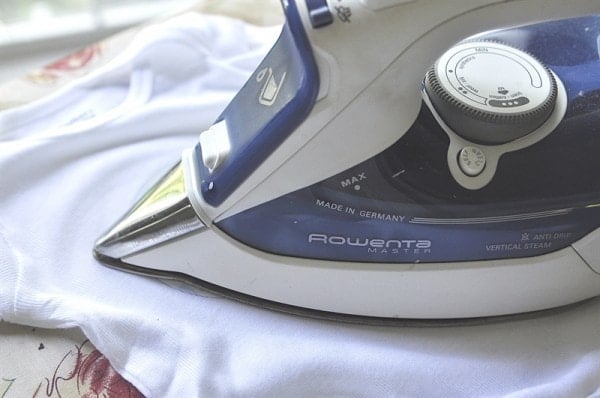 Carefully peel up the edge of the transfer to remove the backing.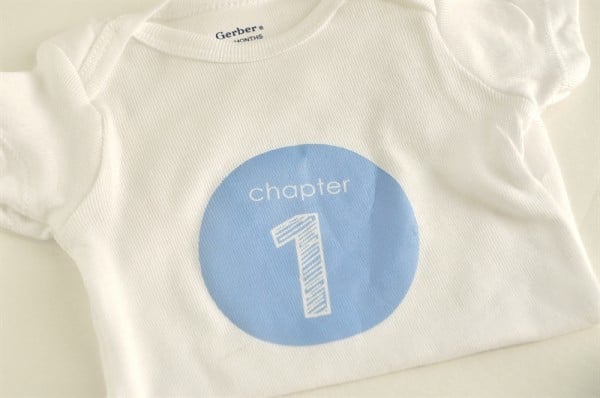 How cute are these!!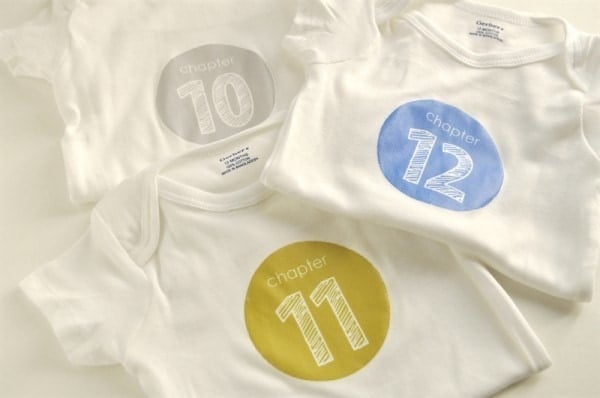 Then just hang some string where you want the banner to be and use clothes pins to attach the onesies to your clothesline.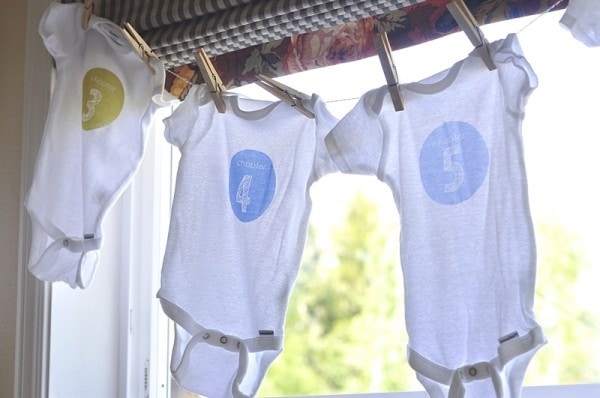 Monthly Onesies Baby Shower Banner
Make sure to follow me on Facebook, Pinterest, Twitter or Instagram.