With a trip to Goodwill, a few Amazon finds and several things from my own closet we quickly put together this Popeye and Olive Oyl Couples Costume.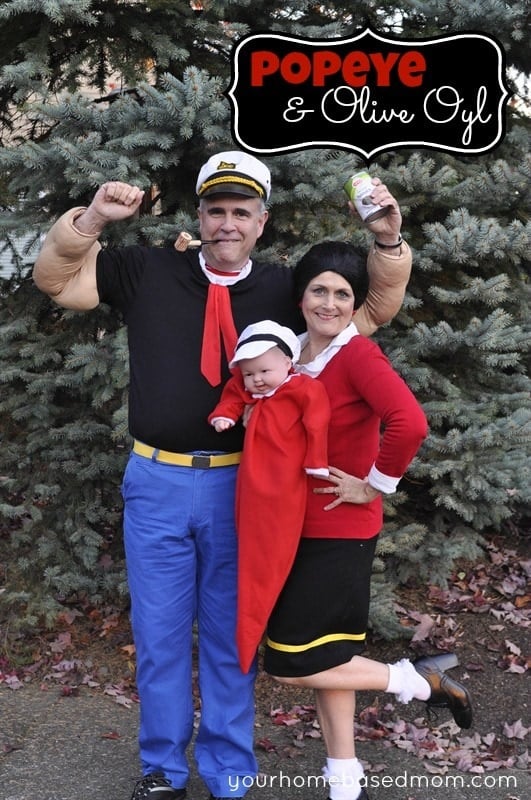 Couples Costume Idea
One of the positive things about being an empty nester is that I now have time to put together Halloween costumes for Jim and I. Dressing up for Halloween has become a fun tradition for us the last three years.
We never dressed up when the kids were home. Now that I don't have to make and put together costumes for four kids I can do it for us!
I think half the fun for me is deciding what famous couple we are going to be and then putting the costumes together. The majority of our costume comes from Goodwill so the hunt is half the fun. I also like keeping who we are going to be a secret from our friends and neighbors. It is fun to show up at our neighbors Halloween party each year and have everyone surprised!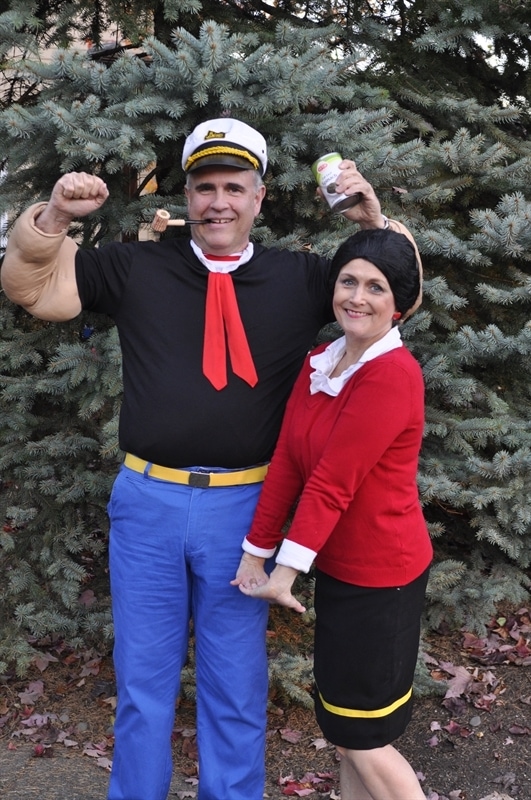 This year we (or I guess I should say I, as Jim isn't really allowed much input!) decided to go as Popeye and Olive Oyl. Although I have to say I definitely prefer myself as a blond!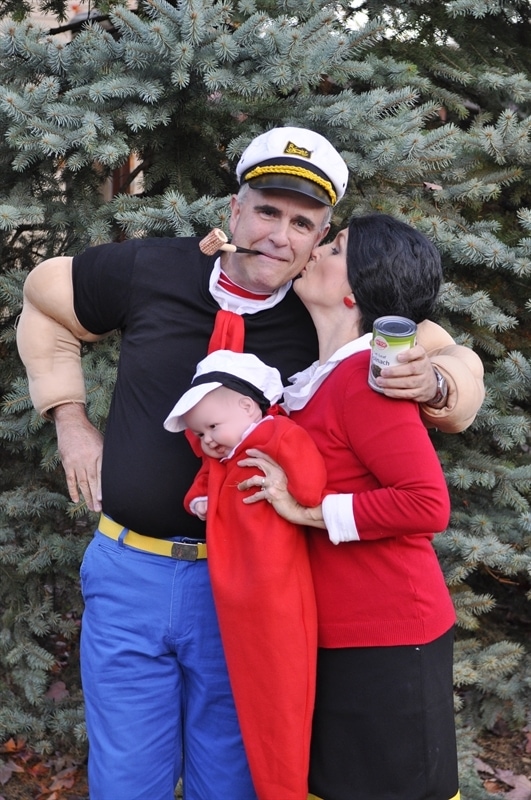 Olive Oyl Costume
I lucked out and found the perfect Olive Oyl wig at Goodwill on my very first trip there to look for costume pieces.  I also found my skirt and red sweater at Goodwill along with Jim's royal blue pants and navy shirt.   We purchased his yellow belt, corn cob pipe and Sweet Pea's outfit on Amazon.  The baby doll was borrowed from a friend and Popeye's muscles were also borrowed.  A bit of yellow ribbon sewed along the bottom of the skirt was the perfect Olive Oyl touch.  We already owned the sailor hat and my white ruffle blouse.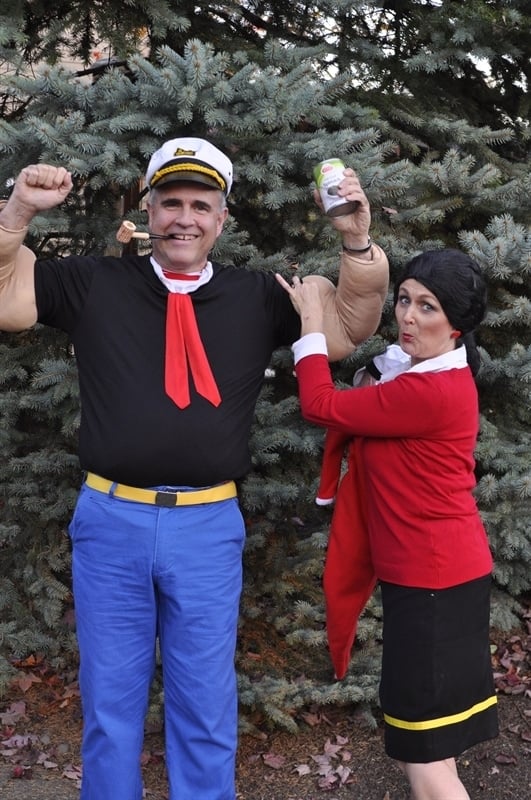 About an hour before the party I realized I had no white ruffly socks or red earrings so I made a quick run to Target and found the ruffly socks in the children's department. Good thing I have little feet and I bought some round gold earrings and ran home and spray painted them red real quick! I may still have a little red paint on my ear lobes!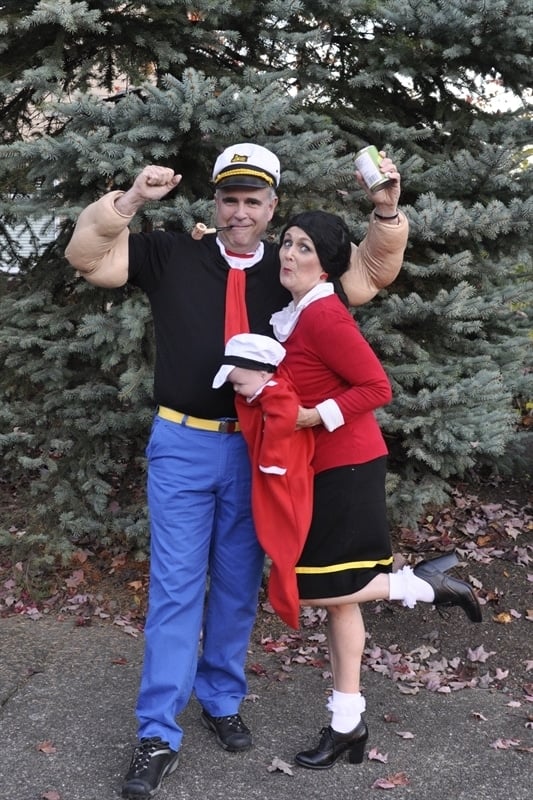 The night of our neighbors party Jim and the boys were at a Duck football game so I had to recruit my teenager neighbor to be my stand in Popeye! He was so kind to oblige me and he looked so cute! He was such a good sport!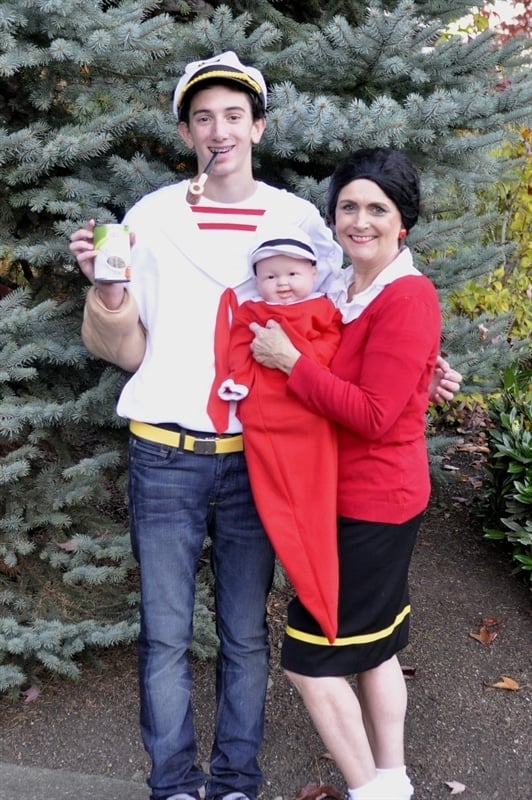 So I'm already thinking about next year and what famous couple we should be – have any suggestions for me?
Find all our other famous couples Halloween costumes here.
So who should we be next year??