A Vintage Baby Shower is the perfect way to welcome a new baby into the world!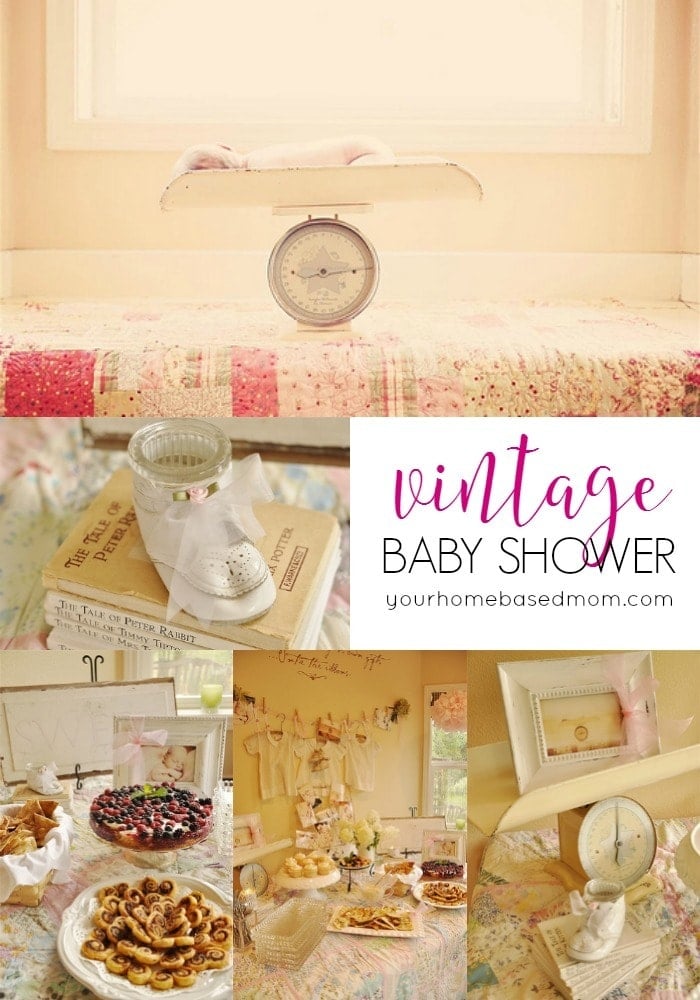 Several weeks ago I purchased an antique baby scale for my photographer friend Meg. I knew she wanted one for her newborn photo shoots and I wanted to thank her for the amazing job she had done on Tessa's senior photos. I was excited to find one at a local vintage shop.  When I gave it to her I said there was only one stipulation.  She had to let me borrow it for a baby shower I was doing.  She of course agreed!
I knew that the vintage baby scale would be the perfect thing for the baby shower table decor.
It was also the perfect thing to hold a photo of Baby Hope laying in the same scale!  And to hold baby Hope!
I collected other vintage items from around my house and especially Tessa's room.  I had to dig out the box of baby nursery decor that had been packed away years ago.  There are advantages to saving stuff!  It will come in handy!
The old baby booties with a votive candle holder inside became the perfect thing to put on top of the Peter Rabbit books.
I also covered the table with a lovely old vintage quilt I had picked up in a vintage shop.
And the vintage baby chair I just had to have was perfect!
The pink pom poms from Tessa's sixteenth birthday party were also a perfect addition hanging from the kitchen nook ceiling.
I also used lots of pictures of pretty Baby Hope on the table for the baby shower.
In frames….
as a collage on a vintage wire rack….
I also hung some little vintage dresses that usually hang as a valance in Tessa's room on a ribbon clothesline.
Remember that invitation....
I have to say I think this was my favorite part of the decor.  Those old baby shoes came in handy again….
I used my mother's hostess trays.  I love those things and remember my mother using them at various showers she would hold while I was growing up.
The baby shower was in the evening so for food I wanted a combination of sweet and savory.
We had fruit salsa and cinnamon chips.
Hummus and Pita Chips
Sundried Tomato Pesto Palmiers (recipe coming soon to Your Homebased Mom)
And this yummy St. Louis Ooey Gooey Berry Cake!  So good!

There were also Lovely Lime Cupcakes.
The food was yummy and the company delightful.  The new mommy and baby got lots of darling things too!    Every new mommy deserves a special baby shower!