I don't eat hot dogs very often.  In fact there are only two places where I will eat a hot dog.
Manzanita Mudd Dogs.  A fun hot dog stand at the beach.
Manzanita Mudd Dogs is this great little hot dog stand in our beach town.  The man that runs it is so great!  He imports his buns and hot dog supplies from Chicago so it is a true Chicago hot dog!  So good – the best part is the celery seed he sprinkles on top.  All of his profits are donated to charity so you can feel really good about eating a hot dog!
A trip to the beach really isn't complete without a visit to Manzanita Mudd Dogs!
The other place I will eat a hot dog is JDawgs in Provo, Utah.  JDawgs is located just south of campus and has grown from a little red hut to a six figure income for the BYU student who started it.  I have never been there without there being a line at the window at least 10 people deep!

The secret to a JDawg is the sauce – a sweet southern barbeque sauce.
This is how I like my JDawg – hot dog, bun and sauce!

That's how I like my hamburgers too – hamburger patty, bun and ketchup.  Plain and simple!
While we were at the beach for our reunion last week my niece said that she and her roommates had recreated the JDawg Sauce.  They had found a copycat recipe on the internet and then played with it and tweeked it until they thought it was just right.
So for our hot dog roast at the beach we enjoyed some JDawg sauce too.  It was yummy and I think I ate more hot dogs that week than I had in two years (that would be a total of 3 hotdogs).
So next time you have a hot dog, enjoy some JDawg sauce with it!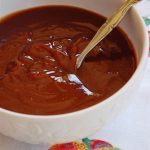 Print
JDawg Sauce
Ingredients
3/4

C

ketchup

3/4

C

barbeque sauce

1/4

C

honey

1

tsp

apple cider vinegar

1

tsp

soy sauce

1/2

tsp

onion powder
Get my Weekly Menu Plan for FREE!
Receive my FREE "What's for Dinner?" Meal Planning Course, a copy of my FREE ebook that includes my most popular recipes and my FREE weekly Meal Plan.