Mummy dogs are a classic and pretty much required food at any Halloween party!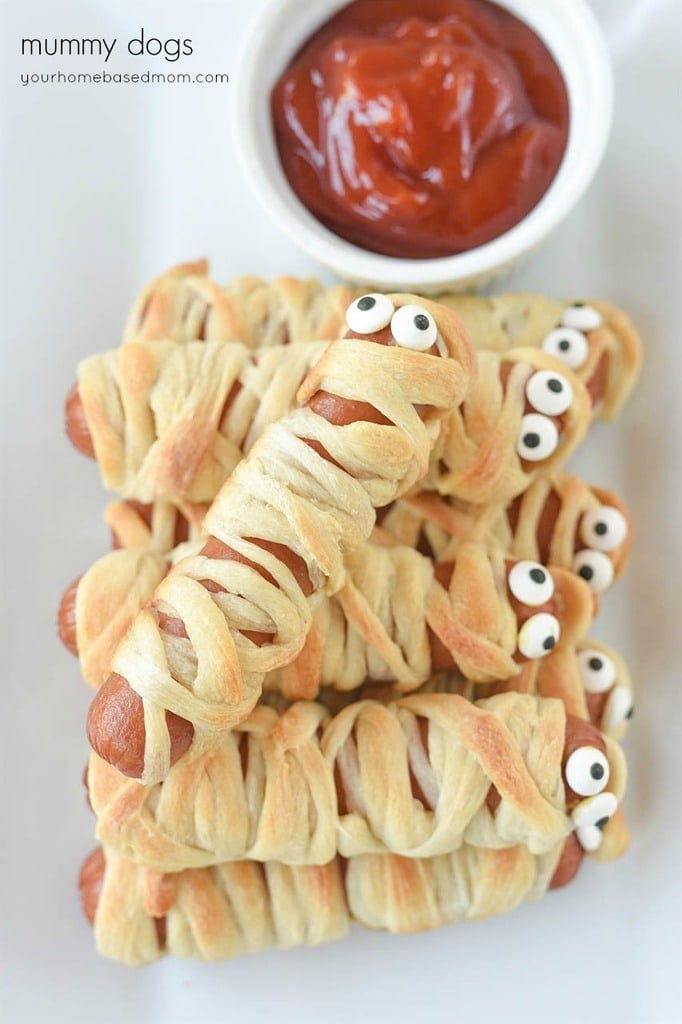 Who doesn't love a mummy dog. We have been making them for years and they are required at our annual Halloweenie Roast. I think there would be a major uproar if they weren't there. Even though we are roasting hot dogs over an open fire (my favorite way to eat a hot dog), the plate full of mummy dogs is always the first thing to disappear.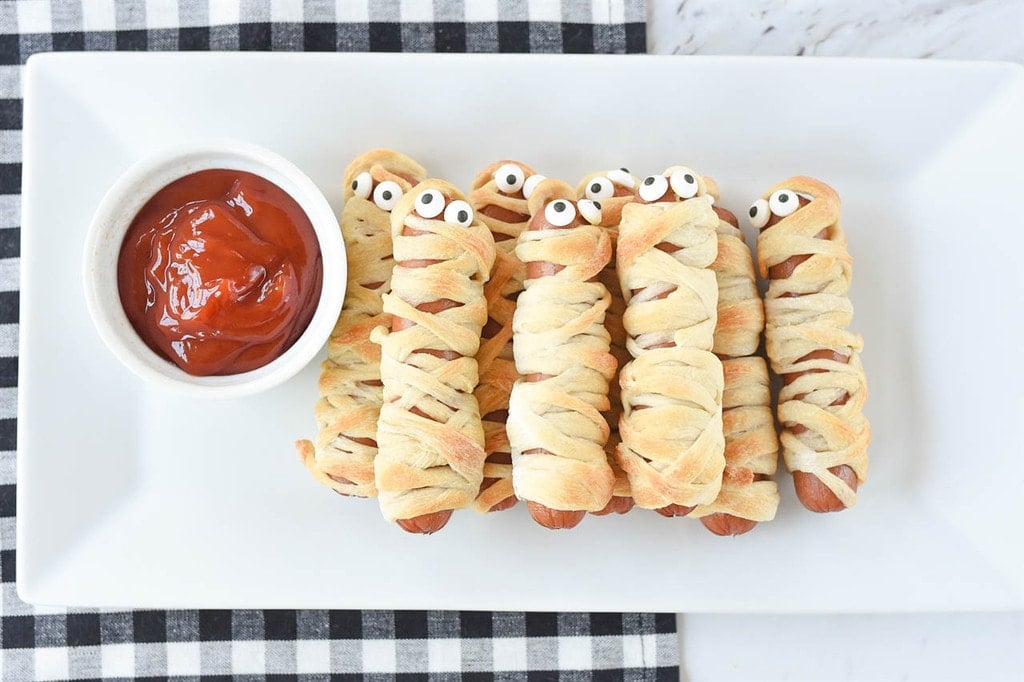 They are super easy to make and the kids will love helping. I use the Pillsbury pizza dough that comes in a tube. I like the thin crust, but the regular will work too. You can also make them with crescent roll dough. Either will work. With the pizza dough I cut the roll of dough into about 1/4″ inch slices, so you have have pinwheel of dough. Unroll the slice of dough and then wrap it around the hot dog. I use about 2 pieces per hot dog.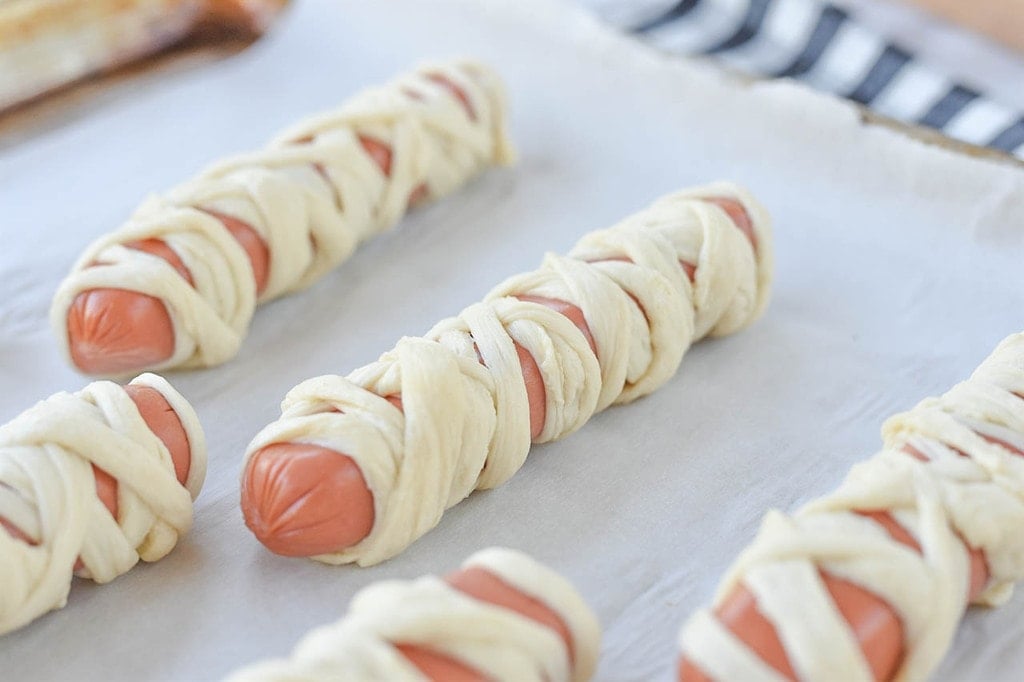 Be sure and leave a space for the face so that you can add some googly eyes! I also like to make sure the ends of the dough are on the underneath part of the mummy so they don't lift up while baking.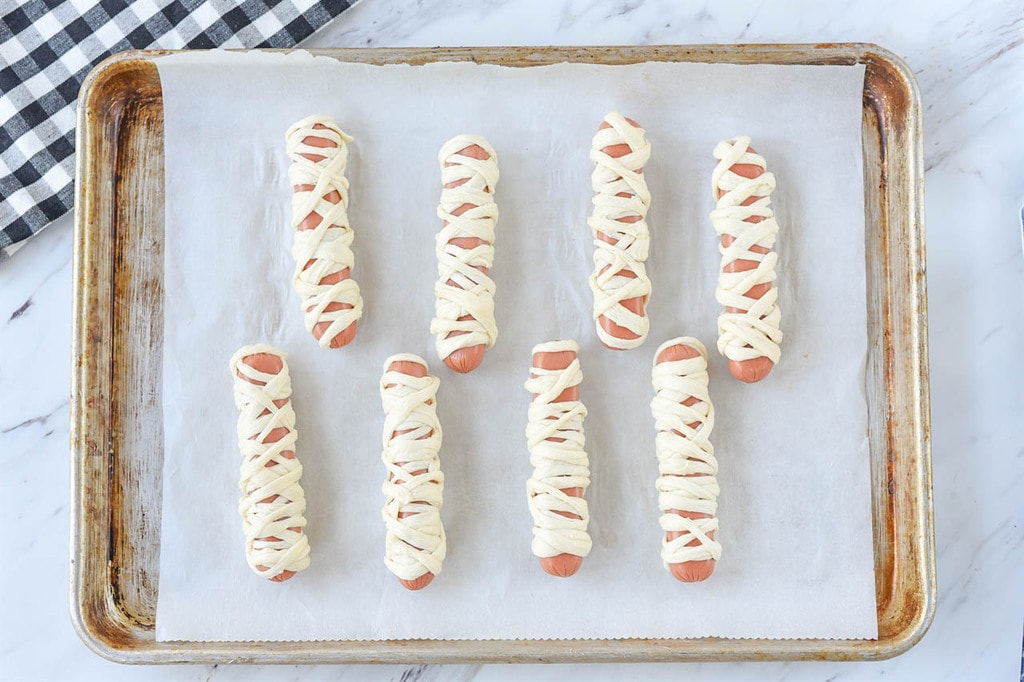 For the eyes, you can use the sugar googly eyes you can buy at the craft store or you can make your own using my googly eye tutorial. If you want an easier and more savory solution, you can also use a couple of dabs of mustard. Or you can use the end of a straw to cut out circles of white cheese to use as eyes. Then dab a bit of black food coloring on it for the pupil.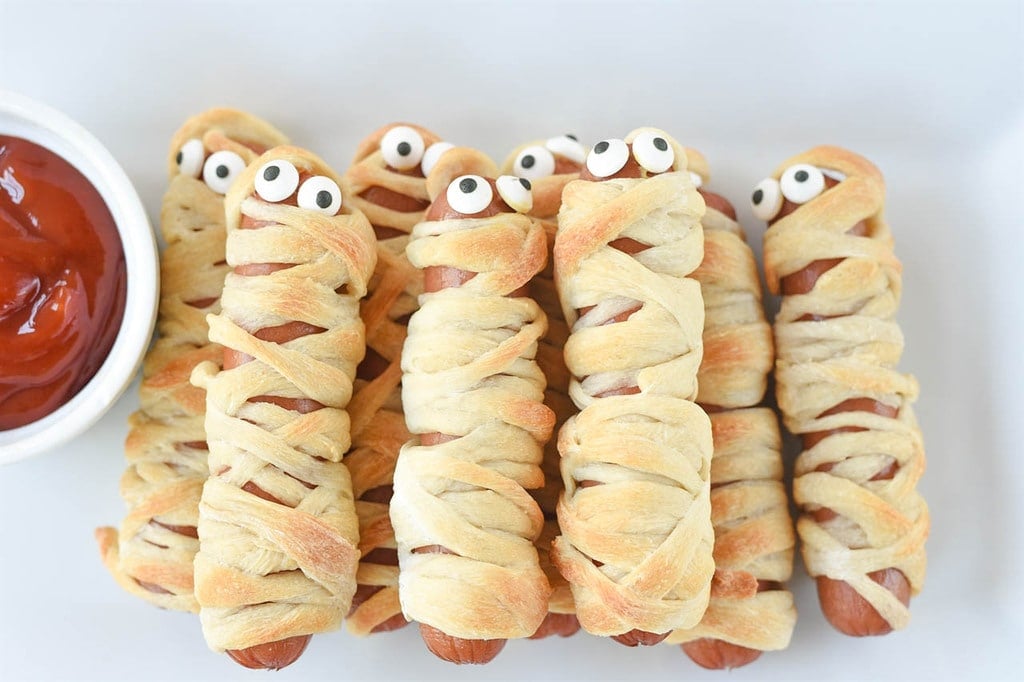 Use some ketchup or mustard as glue to attach the eyes.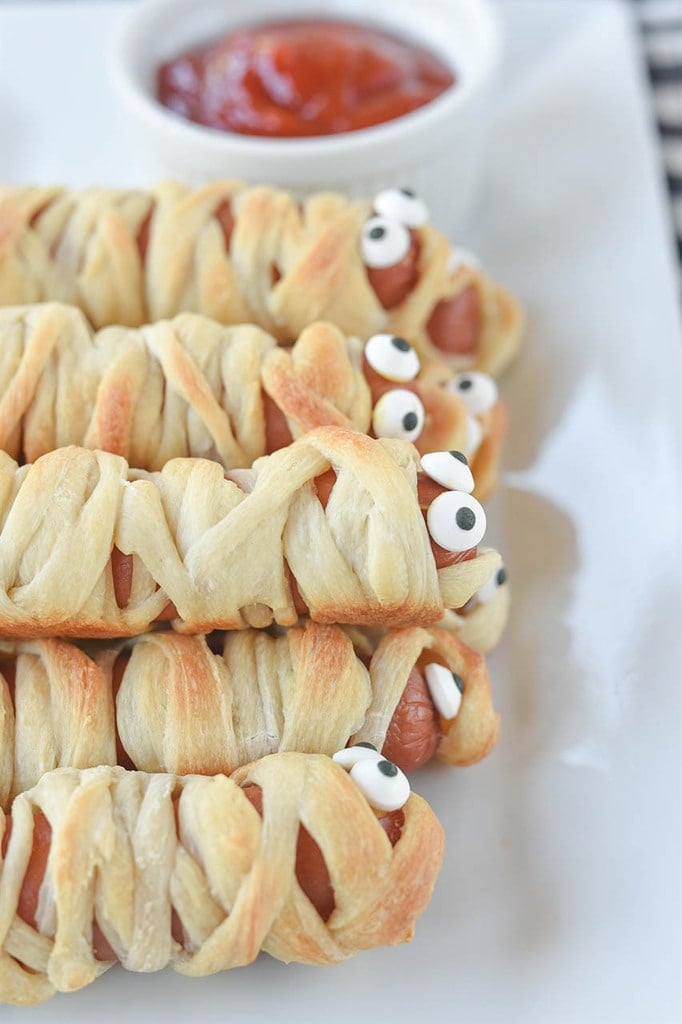 Some of my other favorite Halloween party foods:
For all of my favorite kitchen tools, visit my Amazon Store.
Mummy Dogs Recipe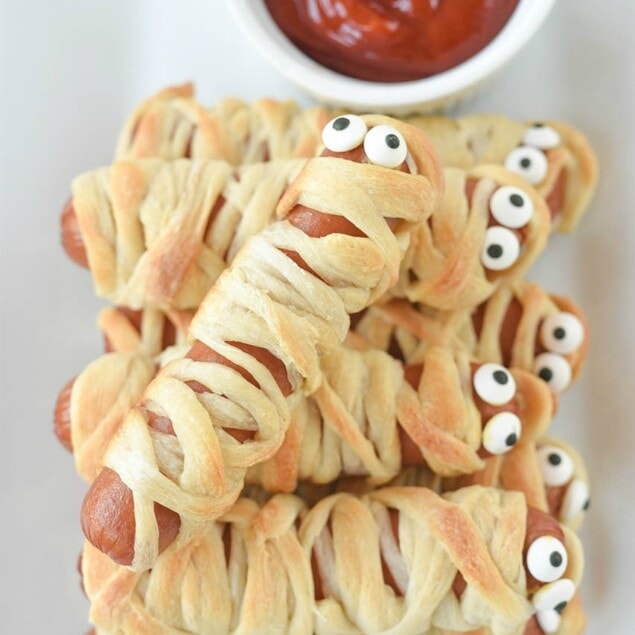 Mummy Dogs
Mummy dogs are a classic and pretty much required food at any Halloween party!

Ingredients
8 beef hot dogs
1 11 oz. Pillsbury thin crust pizza crust
ketchup and mustard for dipping
Instructions
Cut the roll of pizza crust (don't unroll it) into 1/4 inch slices or pinwheels. Unroll each pieces and wrap two pieces around each hot dog. Leaving a space for the face of the mummy

Place on a baking sheet and bake at 350 degrees F for about 10-15 minutes until hot dog is heated through and dough is golden brown.

Use dots of mustard as eyes or apply premade googly eyes.
Nutrition Facts:
Calories: 147kcal (7%) Carbohydrates: 1g Protein: 5g (10%) Fat: 13g (20%) Saturated Fat: 5g (31%) Cholesterol: 25mg (8%) Sodium: 462mg (20%) Potassium: 58mg (2%) Calcium: 5mg (1%) Iron: 0.6mg (3%)
* Disclaimer: All nutrition information are estimates only. Read full disclosure here.