This cute DIY Three Tiered Stand makes the perfect way to display desserts and appetizers.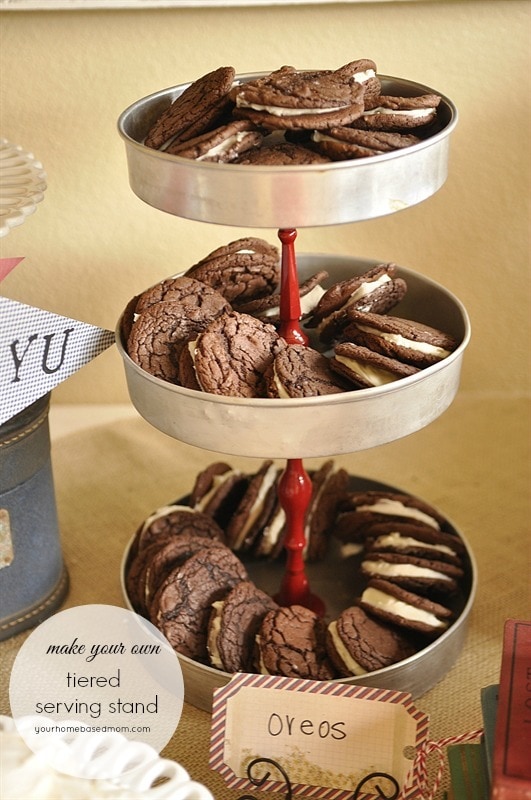 Over at Pinterest I have a Board where I collect pictures of things I'd like to make some day.
Because of my "mild" addiction to cake plates and tiered serving pieces I knew I had to make this cute piece as soon as I saw it. I added it to my Getting Crafty Board and then headed to Goodwill.
The original idea came from The Crafting Chicks. She was inspired by this one over at Pottery Barn which cost $69.00!
The total cost for this piece was less than ten dollars. The most expensive item was the spray paint which was four dollars. Each of the other items were only 99cents a piece. I already had the glue so didn't need to buy any of that.
I thought it looked perfect at my Smart Cookie Party full of homemade Oreos.
All you need are two metal candlesticks. They can be the same style and design or different. Mine were different styles and measured 5 inches and 7 inches tall.
You also will need 3 metal pie tins – 3 different sizes. Mine measured 7 inches, 8 inches and 9 inches.
You can experiment with which way you put it together. I actually put my candlesticks upside down so the bigger bottom was on the top.
Next, spray paint your candlesticks your color of choice. I went with Krylon Cherry Red. Red is always my color of choice because it is so versatile and works great for lots of different holidays. Plus I have a lot of red in my house.
After the paint has dried you can glue it all together. I used the Amazing E-6000 glue which is good stuff and can be found at Michaels or Joann Fabrics.
Here it is ready to fill with goodies.
Besides food, I am planning on filling mine with little clear glass votive holders. It will look lovely out on the patio in the summer.
Have fun!