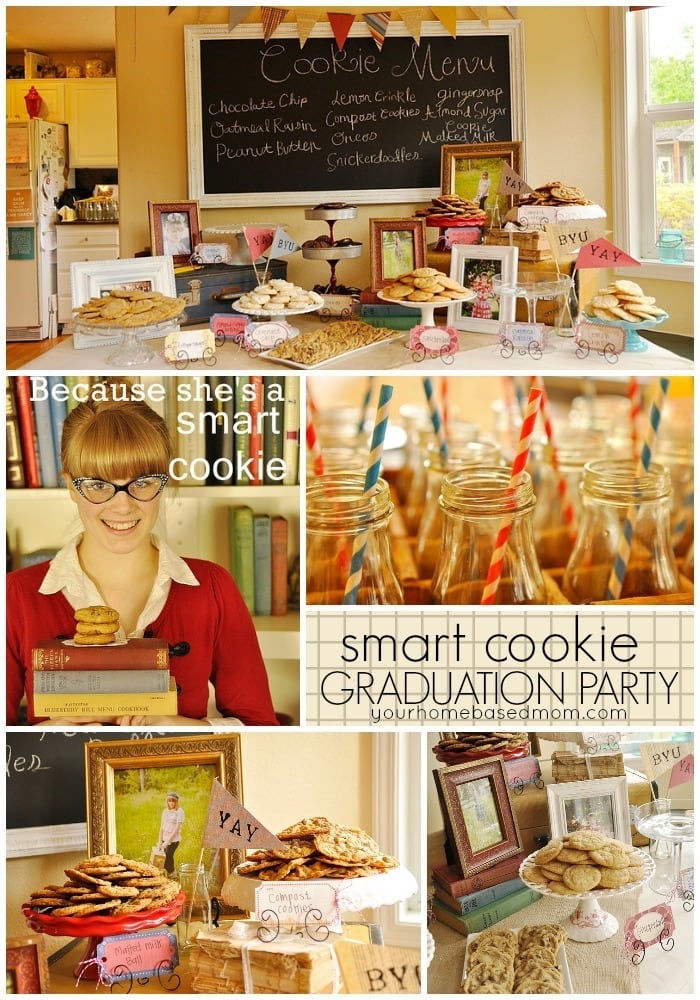 This weekend we held the first of our two graduation parties – our Smart Cookie Party.
You can see the cute  Smart Cookie invite I created here.
The party was on Sunday afternoon and we wanted to do something a little different than the typical/usual barbeque so we went with a Smart Cookie Party with a milk & cookie bar.
It was a huge hit and we went through about 400 cookies with over 100 guests.
We had 10 different kinds of cookies – here is the cookie menu.
I love my new chalkboard and am finding all kinds of uses for it.
The majority of the cookie recipes are already on the blog but a few more of them will be coming.  I had help from a couple of sweet friends who baked for me too.
I used my collection of cake stands for all the cookies and a couple of old vintage suitcases I have picked up at the dump and Goodwill.
The pennant banner is made out of scrapbook paper and some pages from an old French book I had. I just hot glued the paper onto some bakers twine.
I used some old vintage books I had on my shelf to help create some height and interest on the table too.
I also used some of the paper to make some fun pennants that said BYU and YAY because we are so excited she is going to BYU!  They are just hot glued right onto some bamboo skewers.
There were lots of cookies but I only had about a dozen cookies left at the end of the party!!
I made the little cookie labels from some tags I picked up in the scrapbooking department – they were precut and preprinted and all we had to do was write the name of the cookie on it – so easy!  My handy dandy little easels from the dollar store worked great too.
There were so many cookie choices it was hard to pick!

Of course, you can't have cookies without milk so we had 3 choices of milk, skim, 2% and chocolate.  Chocolate was the big hit and I could have had twice as much of that one.  We served the milk in little "milk" bottles which are really Starbuck Frappuccino jars.  Thanks to my friend Dawn who helped me out by drinking all that coffee from the bottles I bought and to blog reader Linda who mailed me a box of  empty jars!!
I used an old vintage Pepsi crate I had to put the bottles in and then some fun red striped and blue striped straws I bought through Garnish.
The bottles were a huge, huge hit and everyone loved drinking their milk out of them.
I also went a little chalkboard crazy and made a few more – in colors to match the party of course.
I used them as decoration at the party and wrote some fun Dr. Seuss quotes on them that were appropriate for a graduate.
We displayed some of her awards (Honor Thespian and Best Thespian)  She is also a Westview Academic Scholar so has a shawl for that and her Honor's Project as well as cords for NHS and Honor Thespian.  Like I said she is one Smart Cookie!
The red chalkboard is going to take up permanent residence in my downstairs bathroom where I will write different poems on it from time to time.  Everyone needs reading material in their bathroom.
The other fun thing we did was borrow my neighbor's vintage typewriter.
We asked each of the guests to leave  a little message for Tessa. Everyone had so much fun typing on it and many of the younger children had never typed on a real typewriter before.  One of them asked how to erase – wondered where the delete key was!  I need to find myself an old typewriter.
All, in all the party was a huge success and really fun to put together.  I loved the cookie menu and so did our guests!  Most importantly Tessa loved the party and felt loved by so many people who came to celebrate with her.  She is blessed to have so many wonderful people in her life.  Her party guests ranged in age from 99 years old to a newborn baby!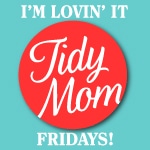 Stay Updated!
Need more recipes and creative ideas? Sign up and get a FREE copy of my ebook! Do you think your friends would love this too? Please share my blog with them. Thanks!