Your Smart Cookie will Love this Smart Cookie Graduation Party Theme
This is the first of our two graduation parties we held for our youngest daughter Tessa. This party, our family party, was a fun Smart Cookie Graduation Party. With a fun milk and cookie theme.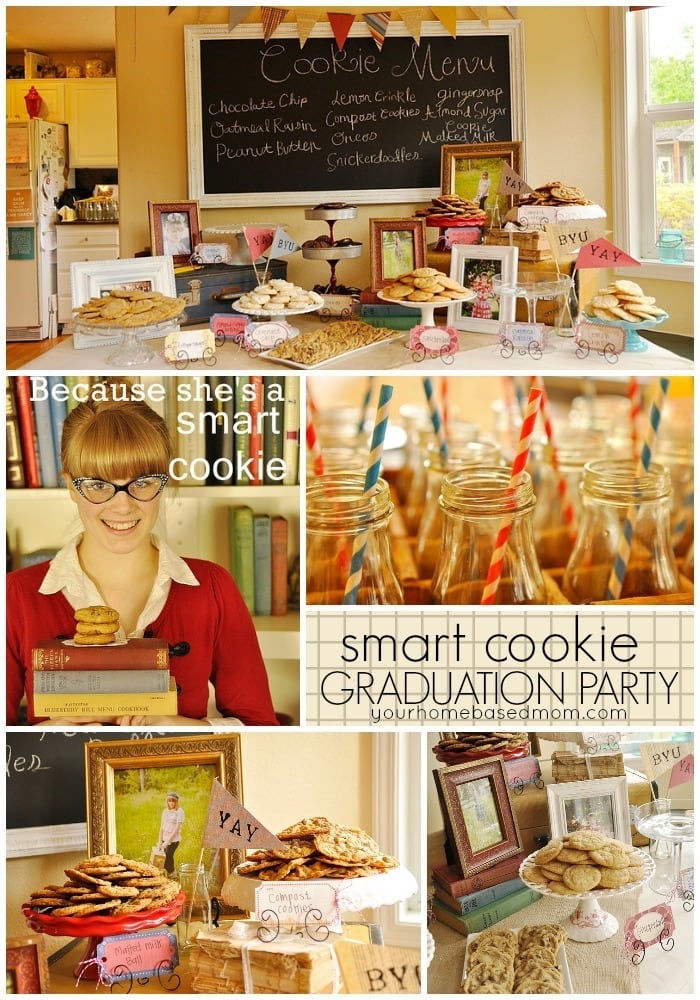 The party was on Sunday afternoon and we wanted to do something a little different than our usual barbecue, so we went with a milk & cookie bar.
It was a huge hit and we went through about 400 cookies with over 100 guests.  We had 10 different kinds of cookies.  Everything from the traditional chewy chocolate chip cookies to the very popular compost cookies.
Smart Cookie Graduation Party Dessert Table
I love my diy chalkboard and am finding all kinds of uses for it. And I used my collection of cake stands for all the cookies. A couple of old vintage suitcases I have picked up over the years made a great addition to the cookie table decor.
The pennant banner is made out of scrapbook paper and some pages from an old French book I had. It was easy to make with a little hot glue and some bakers twine.
I also used some old vintage books I had on my shelf to help create some height and interest on the table too.
The BYU and YAY pennants were also made with scrapbook paper. I just hot glued it right to a bamboo skewer. We thought this was a fun way to share how excited we are that she is going to BYU!
We made a lot of cookies, over 400 of them! But there were only about a dozen cookies left at the end of the party!!
I made the cookie labels with tags I picked up in the scrapbooking department. They were precut and preprinted and all we had to do was write the name of the cookie on it. So easy! The cute little easels came from the dollar store and worked beautifully.
There were so many cookie choices it was hard to pick!
Milk and Cookie Party
Of course, you can't have cookies without milk. And we had 3 choices of milk to choose from, skim, 2% and chocolate. Chocolate was by far the most popular choice. We served the milk in little milk bottles which were really Starbuck Frappuccino jars.
I used an old vintage soda crate to display the bottles and finished them off with fun striped straws.
These chalkboards were a fun addition to the party decoration. I mad a few in coordination party colors to display some fun Dr. Seuss quotes. We displayed them next to some of her awards and honors.
Another fun addition to the graduation party was this vintage typewriter.
We asked each of the guests to leave a little message for Tessa. And everyone loved typing them out.
All, in all the party was a huge success and really fun to put together. I loved the cookie menu and so did our guests! Most importantly Tessa loved the party and felt loved by so many people who came to celebrate with her.