Buttermilk Syrup is perfect on pancakes, waffles and french toast.  It is so delicious may just want to drink it straight!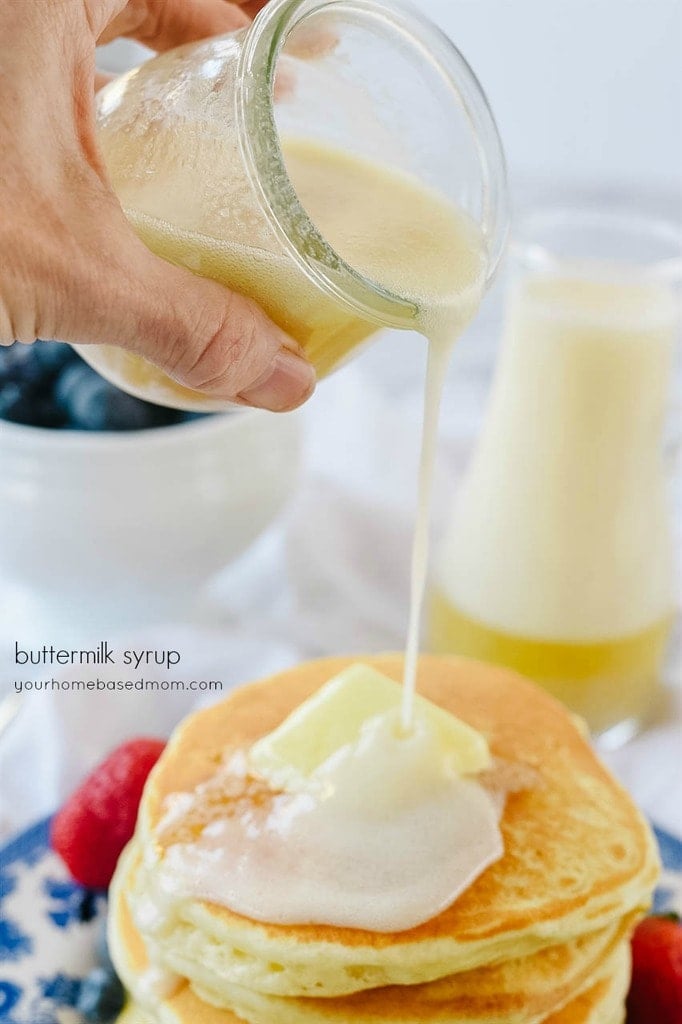 I have to admit as a child, I was not a breakfast fan. Growing up, my breakfast repertoire consisted of one thing, Chocolate Carnation Instant Breakfast, every morning. My sister ate Pop-tarts every morning. O.K., so we weren't much into nutrition in the 60's and 70's! (my entire senior year of high school all I ate for lunch every day was a package of Cheetos and a carton of chocolate milk, please don't tell my mom!)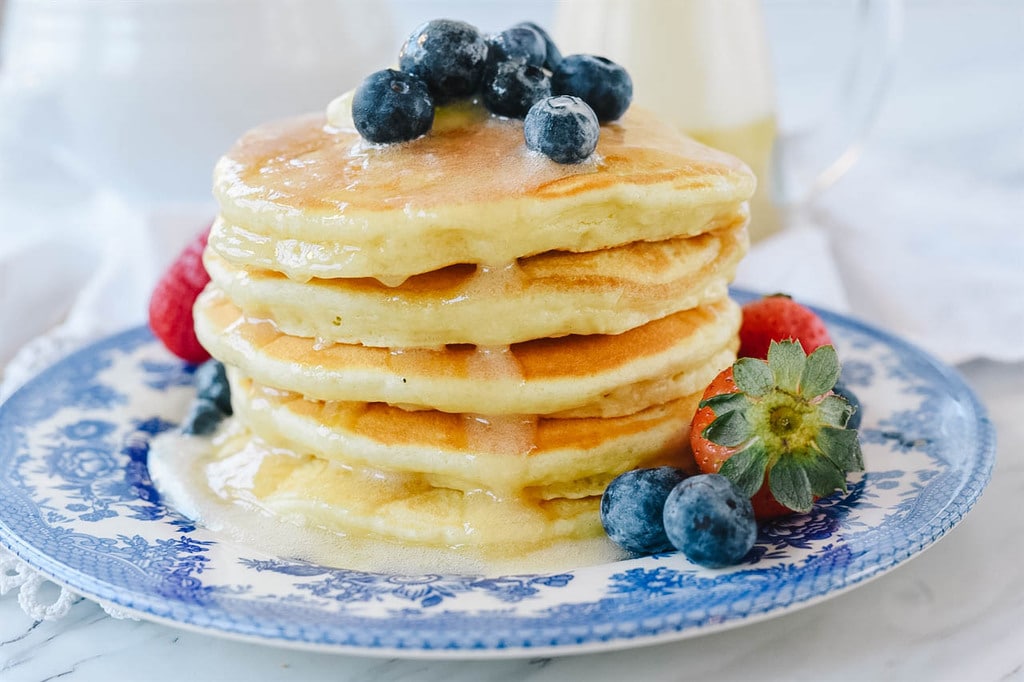 Then I married a man whose mother would get up every morning (no matter what the time) and fix him a nice, hot breakfast before he would go to school or off to move pipe in the potato fields of Idaho. Well, he learned really quickly that I didn't do that. As a result, my husband has become a great breakfast cook. Most of the time, if there is a hot breakfast to be found at our house, dad has fixed it.
My kids learned how to pour a bowl of cold cereal in the morning or grab a bagel and cream cheese. Now, lest you think I am a terrible mother, I did cook a nice breakfast on Sunday mornings, birthdays, holidays or for the occasional dinner. I do like breakfast for dinner and I love brunch,and I have to admit I have learned to appreciate a good breakfast as I've gotten older.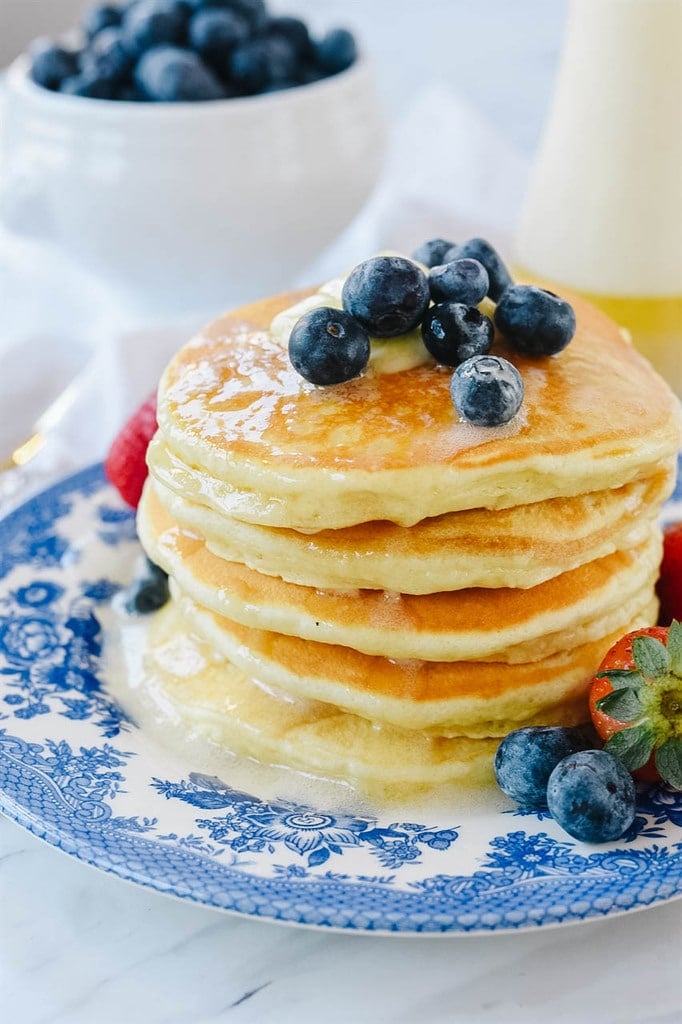 I do enjoy breakfast a lot more though if I'm eating out. When my boys were in Utah at college, one of our favorite things to do was to go to breakfast at a local restaurant called Maglebys. To be honest, I went for the syrup! Whether you order the french toast or the pancakes, the buttermilk syrup is the best part. I would have pancakes just so I could have buttermilk syrup. Honestly, you are going to want to drink this stuff!!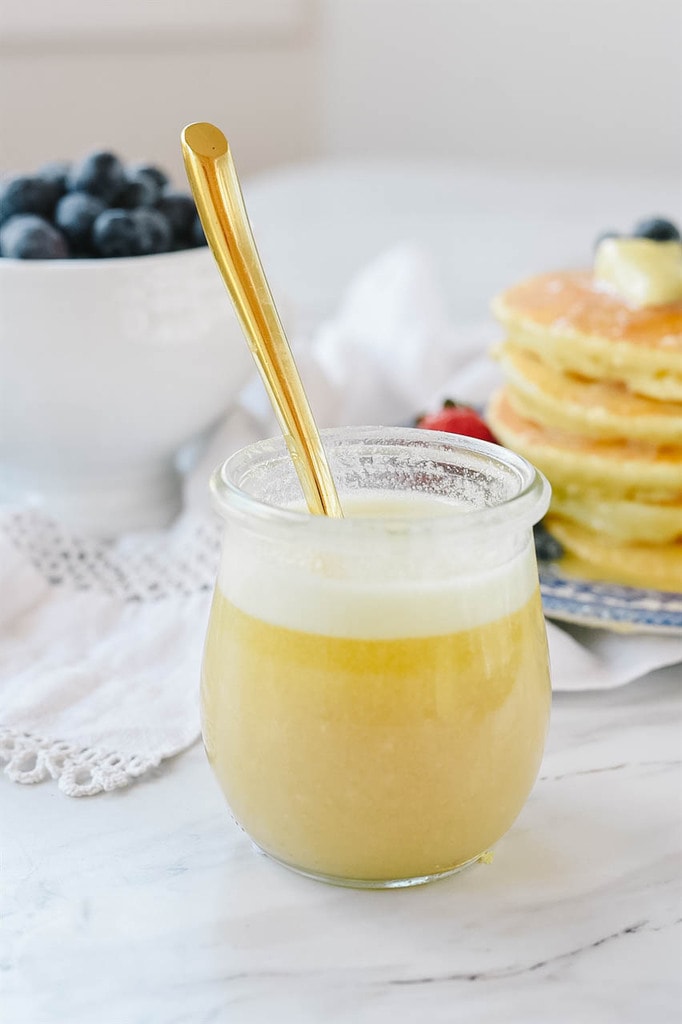 How to Make Buttermilk Syrup
Buttermilk syrup is made in a sauce pan, on your stove top in a matter of minutes.
Add your butter, sugar, buttermilk (the perfect way to use up leftover buttermilk from your buttermilk pancakes),corn syrup and vanilla into a sauce pan and bring to a boil.
Add in your baking soda and watch it foam up! Stir well and it is ready to serve. How easy is that!!
Pour over your favorite pancakes, waffles or french toast. Or just enjoy it by the spoonful.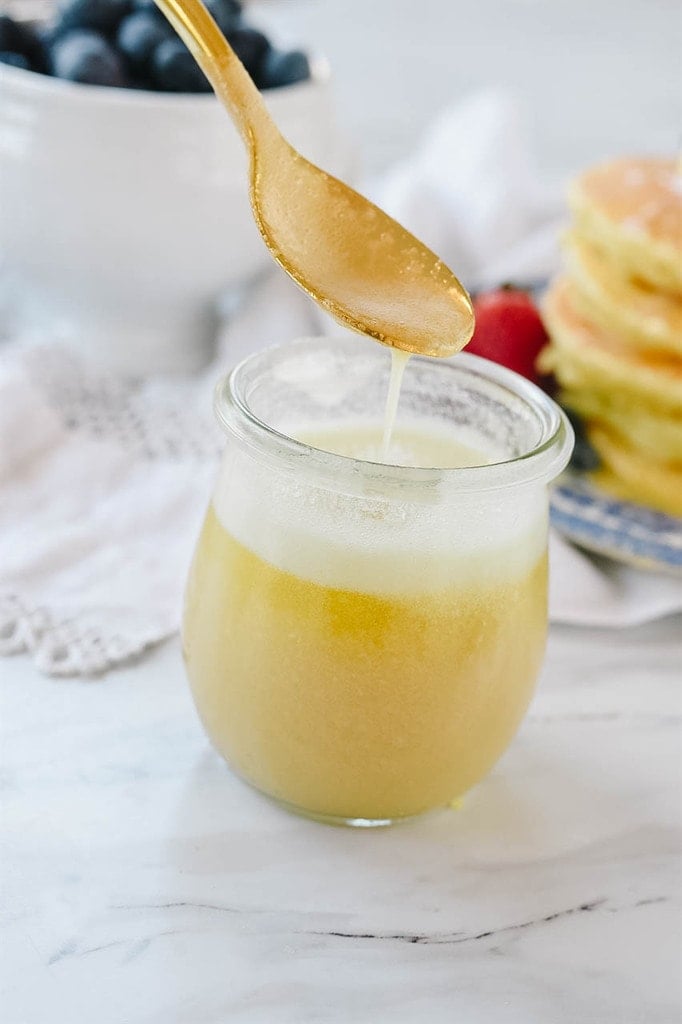 Use buttermilk syrup on these recipes:
For all of my other favorite kitchen products and tools visit my Amazon Store.
Did you know I wrote a cookbook?  Check out the Holiday Slow Cooker Cookbook for 100 delicious recipes
Buttermilk Syrup Recipe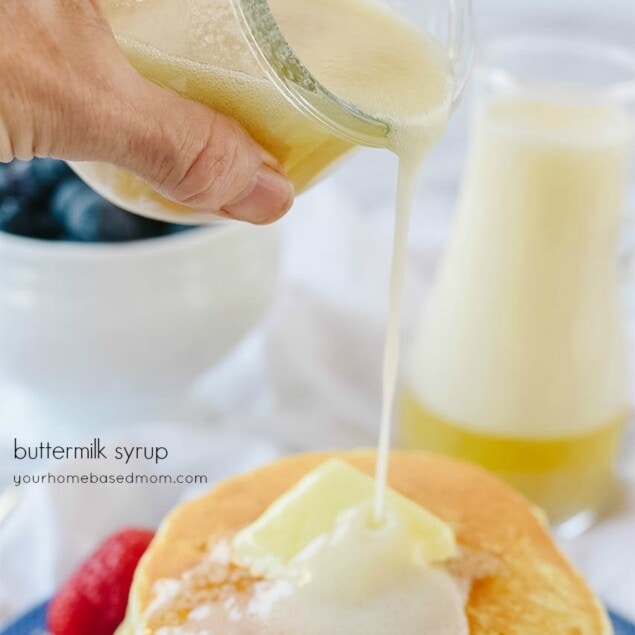 Buttermilk Syrup
Buttermilk Syrup is perfect on pancakes, waffles and french toast. It is so delicious may just want to drink it straight!
Ingredients
1 cup butter
1 cup sugar
1 cup buttermilk
1 Tbsp. vanilla
1 Tbsp. corn syrup
1/2 tsp. baking soda
Instructions
Bring first five ingredients to a boil

Add baking soda

Boil 10 seconds and remove from heat immediately to avoid boil over

I use a fairly deep, heavy pan. Serve warm
Nutrition Facts:
Calories: 219kcal (11%) Carbohydrates: 18g (6%) Fat: 16g (25%) Saturated Fat: 10g (63%) Cholesterol: 42mg (14%) Sodium: 213mg (9%) Potassium: 31mg (1%) Sugar: 18g (20%) Vitamin A: 505IU (10%) Calcium: 28mg (3%)
* Disclaimer: All nutrition information are estimates only. Read full disclosure here.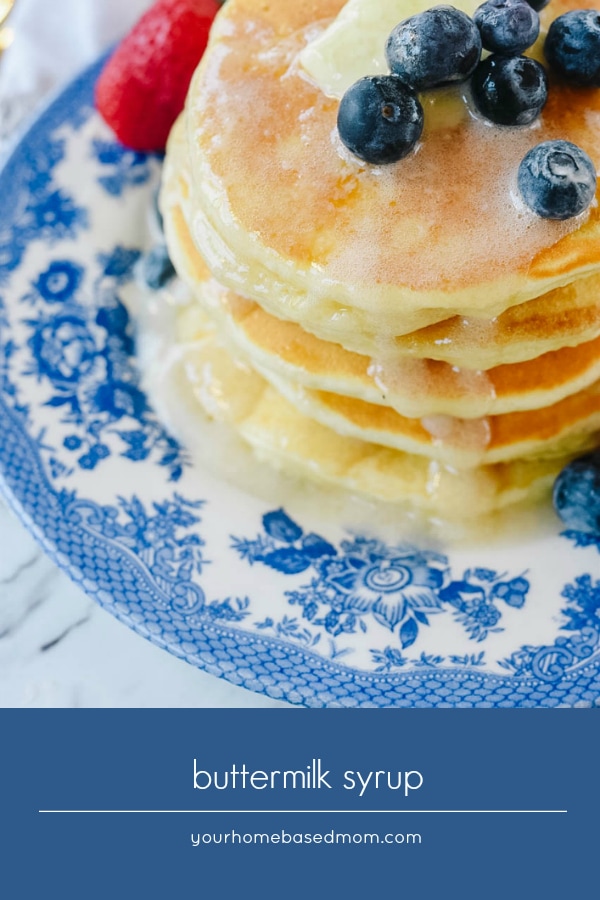 Recipe originally posted January 23, 2008