These chocolate chip and toffee cream scones are perfect for your next tea party or with your favorite hot beverage.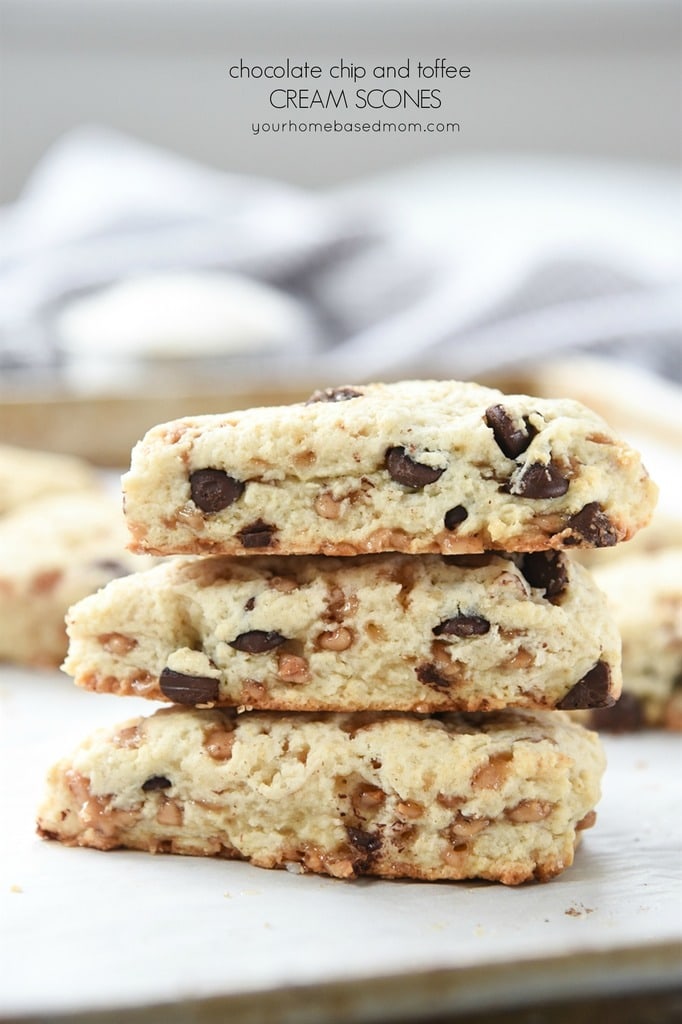 I love tea parties.
I am not a tea drinker but I love all the goodies that go along with the tea party.  I also love setting a pretty table and sitting down with friends for yummy treats and good conversation.
I like to imagine a life where one took time out every day to sit down and enjoy a cup of tea and a sweet!  Wouldn't it be wonderful.  I think one of the reasons I am such a big fan of British TV is that they spend so much time having tea on all the shows, even the police shows.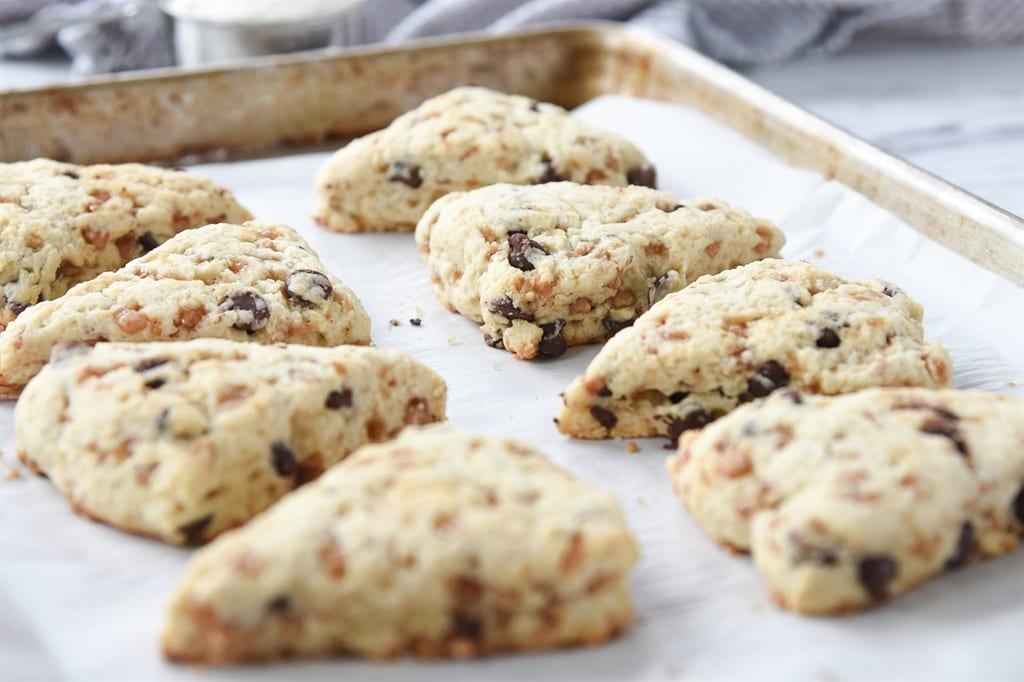 One of my favorite tea treats are scones.  I think I really like the lemon curd and Devonshire cream that go along with them!  Kind of the same reason I eat french fries – so I can have ketchup!!
The fun thing about scones is you can take a basic cream scone recipe and personalize it.   At Christmas time one of my favorite combinations is white chocolate chips, craisinets, egg nog and cinnamon – yum!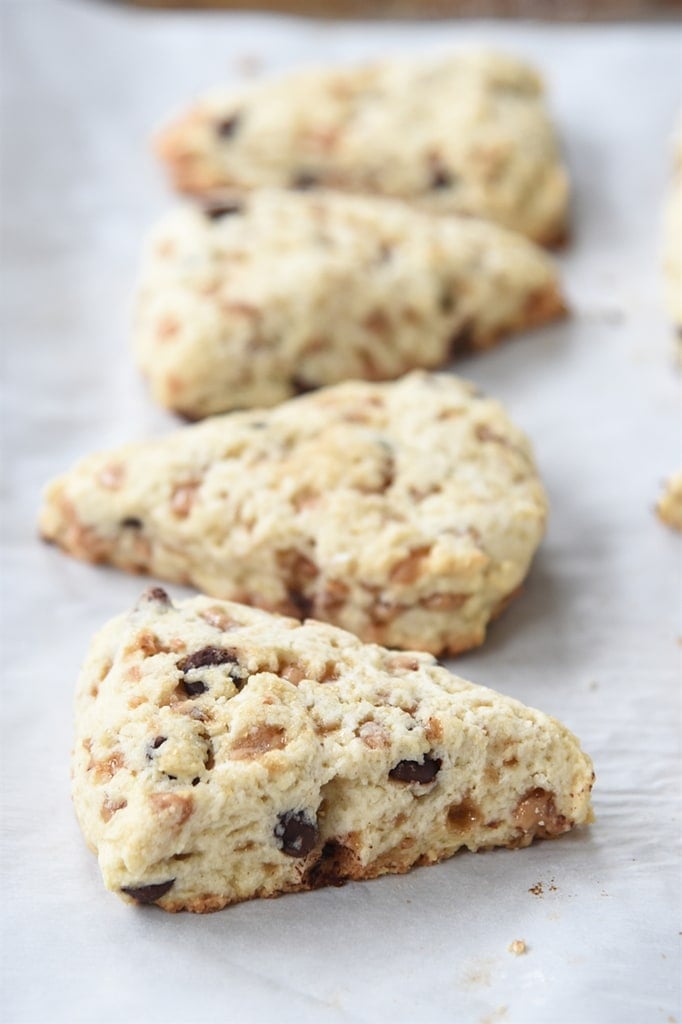 One of my favorite flavor combinations is chocolate and toffee so I decided to put it into a scone.  I figured if it was good enough for a cookie, it should be good enough for a cream scone.  The combination is so yummy, do not wait until your next tea party to give them a try.  They would be perfect for a weekend breakfast or an after school treat.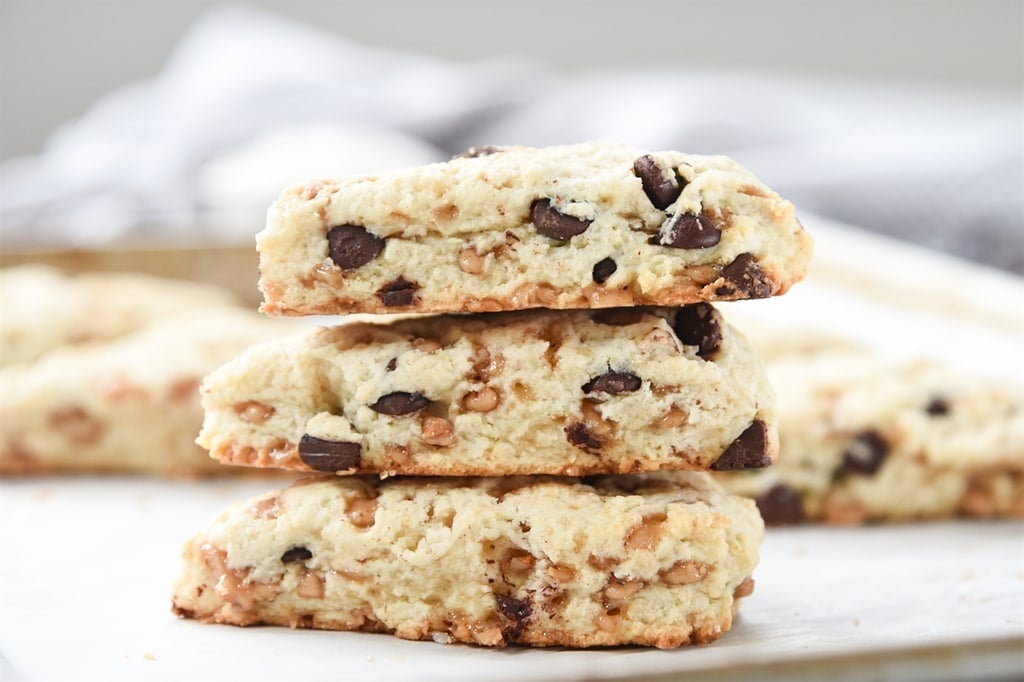 They are called cream scones because you use whipped cream.  Using the cream whipped rather than in liquid form gives the scone a nice light texture
A trick with scones is, just like biscuits, try to handle the dough as little as possible.  The scone will be more tender, the less you handle the dough.  Divide it into two sections and make a flat 1 inch high round circle out of each ball of dough.  Cut each circle into eight pieces.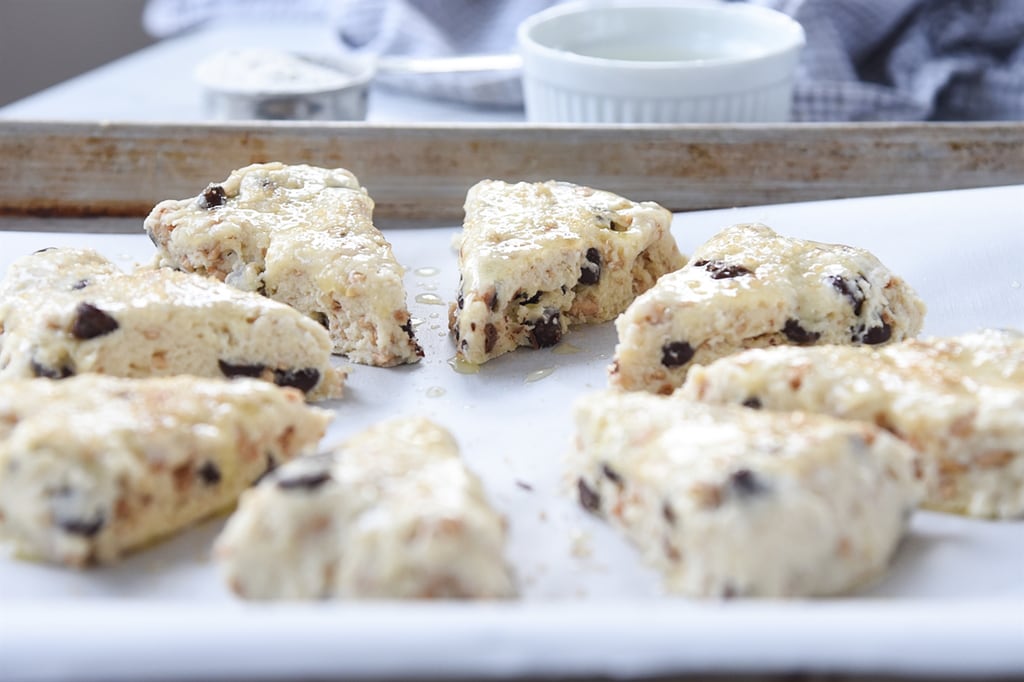 Separate the scones so they are about an inch apart.  Before baking, them a coat of melted butter and a sprinkle of some coarse sugar for extra flavor.  Bake until the edges are golden brown.
If you like, you can be totally English and serve them with Devonshire cream (see recipe below) or all you need to do is grab a cup of your favorite beverage and enjoy a little afternoon break with your cream scones.
Some of my other favorite chocolate chip and toffee treats:
Ooey Gooey Chocolate Chip and Toffee Bars
Chocolate Chip and Toffee Cream Cheese Pumpkin Bread
Chocolate Chip and Toffee Cookies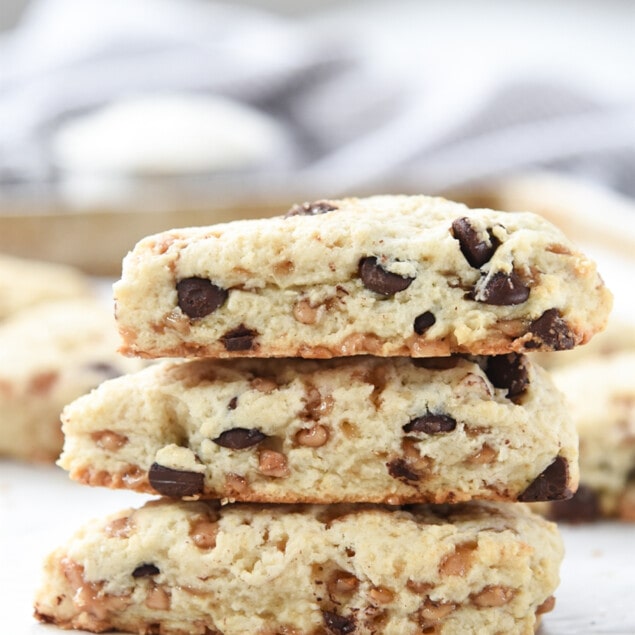 Chocolate Chip and Toffee Cream Scones
These chocolate chip and toffee cream scones are perfect for your next tea party or with your favorite hot beverage.
Ingredients
3 1/4 C flour
1/2 C sugar
1 Tbsp baking powder plus 1/4 tsp
1/4 tsp salt
1 C chocolate chips
1/2 C walnuts toasted and then chopped into small pieces
1 C Toffee bits or chop up a Heath or Skor bar
2 C chilled heavy whipping cream
Topping:
2 Tbsp butter melted
sugar granulated or coarse white
Devonshire Cream
3 oz. cream cheese
2 Tbsp powdered sugar
1/2 tsp vanilla
1/3 C whipping cream
Instructions
Preheat oven to 375 degrees.

Lightly butter two heavy large baking sheets

In a large mixing bowl, combine flour, sugar, baking powder and salt; mix well.

Stir in chocolate chips, nuts and toffee bits.

In a large, chilled mixing bowl (chill bowl and beaters in freezer for 15 minutes or in fridge for an hour), whip the cream until stiff peaks form.

Gently fold whipped cream into dry ingredients; combine well. It will be sticky.

Turn dough out onto a lightly floured work surface.

Knead gently until a soft dough forms; about 2 minutes.

Form dough into 2 balls.

Pat each ball out into a circle.

Place each on a cookie sheet and cut pie like into 8 wedges.

Pull each wedge out a little bit to create about 1 inch space between each wedge.
For topping:
Brush scones with melted butter.

Sprinkle each scone with a bit of granulated or coarse white sugar.

Bake until golden brown, about 18 to 20 minutes.

Serve warm or at room temperature.

Store in airtight container at room temperature.
Devonshire Cream
With hand mixer beat together well, it will thicken a bit and get fluffy.

Chill one hour (I didn't and it was fine) Serve with jam or lemon curd with your scones
Nutrition Facts:
Calories: 333kcal (17%) Carbohydrates: 45g (15%) Protein: 4g (8%) Fat: 15g (23%) Saturated Fat: 8g (50%) Cholesterol: 34mg (11%) Sodium: 97mg (4%) Potassium: 138mg (4%) Fiber: 1g (4%) Sugar: 24g (27%) Vitamin A: 384IU (8%) Vitamin C: 1mg (1%) Calcium: 66mg (7%) Iron: 2mg (11%)
* Disclaimer: All nutrition information are estimates only. Read full disclosure here.
Originally published January 30, 2009