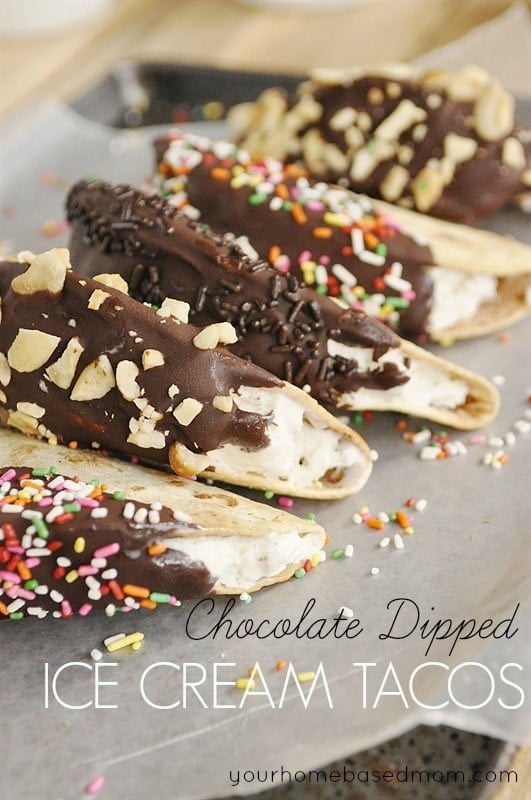 So I guess I am a little late to the table when it comes to certain ice cream treats.
This summer we hosted a fun little ice cream tasting party for our neighbors. One of the ice cream treat selections was an ice cream filled taco. My neighbor kids were shocked when I told them I had never had one before. I also had never had a Twinkie before until I heard they were going away and I then had one bite and that was enough. Not a huge fan.
But back to ice cream. I really liked the ice cream taco so decided to create my own version at home.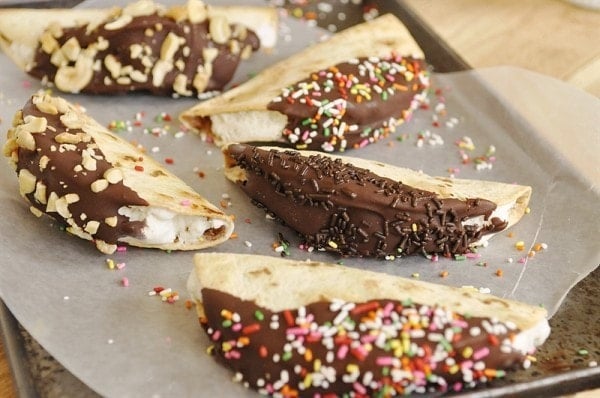 So here is how I did it.   I bought the smallest flour tortillas I could find.  I gave them a spray of butter spray and a sprinkle of cinnamon sugar.I then folded them over with the cinnamon sugar on the inside.  I initially did it with it on the outside but then you end up with cinnamon sugar all over your hands.  I wanted them to retain their taco shape while baking and stay open enough so that I could fill them with ice cream so I made some little foil balls to insert to keep them open.  Worked like a charm.   I baked them until they were nice and crispy and then filled them with ice cream.   Be sure and have the ice cream come all the way to the top of the taco so that the chocolate has something to grab on to.
I then wrapped them in plastic wrap and put them back in the freezer to let them harden up a bit before dipping them into the chocolate.
For the chocolate I used semi sweet chocolate chips, a little corn syrup and some butter to thin the chocolate out enough to dip with. I used a small foil loaf pan for the chocolate  – it was the perfect size and depth to dip the taco shell into. After dipping I sprinkled with chopped nuts and or sprinkles.  I then laid them on a piece of wax paper and popped them back into the freezer to harden up.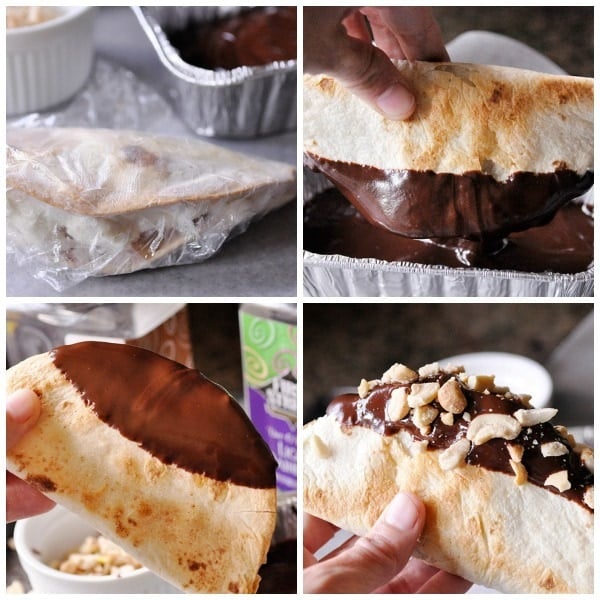 I then instagrammed a photo of them and invited any hungry neighbors to come down for a taste test.  It took less than 5 minutes and my door was knocking!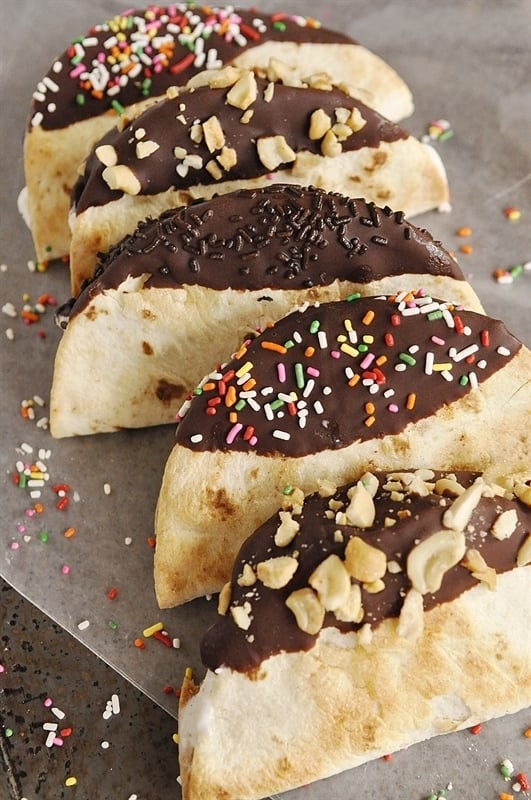 They took them to go and took one along for their dad who was having a birthday that day.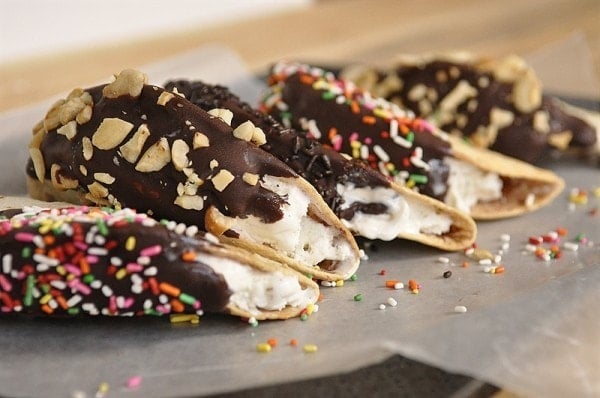 I got a message back via Instagram that on a scale of 1-10 they gave them an 11!  Tessa also left a message on Instagram to save her one.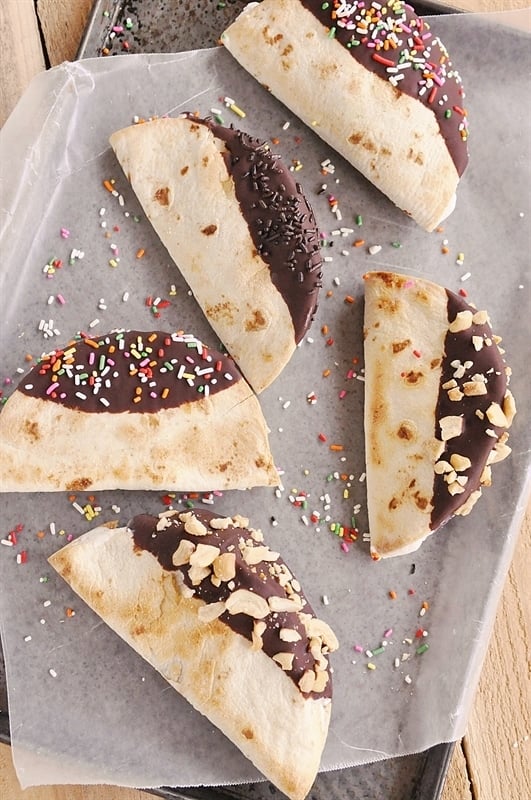 You could have so much fun with different flavors of ice cream, and chocolate.  I think white chocolate dipped ice cream taco would be yummy!!  What could be better than an ice cream filled taco!
Other yummy ice cream treats:
Ice Cream Brownie Cake with Rolos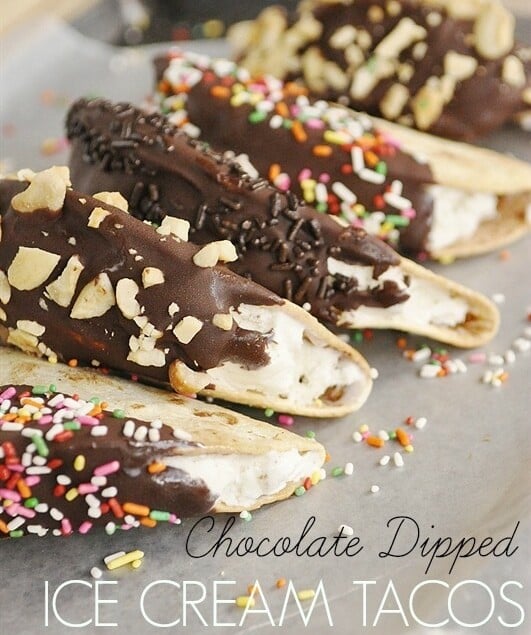 Chocolate Dipped Ice Cream Tacos
Ingredients
Small flour tortillas
cinnamon sugar
butter spray
ice cream
6 oz. semi sweet chocolate chips
1 1/2 Tbsp corn syrup
6 Tbsp butter
sprinkles crushed nuts etc.
Instructions
Spray one side of tortilla with butter spray and sprinkle with cinnamon sugar.

Fold over with cinnamon sugar on the inside and insert foil ball to keep tortilla open

Bake at 350 for 10 minutes or until crisp.

Cool and then fill with ice cream.

Wrap in plastic and freeze until hard.

Melt chocolate. Add in butter and corn syrup. Stir until smooth.

Dip ice cream filled taco into chocolate.

Sprinkle with desired topping

Place on wax paper and put in freezer to harden up.
Enjoy!
Leigh Anne
You can also visit me on Facebook, Pinterest, Twitter,  Instagram
and Google+
For a list of where I Link Up each week go here.