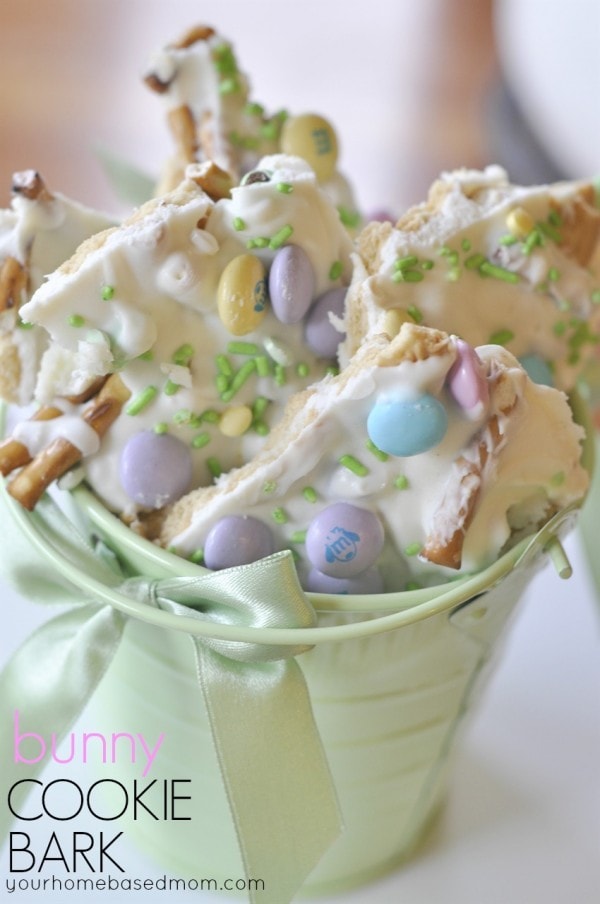 You're not surprised are you?
You knew I had to do it.
I thought my cookie bark days were over but when my neighbor called to let me know there was Easter candy corn at the grocery store I had to do it – I had to make some Bunny Cookie Bark!
I actually made two versions of Bunny Cookie Bark.
For the first one I used the Golden Double Stuffed Oreos.  I combined that with some Easter M & M's, vanilla almond bark, pretzels and some green sprinkles.
I really liked the addition of the golden oreos and it makes for a nice pretty pastel bark
For the second version I used the the Springtime Oreos, the ones with the yellow filling.  Instead of M & M's I used the Easter candy corn my neighbor told me about along with the pretzels and sprinkles.
Both versions worked great so give them both a try – I just did half a batch of each.  Wouldn't a little bag of Bunny Bark make a great addition to your Easter baskets this year?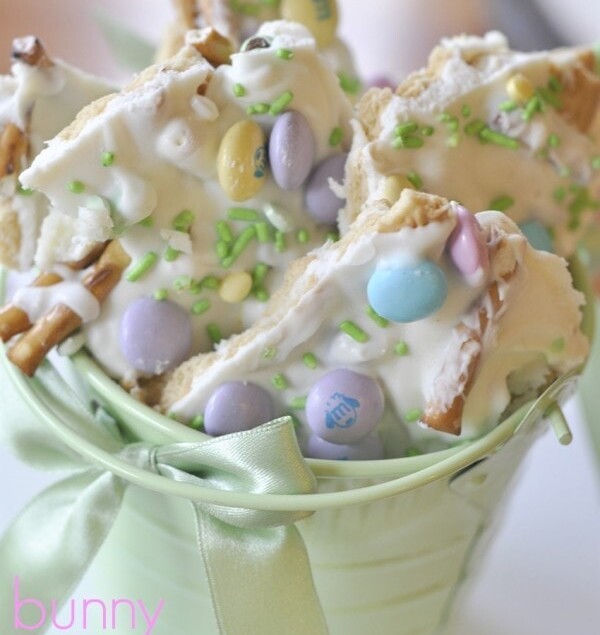 Bunny Cookie Bark
Ingredients
14 whole Oreos broken up.
1 1/2 C pretzels broken into pieces. I used the small stick pretzels
1 lb. white chocolate almond bark or melts found in the bulk food section
1 C candy corn or M & M's
Colored sprinkles
Instructions
Cover a large cookie sheet with wax paper.

Spread broken cookies, pretzels and about 3/4 C of the candy corn or M & M's onto the waxed paper.

Place white chocolate in a container and microwave for 1 1/2 minutes. Stir and then microwave for another 30 seconds until melted and smooth. White chocolate melts faster and burns easier than chocolate.

Drizzle the melted chocolate over the cookie mixture, spreading with spatula if needed to coat evenly.

Sprinkle remaining candy corn and colored sprinkles over the chocolate while it is still wet. Do not let it harden.

Place cookie tray into refrigerator until set and firm. Remove and gently break bark into small pieces.

Store in air tight container.
For more fun check out my other blogs:
Cookie Bouquets
Best Breakfast}Besaw's Cafe