For more pretty and delicious be sure to follow me on Instagram!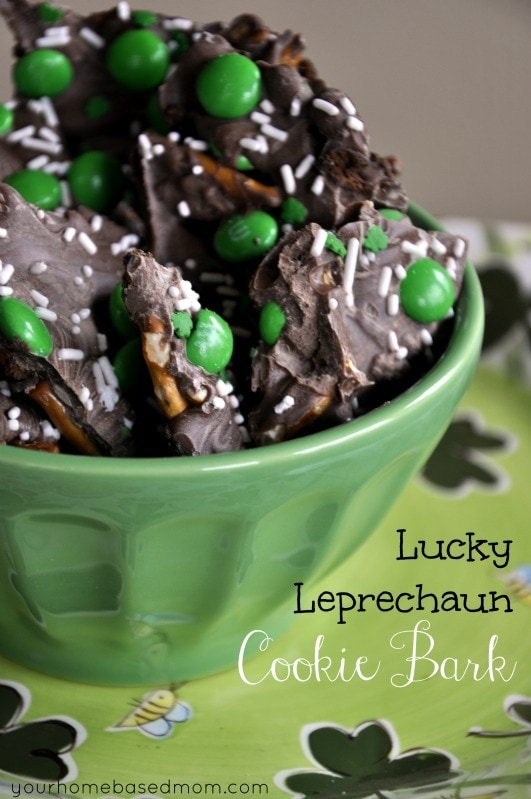 Usually I just ignore St. Patrick's Day.  Maybe it's my lack of Irish blood.
So I was planning to just let it slip by again this year until during an email exchange with a blog reader we came up with the idea for some Lucky Leprechaun Cookie Bark!
I really thought I was done with cookie bark.
First there was Candy Corn Cookie Bark.
Then there was Reindeer Corn Cookie Bark
and at course at Valentine's there was Cupid Corn Cookie Bar.
But now there is Lucky Leprechaun Cookie Bark
Look what you started Lori!!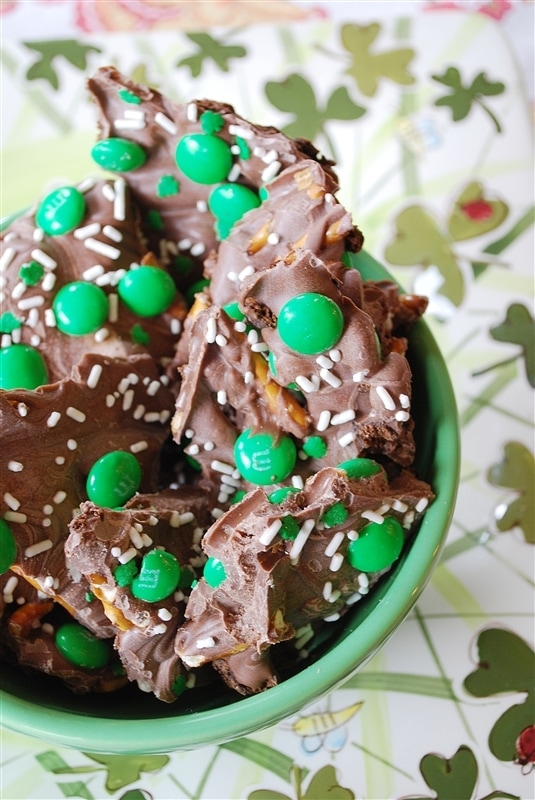 We decided those yummy Girl Scout Thin Mint cookies would be a perfect addition to some cookie bark along with milk chocolate and pretzels. If you don't know any Girl Scouts those mint Oreos would work great too and the green filling would be a nice added touch.
Since I haven't seen any St. Patrick's Day candy corn around I used green M & M's instead.  I had picked up one of those packages of all green "love" M & M's they have out at Valentine's but you could use a regular bag and just pick out the green and brown ones.
I also picked up a bottle of Shamrock sprinkles at the craft store.
Combine all those ingredients together and you get Lucky Leprechaun Cookie Bark!!
So share the luck of the Irish with someone and make them a batch of Lucky Leprechaun Cookie Bark this St. Patrick's Day!!
Guess what!?  My neighbor just called and she found Easter Candy Corn at the store!!!  I may have one more cookie bark left in me!  Check back at Easter time!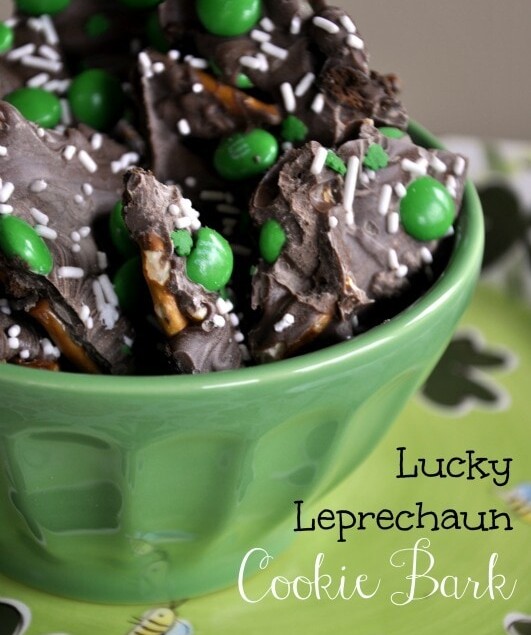 Lucky Leprechaun Cookie Bark
Ingredients
14 whole Thin Mints or Mint Oreos broken up.
1 1/2 C pretzels broken into pieces. I used the small stick pretzels
1 lb. white chocolate almond bark or melts found in the bulk food section
1 C green M & M's mint flavored work great or just milk chocolate.
green and white sprinkles
Instructions
Cover a large cookie sheet with wax paper

Spread broken cookies, pretzels and about 3/4 C of the M & M's onto the waxed paper

Place white chocolate in a container and microwave for 1 1/2 minutes

Stir and then microwave for another 30 seconds until melted and smooth

White chocolate melts faster and burns easier than chocolate

Drizzle the melted chocolate over the cookie mixture, spreading with spatula if needed to coat evenly

Sprinkle remaining M & M's and colored sprinkles over the chocolate while it is still wet

Do not let it harden

Place cookie tray into refrigerator until set and firm

Remove and gently break bark into small pieces

Store in air tight container
You will substitute milk chocolate for white chocolate,  green M & M's for candy corn and thin mints for Oreos.