Our family loves the flavor and texture of these  poppy seed muffins with orange glaze.  They are perfect for breakfast or snack time.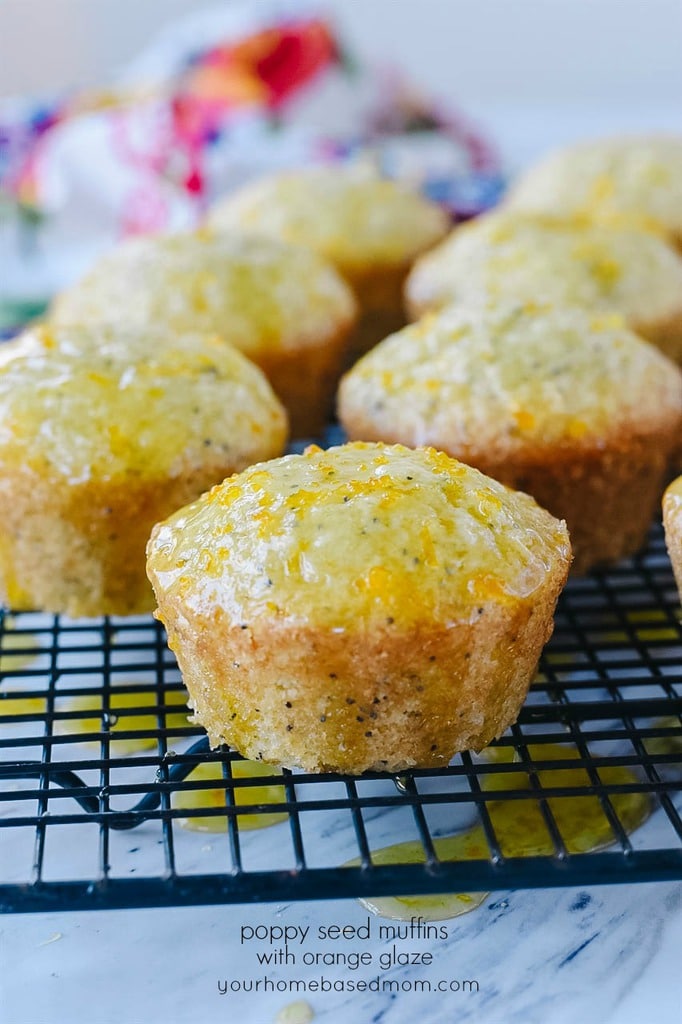 I love a fresh out of the oven sweet muffin in the morning.  It's pretty much a perfect way to start the day as far as I'm concerned.  When I had kids at home I use to make muffins often, in fact we called it Muffin Monday and I would try a new muffin recipe each Monday morning.  We'd deliver extra muffins to the neighbors and they got so that when their doorbell rang on Mondays you'd hear a shout – it's Muffin Monday!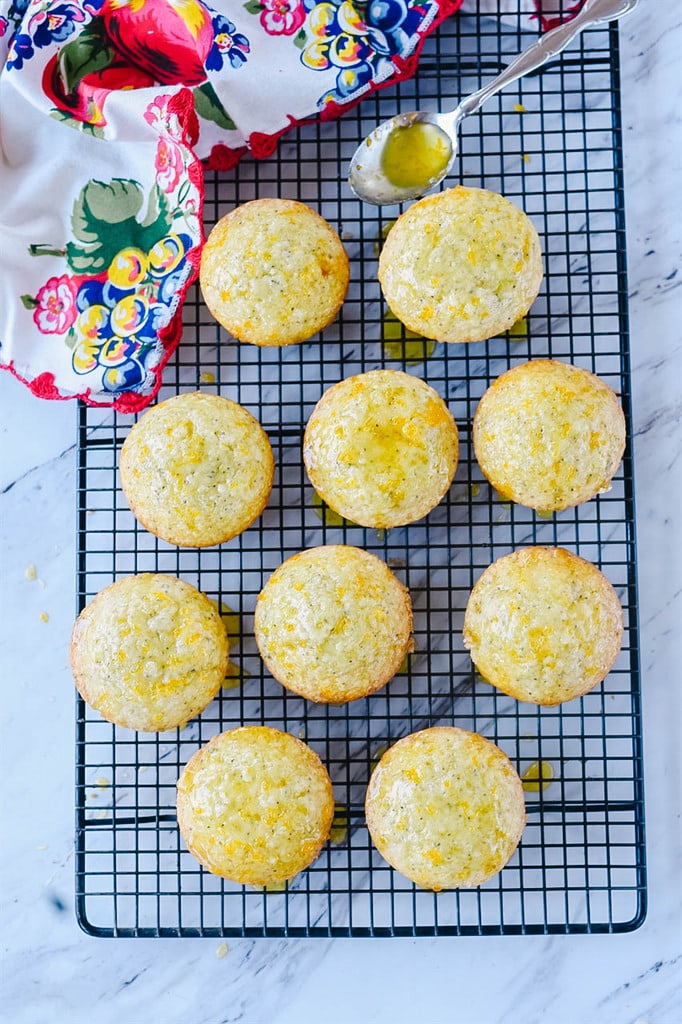 Today's flavor combination of almond and poppy seed was inspired by the famous Costco poppy seed muffin but the orange glaze I added on the top takes them up a few notches in my book.
How to Make Poppy Seed Muffins
The biggest trick to making muffins is getting them all the same size and not ending up with extra batter at the end!  My tip is to use a scoop.  The size 16 scoop holds 1/4 cup of batter and is perfect for muffins and cupcakes.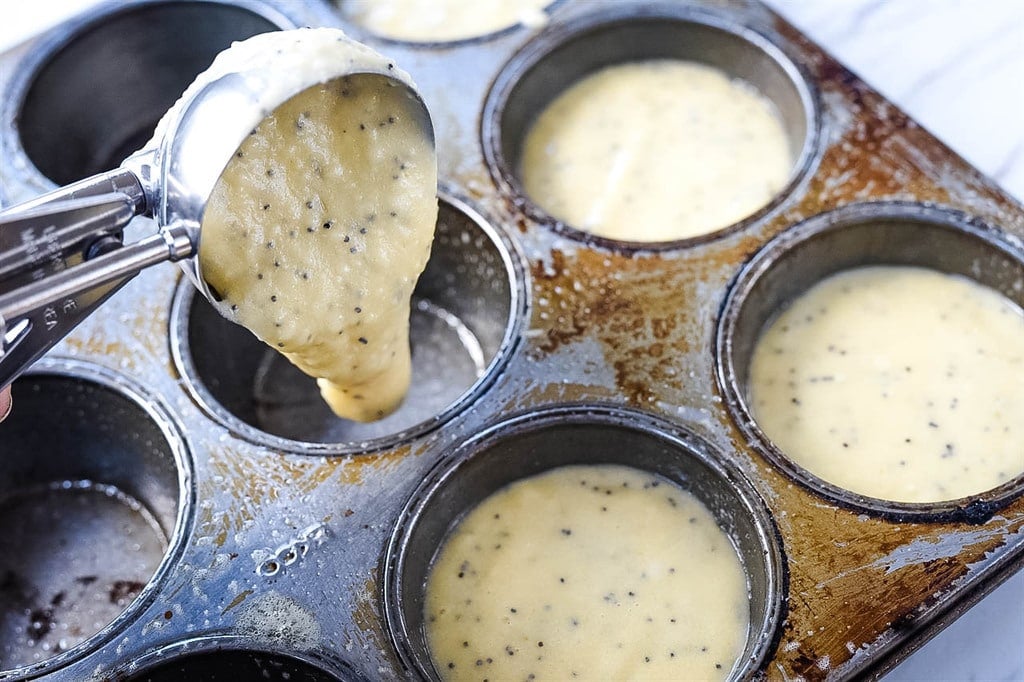 I typically use 1 cup of milk or buttermilk in my muffin recipes.  But for today's recipe I substituted out half of that milk for oil for a slightly moister muffin. I left out the butter I usually put in to help cut down on the fat. I like to use a combo of vanilla and almond extract but you can just use one or other if you prefer.
For the citrus glaze I used fresh orange juice but I think some lemon juice or even lime juice would be quite lovely or any combination there of.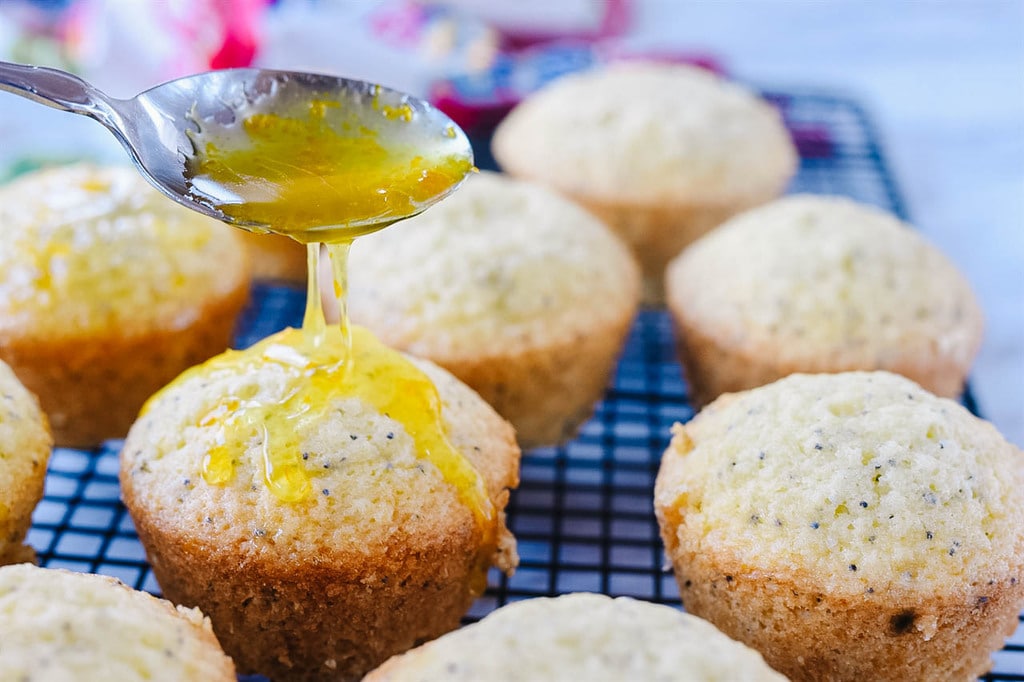 Be sure and glaze the muffins while they are still warm, that way the glaze soaks into the muffin and makes it even better.  I take them out of the tin and put them on a cooling rack to glaze.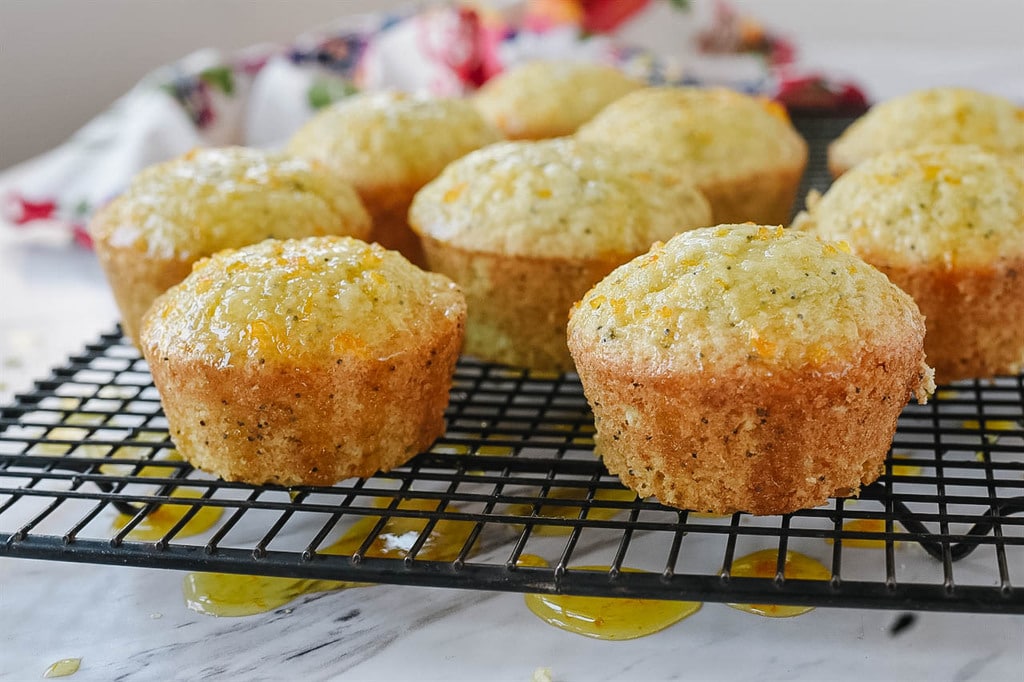 Enjoy some morning loveliness with an Poppy Seed Muffin with Orange Glaze.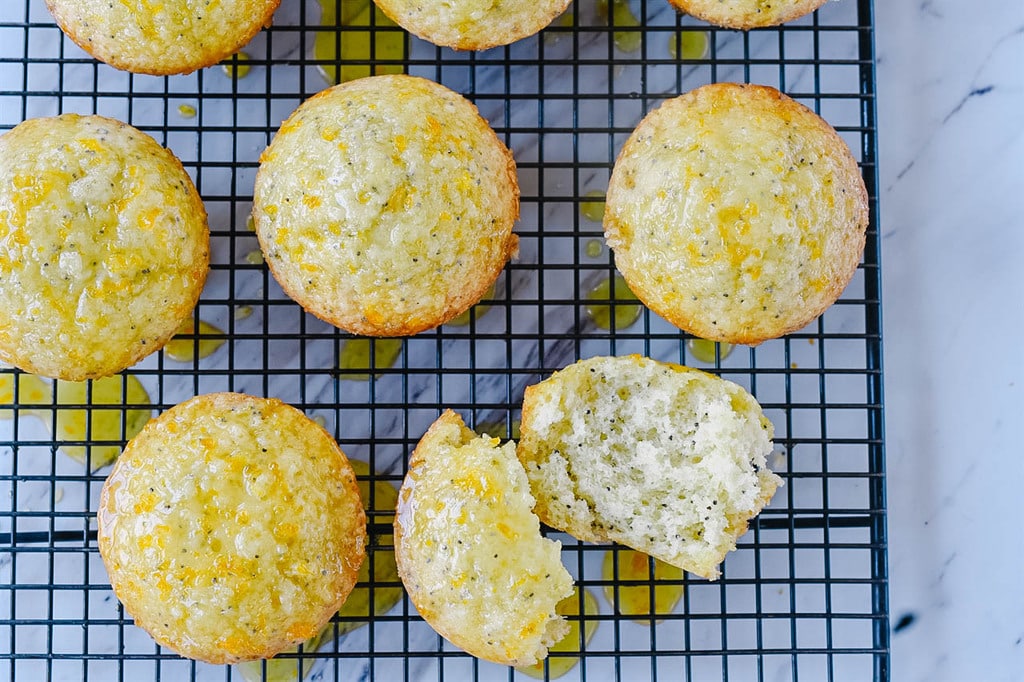 Check out more of my favorite muffin recipes:
For all of my other favorite kitchen products and tools visit my Amazon Store. 
Did you know I wrote a cookbook?  Check out the Holiday Slow Cooker Cookbook for 100 delicious recipes
Poppy Seed Muffin Recipe
Poppy Seed Muffins with Orange Glaze
Soft and fluffy poppy seed muffins with orange glaze. They are perfect for breakfast or snack time.
Ingredients
2 eggs
1 C white sugar
1/2 C oil
1/2 C milk or buttermilk
1/2 tsp salt
1 Tbsp baking powder
1 Tbsp poppy seeds
1 tsp vanilla extract
1 tsp almond extract
2 C flour
Glaze:
1/2 C sugar
1/4 C orange juice
1/2 tsp vanilla extract
1/2 tsp almond extract
1 tsp butter
1 tsp orange zest
Instructions
Beat together eggs, sugar and oil

Mix in milk, salt, baking powder, poppy seeds, flavorings and flour

Do not over mix

Fill greased muffin tins 3/4 full

Bake at 350 for 15-20 minutes or until a toothpick inserted comes out clean

Cool until slightly warm and then add glaze
Glaze:
While baking mix together glaze and allow it to cool a bit and thicken slightly

In a saucepan over low heat combine sugar, juice, extracts and butter

Stir until sugar is dissolved

Once glaze is cooled to room temperature dip tops of slightly warm muffins into glaze
Nutrition Facts:
Calories: 285kcal (14%) Carbohydrates: 42g (14%) Protein: 3g (6%) Fat: 11g (17%) Saturated Fat: 1g (6%) Cholesterol: 29mg (10%) Sodium: 116mg (5%) Potassium: 162mg (5%) Sugar: 26g (29%) Vitamin A: 75IU (2%) Vitamin C: 2.8mg (3%) Calcium: 73mg (7%) Iron: 1.2mg (7%)
* Disclaimer: All nutrition information are estimates only. Read full disclosure here.
Need some help figuring out what's for dinner tonight?
Come join our Facebook Group!  Join hundreds of others who love sharing dinner time ideas.  You don't want to miss out on the fun!

You'll find lots of ideas for dinner from all our awesome members and you can share your ideas too!  Join the Family Dinner Table today.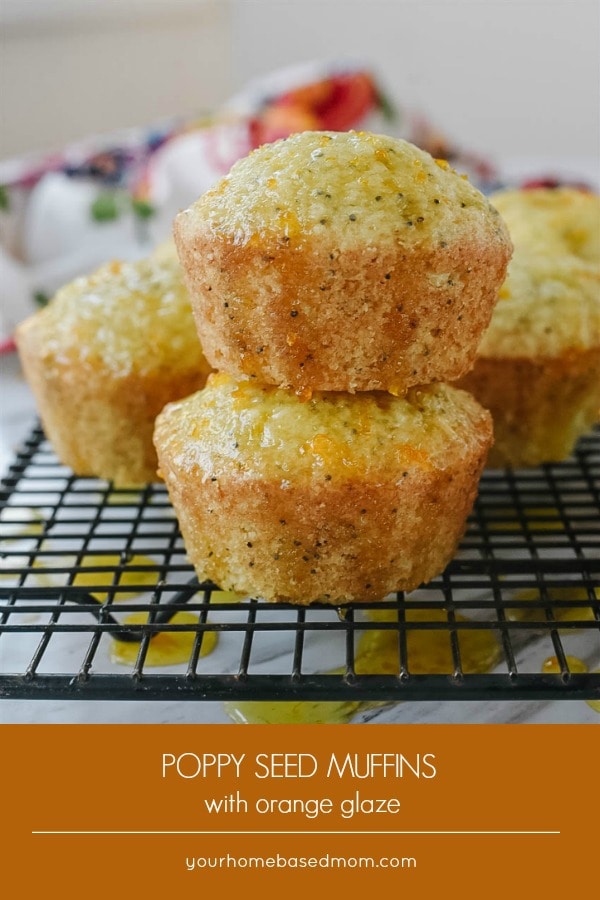 Originally posted April 4, 2011