Zucchini Muffins with Lemon Glaze and a delicious streusel topping will have everyone wishing for more zucchini!  The perfect way to eat more veggies.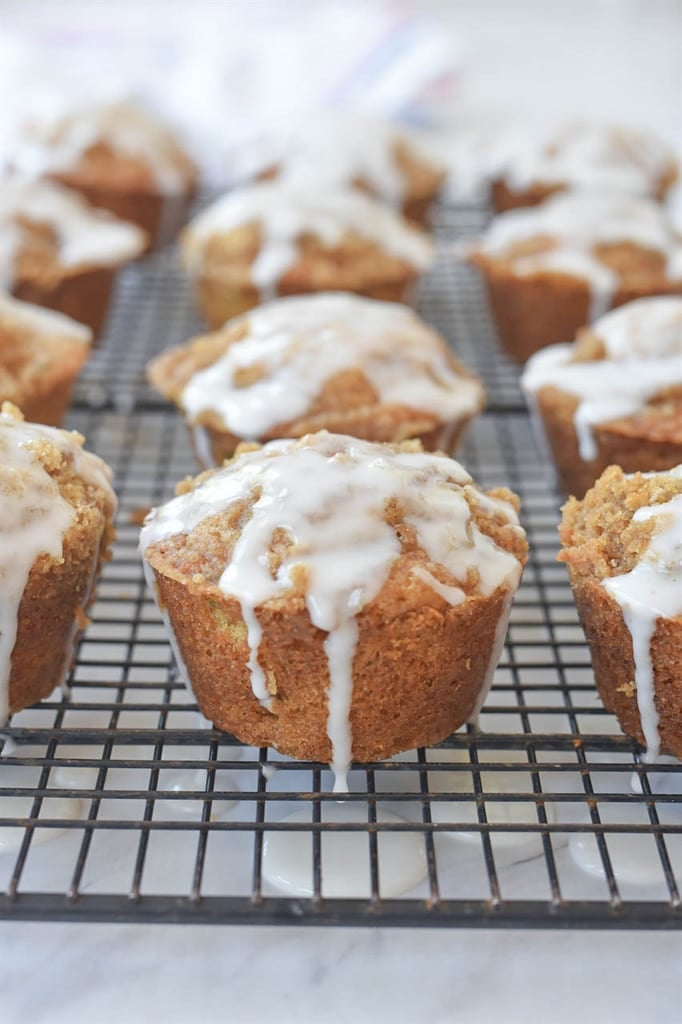 You may have noticed I've been on a bit of a zucchini kick recently. That's what happens when you plant zucchini in your garden.  Fortunately, we only planted one but that one plant is definitely keeping us in zucchini.  A fun way to share that zucchini is in some zucchini muffins.  Or maybe you'd prefer some zucchini bread, zucchini cupcakes or something more savory like baked zucchini with mozzarella.  However you like zucchini, I've got you covered!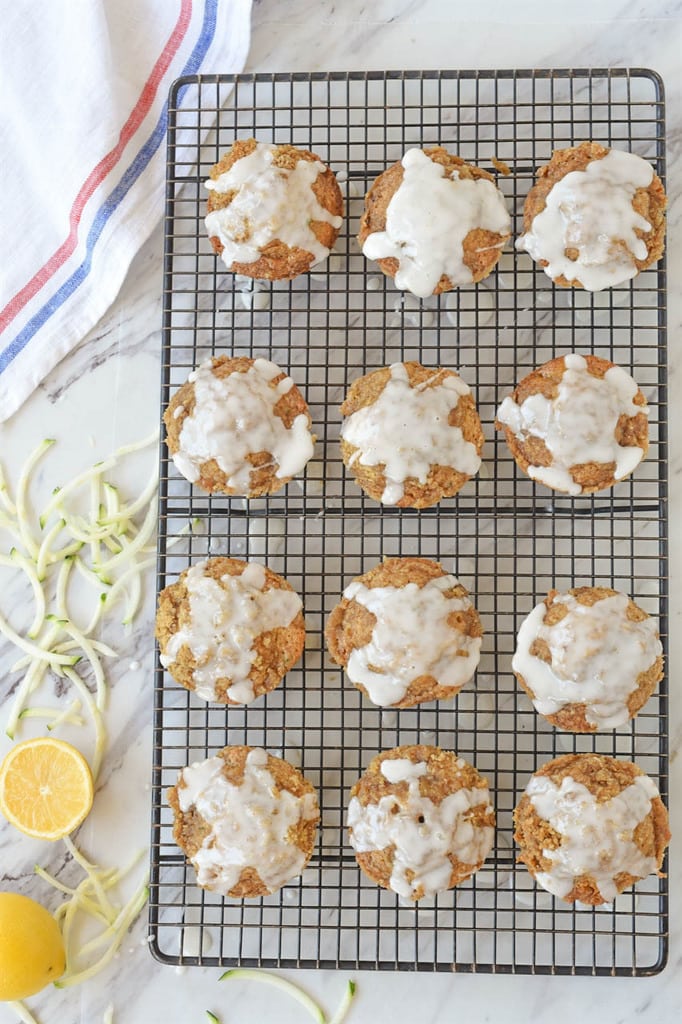 I recently asked on Instagram if people prefer their zucchini peeled or with the skin on when baking with it.  The majority voted for removing the skin but I tend to leave it on.  I actually like the green color it adds to the baked goods and I save a little time!  But feel free to skin your zucchini when making these zucchini muffins, especially if you are trying to hide the zucchini from someone!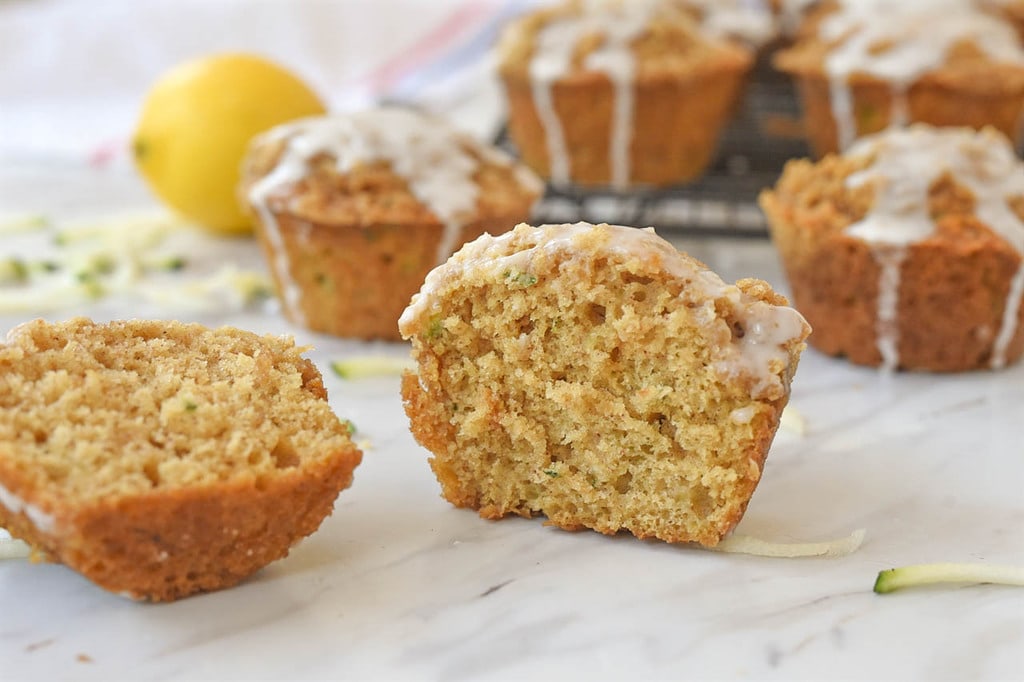 I added a streusel topping to the muffins which is a combination of flour, brown sugar and butter but these muffins are just as good without it if you don't want them quite as sweet.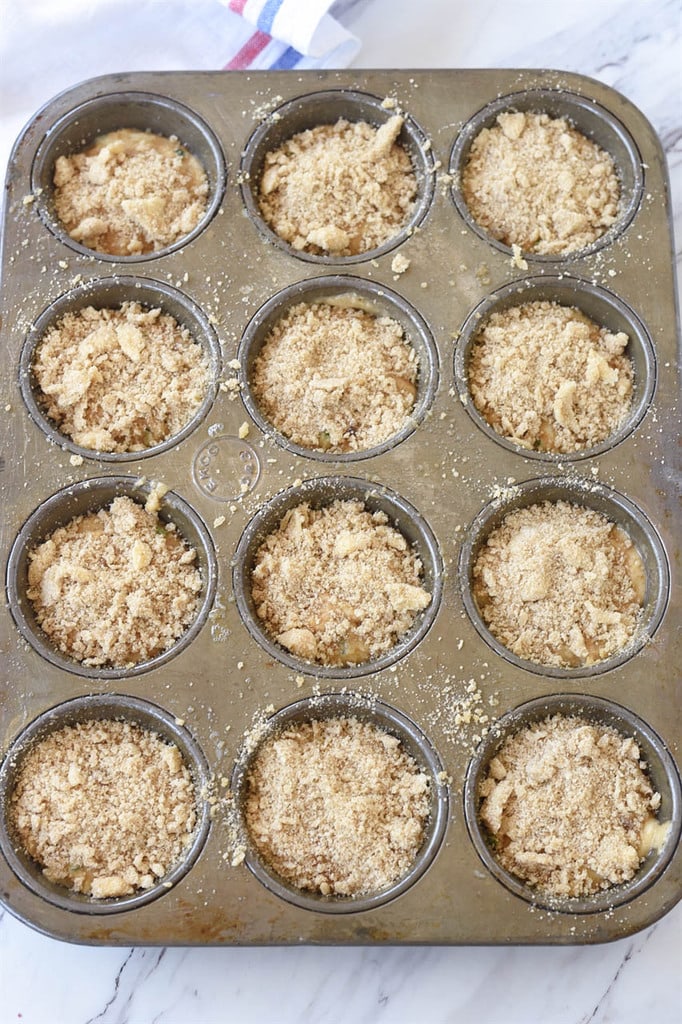 Lemon Glaze for Muffins
One thing I don't recommend you skip though is the lemon glaze.  It is pretty much the crowning glory of these muffins.  A simple glaze of powdered sugar and fresh lemon juice take these muffins over the top in flavor.  Just add enough lemon juice to make the glaze drip gently over the edges of the zucchini muffins.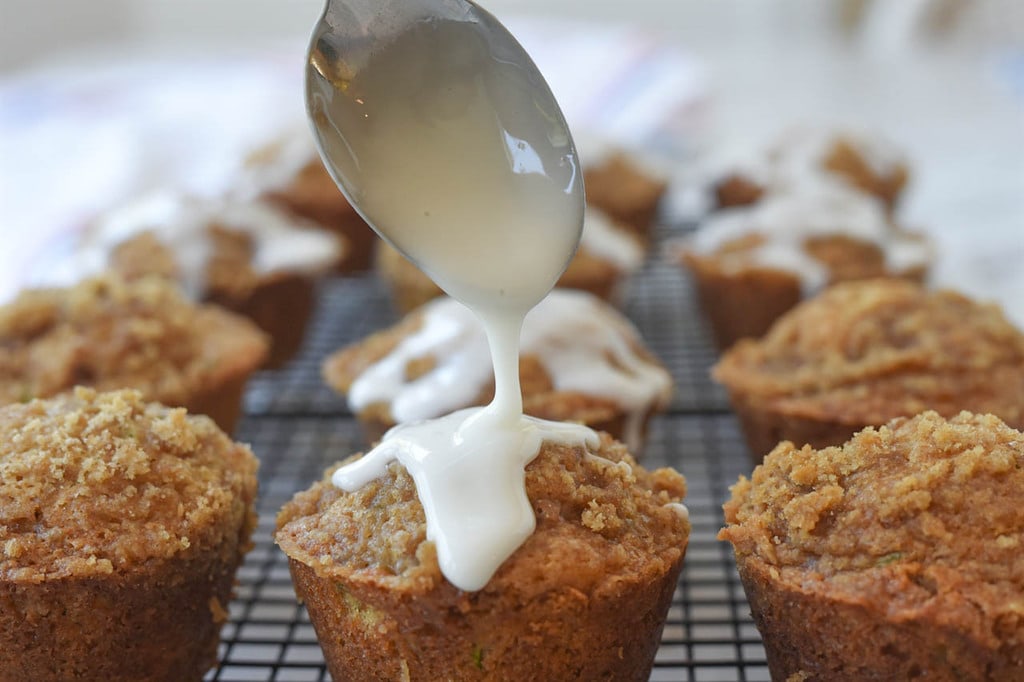 Instead of dropping off a zucchini at someone's door to get rid of your surplus, bake up a batch of these zucchini muffins, your friends and neighbors will thank you, just like mine did!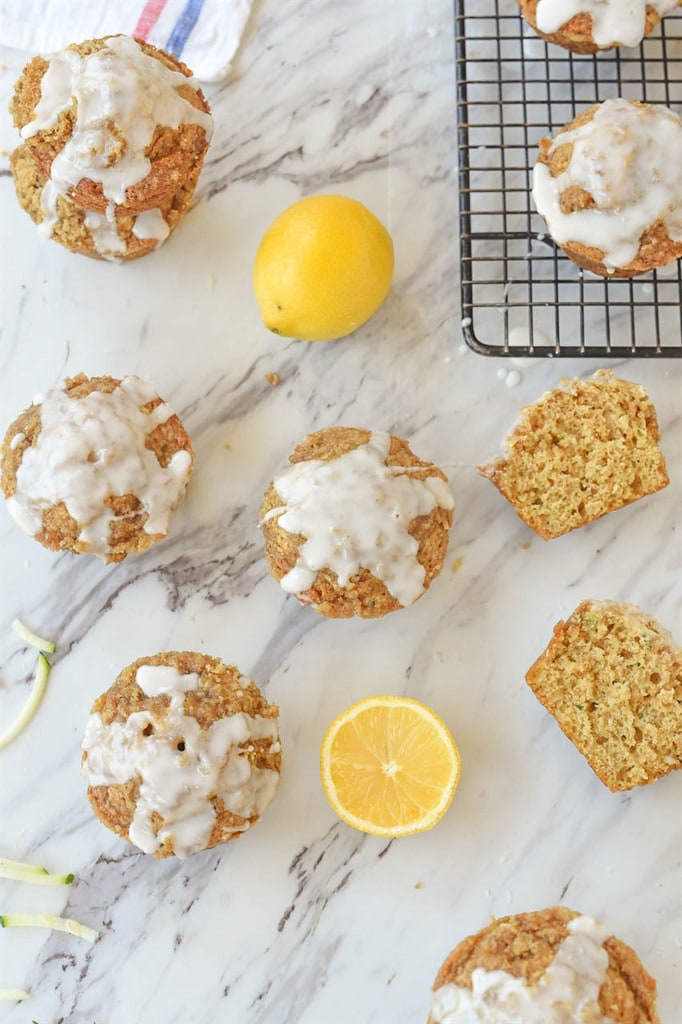 Other favorite zucchini recipes:
Some of my favorite kitchen tools for making Zucchini Muffins with Lemon Glaze:
LEMON JUICE SQUEEZER – this is one of my most used kitchen tools.  Nothing beats fresh squeezed lemon juice and this guy makes it so easy.
CUPCAKE/MUFFIN SCOOP – this scoop is the perfect size to make sure you can evenly sized muffins and cupcakes every time.
MUFFIN TIN – use it for muffins, dinner rolls or cupcakes.
Zucchini Muffins Recipe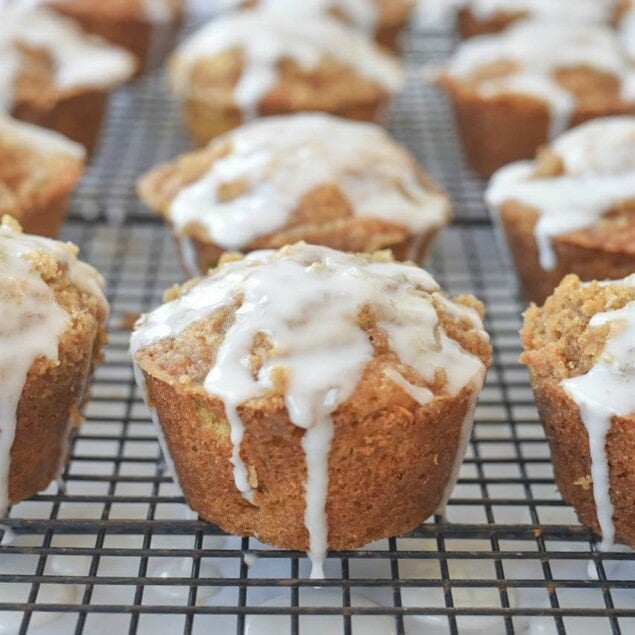 Zucchini Muffins with Lemon Glaze
Zucchini Muffins with Lemon Glaze and a delicious streusel topping will have everyone wishing for more zucchini! The perfect way to eat more veggies.
Ingredients
Zucchini Muffins
2 1/4 cups all purpose flour
1/2 cup sugar
1/2 cup brown sugar
1 1/2 tsp baking powder
1 1/2 tsp baking soda
1 tsp cinnamon
1/2 tsp salt
1/2 cup butter softened
1/2 cup sour cream
1/4 cup milk
2 eggs lightly beaten
1 1/2 cups` grated zucchini
1 tsp vanilla extract
Streusel Topping
1/2 cup flour
1 cup brown sugar
1/4 cup butter
Lemon Glaze
1 1/2 cups powdered sugar
lemon juice
Instructions
Zucchini Muffins
Preheat oven to 350 degrees F.

Grease and flour a muffin tin

In a bowl, combine all the dry ingredients and cut in the butter until the mixture resembles coarse crumbs.

Mix together sour cream, milk, vanilla, eggs and zucchini.

Pour into dry mixture and stir to combine.

Fill muffin tins and sprinkle with streusel topping.

Bake for 15-20 minutes or until toothpick comes out clean. Allow to cool before glazing.
Streusel Topping
Combine flour, brown sugar and butter. Rub mixture together with your fingers or a fork until crumbly. Sprinkle over batter in muffin tins.
Lemon Glaze
Combine powdered sugar and enough lemon juice to make a glaze the right consistency for drizzling. Drizzle over muffins after they have cooled.
Nutrition Facts:
Calories: 440kcal (22%) Carbohydrates: 74g (25%) Protein: 5g (10%) Fat: 15g (23%) Saturated Fat: 9g (56%) Cholesterol: 63mg (21%) Sodium: 387mg (17%) Potassium: 238mg (7%) Fiber: 1g (4%) Sugar: 51g (57%) Vitamin A: 521IU (10%) Vitamin C: 5mg (6%) Calcium: 84mg (8%) Iron: 2mg (11%)
* Disclaimer: All nutrition information are estimates only. Read full disclosure here.
Need some help figuring out what's for dinner tonight?
Come join our Facebook Group!  Join hundreds of others who love sharing dinner time ideas.  You don't want to miss out on the fun!

You'll find lots of ideas for dinner from all our awesome members and you can share your ideas too!  Join the Family Dinner Table today.