This delicious Chess Pie is served with an oatmeal cookie crust. So good, some people call it Crack Pie. It is that addictive! Just one bite and you will be hooked!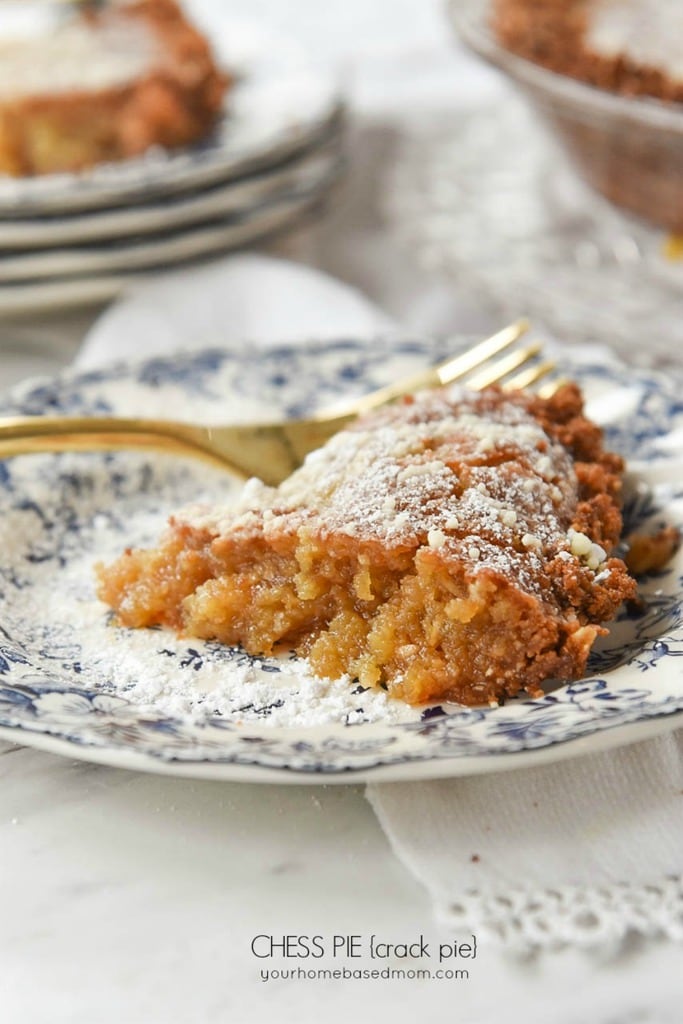 I was reading an article in the Oregonian FoodDay when I saw a recipe about the Crack Pie they were selling at the Momofuku Bakery and the Milk Bar in Manhattan. They were selling for $44 a pie. The title of the article is what caught my attention. "You'll get hooked on Crack Pie".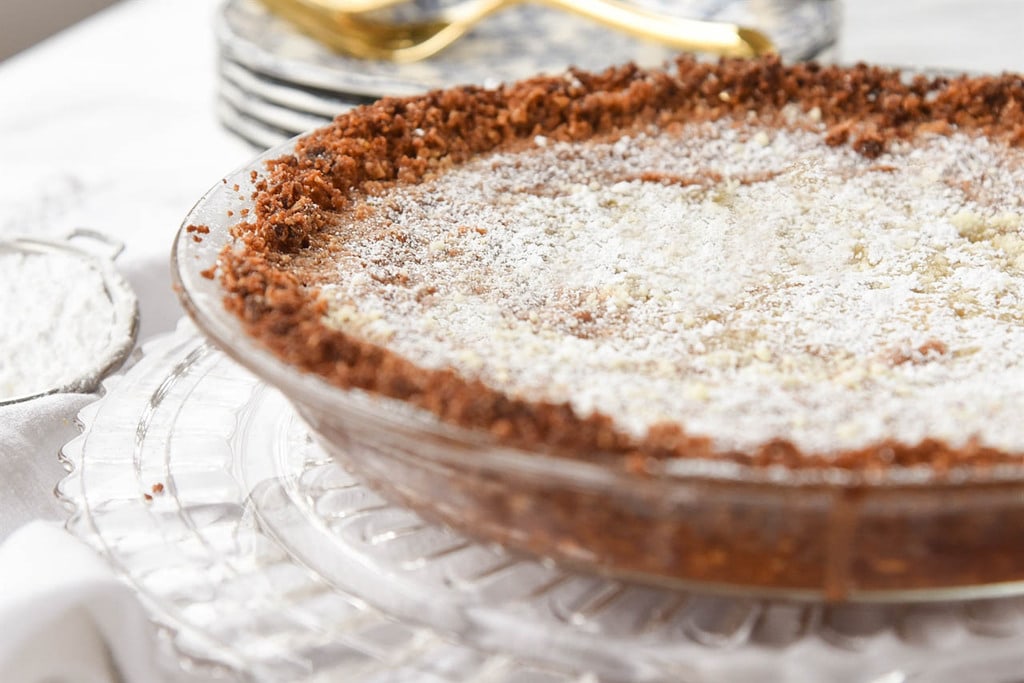 Crack Pie from the Milk Bar
After a little investigating, I discovered that this pie was just a traditional chess pie, made with butter eggs, sugar and vanilla.  But there was one delicious difference.  This pie had a crust made from oatmeal cookies!  An oatmeal cookie crust!  Who can turn that down!  The bakery of course makes their own oatmeal cookies and I used this recipe, but if you are short on time you could cheat and use store bought oatmeal cookies to make the crust.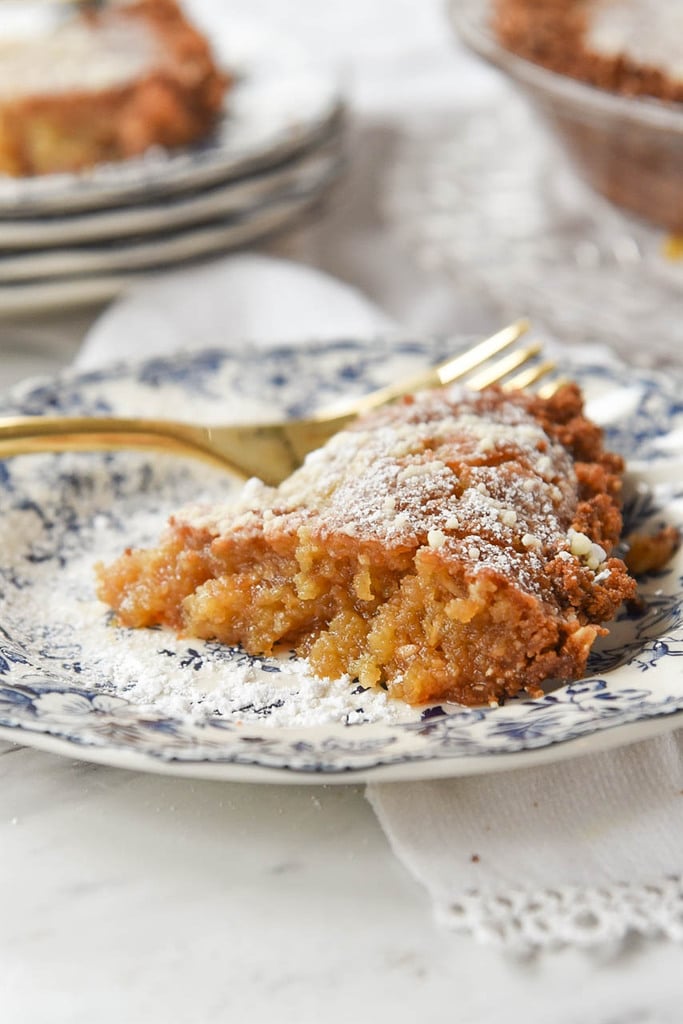 This pie is delicious chilled and just as good warm.  The recipe makes two pies, so you can try it both ways!  One bite and you will understand why they call this Chess Pie I "Crack" pie.  You will not be able to stop at one bite.   I wanted to eat the entire pie by myself.
Baking Tips for Chess Pie
The pie will seem undercooked when you remove it from the oven.  It will be golden brown on top, but still jiggly.  Also, The pie will be puffy when it comes out, but will fall and flatten out as it cools.  Don't worry, it is supposed to do that. 
After it has cooled a bit, sprinkle with powdered sugar to make it a little prettier.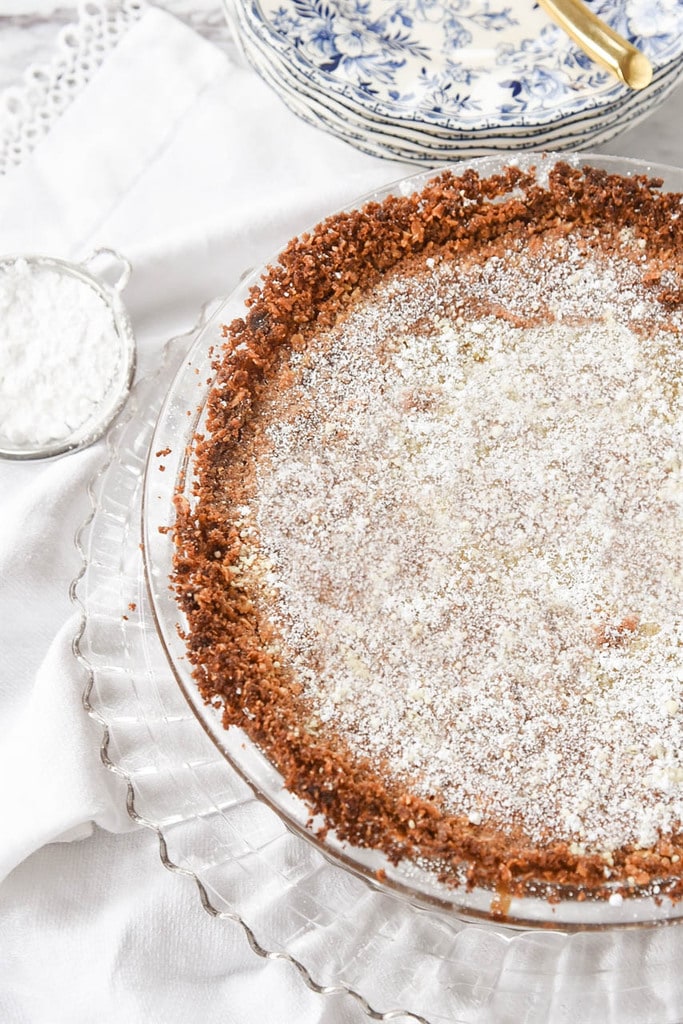 You can serve it with powdered sugar or without but it is much prettier with!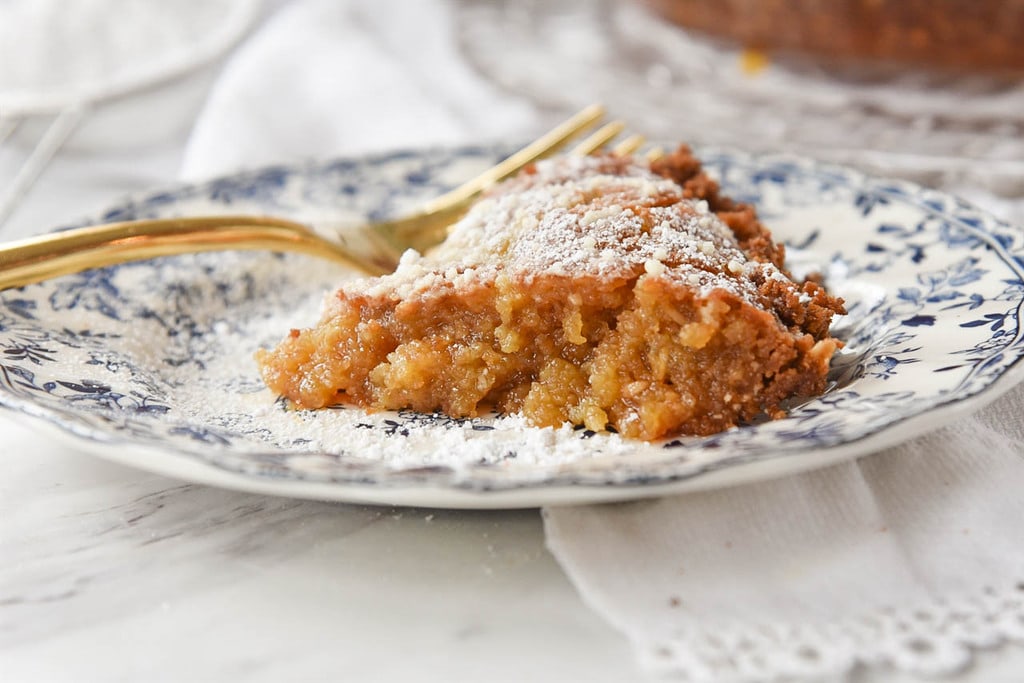 It is your choice. Either way, it tastes like heaven! The big debate though is whether you eat it warm or chilled? I've eaten it both ways and it is delicious both ways but I prefer it warm. The recipe makes two pies so you can try it both ways like I did. After you give it a try, come back and let me know which way you prefer it. Chilled or warm? The recipe can also be easily halved to make only one pie.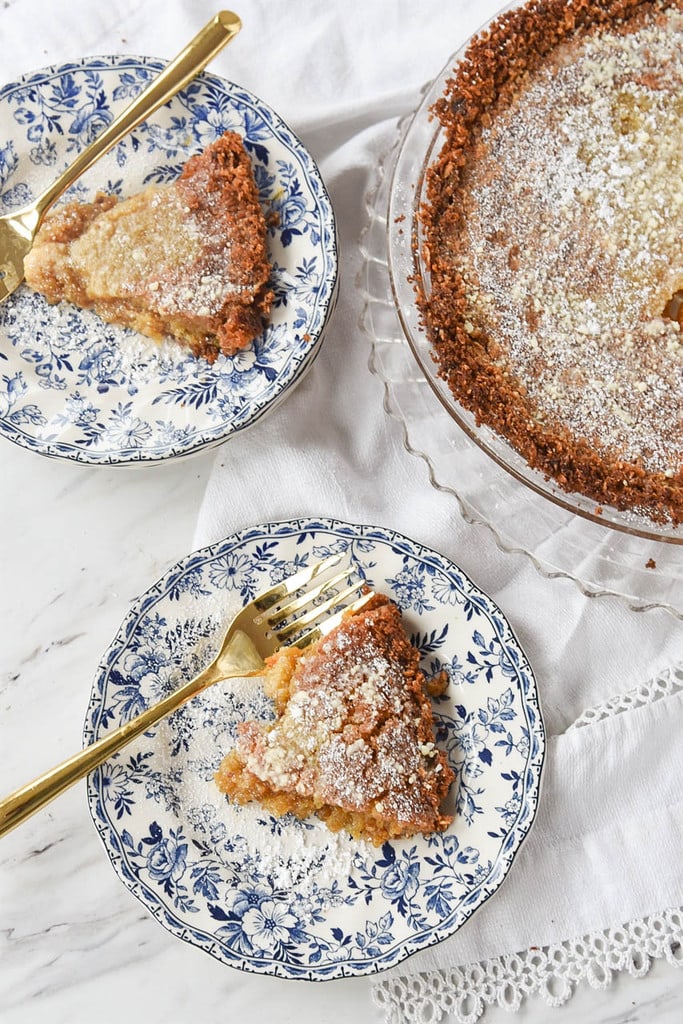 Originally posted March 2010
Other favorite pie recipes:
My favorite kitchen tools I use to make CHESS PIE:
9" GLASS PIE PLATE – perfect size for any pie!
6 PIECE MEASURING CUP SET
– Everyone needs at least one set of measuring cups, I have 4 sets!
MAGNETIC MEASURING SPOONS – I love these things. They are magnetic so they stay together in the drawer!
For all of my other favorite kitchen products and tools visit my Amazon Store.
 Chess Pie Recipe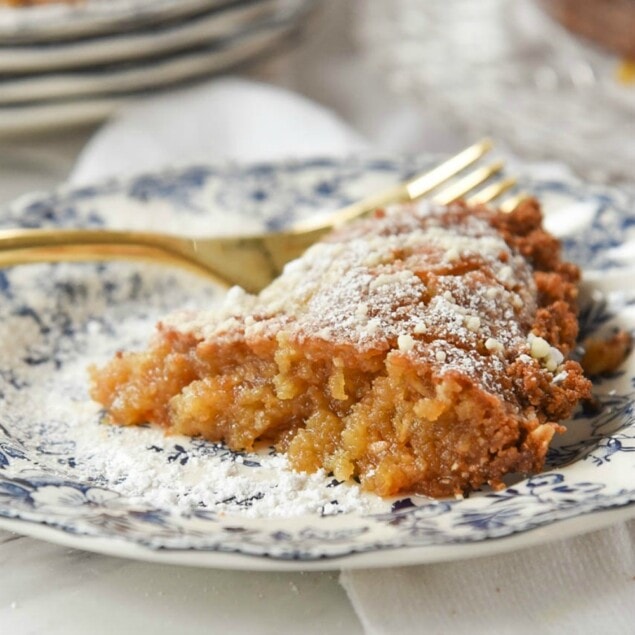 Chess Pie
This delicious Chess Pie is served with an oatmeal cookie crust. So good, some people call it Crack Pie. It is that addictive!

Ingredients
Cookie for crust:
2/3 C plus 1 Tbsp all purpose flour
Scant 1/8 tsp baking powder
Scant 1/8 tsp. baking soda
1/4 tsp salt
1/2 C butter softened
1/3 C firmly packed light brown sugar
3 Tbsp sugar
1 egg
scant 1 C old fashioned oatmeal uncooked
Crust:
Crumbled cookie for crust see above
1/4 C butter
1 1/2 Tbsp firmly packed brown sugar
1/8 tsp salt
Filling:
1 1/2 C granulated sugar
3/4 C plus a scant 3 Tbsp firmly packed light brown sugar
1/4 tsp salt
1/3 C plus 1 tsp powdered milk
1 C butter melted
3/4 C plus a scant 2 Tbsp whipping cream
1 tsp vanilla
8 egg yolks
2 prepared crusts see above
powdered sugar for garnish.
Instructions
Preheat oven to 375 degrees

In a medium bowl, sift together the flour, baking powder, baking soda and salt – yes I sifted it!

In your mixer using the paddle attachment beat the butter, brown sugar and sugar until light and fluffy

Whisk the egg into the butter mixture until fluffy and incorporated

With the mixture running, beat in the flour mixture a little at a time until totally combined

Stir in the oatmeal until well incorporated

Spread the mixture into a 9 x 13 inch baking pan and bake until golden brown and set, about 20 minutes

Remove from oven and cool on rack

Crumble the cooked cookie to use in the crust

Combine the crumbled cookie, butter, brown sugar and salt in a food processor and pulse until evenly combined and blended ( a little of the mixture will clump together between your fingers and hold together)

Divide the crust between the two 10 inch pie pans

Press the crust into each shell to form a thin even layer along the bottom and sides of the tins Don't worry about making it beautiful – it is going to taste beautiful!

Preheat oven to 350 degrees.

In a large bowl, whisk together the sugar, brown sugar, salt and powdered milk

Whisk in the melted butter then whisk in the cream and vanilla

Gently whisk in the egg yolks, being careful not to add too much air

Divide the filling evenly between 2 pie shells

Bake the pies one at a time for 15 minutes, then reduce the heat to 325 degrees and bake until the filling is slightly jiggly and golden brown (similar to a pecan pie) about 10 minutes or 15 minutes if using a 9 inch pie pan

Remove pie from oven and cool on rack

Refrigerate the cooled pies until well chilled

Dust with powdered sugar
Nutrition Facts:
Calories: 521kcal (26%) Carbohydrates: 52g (17%) Protein: 4g (8%) Fat: 33g (51%) Saturated Fat: 18g (113%) Cholesterol: 179mg (60%) Sodium: 382mg (17%) Potassium: 106mg (3%) Sugar: 37g (41%) Vitamin A: 955IU (19%) Vitamin C: 0.3mg Calcium: 69mg (7%) Iron: 1.2mg (7%)
* Disclaimer: All nutrition information are estimates only. Read full disclosure here.