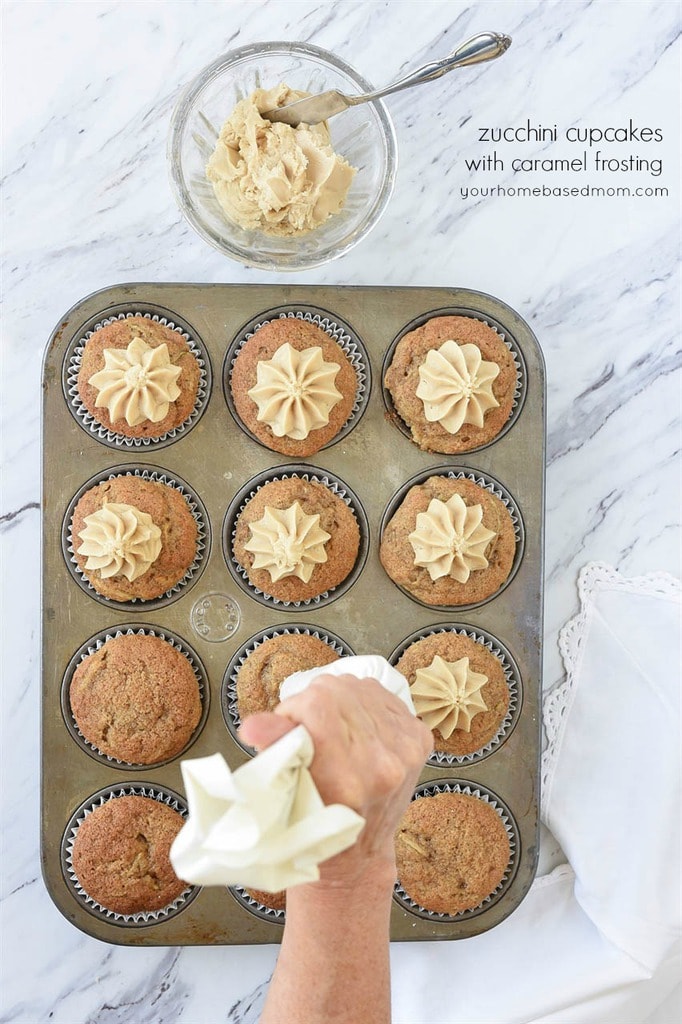 Zucchini Cupcakes with Caramel Frosting are the best way to eat zucchini. The caramel frosting is definitely the icing on the cake!

The zucchini trend continues here on the blog. After I posted my recipe for zucchini muffins with lemon glaze I received a comment letting me know that zucchini was not a vegetable. What!!? How did I not know that zucchini was really a fruit. I did a little Googling and learned that in the culinary sense, zucchini is used and treated like a vegetable but in the botanical world it is a fruit. If you want the scientific reason behind it go ahead and Google it.
Since this is a food blog, we are going to call it a vegetable.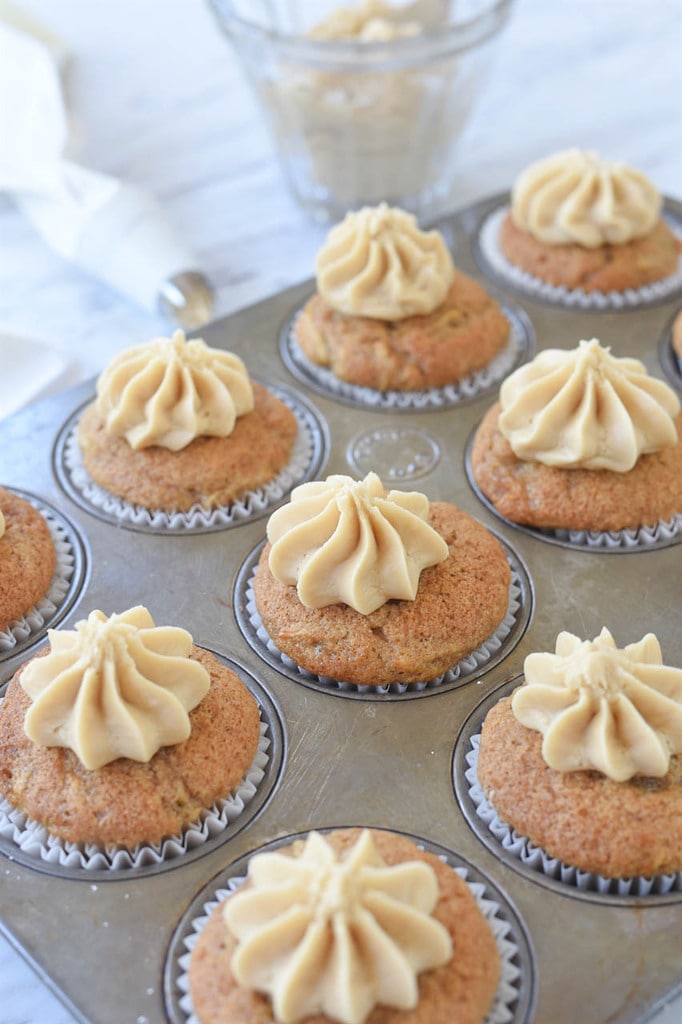 Zucchini is one of those vegetables I have had to learn to like. Baked Zucchini with Mozzarella is definitely one of my favorite ways to enjoy it in savory form. But to be honest, my favorite way to eat zucchini is either in zucchini bread, zucchini muffins or today's recipe for zucchini cupcakes.
These cupcakes are topped with an amazing caramel frosting and I promise, even your zucchini haters are going to love these. Once they taste the caramel frosting they aren't going to care what is in the cupcake!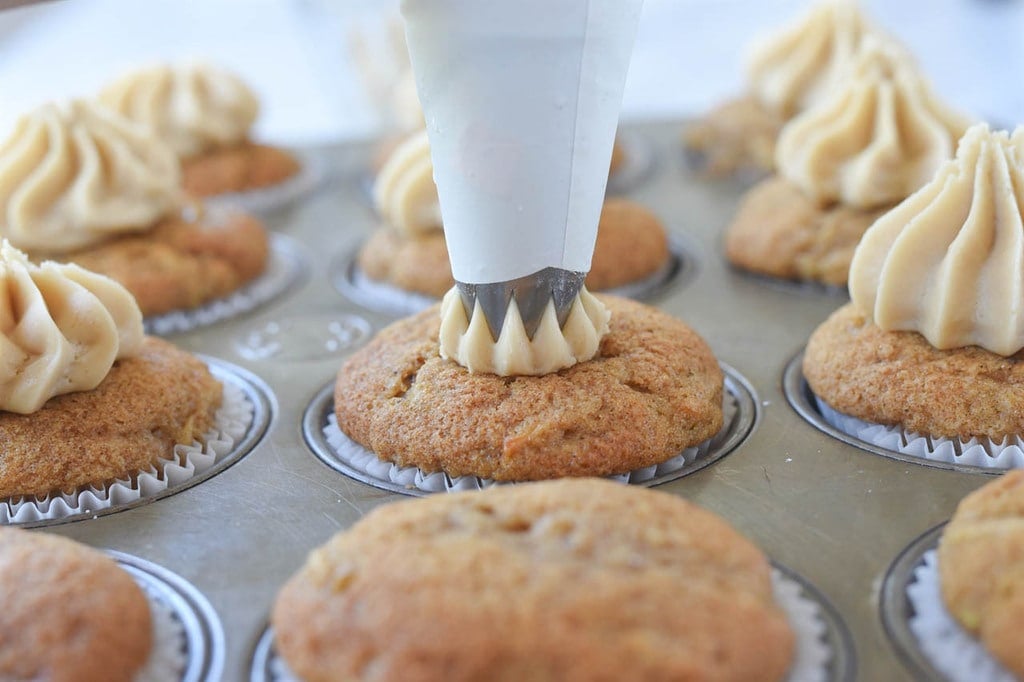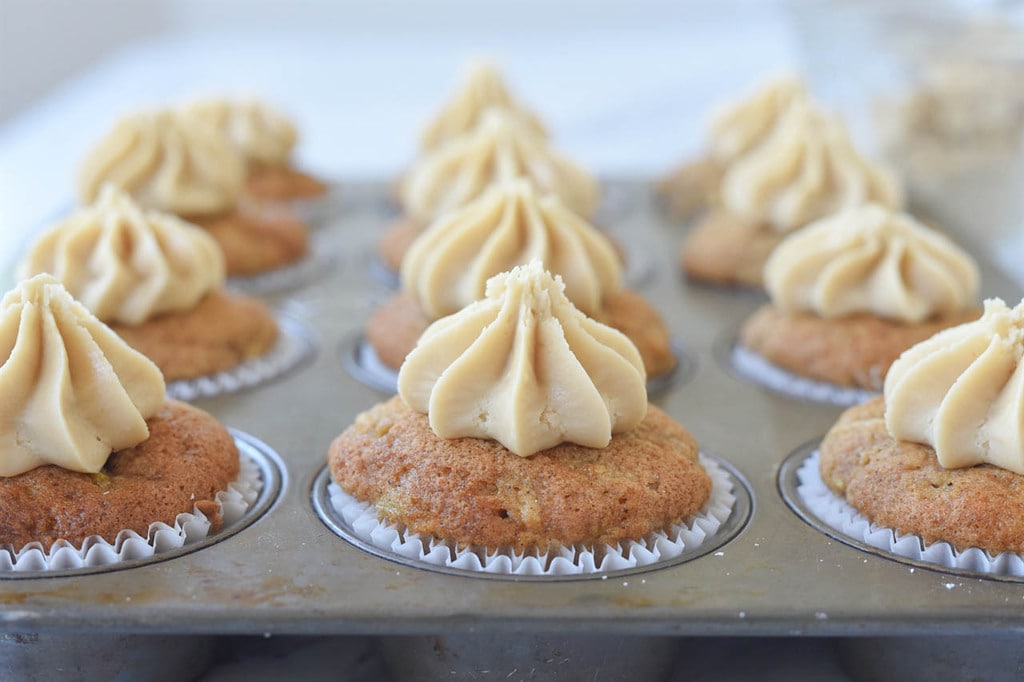 Caramel Frosting
The caramel frosting is a stiffer frosting and you can spread it on with a knife but I prefer to pipe it on. I used my largest star tip.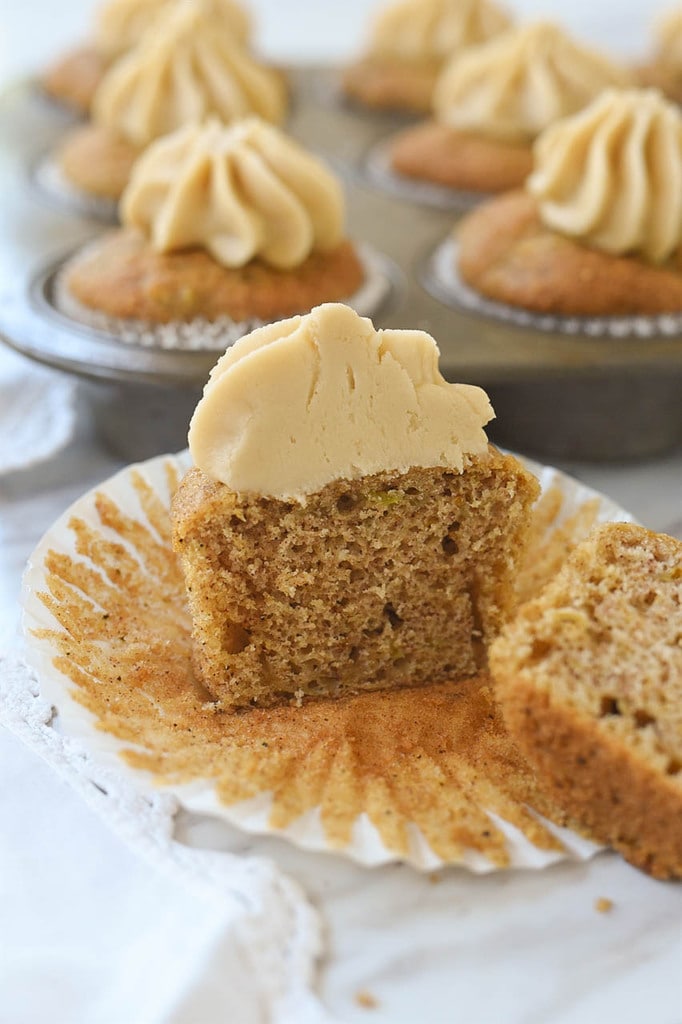 If you peel your zucchini you can hide it's presence in the zucchini cupcake, sneaky, sneaky!

I do think though that one of these zucchini cupcakes should definitely count as one of your daily servings of fruits and vegetables!! So if you are being over run with zucchini in your garden or your neighbors have some to share give these cupcakes a try – even if you have to go to the store and buy zucchini!!
What's your favorite way to eat zucchini? Mine is in a cupcake!!

Some of my favorite cupcake recipes:
Some of my favorite kitchen tools I use to make Zucchini Cupcakes:
CUPCAKE/MUFFIN SCOOP – this scoop is the perfect size to make sure you can evenly sized muffins and cupcakes every time.
MUFFIN TIN – use it for muffins, dinner rolls or cupcakes.
For all of my other favorite kitchen products and tools visit my Amazon Store.
Did you know I wrote a cookbook? Check out the Holiday Slow Cooker Cookbook for 100 delicious recipes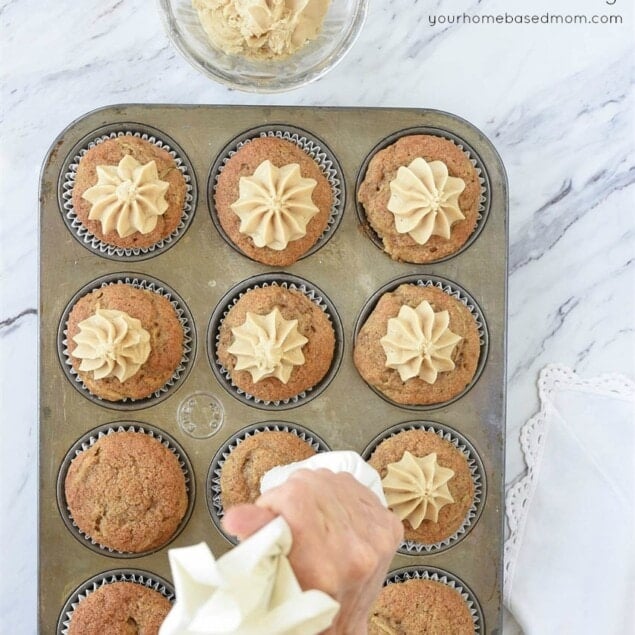 Zucchini Cupcakes with Caramel Frosting
Zucchini Cupcakes with Caramel Frosting are the best way to eat zucchini. The caramel frosting is definitely the icing on the cake!
Ingredients
3 eggs
1-1/3 C sugar
1/2 C vegetable oil
1/2 C orange juice
1 tsp almond extract
2-1/2 C all-purpose flour
2 tsp cinnamon
2 tsp baking powder
1 tsp baking soda
1 tsp salt
1/2 tsp ground cloves
1-1/2 C shredded zucchini
Caramel Frosting
1 C packed brown sugar
1/2 C butter or margarine
1/4 C milk
1 tsp vanilla extract
1-1/2 to 2 C confectioners' sugar
Instructions
In a mixing bowl, beat eggs, sugar. oil, orange juice and extract

Combine dry ingredients; add to the egg mixture and mix well

Add zucchini and mix well

Fill greased or paper-lined muffin cups two-thirds full

Bake at 350 for 20-25 minutes until they test done

Cool for 10 minutes and remove to wire rack

For frosting, combine brown sugar, butter and milk in a saucepan; bring to a boil over medium heat. Cook and stir for 2 minutes

Remove from the heat; stir in vanilla. Cool to lukewarm.

Gradually beat in the powdered sugar until frosting reaches desired consistency, you want it a bit stiff if you are going to pipe the frosting on.

Frost cupcakes
Nutrition Facts:
Calories: 215kcal (11%) Carbohydrates: 26g (9%) Protein: 2g (4%) Fat: 12g (18%) Saturated Fat: 8g (50%) Polyunsaturated Fat: 1g Monounsaturated Fat: 2g Trans Fat: 1g Cholesterol: 41mg (14%) Sodium: 252mg (11%) Potassium: 110mg (3%) Fiber: 1g (4%) Sugar: 20g (22%) Vitamin A: 224IU (4%) Vitamin C: 4mg (5%) Calcium: 44mg (4%) Iron: 1mg (6%)
* Disclaimer: All nutrition information are estimates only. Read full disclosure here.