Making homemade Corn Tortillas couldn't be any easier.  You only need two ingredients, three if you count water and  you can have fresh made tortillas in no time at all. Your favorite tacos are even better with a homemade corn tortilla.
Tacos are a stable at our house and in the time it takes the taco filling to cook you can have a batch of fresh corn tortillas made. Try these corn tortillas with these Skirt Steak Tacos and Soft Chicken Tacos. With a corn tortilla is the only way to enjoy a fish taco. If you prefer a flour tortilla, check out this recipe for homemade flour tortillas.

Homemade Corn Tortillas
I am a huge fan of homemade corn tortillas and given a choice, I will also pick a corn tortilla over a flour tortilla.  I usually judge a Mexican restaurant by the quality of their tortillas.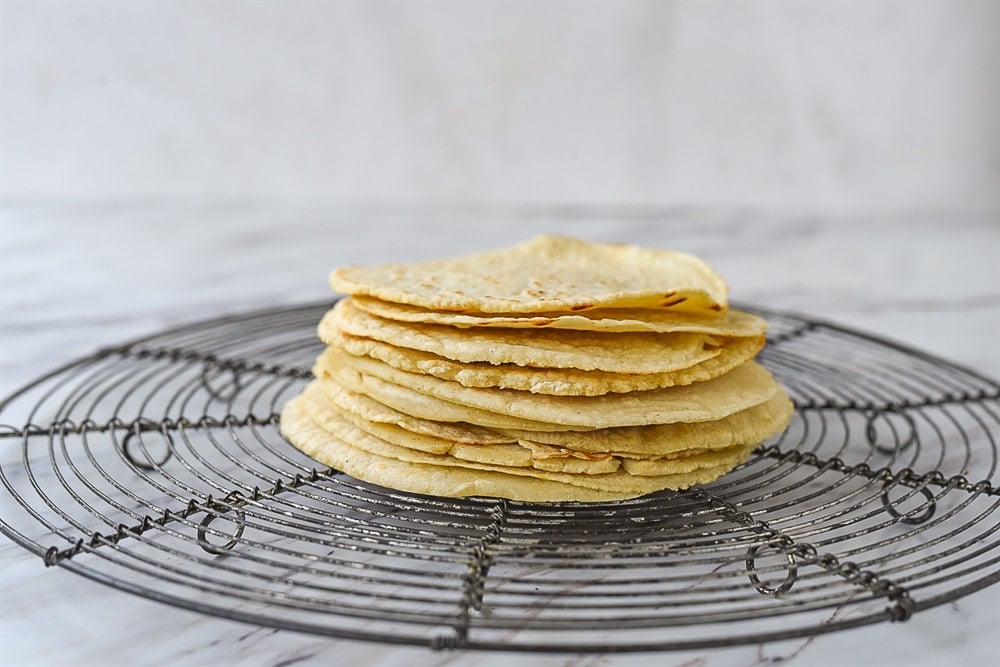 Corn Tortilla Ingredients
Only three ingredients are needed for corn tortillas: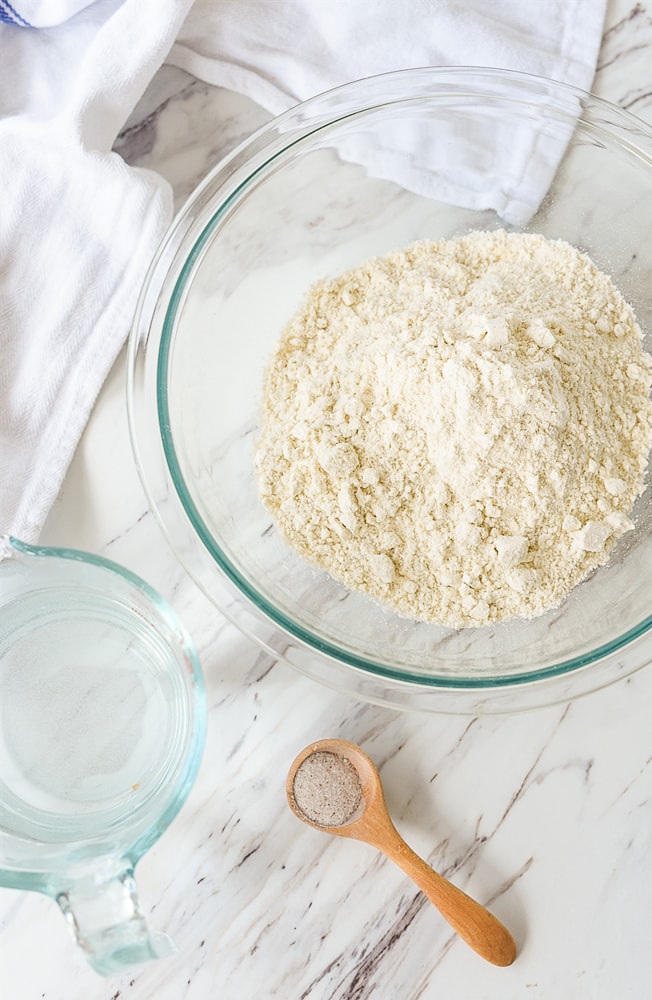 What is Masa Harina?
Masa Harina is not cornmeal, it is finer than cornmeal.  It is corn that has been soaked in limewater and then ground into a fine flour.  Masa Harina is easily found in the baking aisle near the all purpose flour.  Do not substitute cornmeal for masa harina.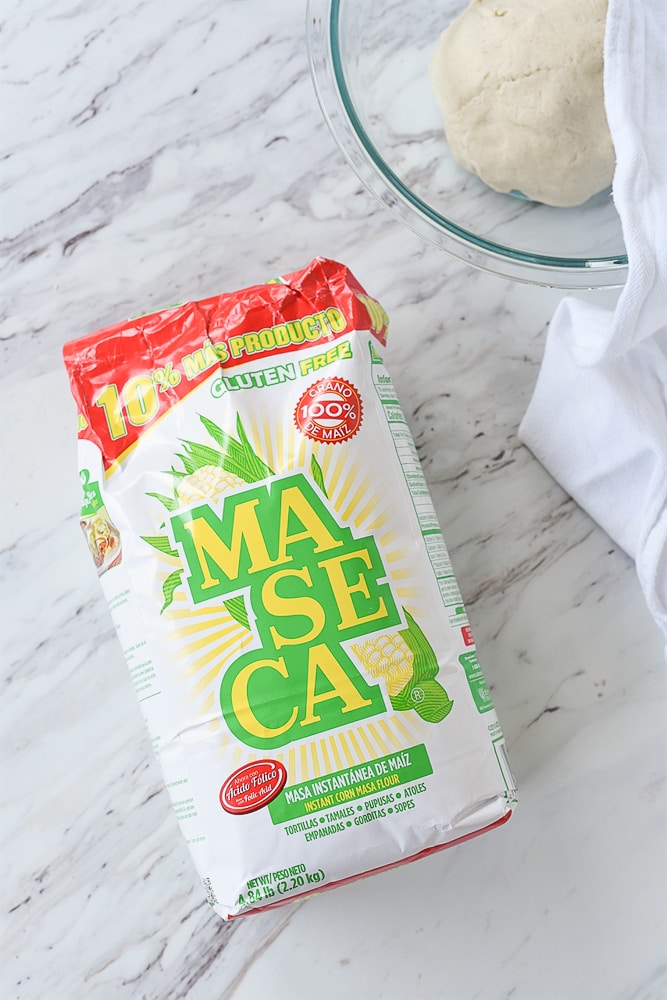 How to Make Fresh Corn Tortillas
Place your masa harina and salt in a bowl and add hot water.  I use hot tap water, there is no need to boil the water.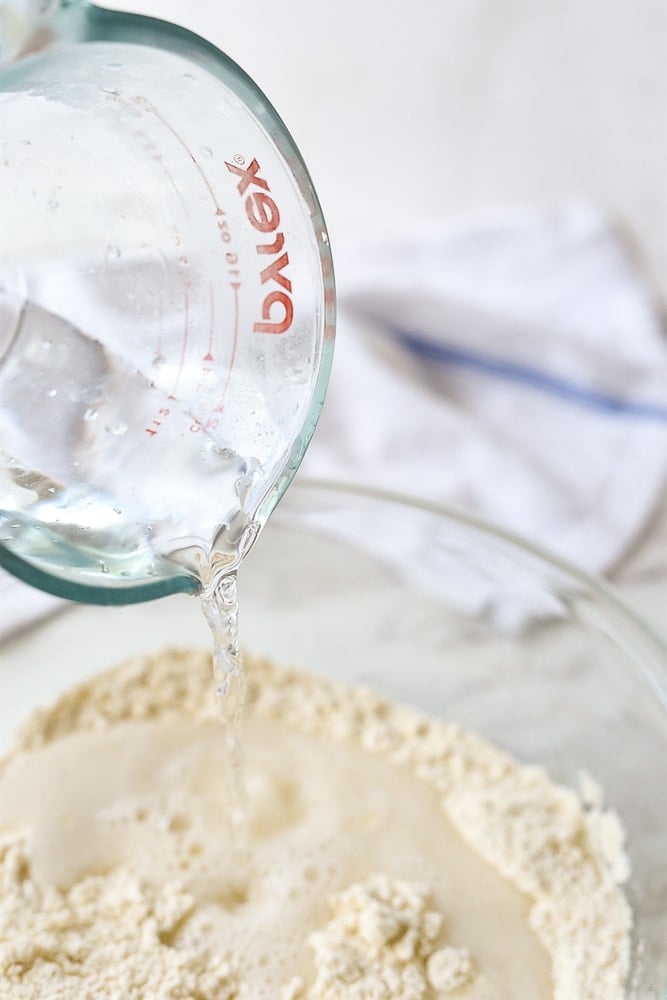 Stir to combine. You want the dough to be soft and smooth.  if it is dry just add a bit more water or if it is too sticky just add some more flour. Use your hands to knead the dough for a few minutes to get the dough nice and smooth.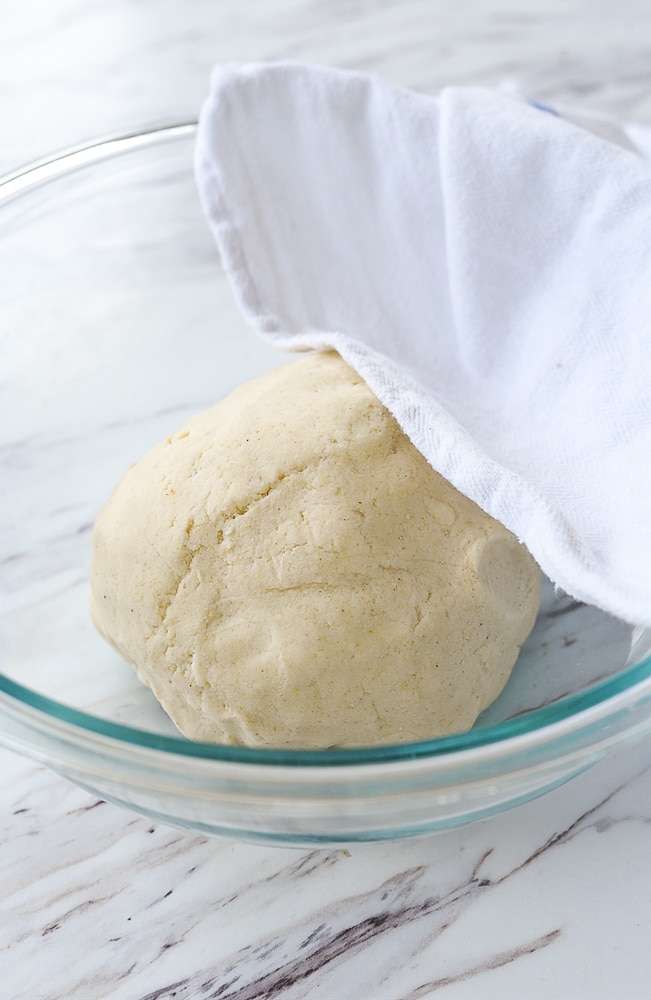 Place the dough in a bowl and cover with a cloth. Let it sit for 10 minutes to allow the water to fully absorb.
Divide the dough into 16 even size pieces and roll them into a ball.
Using a tortilla press will make the process of making corn tortillas easier but is not required.  You can purchase a tortilla press at a local Mexican market or on Amazon. You will get a more even, rounder tortilla with a tortilla press.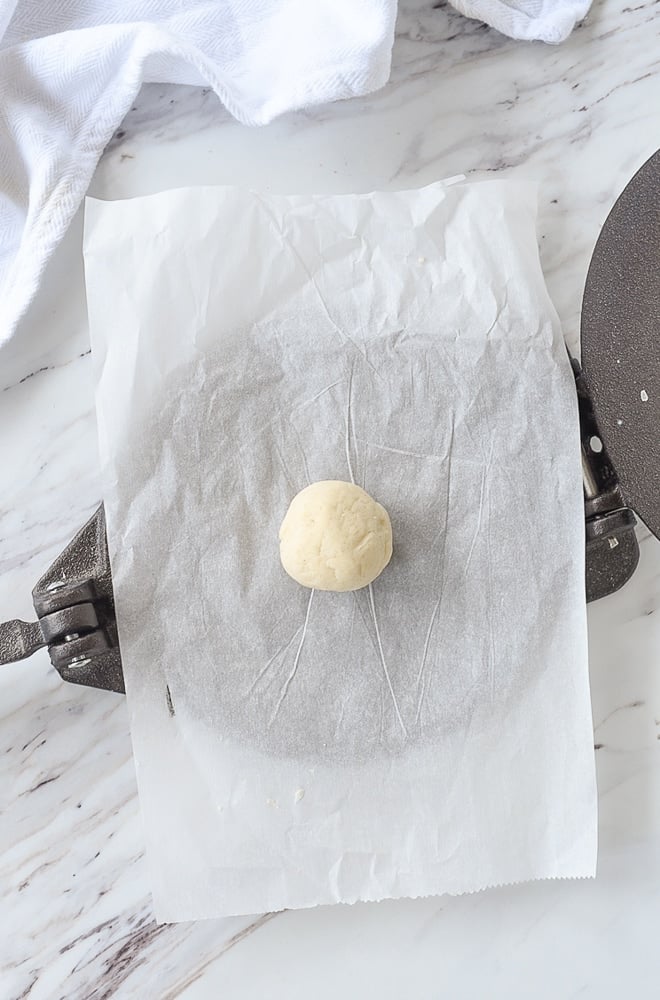 Place one of your balls of dough on a piece of parchment paper on the tortilla press. Place another piece of parchment paper on top of the dough.
Use your hand to flatten the ball of dough.
Close the tortilla press and push down to form the tortilla.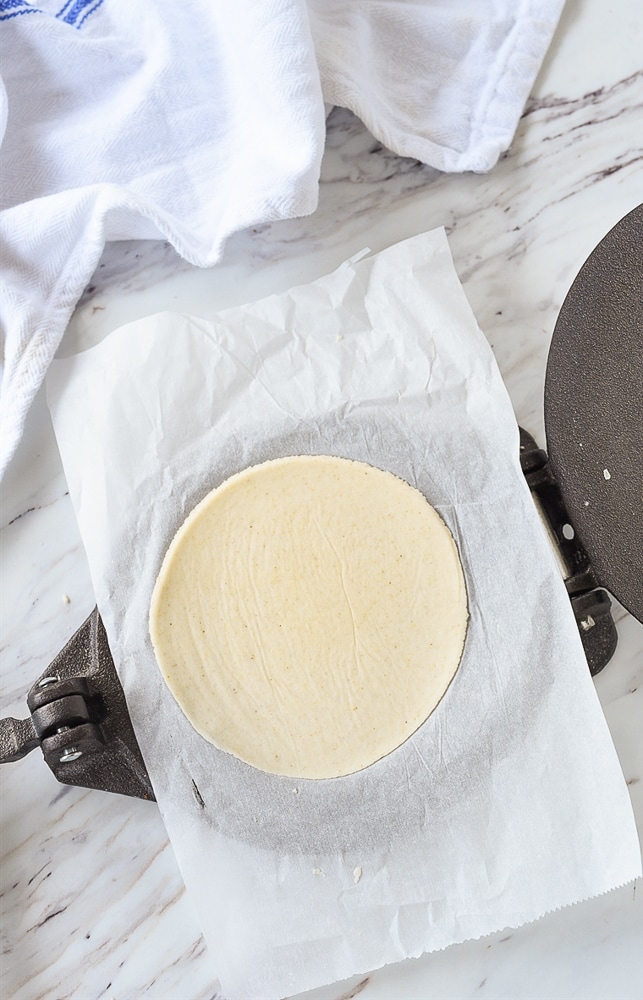 If you don't have a tortilla press, place the dough between two pieces of parchment paper and use your hand to flatten the ball. Use a rolling pin to roll out the dough to desired thickness. Try to get the tortilla as even as possible for more even cooking.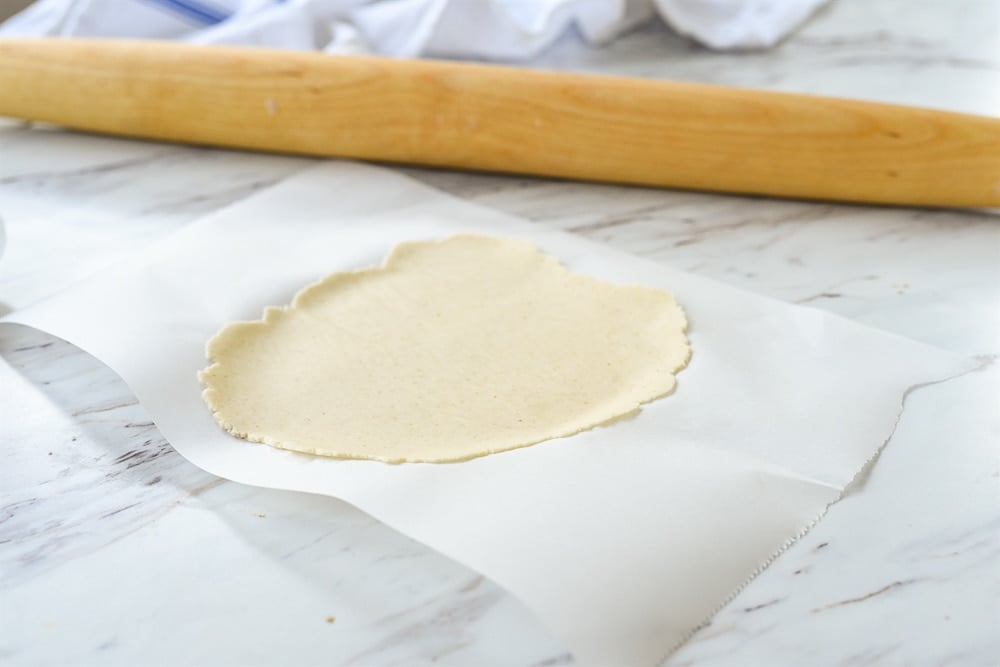 Place the tortilla on a hot skillet, griddle or pan. I like using my cast iron pan.  Cook for about one minute per side or until the edges of the tortilla begin to pull up and the tortilla looks dry and pebbly.  Small golden brown spots will appear on the tortilla.
Remove the tortilla and place it in a folded dish towel.  The tortilla may seem stiff and dry when you remove it from the griddle. Letting it sit covered by the dish towel will allow it to soften up and become more pliable.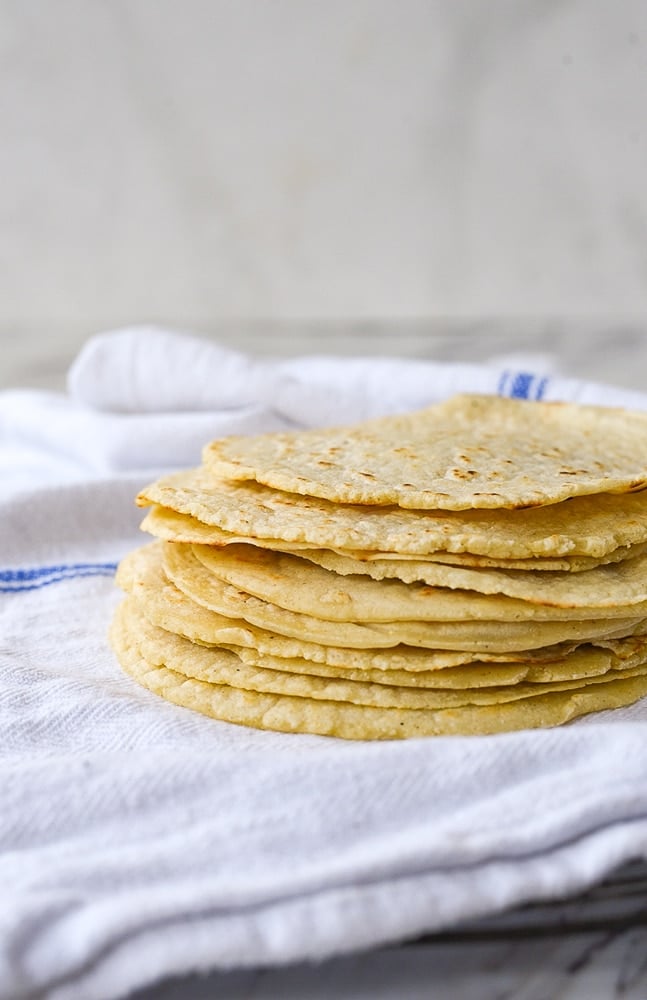 How to Store Corn Tortillas
Homemade corn tortillas are best used within 2-3 days.  They can be stored in the refrigerator or at room temperature. While they are cooling, I keep them covered with a cotton towel.  Once they have cooled and if you are not going to eat them right away, put them into an airtight container or bag.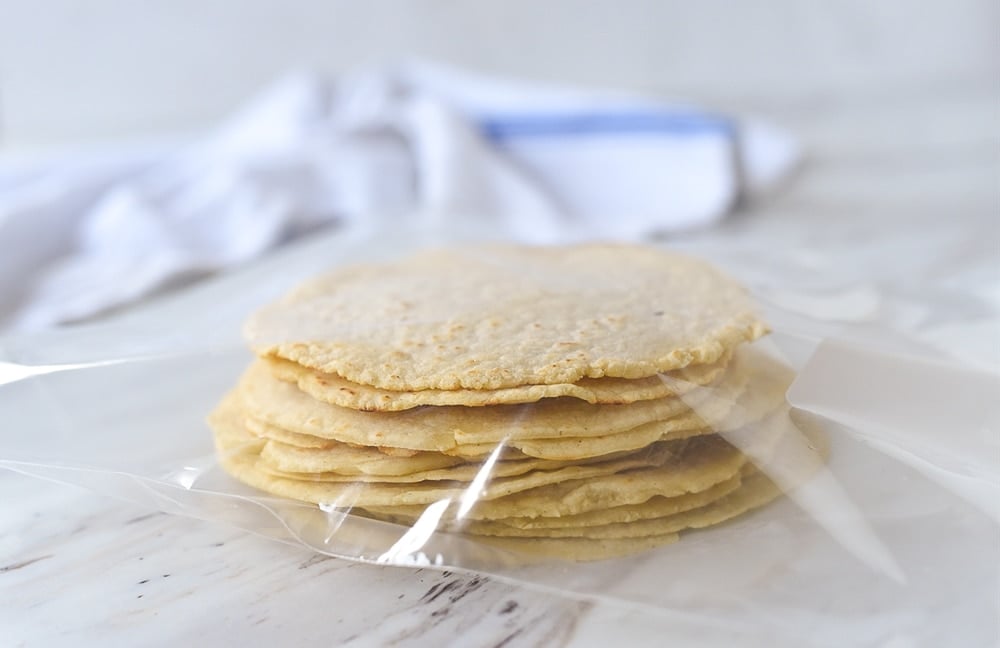 One of my favorite ways to enjoy a fresh made corn tortilla is to spread a little butter on it, add a little salt, roll it up and eat!  It was my dad's favorite way to eat a corn tortilla and it is now mine! I also love to use fresh homemade corn tortillas for dipping in salsa.
When the tortillas have started to dry out, use them to make your own tortilla chips!

Recipes Using Corn Tortillas
For all of my other favorite kitchen products and tools visit my Amazon Store.
Did you know I wrote a cookbook? Check out the Holiday Slow Cooker Cookbook for 100 delicious recipes.
Fresh Corn Tortilla Recipe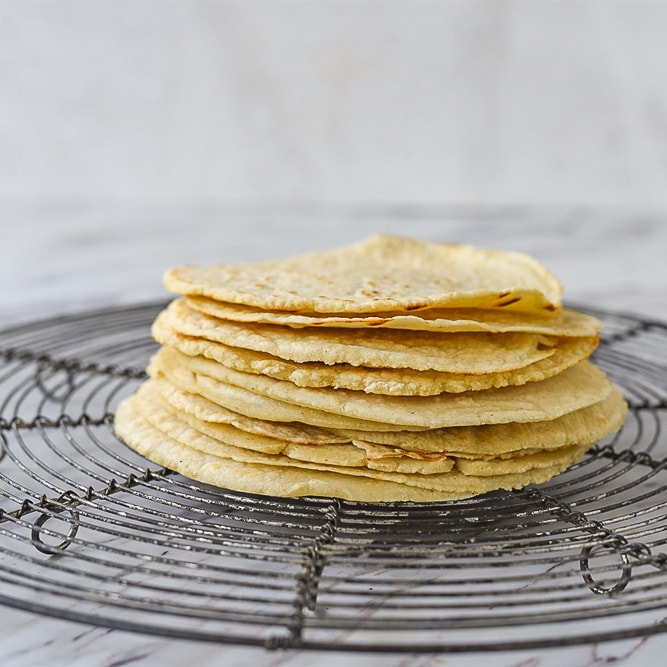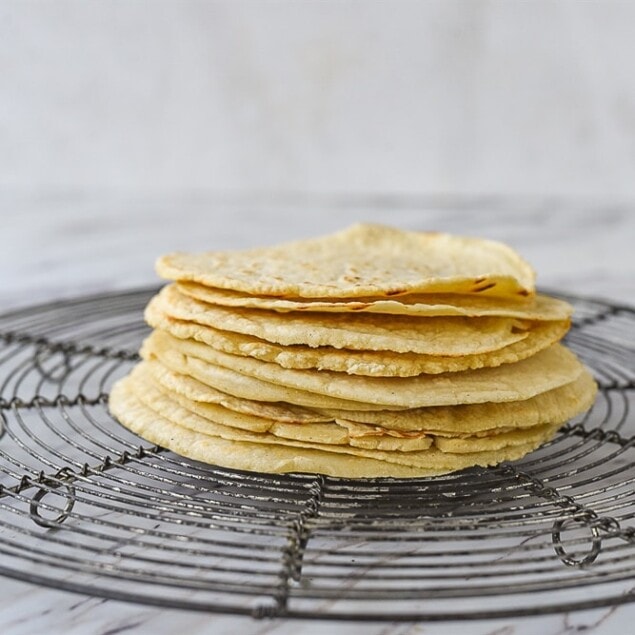 Corn Tortillas
You only need two ingredients, three if you count water to make fresh corn tortillas at home.
Ingredients
2 cups masa harina
1/2 tsp salt
1 1/2 cups hot water
Instructions
Place masa harina and salt in a bowl.

Pour in hot water and stir to combine.

Knead by hand for a few minutes until it is soft and smooth.

Add addition water if dough seems dry or additional flour if it is too sticky.

Cover and let rest for 15 minutes.

Divide dough into 16 pieces and roll into balls.

Use a tortilla press to shape tortillas or a rolling pin.

Heat griddle or skillet over medium high heat.

Cook tortilla for about a minute on each side or until edges begin to curl up and slightly brown.

Place cooked tortillas between the layers of a dish cloth and allow them to cool. They will soften as they sit in the towel.

Store in an airtight container.
Nutrition Facts:
Calories: 52kcal (3%) Carbohydrates: 11g (4%) Protein: 1g (2%) Fat: 1g (2%) Saturated Fat: 1g (6%) Sodium: 74mg (3%) Potassium: 37mg (1%) Fiber: 1g (4%) Vitamin A: 30IU (1%) Calcium: 20mg (2%) Iron: 1mg (6%)
* Disclaimer: All nutrition information are estimates only. Read full disclosure here.