Nothing beats a freshly made flour tortilla. My favorite Mexican restaurants are the ones that make their own tortillas, right there on the spot!
Now you can have the same yummy tortillas at home, anytime you want. Tomorrow's Cinco de Mayo dinner may be a great time to give them a try.
I could just eat tortillas for dinner – with nothing on them. Or I could just dip them in some of that yummy salsa that is in my refrigerator. I really would be completely happy.
To create your own bit of heaven, all you need is some flour, salt, baking powder, water and a little fat.  I used olive oil but you could also use shortening if you prefer.  I've used both and really couldn't tell a difference.  Olive oil is probably healthier.
After mixing all your ingredients together, divide your dough into 10-12 pieces.  Use your rolling pin to roll out each ball of dough as thin as you can get it.
Then you are going to dry fry them (that means you don't use any fat or oil)
Watch for them to bubble.
Then flip it over.  You want some nice brown spots.
I then put them on a plate under a towel to keep them soft and warm until we are ready to eat.
Of course I sneak a bite or two, or an entire tortilla during the process!
What are you going to serve with your tortillas.  I'm thinking chicken fajitas!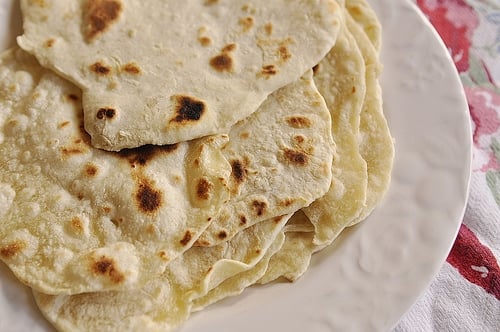 Homemade Flour Tortillas
Ingredients
3

C

flour

1/2

tsp

baking powder

3/4

tsp

salt

1

C

warm water

1

Tbsp

shortening or 3 Tbsp olive oil
Instructions
Mix together flour, baking powder and salt

Add in water and oil or shortening and mix until combined

Knead with hands on a floured surface until smooth

Divide into 10-12 balls

Cover with a towel and let sit for 10-15 minutes

To form tortilla, roll out each ball of dough using your rolling pin until thin

Preheat griddle or frying pan to about 350-375 degrees

Place tortilla on griddle an allow to cook until it begins to bubble and blister

Turn tortilla and cook other side until golden brown spots form

Stack tortillas on a plate under a towel to keep them soft and warm
Stay Updated!
Need more recipes and creative ideas? Sign up and get a FREE copy of my ebook! Do you think your friends would love this too? Please share my blog with them. Thanks!