Slow Cooker Pork Chili Verde was a winner at our house.  Better than the restaurant version we had had!
Because until a few months ago all of our children were living in Utah we have made a lot of trips to Utah over the last 10-12 years. To Provo, Utah specifically. One of our favorite activities to do while there is go out to eat. For years our favorite place to go was Los Hermanos. A local Mexican restaurant that is also a local favorite. There is always a line and a wait at Los Hermanos. Now that Provo's restaurant scene has grown and improved we don't go to Los Hermanos as much any more. But when we did I always ordered the same thing. Yes, I am one of those! My favorite dish at Los Hermanos was their Pork Chili Verde. I got it every time.
The other day I was craving it.  The problem was I was at home in Portland and Los Hermanos is a bit to far to go for dinner.  So I decided to try and recreate it at home. I served it over lime cilantro rice with some homemade flour tortillas.  It was quite yummy.
This recipe make a large batch, so it is perfect for a big family meal or to save for leftovers. And it is made in the slow cooker and the pork ends up so nice and tender and the flavor is great. I used a combination of salsa verde, green enchilada sauce and canned tomatillos.  You can buy canned tomatillos and then I just put them in my little food processors for a couple of pulses and they were perfect.
I browned the meat first in my dutch oven and then put it and everything else into the slow cooker and let it cook.  I do it on high for 3 hours and then low for 4 hours. During the last hour, remove one cup of the liquid and mix in two tablespoons of corn starch. Then pour it pack into the crockpot to thicken it.
This green chili pork is great served open faced or wrapped up in a burrito or an enchilada.  
For other yummy Mexican Slow Cooker meals check out these:
Slow Cooker Pork Chili Verde Recipe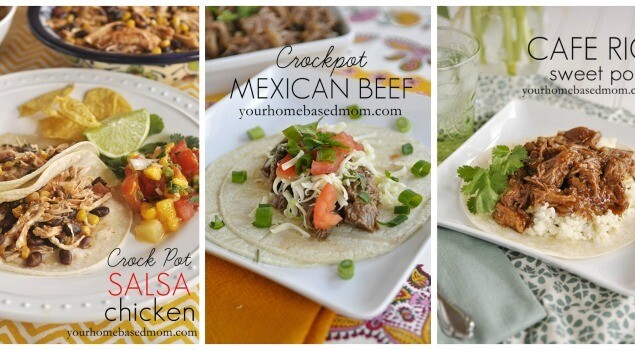 Slow Cooker Pork Chili Verde
Tender pork simmered in a green chili sauce.
Ingredients
4 lbs. boneless pork shoulder or carnitas cubed
2 Tbsp olive oil
1/2 C onion chopped
3 tsp garlic minced
14 oz. green enchilada sauce
16 oz. salsa verde
4 oz. diced green chilies
28 oz. canned tomatillos diced
1/2 Tbsp cumin
1 tsp salt more to taste if needed
2 Tbsp cornstarch
1 C juice from slow cooker
Instructions
Heat oil in heavy pan.

Add onion and garlic and cook until onions begin to soften.

Add in cubed pork and brown on all sides. (may need to do in more than one batch)

Put pork and onion mixture into slow cooker.

Add in salsa, enchilada sauce, chilies and tomatillos.

Add in cumin and salt.

Stir to combine.

Cover and cook on high for 3 hours

Reduce to low and cook for 4 hours.

An hour before done remove 1 C of liquid from slow cooker and combine with corn starch.

Put back into slow cooker, stir and allow to thicken for remaining hour.

Meat will be tender and pull apart easily when done.
Nutrition Facts:
Calories: 462kcal (23%) Carbohydrates: 17g (6%) Protein: 46g (92%) Fat: 22g (34%) Saturated Fat: 6g (38%) Cholesterol: 152mg (51%) Sodium: 1305mg (57%) Potassium: 1207mg (34%) Fiber: 3g (13%) Sugar: 12g (13%) Vitamin A: 829IU (17%) Vitamin C: 19mg (23%) Calcium: 51mg (5%) Iron: 4mg (22%)
* Disclaimer: All nutrition information are estimates only. Read full disclosure here.