Taquitos are rolled tacos filled with chicken, beef or pork and cheese.  Fried to perfection for a delicious way to use leftovers!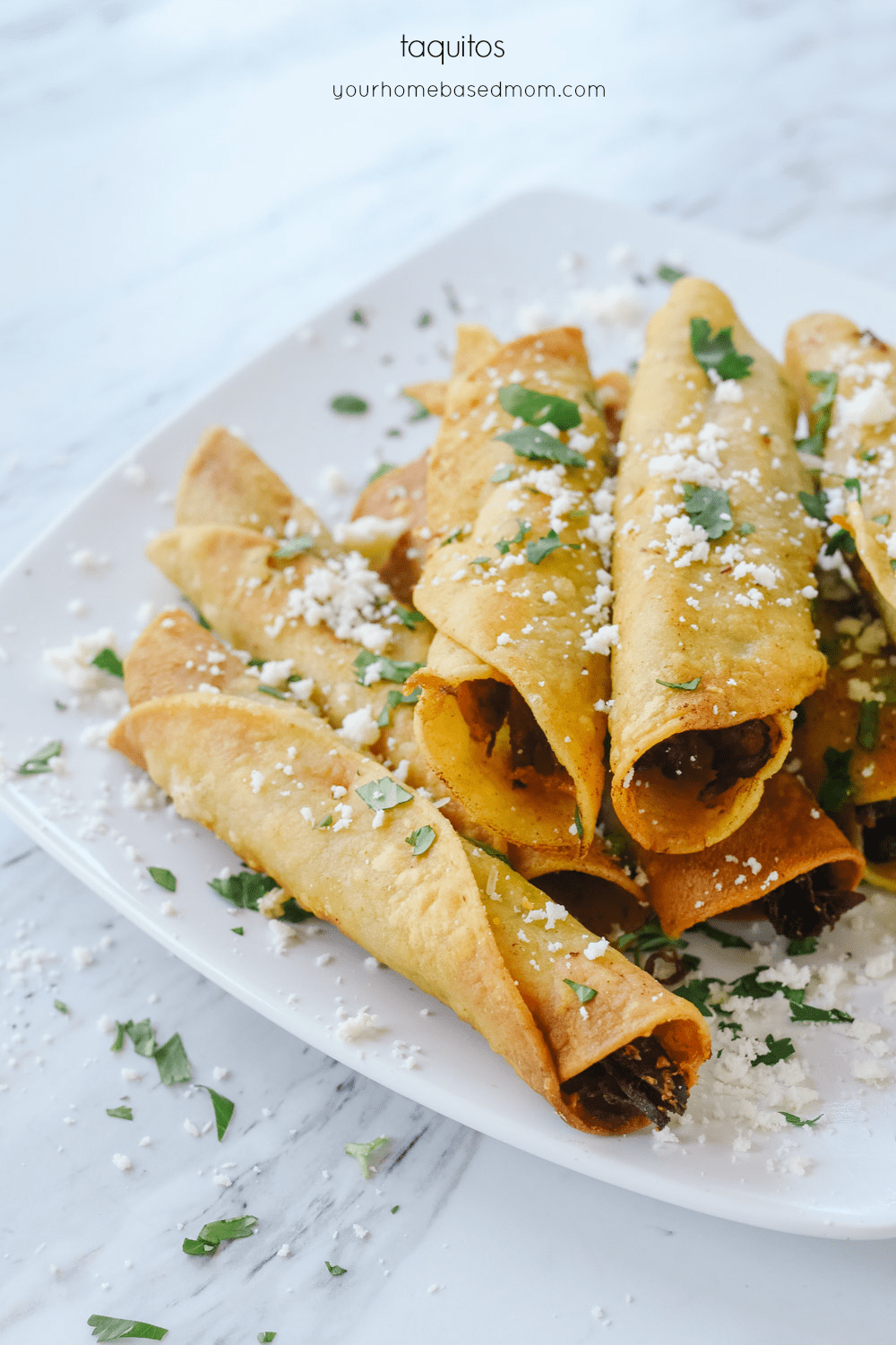 What to Make with Leftovers?
One on going problem that an empty nester has is leftovers.   Fortunately for me, my husband enjoys leftovers and is perfectly willing to eat the same thing for dinner and for lunch the next day or two.  I'm not as big a fan of leftovers, that is unless you can dress them up in another form. Taquitos are a fun and delicious way to use leftovers and change things up.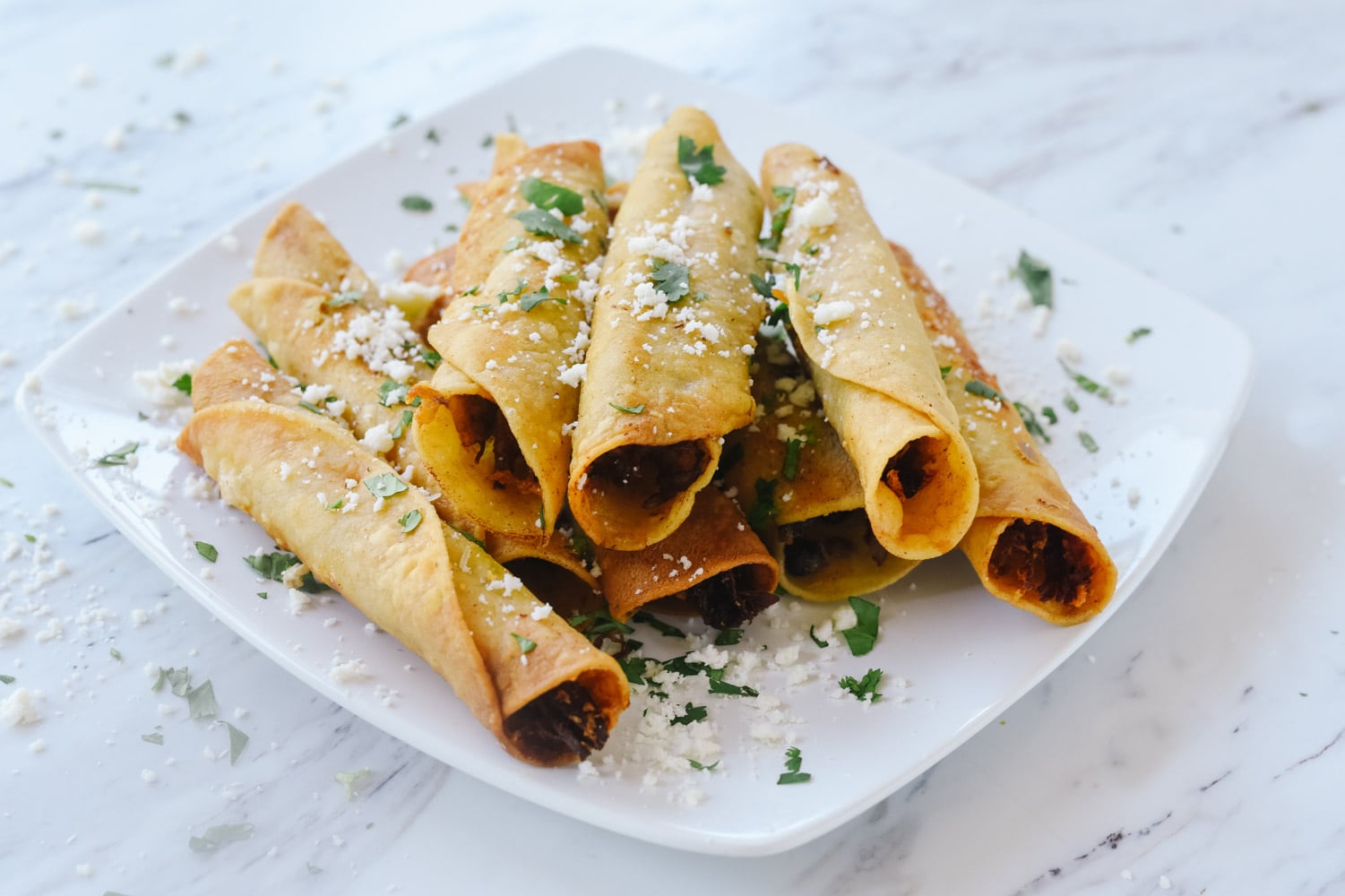 For Cinco de Mayo last week I had made Pork Carnitas. As usual, there were leftovers.  I also had some leftover black bean and corn salsa in the fridge so I decided to make taquitos.  Taquitos are the perfect way to use up whatever leftovers you have in the fridge.  I had pork but they will also work with leftover roast or chicken.  If you don't have any leftover meat but are in the mood for some taquitos you can cook up some shredded chicken in your slow cooker, Instant Pot or in the microwave.  Just add a little taco seasoning to the chicken or some cumin and chili powder.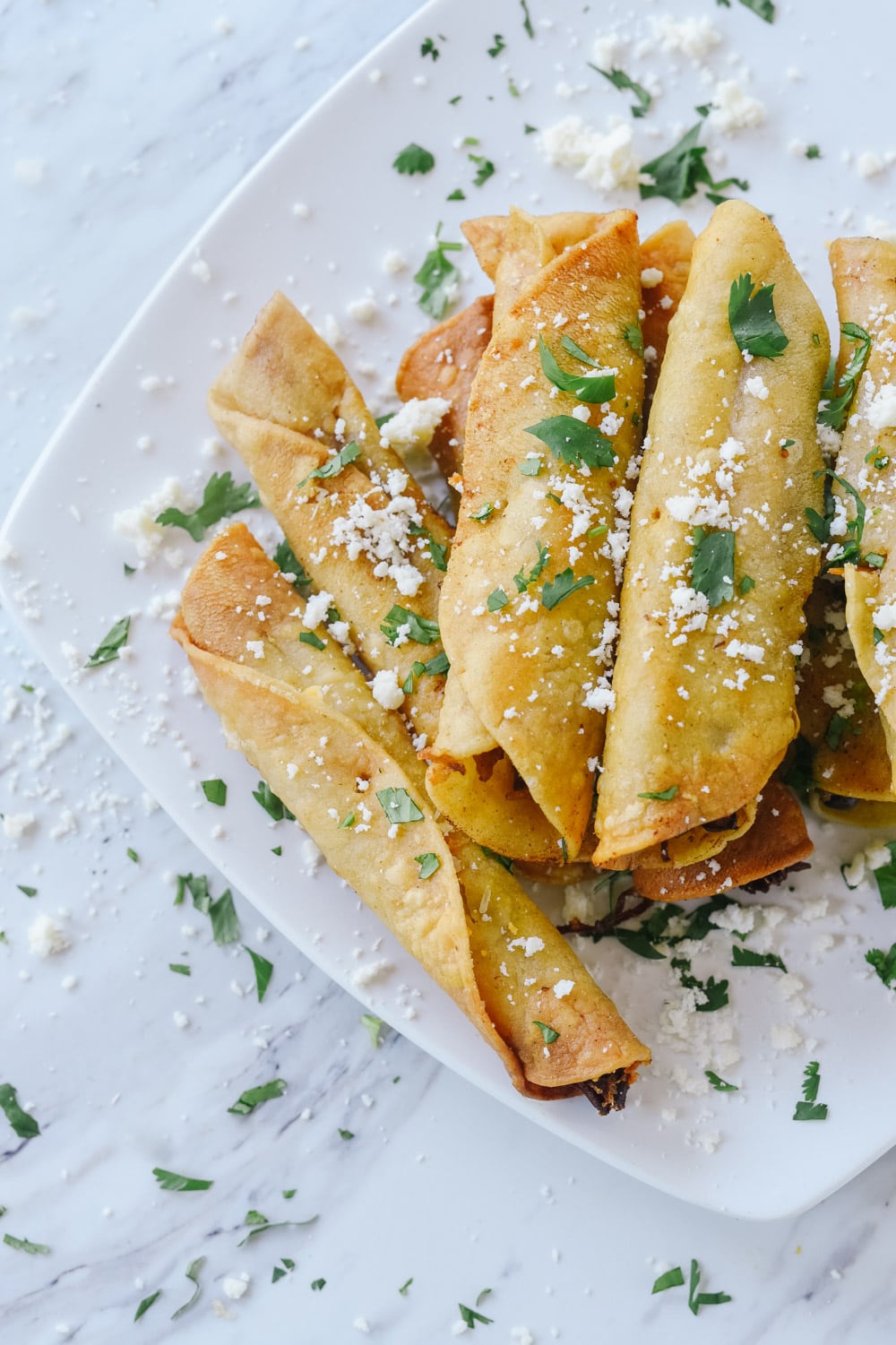 What is a Taquito?
A Taquito is a rolled-up corn tortilla that contains a filling, including beef, pork chicken and cheese. The rolled up tortilla is then fried in oil. It is often topped with sour cream and guacamole.
How to Make Taquitos?
Shred your left over meat. You will need 1 1/2 cups of meat.  If the meat isn't already seasoned add in some diced green chilies 1/2 cup cheese and garlic salt. Stir to combine.
Soften tortillas to make them easier to work with. Wrap them in a paper towel and microwave them for about 30 seconds.  I do about 5-6 at time.
Fill tortillas with a couple of tablespoons of meat and cheese mixture onto the middle of the tortilla and roll.  Hold them closed with a toothpick until you are ready to fry them.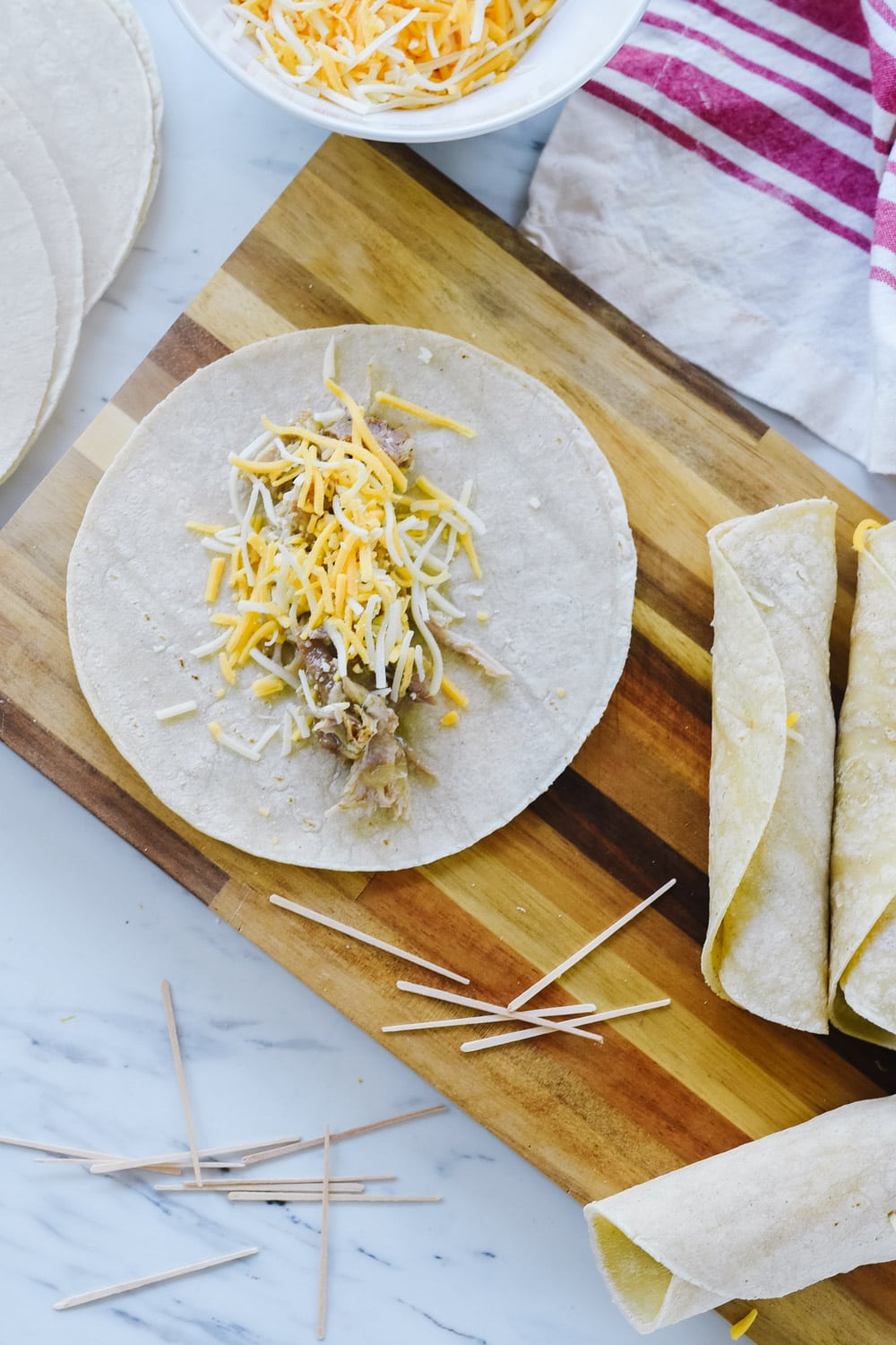 Heat your oil in a large frying pan to 350-375 degrees F.  I love using my Thermapen to check the oil temperature. You can also check the oil temperature by sticking a piece of tortilla into it and see if it sizzles or not. If it sizzles it is ready.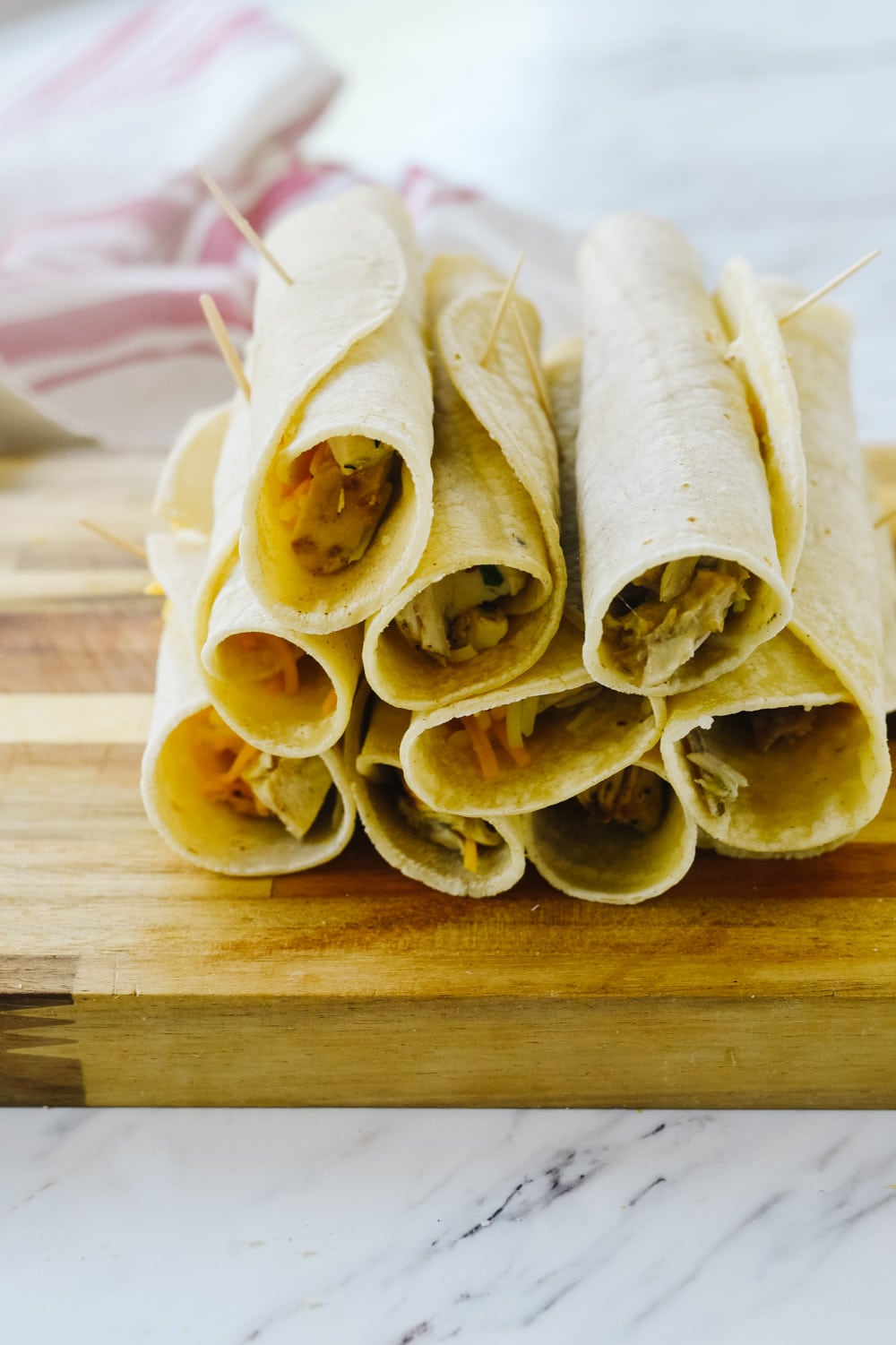 Cook the tortillas until they are crisp and lightly golden brown.  Turn over to the next side and do the same.  It will take about 5 minutes per side.
Place and drain onto a paper towel when done.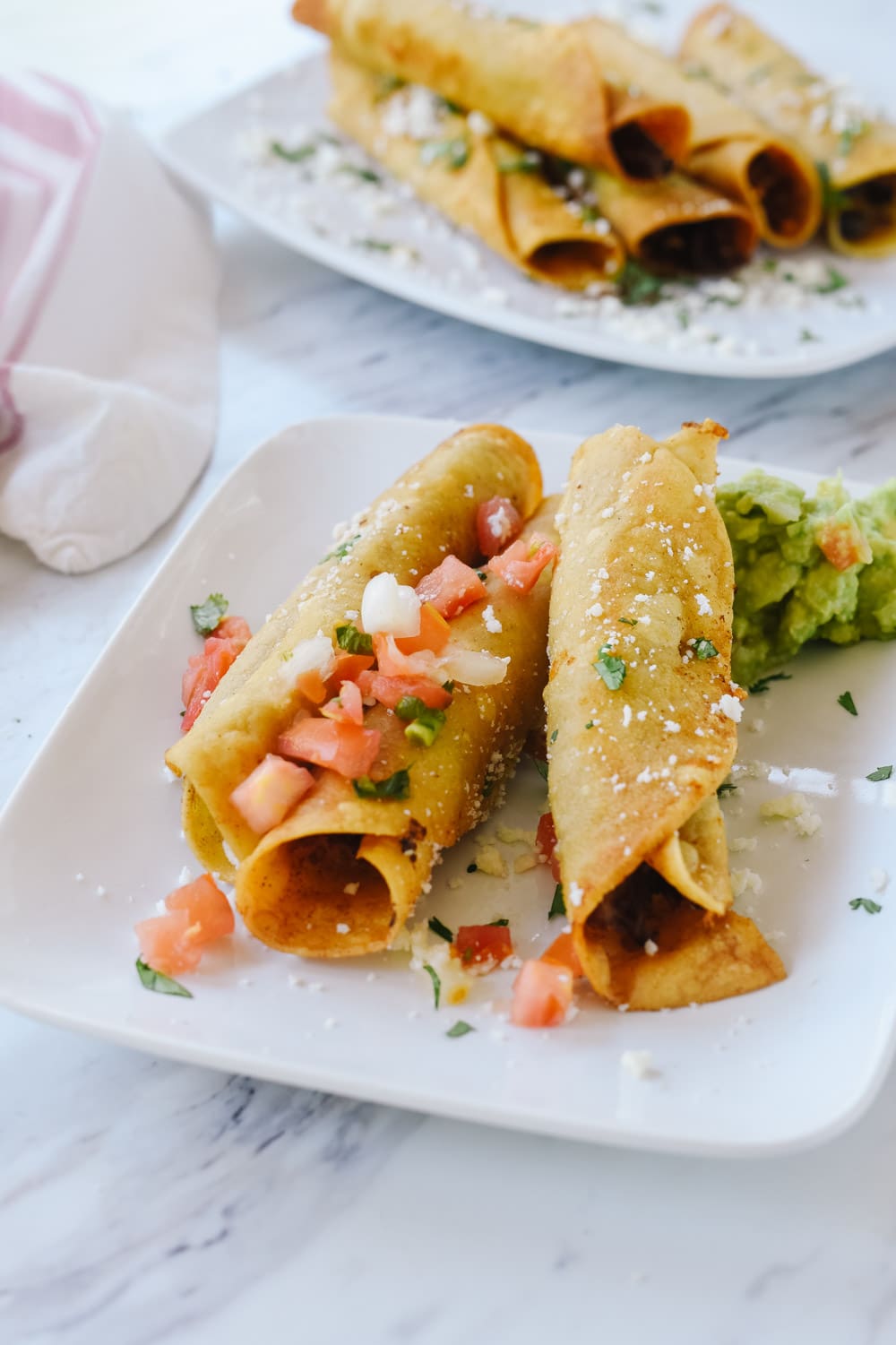 What to Eat Taquitos With?
Then you just pick them up, yes,with your hands and crunch away! Yum! Just be sure and remove the toothpick first!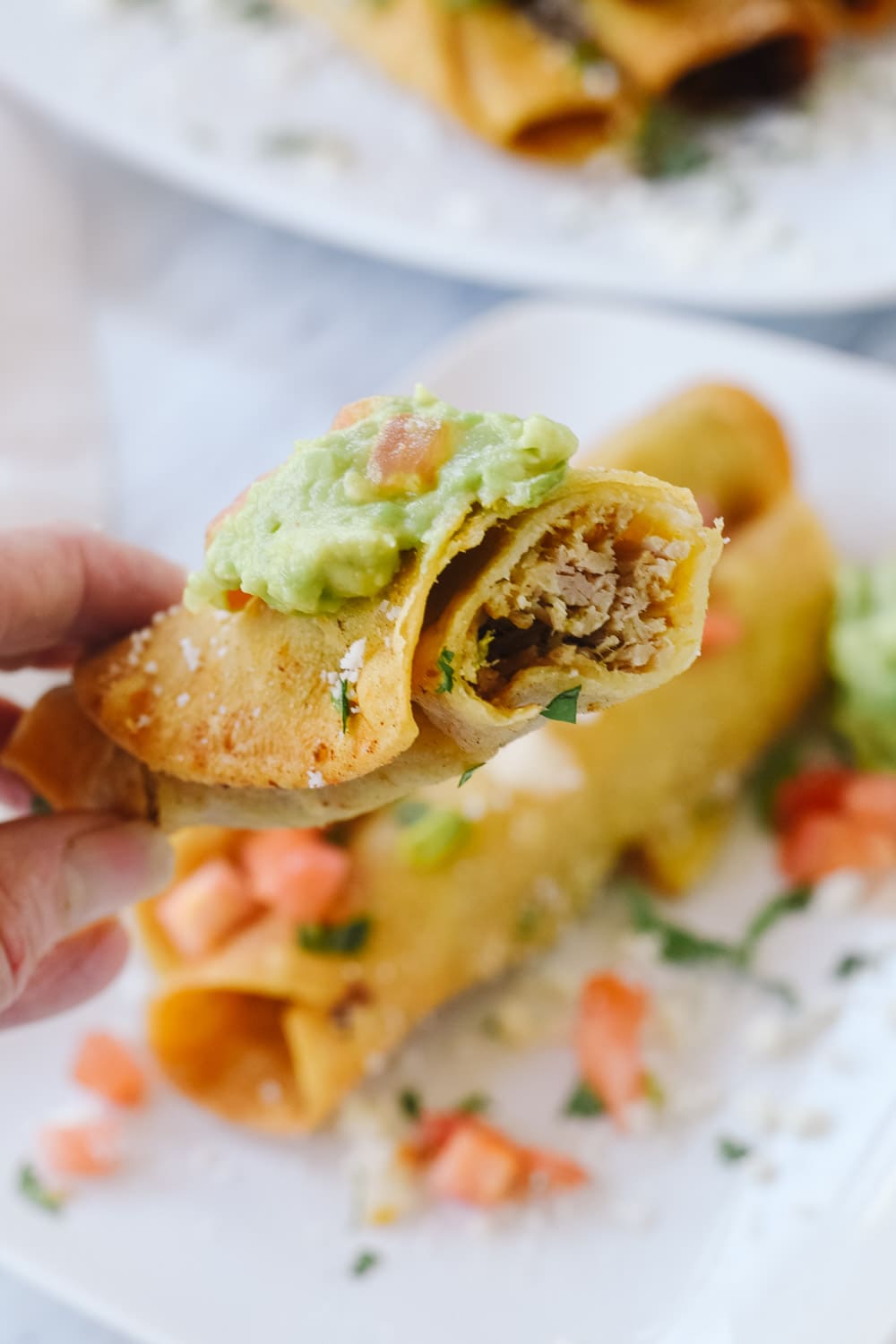 Can Taquitos be Baked?
Yes, they can! Preheat your oven to 450 degrees F. Lightly spray a baking sheet with cooking spray and place the taquitos on the sheet. Spray the top of the taquitos lightly with cooking spray and bake for 15-20 minutes or until golden brown.
Can Taquitos Be Made with Flour Tortillas?
They can but then they are called a flauta. They can be fried or baked just like a taquito. You can find a recipe for chicken flautas here.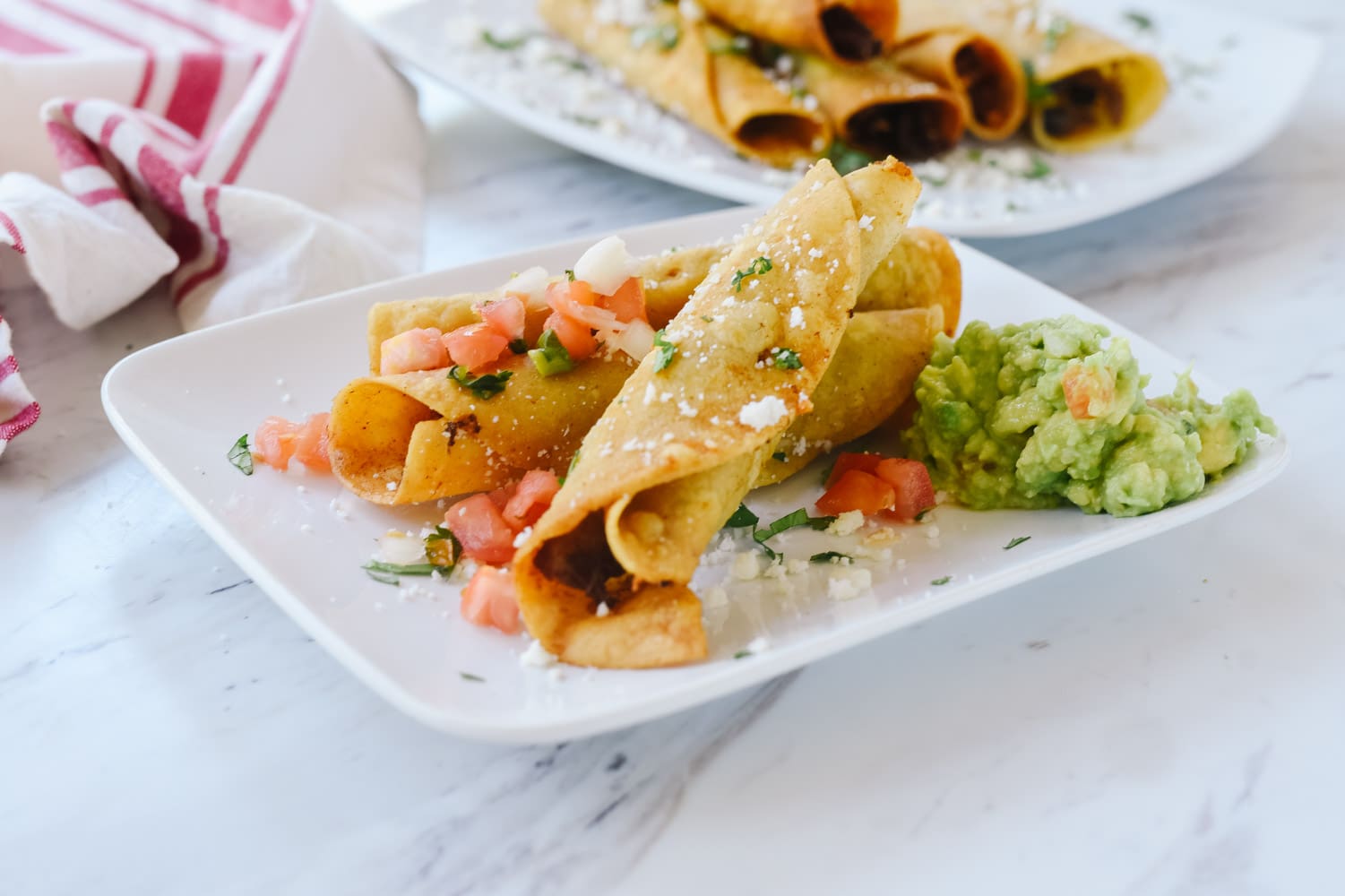 Be sure and follow me on YouTube for lots of recipe videos!
For all of my other favorite kitchen products and tools visit my Amazon Store. 
Did you know I wrote a cookbook?  Check out the Holiday Slow Cooker Cookbook for 100 delicious recipes.
Beef Taquitos Recipe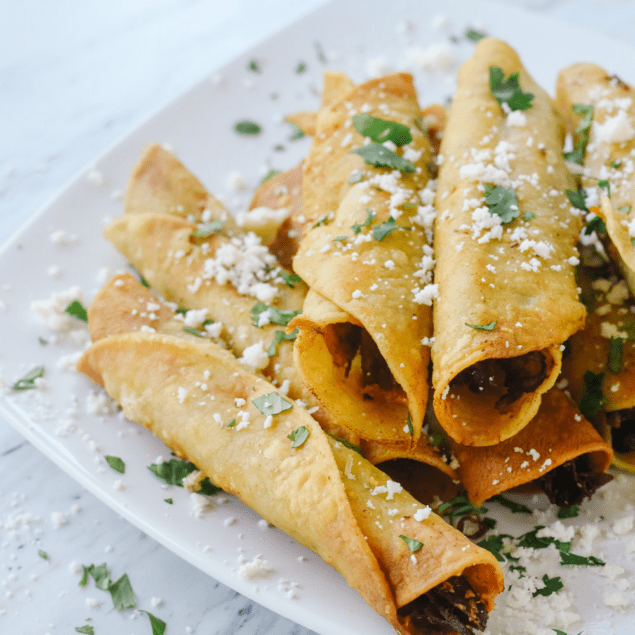 Homemade Taquitos
Taquitos are rolled tacos filled with chicken, beef or pork and cheese. Fried to perfection for a delicious way to use leftovers!

Ingredients
1 1/2-2 cups meat chicken, beef or pork
1 4 oz. chopped green chiles
1 tsp garlic salt I used 1 tsp to 1 1/2 C meat.
12 Corn tortillas
1/2 c sour cream
1/2 c salsa
1 c cheese grated, extra for garnish
Instructions
Combine meat, green chilies and garlic salt into a bowl and stir to combine.

Soften tortillas wrapped in a paper towel in the microwave.

Place 2 Tbsp meat mixture onto softened tortilla.

Roll up and secure with a tooth pick.

Heat a pan with vegetable oil (about 1 inch deep) Heat oil until hot and bubbly.

Cook taquitos in oil until lightly golden brown, both sides. Drain on a paper towel.

Garnish with sour cream, salsa and cheese.
Nutrition Facts:
Calories: 134kcal (7%) Carbohydrates: 13g (4%) Protein: 9g (18%) Fat: 5g (8%) Saturated Fat: 2g (13%) Cholesterol: 26mg (9%) Sodium: 801mg (35%) Potassium: 190mg (5%) Fiber: 1g (4%) Vitamin A: 170IU (3%) Vitamin C: 16.8mg (20%) Calcium: 155mg (16%) Iron: 1.2mg (7%)
* Disclaimer: All nutrition information are estimates only. Read full disclosure here.
Originally posted January 10, 2012
Need some help figuring out what's for dinner tonight?
Come join our Facebook Group! Join hundreds of others who love sharing dinner time ideas. You don't want to miss out on the fun!

You'll find lots of ideas for dinner from all our awesome members and you can share your ideas too! Join the Family Dinner Table today.