These easy Beef Fajitas are made with flank steak that marinaded and grilled. Add in peppers and onions for a delicious dinner.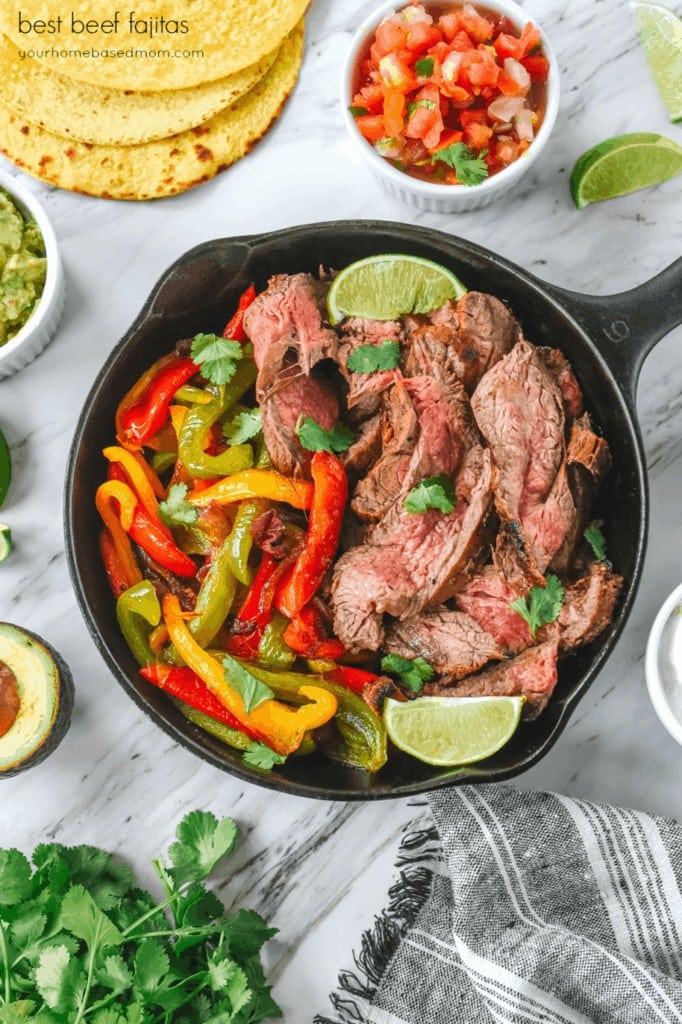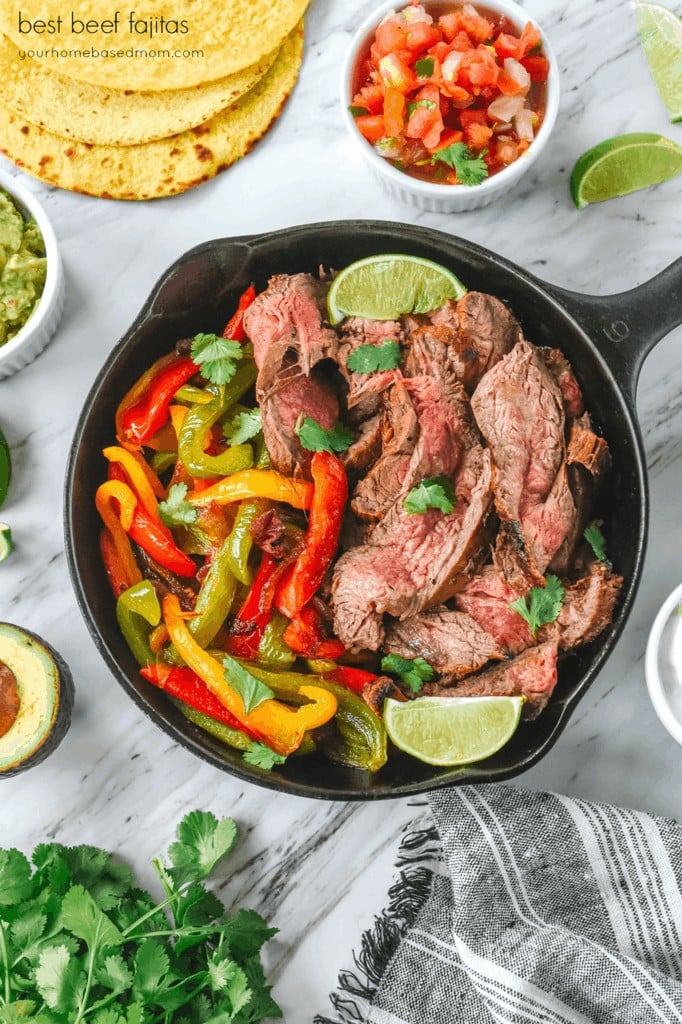 I have been on a quest. To discover a great beef fajita recipe. I have done lots of experimenting the last month or so and I think my family is a little tired of fajitas.
Best Steak for Fajitas
I have experimented with different cuts of steak for fajitas and have found that my favorite is flank steak, followed by skirt steak.  Flank steak is a thicker cut of meat and more tender.
Beef Fajita Marinade
The secret to a tender and flavorful beef fajita is the marinade.  Whether you use flank steak or skirt steak, both meats need a marinade.  I use a combination of  soy sauce, balsamic vinegar, lime juice, dijon mustard, Worcestershire sauce and canola oil.  The flavor is amazing and it helps tenderize the meat.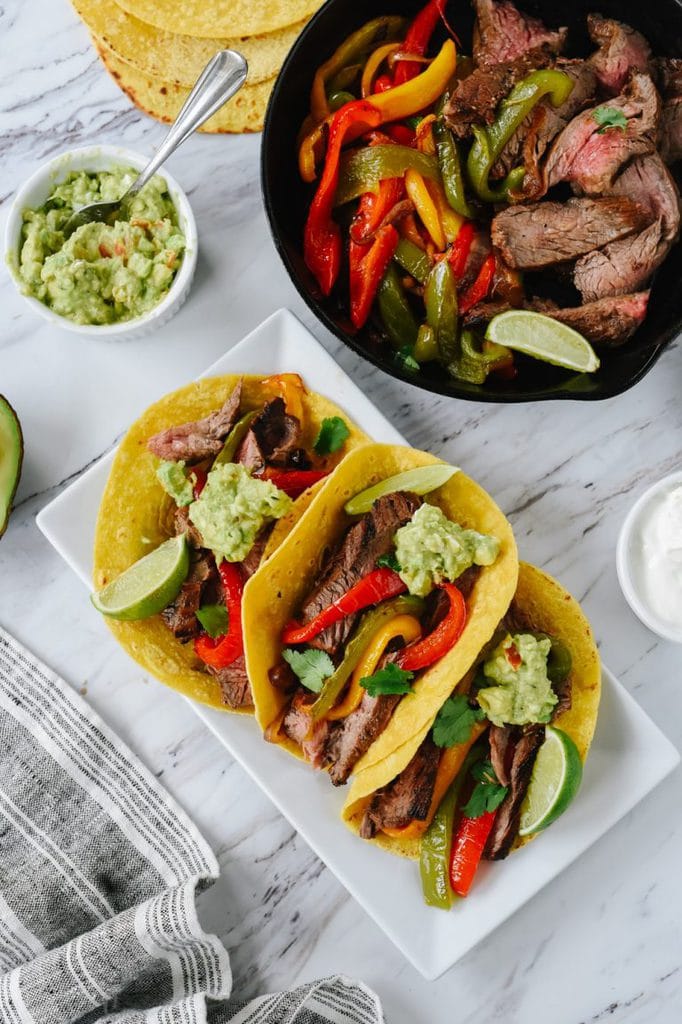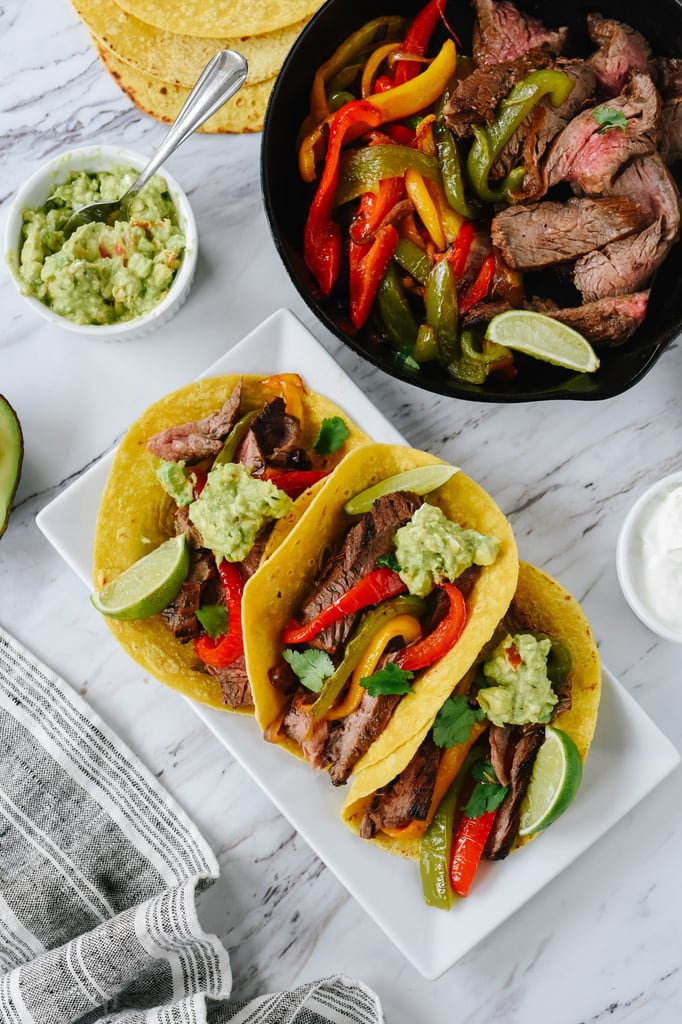 How to Make Beef Fajitas
Marinating the meat is really important.  If you are using flank steak you want it to marinade for at least 2-3 hours.  If you are using skirt steak allow it to marinade overnight, preferably 24 hours.
I usually put my meat and marinade into a large zippered bag and put it in the refrigerator.  I try to remember to turn the bag a few times to make sure all the meat is getting into the marinade.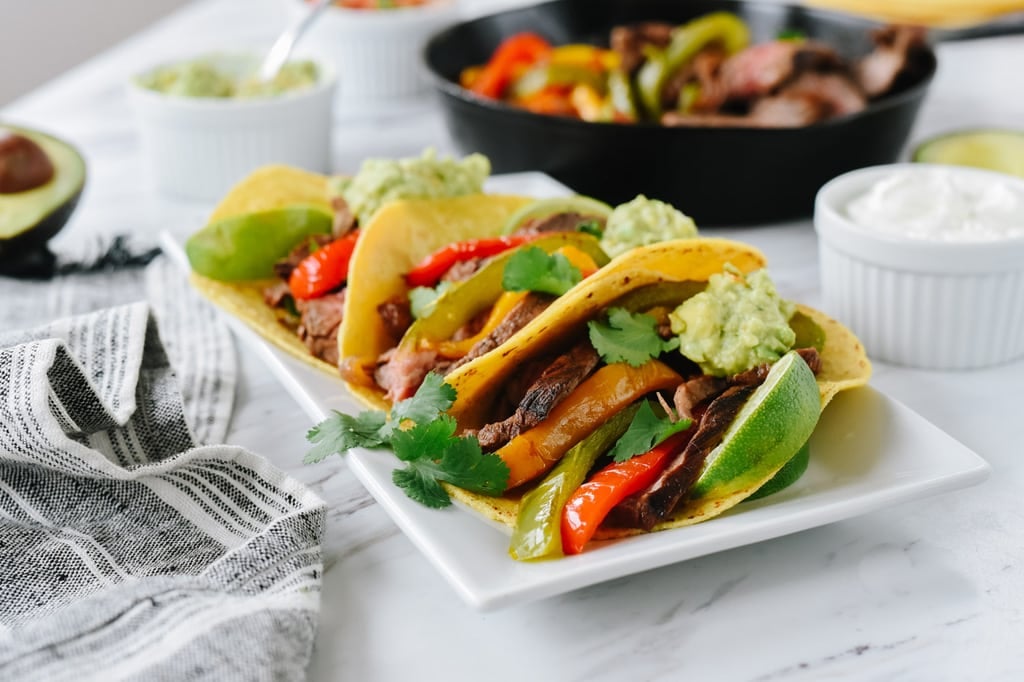 For the most tender meat, I grill the steak over medium high heat for about 5-7  per side for flank steak.  It will depends on how thick your meat is.  Skirt steak will cook much faster.  I always use a meat thermometer and cook my meat to a medium doneness, about 135-145 degrees F.
I usually pull my meat off the grill 5-10 degrees early and then allow it to sit for about five minutes before slicing and serving.
Always cut your meat across the grain for more tender meat.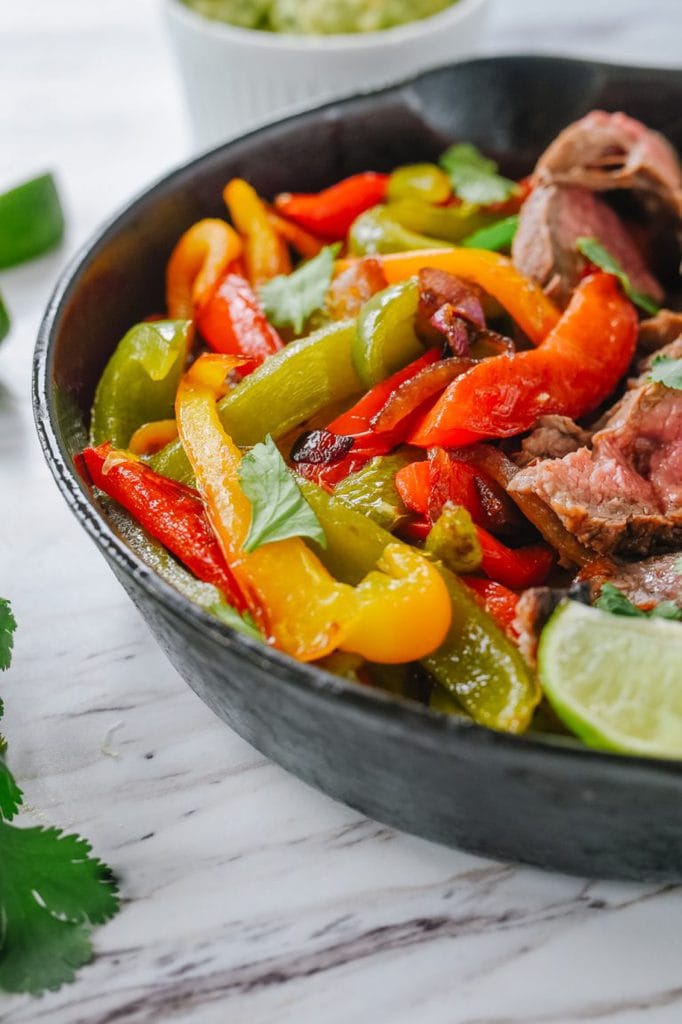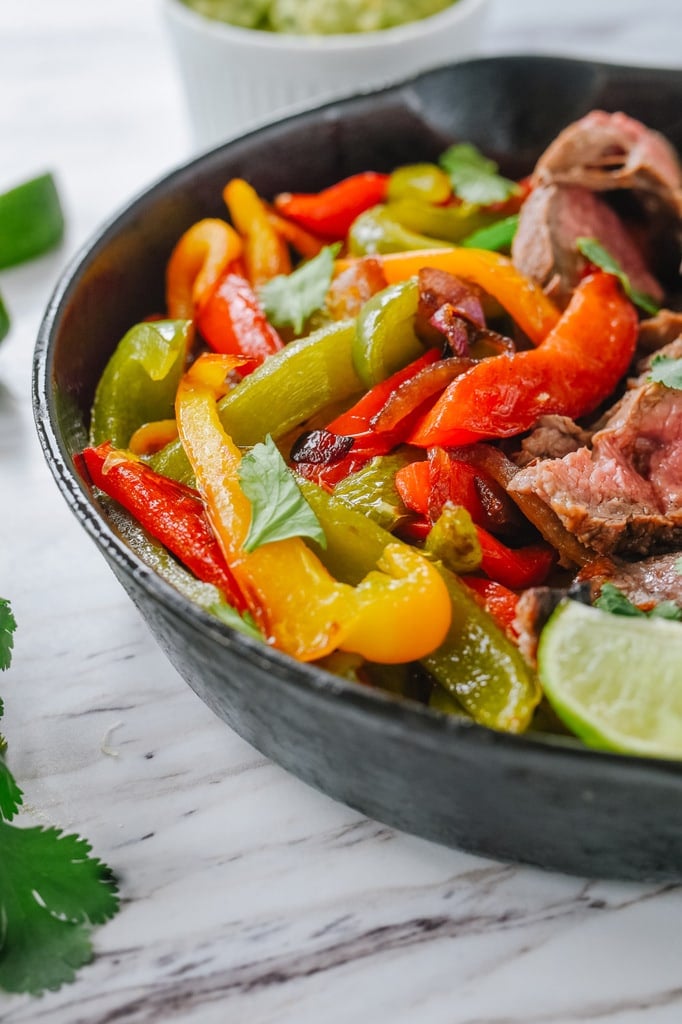 While your meat is cooking saute your peppers and onion in some olive oil with some salt.  I like to use a combination of red, orange, yellow, and green peppers.  I have used a white, yellow or red onion. Slice them thin and saute until tender but not mushy.
I prefer corn tortillas for my fajitas but flour tortillas work great too.  We eat them just like a taco.
Fajitas are perfect with a little homemade guacamole, or a lot of homemade guacamole.  I have several guacamole recipes here on the blog, this one is my favorite.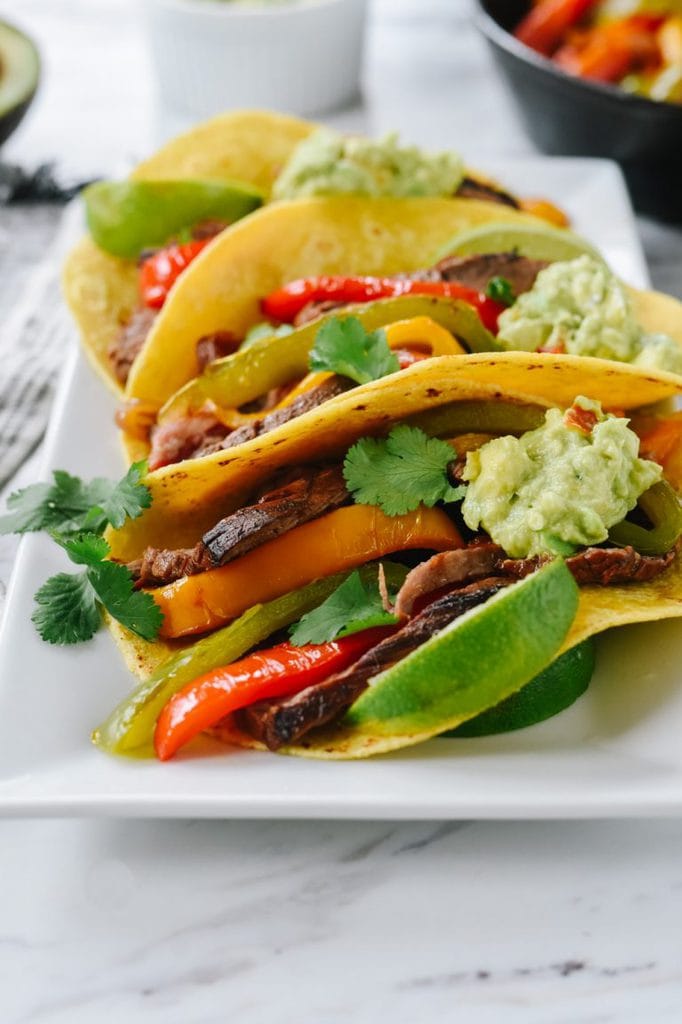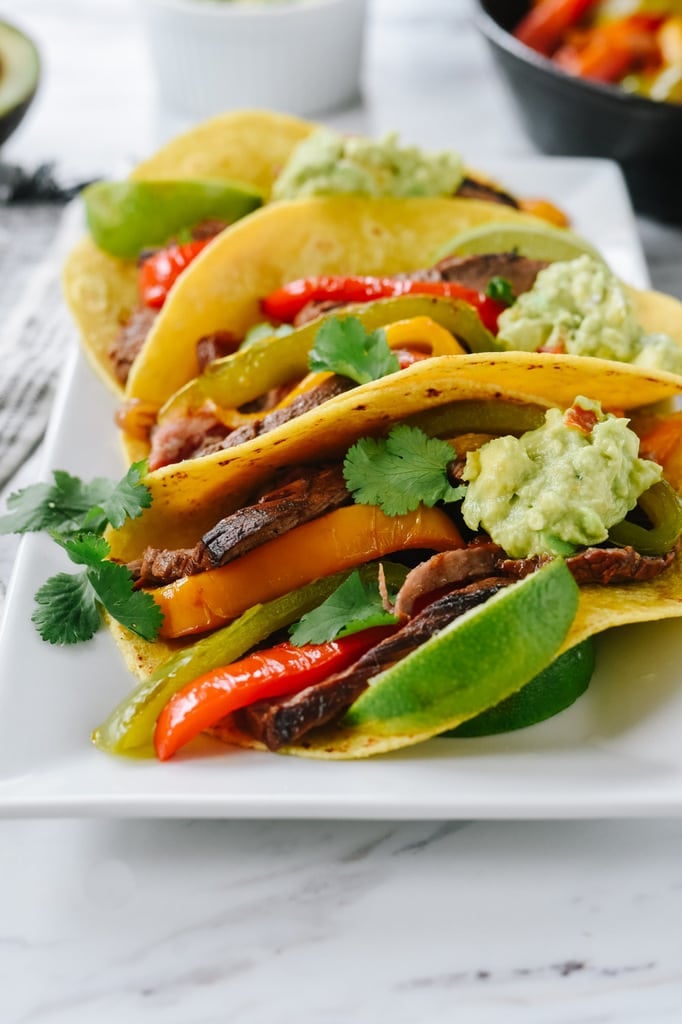 Some other yummy Mexican recipes you might enjoy:
Beef Fajita Recipe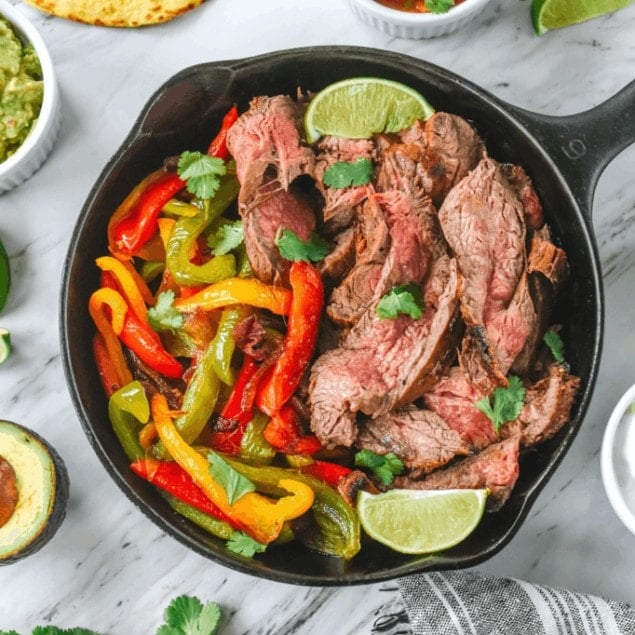 Beef Fajitas
Beef Fajitas are made with flank steak that marinaded and grilled. Add in peppers and onions for a delicious dinner.
Ingredients
1/2 C Canola oil
1/3 C soy sauce
1/4 C balsamic vinegar
2 Tbsp fresh lime or lemon juice
1 1/2 Tbsp Worcestershire sauce
1 Tbsp Dijon mustard
3 cloves garlic minced
1/2 tsp ground black pepper
1 1/2 pounds flank steak
Combination of peppers - red yellow, orange, green and onion, sliced.
Olive oil
Salt
Instructions
Using a medium bowl,combine the oil, soy sauce, vinegar, lemon or lime juice, Worcestershire sauce, mustard, garlic, and ground black pepper

Place meat in a large Ziploc baggie and pour marinade over the steak

Turning meat to coat thoroughly

Refrigerate for at least 2-3 hours or overnight

Preheat grill for medium-high heat

Place steaks on the grill, and discard the marinade

Grill meat for 5 minutes per side, or to desired doneness

Slice meat thinly going across the grain

While meat is grilling, saute onions and peppers in olive oil and salt until tender

Serve with meat on a tortilla

Add sour cream, guacamole and or salsa
Nutrition Facts:
Calories: 271kcal (14%) Carbohydrates: 7g (2%) Protein: 37g (74%) Fat: 8g (12%) Saturated Fat: 3g (19%) Cholesterol: 102mg (34%) Sodium: 907mg (39%) Potassium: 696mg (20%) Sugar: 3g (3%) Vitamin C: 4.5mg (5%) Calcium: 55mg (6%) Iron: 3.6mg (20%)
* Disclaimer: All nutrition information are estimates only. Read full disclosure here.
Originally posted February 16, 2011