Mint Chocolate Chip Gelato is Infused with fresh mint and has amazing flavor. It is refreshing and the perfect way to cool off in the heat.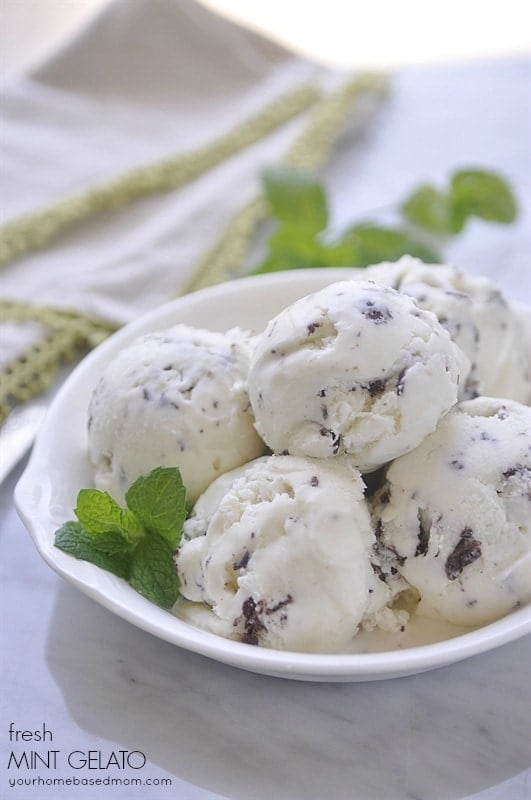 While on a trip to New York City one of my places to check out was the Gelateria at Eatlay. It was voted one of the 10 best Gelato places in NYC. Although it is the only one of the 10 I tried I have to agree it was pretty darn good. It was hot and humid while I was in NYC and some gelato was the perfect way to cool down. I went with the Mint Chip Gelato.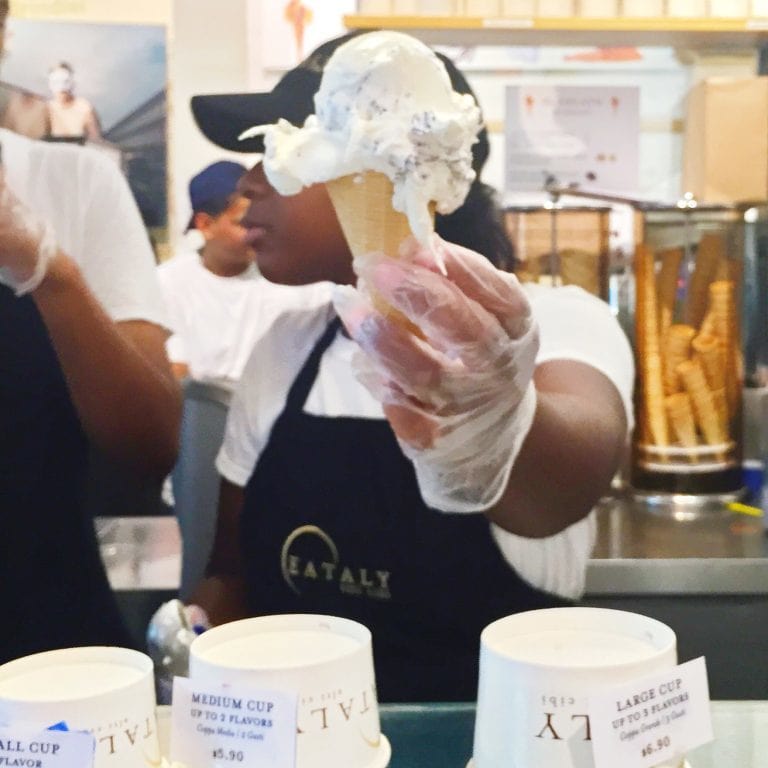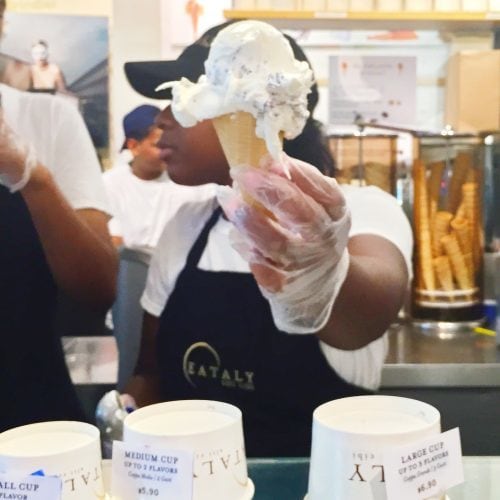 So when I got back home to Portland I was thinking and craving some more mint gelato so I got to work and made my own.
What is Gelato?
What is Gelato? The main differences between ice cream and gelato are that gelato has less fat and less air and usually uses fewer eggs. Gelato tends to have a more dense and milky texture. Basically though, gelato is just the Italian word for ice cream. For a mint chocolate chip ice cream recipe try this one.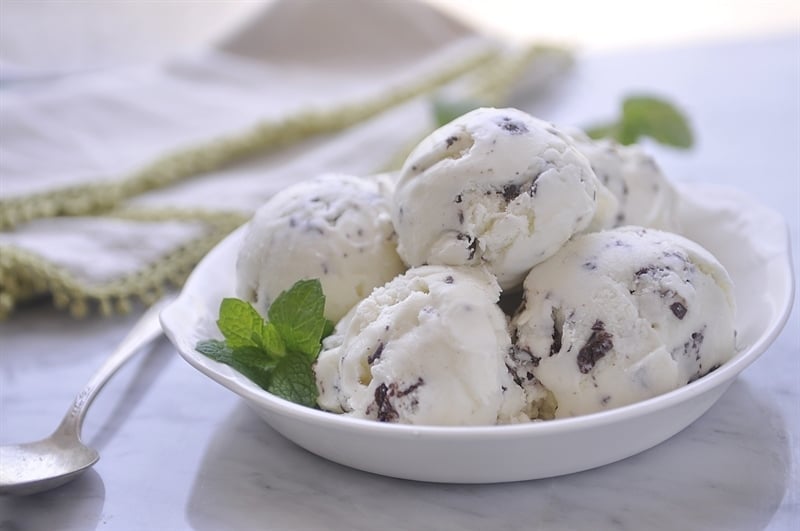 Ingredients Needed
Sugar
Cornstarch. This is a thickening agent
Heavy Whipping Cream
Whole milk
Fresh mint sprigs
Semisweet chocolate or dark chocolate I used baking chocolate, not chocolate chips as I think it melts better and you are going to pour melted chocolate into the ice cream.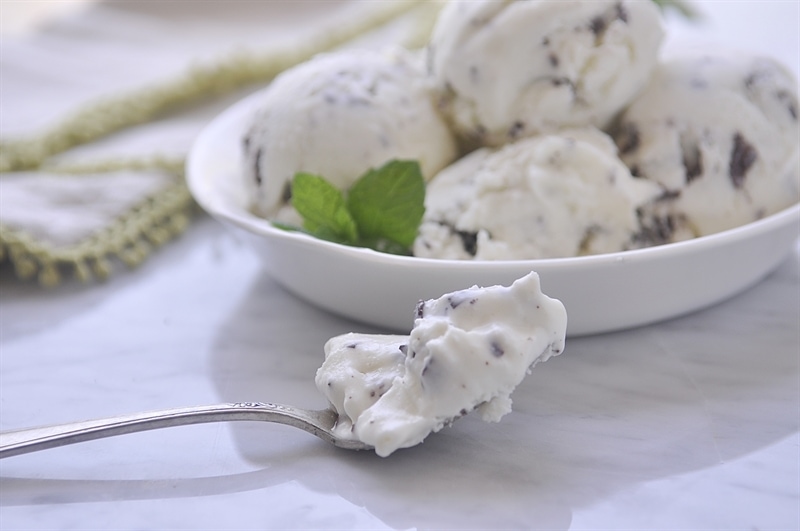 Can I Use Mint Extract Instead of Fresh Mint?
You can use mint extract instead of fresh mint but there is a difference in flavor. The thing that makes this mint gelato amazing is the use of fresh mint. Fortunately, I have mint growing in my herb garden but you can pick it up in the produce department of the grocery store too!
If you are using mint extract, use 1 teaspoon of mint in place of the fresh mint.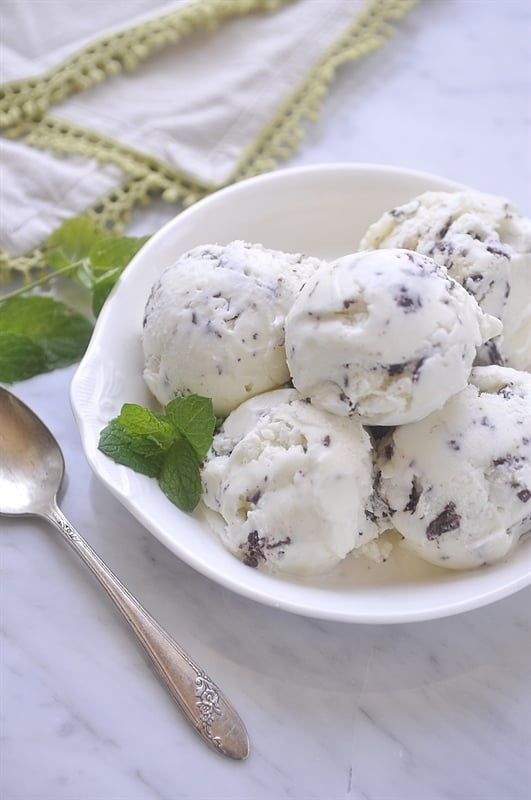 How To Make Mint Chocolate Chip Gelato
In a medium saucepan combine sugar and cornstarch. Pour in milk and cream and heat over medium heat until milk begins to boil and thicken. Stir constantly!.
Add in fresh mint leaves.
Set your pan into a bowl full of ice and water. Whisk often, you want to cool the mixture down quickly.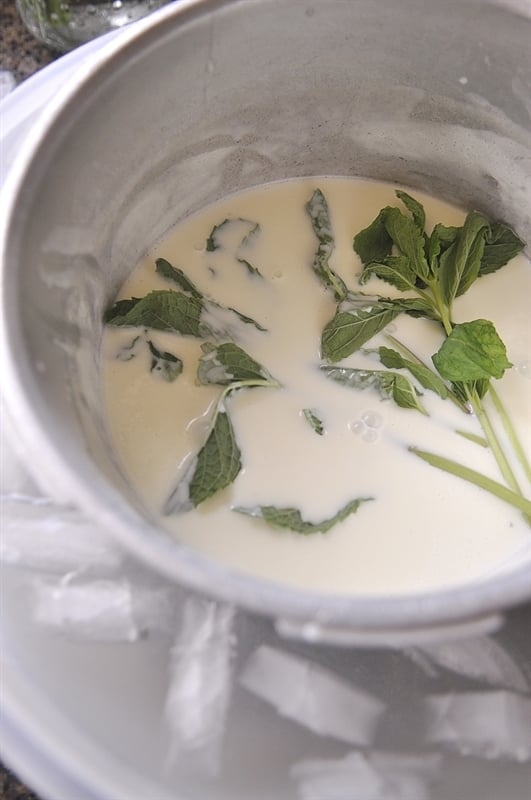 After 5 minutes, remove the mint. Don't leave your mint in your warm milk too long or the mint flavor may be overpowering.
If you want green chocolate chip mint ice cream you can add in some green food coloring.
When the mixture has cooled down, refrigerate for 4 hours or until completely cold before processing the ice cream according to manufacturers directions.
I used my favorite Cuisinart Ice Cream Maker to churn the gelato.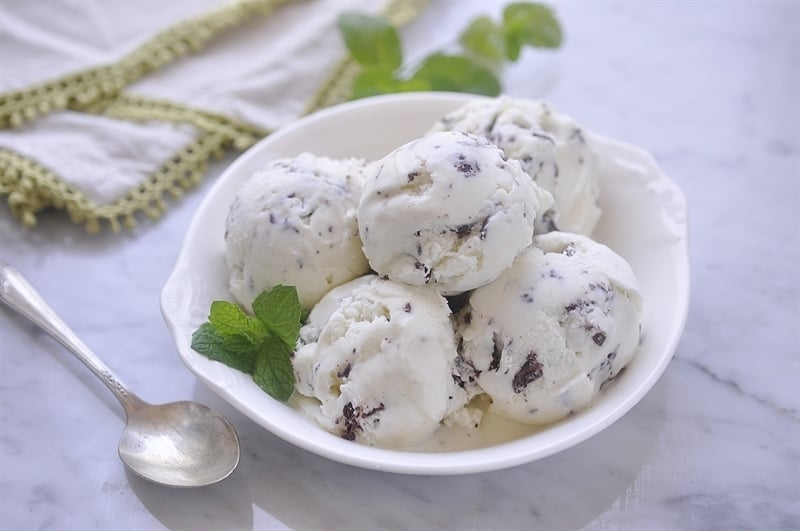 After the gelato is churned but before you put it in the freezer to set up, add the chocolate. By stirring in melted chocolate it will harden when it hits the cold ice cream and turn into chocolate flakes and bits. Just use a wooden spoon to stir in the chocolate.
Place the gelato in an insulated ice cream tub and freeze until firm.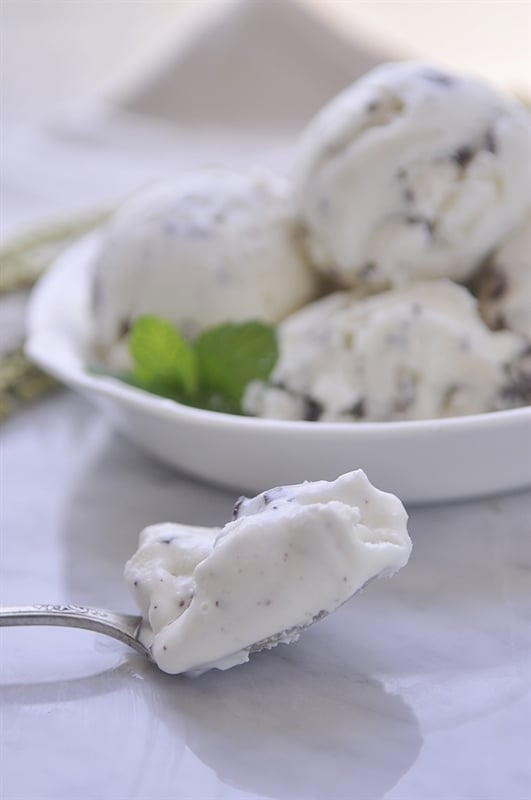 Frequently Asked Questions
What's the difference between Mint Extract and Peppermint Extract?
Mint Extract is a combination of peppermint and spearmint. Mint has a bright, bold flavor. Peppermint Extract is just peppermint and has a bit sweeter flavor.
If you prefer peppermint be sure and check out my amazing peppermint ice cream recipe.
How long will homemade ice cream last in the freezer?
Stored in an airtight, insulated ice cream container it will last for a couple of weeks.
Do I have to use an ice cream maker?
This homemade ice cream recipe is designed to be made in an ice cream maker and is not meant to be a no churn ice cream.
A scoop of this fresh mint gelato is the perfect summer treat.
Be sure and follow me over on You Tube for weekly cooking demos.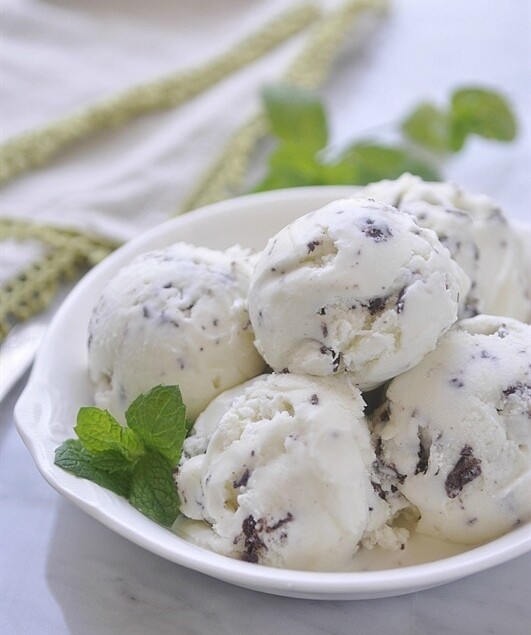 Mint Chocolate Chip Gelato
Infused with fresh mint, this Mint Chocolate Chip Gelato has amazing flavor. It is refreshing and the perfect way to cool off in the heat.
Ingredients
1 cup sugar
2 Tbsp cornstarch
2 cups heavy cream
2 cups whole milk
6 fresh mint sprigs
4 ounces semisweet chocolate chopped
Instructions
In a large heavy saucepan, stir the sugar and cornstarch together. Stir in the cream and milk and cook over medium heat, stirring constantly for about 10 minutes, or until the mixture thickens and begins to bubble.

Add the mint sprigs. Set the pan into a bowl of ice water to cool the mixture down quickly and stir occasionally until cool; discard the mint after 5 minutes. If you leave the mint in too long the flavor will be too strong. Cover the mint cream and refrigerate about 4 hours, or until completely cold.

Freeze the mint cream in an ice cream maker according to the manufacturer's instructions until frozen.

While the milk mixture is cooling, melt the chocolate. I did it in the microwave but can also done in an double boiler. Cool until the chocolate is barely warm and still fluid.

After the gelato is processed, working quickly, drizzle the melted chocolate into the gelato while whisking or stirring vigorously. The chocolate will flake apart as it hits the cold gelato, forming bits of chocolate throughout, stir with a wooden spoon..

Serve immediately, or transfer to a container and freeze until firm, 3 to 4 hours.

Read more at: http://www.foodnetwork.com/recipes/fresh-mint-chip-gelato.html?oc=linkback
Tips & Notes:
recipe makes 1 qt Stored in an airtight, insulated ice cream container it will last for a couple of weeks. Substitute fresh mint with 1 tsp mint extract.
Nutrition Facts:
Calories: 429kcal (21%) Carbohydrates: 39g (13%) Protein: 4g (8%) Fat: 29g (45%) Saturated Fat: 18g (113%) Trans Fat: 1g Cholesterol: 88mg (29%) Sodium: 51mg (2%) Potassium: 210mg (6%) Fiber: 1g (4%) Sugar: 33g (37%) Vitamin A: 1012IU (20%) Vitamin C: 1mg (1%) Calcium: 119mg (12%) Iron: 1mg (6%)
* Disclaimer: All nutrition information are estimates only. Read full disclosure here.