Tex-Mex style Steak Fajitas are made with flat iron steak, peppers and onions and served on fresh flour tortillas.  Flat Iron Steak Fajitas are the best fajitas I have ever eaten!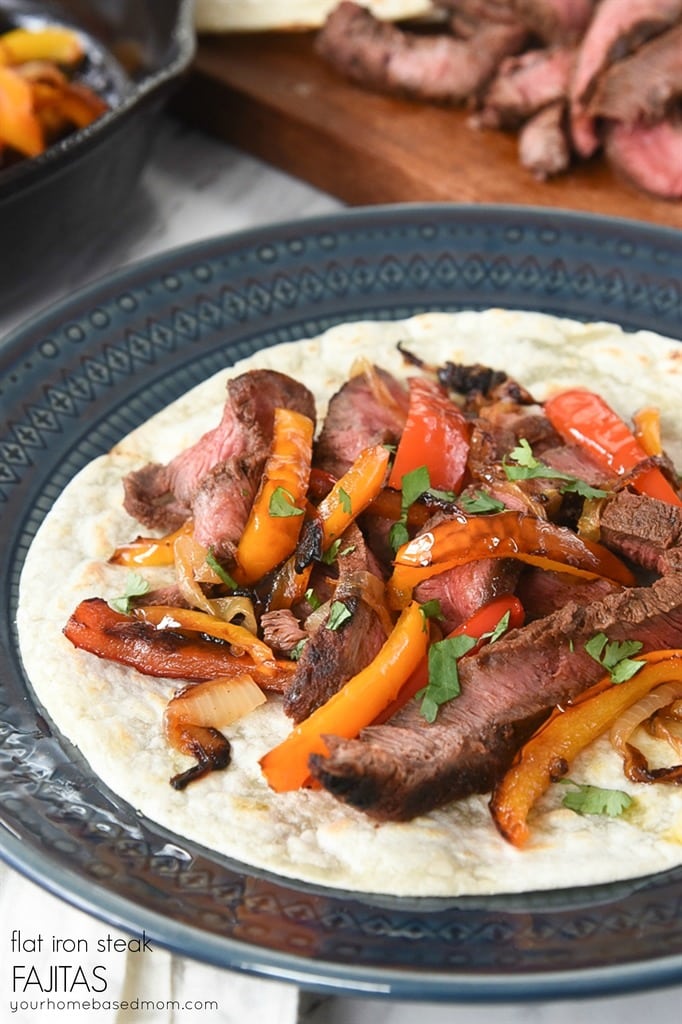 What is Flat Iron Steak
A flat iron steak is cut from the shoulder of the cow and is also called top blade steak or shoulder top blade steak.
It is uniform in thickness and rectangular shaped.
How to Cook a Flat Iron Steak
First, it can be used interchangeable with recipes that call for flank steak and skirt steak.  And all of these cuts of meat are best served grilled.
Second, flat iron steak is best when not cooked beyond medium.  It gets tough if overcooked.
Third, it is best when marinated.  A good marinade not only adds a ton of flavor, it should contain an acid like citrus, vinegar, or wine that helps tenderize the meat.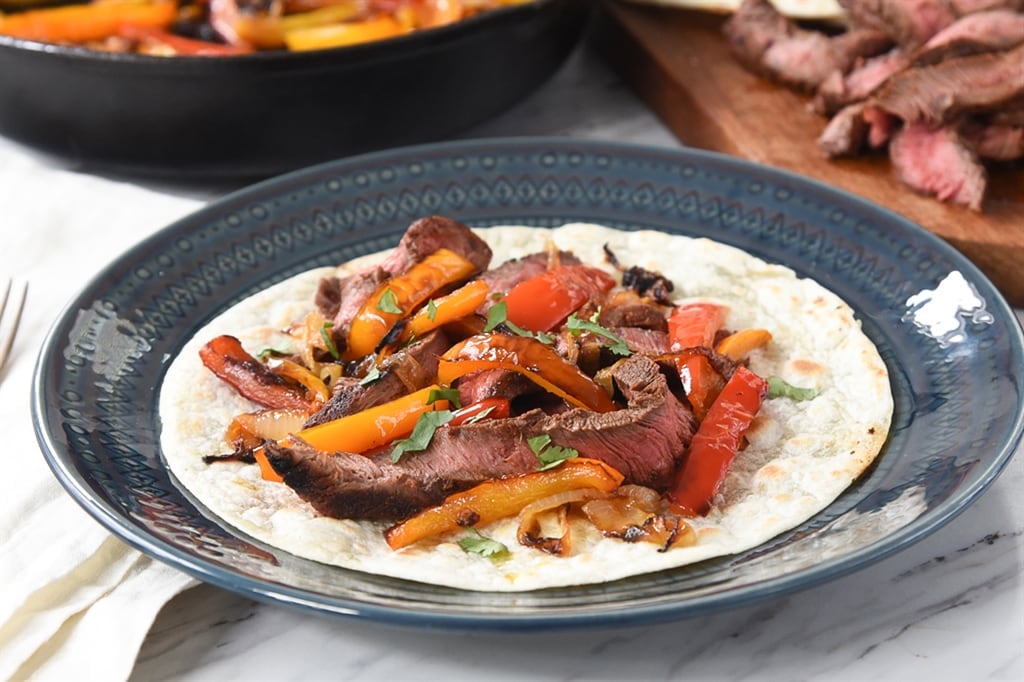 How to Make Flat Iron Steak Fajitas
Marinate the steak for a few hours before grilling to help tenderize the meat and give it lots of amazing flavor.  If you are short on time, 30 minutes will do.  But the longer the better.
While your meat is grilling, toss the peppers and onions into a cast iron skillet and cook until tender and slightly charred on the edges. Once the steak is done and your peppers are cooked all you need are some tortillas for a delicious dinner.  And if  you are watching the carbs, just skip the tortilla.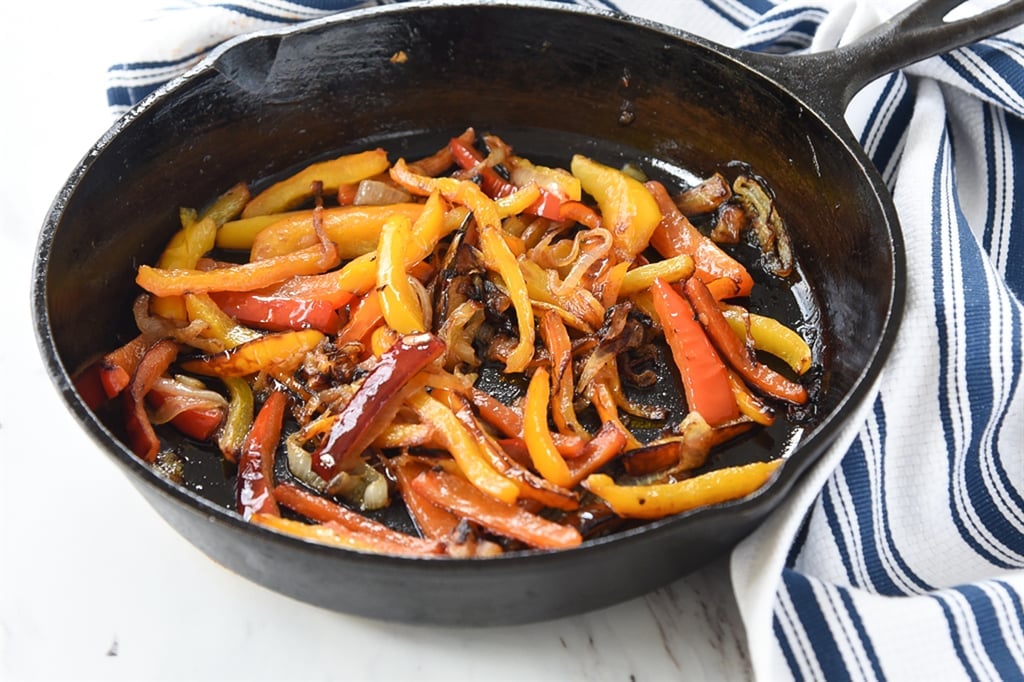 How to Cook Flat Iron Steak in a Cast Iron Pan
Although grilling flat iron steak works well I love to cook mine on the stove top in a cast iron pan.
Preheat your cast iron pan in a 400 degree F oven for about 20  minutes or heat it on high on top of the stove top for 4-5 minutes.  You don't want your cast iron to smoke, it is too hot if it is smoking.
Add a tablespoon or two of vegetable or canola oil to your hot pan and sear your flat iron steak for two minutes on each side over high heat.
Reduce the heat to medium and allow the steak to cook until a temperature of 125-130 degrees F is reached.  Use a meat thermometer to check temperature.  Cutting into the meat to see if it is done releases all the juices.  I love using my Thermapen to check the temperature. Flip the meat every two minutes until desired temperature is reached.
Remove steak from pan to a cutting board and allow it to sit for five minutes with a piece of foil over it.
Slice the meat on a diagonal.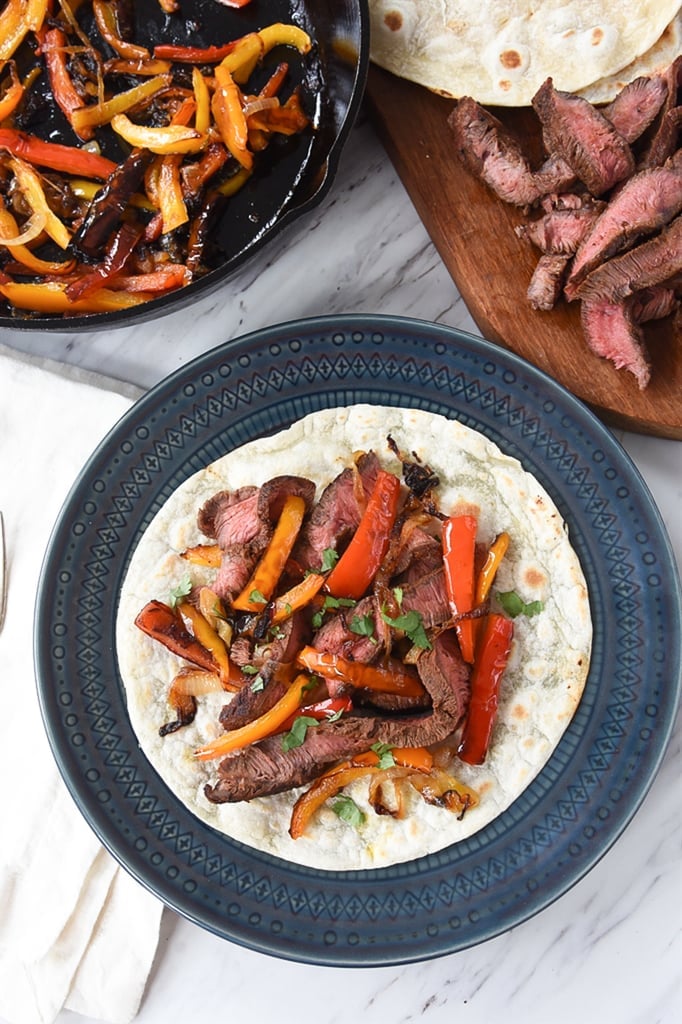 I love my fajitas served on a fresh, warm flour tortilla.  I prefer the ones you can buy that are uncooked. You usually in the deli section of the store.  Then all you have to do is cook them up in a frying pan right before serving.  They are so much better that way!!
How to Grill Flat Iron Steak
Just like in a cast iron pan, don't overcook your steak.
Grill it over high heat, searing it on both sides for a couple of minutes and then reduce heat of grill or move steak off of direct heat and allow  steak to cook until your desired temperature is reached.
A 125-130 degree F temperature is best.  Allow steak to sit for five minutes off of the heat, covered with foil and then slice on the diagonal.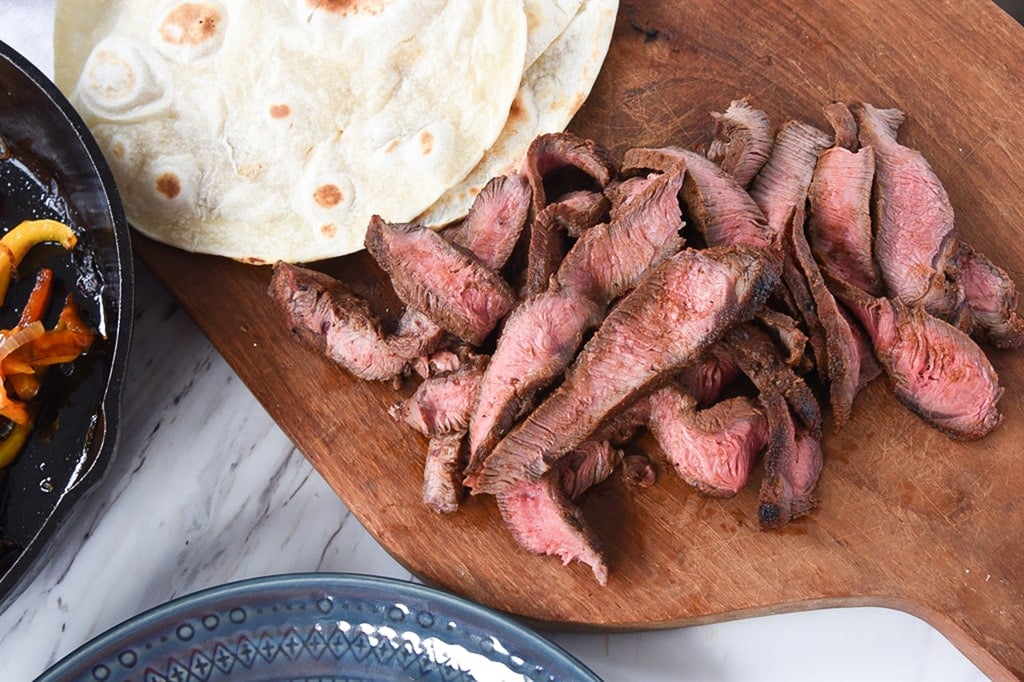 Garnish with a little cilantro and grated cheese, pico or guacamole for the perfect flat iron steak fajita.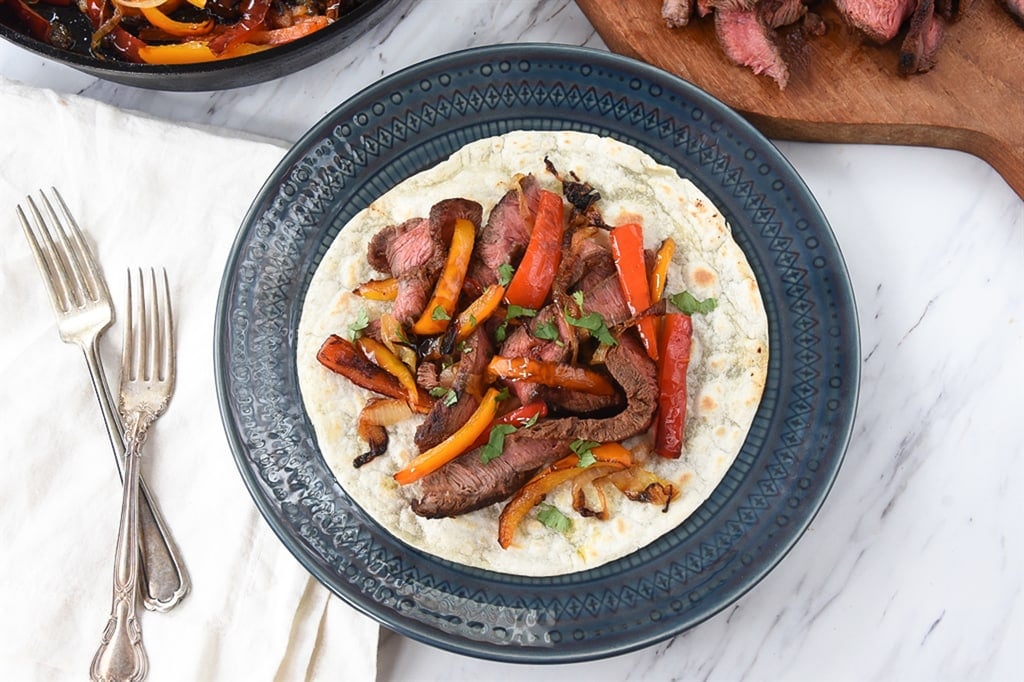 Check out more of my favorite fajita recipes
Flat Iron Steak Fajita Recipe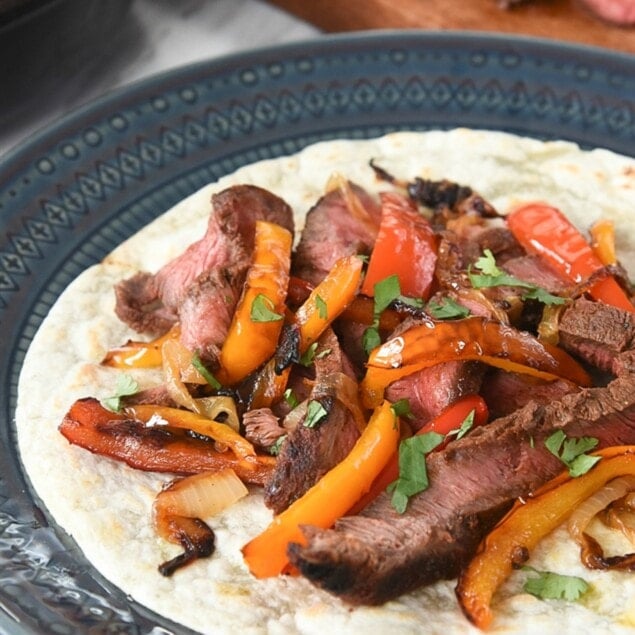 Flat Iron Steak Fajitas
These Tex-Mex style steak fajitas are made with flat iron steak, peppers and onions and served on fresh flour tortillas and are the best steak fajitas I've had!

Ingredients
1 Tbsp paprika
2 tsp brown sugar
1 1/2 tsp cumin
1 tsp chili powder
1 tsp garlic powder
1 tsp salt
1 1/2 lb flat iron steak
1 Tbsp olive oil
1 lime juiced
3 peppers, green, red, yellow sliced thinly
1 sweet onion sliced thinly
tortillas
Instructions
Mix together paprika, brown sugar, cumin, chili powder, garlic powder and salt.

Place steak in a large plastic resealable bag and add in juice of 1 lime, 1 Tbsp oil and the spice mixture. Rub the spices into the meat.

Refrigerate for 30 minutes to 2 hours.

In a cast iron skillet, add 1 Tbsp olive oil, onions and peppers. Cook over medium heat until the veggies are tender and the edges begin to char.

Grill meat on high for about 3-5 minutes per side or until desired doneness.

Slice the steak against the grain. Serve with peppers on a flour tortilla.
Nutrition Facts:
Calories: 397kcal (20%) Carbohydrates: 15g (5%) Protein: 34g (68%) Fat: 22g (34%) Saturated Fat: 7g (44%) Cholesterol: 112mg (37%) Sodium: 731mg (32%) Potassium: 871mg (25%) Fiber: 3g (13%) Sugar: 8g (9%) Vitamin A: 1370IU (27%) Vitamin C: 80.6mg (98%) Calcium: 52mg (5%) Iron: 5.6mg (31%)
* Disclaimer: All nutrition information are estimates only. Read full disclosure here.