Raspberry White Chocolate Bars combine two of my favorite flavors.  It is pretty much a combination made in heaven.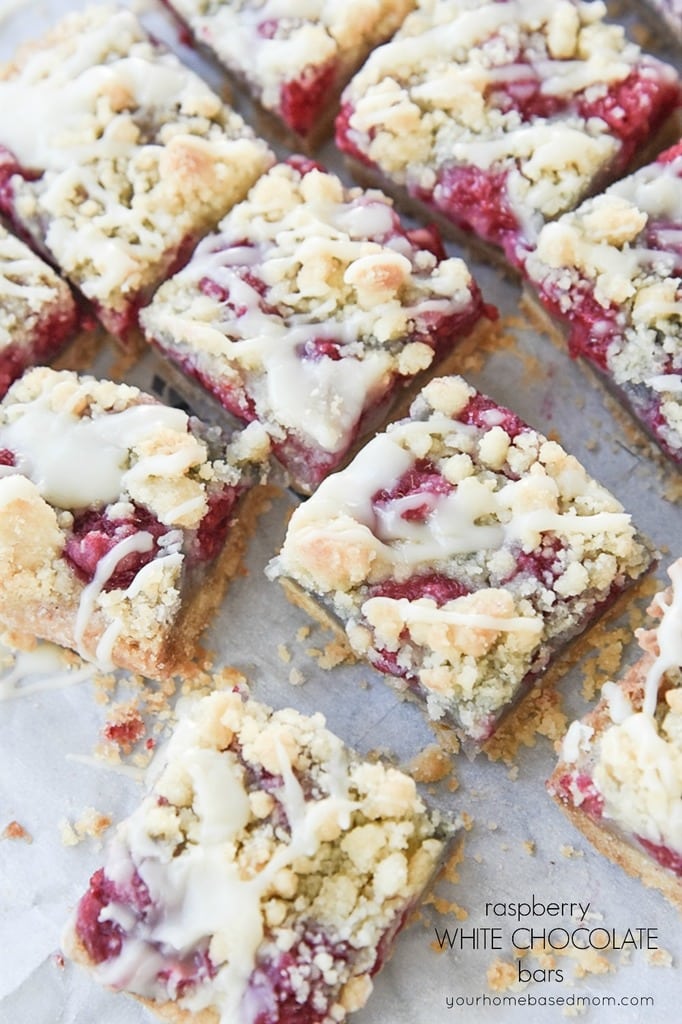 Twenty four years ago I first tasted white chocolate and raspberry together.  You may think it a bit strange that I remember that day, the exact day I tasted the combination, but I do and for good reason.  Twenty four years ago, on July 13th I had just given birth to my fourth child, our second girl.  She rounded out our family perfectly.  Two boys and two girls.  A good friend of mine came to visit me in the hospital and this friend never goes anywhere without bearing gifts, usually gifts of food.
It was July in Portland so that meant we were in the middle of raspberry season.  My friend brought me a basketful of fresh raspberries and a bar of white chocolate.  My friend instructed me that I must first, put a few raspberries in my mouth and follow it up immediately with a bite of the white chocolate.  The two must be eaten together.  It was heavenly.  The combination was perfection and I've been it's number one fan ever since.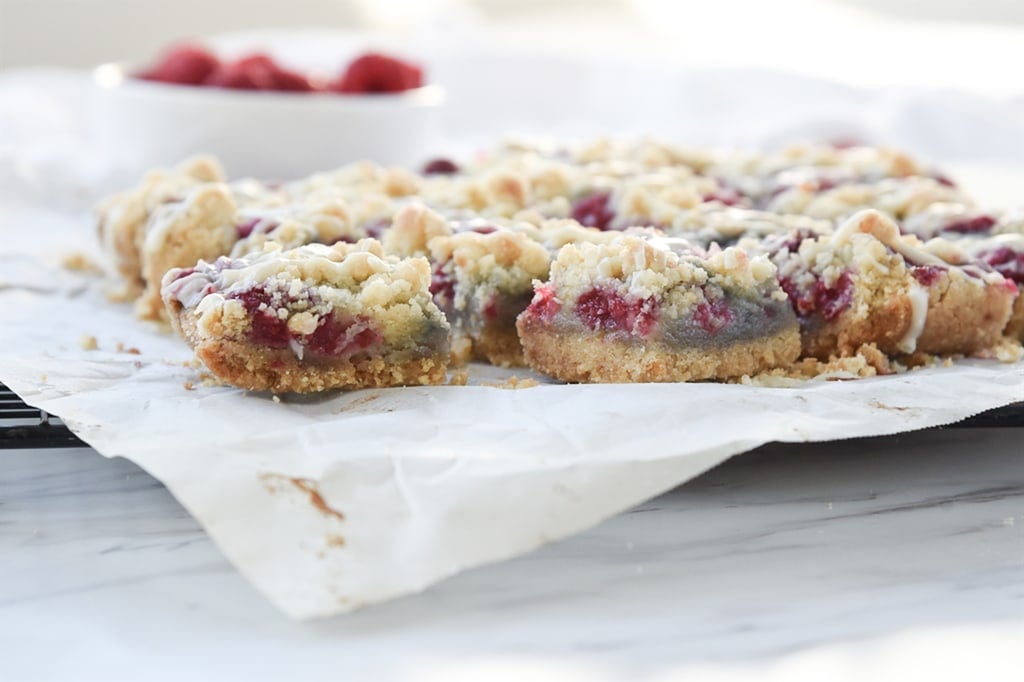 These Raspberry White Chocolate Bars have a shortbread type crust, a gooey layer of raspberry in the middle and a crunchy layer of goodness on top drizzled with white chocolate deliciousness.
This recipe only makes an 8 x 8 pan and it's a good thing because I wanted to eat the entire pan myself and almost did!  I usually try to limit myself to one piece or cookie when I make treats but it was impossible this time.  After I enjoyed two pieces I packaged them up to take to a neighbor as quickly as I could,  I wasn't quick enough though because I may or may not have eaten one or two more before they made it out the door.
I love the crunch these have on the top thanks to the streusel like topping and the gooey, chewiness in the middle.  Combine that with the flavors of raspberry and white chocolate and you've got a winner.  You have pretty much hit it out of the ball park!!  Yes, I rather enjoyed these sweet bites of heaven. Word from the wise.  Make these, enjoy one or two pieces and then get them the heck out of the house or you may consume the entire pan.  You have been warned!!!
Other raspberry white chocolate flavor combo favorites:
 Raspberry White Chocolate Bars Recipe
Raspberry White Chocolate Bars
The delicious combination of raspberry and white chocolate in a bar.
Ingredients
Filling
1/2 cup sugar
1 8 oz. pkg raspberries about 1 1/2 cups
1/4 cup flour
Drizzle
1/4 cup white chocolate chips
1 Tbsp whipping cream
Crust
1/2 cup sugar
1 1/2 cups all purpose flour
1/2 tsp baking soda
1/2 tsp baking powder
1/4 tsp salt
1/2 cup butter melted
Instructions
Preheat oven to 375 degrees F. Line an 8 x 8 pan with parchment paper or spray well with cooking spray

In a bowl, combine the crust ingredients, adding butter last. Stir together.

Set aside 3/4 cup of the mixture for later. Press remaining mixture into bottom of prepared pan.

In another bowl combine filling ingredients of raspberries, flour and sugar. Gently toss to incorporate. Do not over mix or smash berries. Spoon over top of crust.

Sprinkle remaining crumbs over top of raspberry filling. Bake at for 25-30 minutes or until top is golden brown.

Cool for 10-15 minutes.

Melt white chocolate chips and whipping cream. Stir until smooth and a good drizzling consistency.

Drizzle over the top of cooled bars.
Tips & Notes:
Recipe adapted from Driscolls Berries
Nutrition Facts:
Calories: 292kcal (15%) Carbohydrates: 43g (14%) Protein: 2g (4%) Fat: 12g (18%) Saturated Fat: 7g (44%) Cholesterol: 28mg (9%) Sodium: 230mg (10%) Potassium: 64mg (2%) Sugar: 25g (28%) Vitamin A: 315IU (6%) Calcium: 28mg (3%) Iron: 1.2mg (7%)
* Disclaimer: All nutrition information are estimates only. Read full disclosure here.